Top Sleeper Picks to Win the 2022 Heisman Trophy Award

The Heisman Trophy is the most prestigious award in college football. Every year, college football honors the most outstanding player with the Heisman Trophy. It essentially serves as the MVP.
As we head into 2022, three players have emerged as favorites to win the Heisman. Bryce Young, CJ Stroud, and Caleb Williams have the upper hand on the field. That gives us a great opportunity to look at the 2022 Heisman Trophy sleepers.
There is plenty of value on the board. Here are my favorite Heisman Trophy value bets for 2022, with odds taken from Bovada.
Bijan Robinson (+1800)
Bijan Robinson wasn't a significant contributor during his freshman season with Texas. He took on a bigger role later in the season, winning the 2020 Alamo Bowl MVP with 10 carries for 183 yards.
Last season, Robinson stepped into a starting role. He immediately flashed his potential, recording 176 total yards and two touchdowns against Louisiana.
Robinson had back-to-back games with 125+ rushing yards but followed that up with a career performance against TCU. He had 35 carries, 216 rushing yards, and two touchdowns. One week later, he vaulted into the Heisman conversation with a highlight-reel run against Oklahoma.
Bijan Robinson still available at +1800 for the Heisman 🤫

(via @CBSSports)pic.twitter.com/AMZrTvb44P

— br_betting (@br_betting) October 9, 2021
Unfortunately, Robinson lost ground in the Heisman race because Texas lost six straight games. Robinson had less than 100 yards in his final three games. He also missed Texas' final two games.
Robinson didn't finish top 10 in Heisman Trophy voting. That should motivate him as he enters the 2022 season as the top Heisman Trophy award sleeper.
The late-season injury put a damper on Robinson's 2021 season, but one could argue he was the best running back in the country. His numbers back up that claim.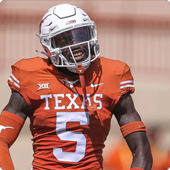 195 carries
1,127 rushing yards
26 receptions
295 receiving yards
15 total touchdowns
Robinson did that despite four games with less than 100 rushing yards. It wouldn't surprise me if he cleared 100 rushing yards in every game.
The 2022 Heisman Trophy odds have him as the top contender outside of Bryce Young, CJ Stroud, and Caleb Williams. There's no denying his talent, but can Texas win enough games to keep Robinson in Heisman Trophy contention?
That's what it'll come down to. If so, he could potentially join Ricky Williams as Texas running backs to win the Heisman Trophy award.
Will Anderson Jr. (+2000)
Similar to the NFL MVP, the Heisman Trophy caters to the quarterback position. If we're talking best player in college football, Will Anderson Jr. would be the favorite to win the 2022 Heisman Trophy.
Anderson was all-SEC second team after his freshman season. That was only a preview of what was to come in his sophomore season.
He quickly flashed his potential, recording nine tackles and one sack in the season opener against Miami. The Alabama linebacker recorded a season-high four sacks against Mississippi State.
Check out his overall numbers from the 2021 season.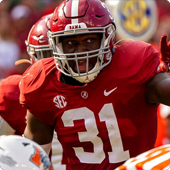 101 tackles
31 tackles for loss
17.5 sacks
3 passes defended
Anderson finished fifth in Heisman Trophy voting. I understand he's a defensive player, but he deserved to finish higher than fifth. It's hard to argue with him not being the best player in college football.
If he were eligible, Anderson likely would've been a top-five pick in the 2022 NFL draft. A strong season could make him the No. 1 pick in the 2023 NFL draft.
Bettors have likely flocked to the top football betting sites to wager on Anderson winning the 2022 Heisman Trophy. He has what it takes to become the first defensive player in 20+ years to win the Heisman.
Will Anderson will be the best player in CFB this year

video via: @iDunkedOnKD pic.twitter.com/uX1g4Ifh2E

— Barstool Bama (@BarstoolAlabama) May 9, 2022
Alabama lost the National Championship last season, but they'll be back in contention for another title. Quarterback Bryce Young will be in contention to win another Heisman Trophy, but don't count out Anderson.
It's not often you see a defensive player as one of the Heisman Trophy contenders. That should immediately tell you how much praise the sportsbooks have for Anderson.
Anderson is already one of the best players in college football. He'll continue to improve as he pursues the 2022 Heisman Trophy award.
Jaxon Smith-Njigba (+2500)
Ohio State had an elite offense last season, with quarterback CJ Stroud leading the way. Most people considered Garrett Wilson and Chris Olave the top two wide receivers, with Jaxon Smith-Njigba being the third wheel.
He played a small role in his freshman season and had a slow start to the 2021 season. He had seven receptions, 145 yards, and two touchdowns in the second game of 2021, but that was his only 100+ yard performance in his first five games.
Smith-Njigba had three straight games with 97 to 103 yards. His performance over the final five games of 2021 has him among the Heisman sleeper picks.
| | | | |
| --- | --- | --- | --- |
| Game | Receptions | Yards | Touchdowns |
| @ Nebraska | 15 | 240 | 1 |
| Vs. Purdue | 9 | 139 | 1 |
| Vs. Michigan State | 10 | 105 | 1 |
| @ Michigan | 11 | 127 | 0 |
| Vs. Utah (Rose Bowl) | 15 | 347 | 3 |
Wilson and Olave had the spotlight, but Smith-Njigba established himself as the best Ohio State wide receiver. He capped off the season with a record-breaking performance in the Rose Bowl. He helped Ohio State overcome a 14-point deficit to win the Rose Bowl.
This season, Smith-Njigba won't have to worry about competing with Wilson and Olave. Both players are onto the NFL, making Smith-Njigba the top option for Ohio State. That's why he has the best odds of winning the 2022 Heisman Trophy award among wide receivers.
The early 2022-23 college football National Championship odds has Ohio State as one of the favorites. That's a big boost for Smith-Njiga's Heisman Trophy hopes.
Honestly, the biggest thing going against him is his quarterback. Smith-Njigba's success will go off of Stroud. If he has a good season, he'll likely earn the votes.
Still, I like the value for him winning the Heisman. He deserves to be one of the top 2022 Heisman Trophy sleepers.
Braelon Allen (+3000)
The Heisman Trophy award caters to quarterbacks, but running backs have the best chance among non-quarterbacks. Wisconsin running back Braelon Allen is one of the top Heisman Trophy value bets.
Every player we've discussed is entering their junior season, but Allen is attempting to win the Heisman as a sophomore. Needless to say, he had a stellar freshman season.
Allen didn't have a significant role early in the season, recording 12 carries for 49 yards in his first three games. He took on a bigger role in Wisconsin's fourth game. Allen rushed for 131 yards and a touchdown.
From there, he was off and running. He rushed for 100+ yards in eight of his last nine games, including this performance against Nebraska.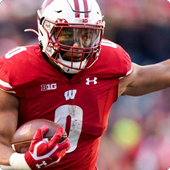 22 carries
228 yards
3 touchdowns
Allen finished the season with 186 carries, 1,259 yards, and 12 touchdowns. He was a non-factor as a receiver, recording 39 yards. It'll be interesting to see if that goes against him in the Heisman Trophy race.
Now one thing going in Allen's favor is Wisconsin's commitment to the ground game. In the last ten years, Monte Ball, Melvin Gordon, and Jonathan Taylor have produced big numbers with this team.
Those players came close, but Wisconsin hasn't had a Heisman Trophy winner since Ron Dayne in 1999. Can Allen break that streak?
When a 17 year old does this to you, you have to quit playing football. I'm sorry, but I don't make the rules. pic.twitter.com/IT3xJRfwdk

— Alex Simpson (@Alex2TheSimpson) May 15, 2022
Allen had this great season as a 17-year-old. There's no doubt he'll continue to develop into a bigger and stronger running back. That alone puts him on the radar as a Heisman sleeper pick.
Then, you factor in his success from the 2021 season. He'll naturally improve in his sophomore season. It's hard to find a reason why he doesn't have better Heisman odds. Bettors have no problem with his value.
Tyler Van Dyke (+3500)
The quarterback position is the most popular among Heisman Trophy candidates. We haven't talked about any quarterbacks, so let's end that with Tyler Van Dyke.
Van Dyke didn't play in his freshman season, but he became the starter after an early season injury to D'Eriq King. Van Dyke looked impressive in his first game, going 10-11 with 270 yards and three touchdowns. That was only the beginning of a great season.
He struggled a bit in his next two starts, but Miami looked better in Van Dyke's final six games. Check out his numbers.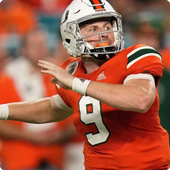 66.2 completion percentage
365.7 passing yards per game
20 touchdowns
3 interceptions
His performance helped Miami qualify for a Bowl Game. Unfortunately, a COVID outbreak forced them to withdraw from the Sun Bowl. Still, it doesn't change Van Dyke's impact on Miami. He enters 2022 as one of the top Heisman Trophy award sleepers.
We've been waiting for Miami to return to the spotlight after they dominated college football in the early 2000s. Van Dyke likely won't make them that good, but they'll be competitive.
Miami will have a new head coach with Mario Cristobal taking over. The former Orgon head coach already has high praise for Van Dyke.
Mario Cristobal when asked about Tyler Van Dyke: It's clear, watching from afar, there's not a better quarterback in the country."

— Ruthie Polinsky (@ruthiepolinsky) December 7, 2021
Bryce Young and CJ Stroud are two of the best players in the country, so that's high praise for Cristobal to say Van Dyke is the best quarterback in the country. Who will win the 2022 Heisman Trophy award? Cristobal believes in Van Dyke.
It won't take long to see if Van Dyke and Miami will live up to the hype. A Week 3 road matchup with Texas A&M gives Van Dyke a chance to capture an early marquee victory.
If Miami wins that matchup, fans will visit the college football sportsbooks to wager on Van Dyke winning the Heisman.
Quinn Ewers (+5000)
Before his college career, it wasn't unreasonable to say Quinn Ewers wouldn't become a future Heisman Trophy winner. However, his college career hasn't gone on the expected path.
Ewers was the top player in the 2022 class but reclassified to 2021, joining Ohio State. He only played a few snaps with Ohio State, but he'll enter his sophomore season with Texas. Ewers initially committed to Texas before joining Ohio State.
Obviously, there's a reason Ewers is one of the top Heisman Trophy sleeper picks. Check out his numbers in his sophomore and junior season.
| | | |
| --- | --- | --- |
| Stats | Sophomore (219-20) | Junior (2020-21) |
| Completion Percentage | 72.4 | 66.9 |
| Passing Yards Per Game | 285.9 | 305.3 |
| Touchdowns | 45 | 28 |
| Interceptions | 3 | 5 |
He missed six games with an injury in his junior season, but that was the only hiccup of his high school career.
Every year, we wonder if Texas will return to the spotlight. They've only won double-digit games once since 2009. They'll likely need to accomplish that if Ewers or Bijan Robinson wants to compete for the Heisman.
It's not a given that Ewers will be the starting quarterback in 2022. He'll battle Hudson Card for the starting job, but it's hard to imagine Ewers not being the starter. From there, we'll see him emerge as a 2022 Heisman Trophy sleeper.
Is Quinn Ewers a future Heisman finalist? 🤔 pic.twitter.com/jXkptWy0nO

— Saturday Gameday (@SaturdayGameday) May 17, 2022
I'm not one to buy into the yearly Texas hype, but Ewers has the potential to turn things around. A great season would go a long way towards winning the Heisman. That'd be a big story for Longhorn Nation.
It's certainly possible Ewers has a great season and doesn't win the Heisman Trophy. He could join fellow Texas quarterback Vince Young as a top player that should've won the Heisman.
Betting on the 2022 Heisman Trophy Award
We'll follow the Heisman Trophy race throughout the 2022 season, but if you're ready you can visit Bovada and bet on the 2022 Heisman winner now.
Bryce Young and CJ Stroud will likely dominate the headlines, but we'll see at least one sleeper emerge as a contender.
I have my eye on a few 2022 Heisman Trophy sleepers. My favorite value picks are Jaxon Smith-Njigba and Tyler Van Dyke.
Smith-Njigba could be the best wide receiver in college football, while Van Dyke could emerge as a top 10 draft pick.
Many things go into betting on the Heisman. Make sure you check out our college football betting advice page for more information.