Hide Bonus Offers
| | | | | |
| --- | --- | --- | --- | --- |
| #1 | Bovada Sports | 50% Up To $250 | Visit Site | Bovada Sports |
| #2 | BetUS | 125% Up To $2,500 | Visit Site | BetUS |
| #3 | MyBookie | 100% Up To $1,000 | Visit Site | MyBookie |
| #4 | Everygame | 100% Up To $500 | Visit Site | Everygame |
| #5 | BetOnline Sports | 60% Up To $1,000 | Visit Site | BetOnline Sports |
Betting Guide for the 2022 Billboard Music Awards

The 2022 Billboard Music Awards are almost here, so it's time to review our predictions for who will win some hardware. Many talented artists came out with great music and projects over the last year and should be rewarded for all their hard work.
Olivia Rodrigo, Drake, Adele, The Weeknd, and more have been nominated for this ceremony. These gifted musicians gave their fans a lot of amazing music to help get us through the last couple of years. They just might be able to give you a bit more than that, too.
You can bet on what goes down at the 2022 Billboard Music Awards, and if you play your cards right, you just might make some money. Need some help? Let's check out the top Billboard Music Awards betting sites before gauging which artists could come away with a big win.
Where to Bet on the 2022 Billboard Music Awards
To find the top Billboard Music Awards betting odds, you'll want to head over to these entertainment betting sites. These sites offer some great features that will help you win big for this year's Billboards.
Each site offers a great welcome bonus to join. Before you choose one to sign up for, you must follow the instructions properly to get the bonus. Don't worry, though, as signing up is quick and easy.
It would help if you got your welcome bonus by creating an account, entering personal information, and choosing your payment option. After that, you should make your deposit and get your chosen welcome bonus.
You'll want to look for your site's "entertainment" betting tab to find all the available props. The 2022 Billboard Music Awards odds we will be using are on BetUS, but the other US betting sites could also offer prop bets.
Be sure to head on over to BetUS to place your bets for the available props we'll be discussing below.
Bet on the Billboard Music Awards at BetUS

Visit Site
Latest Odds for the 2022 Billboard Music Awards
There are tons of awards for the Billboards, but unfortunately, we can't bet on all 62 of them quite yet. The main ones are available though, as most people will be interested in those.
We can currently bet on the main categories, including top artist, top billboard 200 album, best collaboration, and more.
Top Artist
The biggest award of the entire ceremony will be the top artist. There are a couple of top options here, including Olivia Rodrigo and The Weeknd. Both artists have had incredible years and could be the only top viable betting options.
The Weeknd has the most nominations of any artist with 17 this year, so that he could have great value at these odds.
Doja Cat, Taylor Swift, and Drake haven't had the same years as the top choices. With that said, they are all trendy and could still win this award. Their odds are all very profitable and make for interesting sleeper bets.
Top Billboard 200 Album
Sour – Olivia Rodrigo
-140
Dangerous: The Double Album – Morgan Wallen
EVEN
Planet Her – Doja Cat
+1200
Certified Lover Boy – Drake
+1400
No surprise to see Olivia Rodrigos' album "Sour" at the top again. She burst onto the scene this year and has become an icon already at just 19 years old. Her future is brighter than anyone's, and her album has already won multiple awards.
Morgan Wallen's album is the closest in the odds, but it will be hard to beat Rodrigo here. Adele, Doja Cat, and Drake all came out with very successful albums this year as well. As popular as Drake albums usually are, it makes sense to bet on him as a longshot winner.
Top Collaboration
Kiss Me More – Doja Cat ft. SZA
-125
Save Your Tears – The Weeknd ft. Ariana Grande
+300
Stay – The Kid LAROI ft. Justin Bieber
+325
INDUSTRY BABY – Lil Nas X ft. Jack Harlow
+550
Peaches – Justin Bieber ft. Daniel Caesar-Giveon
+1400
These five collaborations were all incredible this year. The favorite to win this award is "Kiss Me More" by Doja Cat featuring SZA. It already has four awards for collaboration and duo/group performances, so it's no surprise to see it here.
"Save Your Tears" added mega-pop star Ariana Grande as a feature, increasing their chances of winning here. The Kid LAROI and Justin Bieber's "Stay" have been nominated in 5 categories in previous awards shows and won 4.
Top Duo or Group
Individual artists had an incredible year, but duos and groups have been respectable. The South Korean boy band called BTS is one of the most popular bands in the world, let alone in the US.
That should give them a strong chance of winning here by itself.
After them comes Silk Sonic, which is a group involving Bruno Mars and Anderson.Paak. The group has won an incredible 15 awards over the last year and is nominated for four more for the 2022 Billboard Music Awards. They won 4 Grammy awards recently and went viral on stage during the process.
Lmaooooo yooooo Silk Sonic has me in tears 😂#Grammys pic.twitter.com/ZaGVDsuhSz

— New name same Beanz (@BeanzGotGamez) April 4, 2022
Top Female Artist
A couple of artists already have incredible resumes here and want to add a few more. Taylor Swift and Adele make their first appearances on the awards list we have here. They both are in underdog/sleeper territory but could still get an upset win.
Olivia Rodrigo has a stronghold on the odds leaderboard, which isn't a surprise. Her name is everywhere for awards, so she rightfully has a good chance of winning this one.
Doja Cat had herself a big 2021-22 and became one of the most lovable artists in the process. Her big personality shined when she hosted the VMAs, giving her an increased chance of winning more awards.
Top Hot 100 Song
Levitating – Dua Lipa
-165
Save Your Tears – The Weeknd ft. Ariana Grande
+250
Stay – The Kid LAROI ft. Justin Bieber
+600
good 4 u – Olivia Rodrigo
+600
Kiss Me More – Doja Cat ft. SZA
+800
There were some great hits on the Hot 100 Billboard over the last year. Levitating by Dua Lipa was one of them and was incredibly popular. The hit single spent a remarkable 70 weeks on the Hot 100, the fifth ever to do so. That gives her the favored odds to win this award.
"Save Your Tears" is the next highest, but the revised edition with Ariana Grande might have come out too late to compete with Dua Lipa. The other three songs were huge over the last year but remained long shots to win.
Top Male Artist
The Weeknd is the favorite here, with 17 nominations for the 2022 Billboard Music Awards. It would not be a surprise to see him win top male artist this year.
He's done incredible work in the music industry, and his albums have been incredibly popular. "Save Your Tears" was one of the top songs over the last year; he came out with an incredible album called "Dawn FM."
The other options here make sense, but The Weeknd was arguably busier and more popular than any other option.
Top New Artist
The odds are not shy about who they think is coming home with this award. Frankly, they have no reason to hide who they think will win because the answer is straightforward.
Some popular artists were introduced over the last year, but none were even close to Olivia Rodrigo in terms of popularity. Here are some of the awards Rodrigo has won that are similar to this one.
New Artist of the Year (American Music Awards)
Breakthrough Artist of the Year (Apple Music Awards)
Best New Artist (Grammy Awards)
Best New Pop Artist (iHeartRadio Music Awards)
Best New Artist (MTV Video Music Awards)
Favorite Breakout Artist (Nickelodeon Kids' Choice Awards)
Best New Act in the World (NME Awards)
New Artist of the Year (People's Choice Awards)
Predictions for the 2022 Billboard Music Awards
The Weeknd to Win Top Artist
Sour to Win Top Billboard 200 Album
Kiss Me More to Win Top Collaboration
BTS to Win Top Duo or Group
Doja Cat to Win Top Female Artist
Levitating to Win Top Hot 100 Song
Drake to Win Top Male Artist
Olivia Rodrigo to Win Top New Artist
I like some betting options for underdogs on my Billboard Music Awards predictions, but some props don't seem to be targeting. Olivia Rodrigo should have the top new artist award wrapped up, and her betting odds have her as an insane favorite.
I don't think she wins top artist, though, as The Weeknd has more nominations than any other option. He should be able to win that award with decent odds, while Rodrigo will still be happy with the top new artist award.
Her album is getting its own Disney Plus show, which speaks to just how popular she has been over the last year.
driving home 2 u (a SOUR film) is out march 25th on @disneyplus!!! 🚙💞 pic.twitter.com/4rtg4Uz7oe

— Olivia Rodrigo (@oliviarodrigo) March 17, 2022
She could also win top female artist, but they have to have a little bit of variety here. That's why Doja Cat has a great chance of winning this as a sneakier bet. Drake could also win top male artist for the same reason.
What would be the point of offering these different awards if you would give them to the same person who won the first award? When making your own Billboard Music Awards betting picks, don't be afraid to take a chance on an artist with longer odds. It could just mean a huge payday for you in the end.
Best Bets to Target for the 2022 Billboard Music Awards
The Weeknd to Win Top Artist
EVEN
Levitating to Win Top Hot 100 Song
-165
Kiss Me More to Win Top Collab
-125
Doja Cat to Win Top Female Artist
+600
Drake to Win Top Male Artist
+350
After taking a long and hard look at the Billboard Music Awards betting options, these will be my top recommended bets. These choices have great chances of winning, and their odds aren't too steep.
My top female and male artists' choices are far in positive odds territory. Drake is at a solid (+350), while Doja Cat's (+600) odds could mean a huge day betting-wise.
When music awards ceremonies like the Billboard's happen, it would be quite dull for one person to win every single award. That's why I have aligned my bets in that way of thinking.
The Weeknd and Olivia Rodrigo are the top options for Artist of the Year. I think Rodrigo has the top new artist locked up, so The Weeknd can take home the award of the top artist. It would be odd for both to win these awards and then win their designated female or male awards, too.
"Levitating" had a long stay on the Hot 100 Billboard, so it should have a solid chance of winning the award. The odds are in negative territory, but they still look worth betting on.
.@DojaCat now has seven career No. 1s on #RhythmicAirplay:

Say So
Best Friend w/ @Saweetie
Kiss Me More ft. @sza
You Right w/ @theweeknd
Need To Know
Woman
Freaky Deaky w/ @Tyga

— billboard charts (@billboardcharts) May 10, 2022
The same goes for the "Kiss Me More" collaboration with Doja Cat and SZA. Over the last year, that was an insanely popular song and has already won awards with similar titles.
That song and her album should make Doja Cat a solid bet to win Top Female Artist, so I'm taking a chance on that one.
Betting on Who Will Win at the 2022 Billboard Music Awards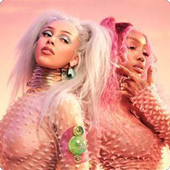 That wraps up our Billboard Music Awards guide for this year. There are tons of talented artists that have been nominated, but only one can win each award. It will be another fun night for the music industry, so make sure you place your bets and tune in on May 15th, 2022.
P. Diddy will be hosting and producing this year, while several talented artists will perform. Ed Sheeran, Mary J. Blige, Red Hot Chili Peppers, and more will offer some incredible performances for the night.
If the 2022 Billboard Music Awards are your first ever entertainment betting experience, check out our guide below to help get you started.