Betting Guide for 2022 MLB Spring Training

The 2022 MLB offseason has been one bumpy ride. We don't know exactly the final dates regarding the beginning of the MLB season. Even if we had a set date, the odds of it being pushed back seem to be growing by the day.
The season is favored to begin after March 31st, with May 15th being a likely option.
With that being said, the MLB is very unlikely to begin the 2022 regular season without some preseason warm-up games. That is where "Spring Training" will come in, and we will finally get to see some live MLB action.
The biggest things you need to know for the 2022 MLB Spring Training are betting sites, possible start times, and the best players to watch. Let's go over each as we (hopefully) prepare for preseason play.
Where to Bet on 2022 MLB Spring Training
Whenever 2022 MLB Spring Training rolls around, the above options will be your top MLB betting sites. These sites have a lot to offer, and baseball season will be an excellent time for betting. Make sure you are prepared for this year when it comes around by signing up on these great sites.
If you need some quick help with signing up, here's a couple of easy steps to follow.
Choose Your Site – You can click through the sites listed above for a breakdown and review. This will help you decide which one you ultimately want to go with and use as a bettor.
Create Your Account – Grab your personal information and wallet because you'll need to enter the site to do safe gambling.
Deposit and Get Rewarded – The best part about the sites is that you get rewarded for signing up. Check out all the bonuses you are offered and get extra betting money when you sign up.
Browse for Props – Once you have chosen a site and are ready to look for your bets, browse through the site to see what props are being offered for you to bet on.
Place Bets – Now is the fun part. Go ahead and pick your props and place your bets. All you have to do now is wait and see if they cash or not. Best of luck!
When Does 2022 MLB Spring Training Start?
Original Start Date: Friday, February 25th, 2022
Spring Training Delayed Through March 8th
Opening Day Original Date: March 31st, 2022
Estimated Opening Day: Beyond April 7th
So, the 2022 MLB Spring Training games were already supposed to be going on, but here we are on March 2nd with no baseball. We won't have baseball until March 8th, but the likelihood of deals getting done by then looks far-fetched.
Naturally, MLB fans are wondering when 2022 Spring Training will begin.
With no deal coming soon, the delays are sure to be coming along with that. MLB's original Opening Day for the 2022 season was scheduled for March 31st, but we will now be waiting until sometime in April.
The MLB issued the following statement regarding the 2022 season.
"We hope to preserve the full regular season that our fans deserve and the four weeks of Spring Training that players will need to get ready."
Let's be clear here with the delays. The MLB set the deadlines selected for the MLB and the MLBPA. There was no need for the deadlines and was a way for the MLB to get leverage over the players and force them into a bad deal.
The MLBPA has not budged and is staying strong to its plan. The players are fighting for their fair share of the CBA, while the owners are not budging themselves. The deadlines were unnecessary and exemplified how the MLB owners mistook the players again.
This is pretty notable stuff from Ross Stripling. https://t.co/2UjFgQMB9m https://t.co/yPpTtUKefg pic.twitter.com/NnmnGOVtoU

— Fabian Ardaya (@FabianArdaya) March 2, 2022
Believe it or not, you can bet on when baseball will be back. The top MLB sportsbooks have offered props dealing with MLB Spring Training's start date, so keep an eye out for those wagers.
Top Players to Watch in Spring Training
Let's be optimistic here and hope that a deal gets done soon, and we have baseball this season. When that happens, the 2022 MLB Spring Training might be more like summer training, but we will have baseball.
Once that happens, we can then be excited about watching the new and exciting players ready to impress us in Spring Training. We will get to see all of the players we already know and love getting prepared for the season, but some new faces and prospects will also be looking to make it to the show.
Here are some of the players to watch for this year and could be the next stars of the MLB.
Bobby Witt (Kansas City Royals)
Bobby Witt is one of the highest-ranked prospects in the entire league. The shortstop for the Kansas City Royals has tons of potential and could be one of the best players in the league here very soon.
Witt is currently at the AAA level, but his expected MLB debut is sometime this year. He was the 2nd overall draft pick in the 2019 MLB Draft and had been killing it in the minors already.
Crown jewel.

Bobby Witt Jr. is Baseball America's 2021 Minor League Player of the Year.#TogetherRoyal pic.twitter.com/BrbhTaGaZt

— Kansas City Royals (@Royals) October 4, 2021
He is hitting a slash line of .285/.352/.581 in AAA and is 21 years old. Witt has been showing some pop with 17 home runs in 62 games and has 34 home runs in his 160 games minor league career.
Witt is also a threat on the bases with 38 steals in those 160 games, making him one of the most exciting dual-threat players in the MLB like Fernando Tatis and Ronald Acuna.
The Royals signed him to a franchise-record signing bonus of $7,789,900, so they are excited about his potential. Kansas City has their future franchise shortstop in Witt and will be seeing what he is capable of in the 2022 MLB Spring Training.
He's also the odds leader for the 2022 AL Rookie of the Year. Read more about his chances to win below.
Adley Rutschman (Baltimore Orioles)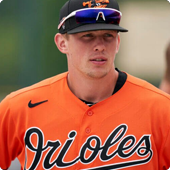 Bobby Witt may have been the second overall pick in the 2019 MLB Draft, but guess who was the first? The Baltimore Orioles drafted Adley Rutschman out of Oregon State to become their franchise catcher down the road.
Switch hitters are always a great bonus, and switch-hitting catchers are rare. Rutschman is one of them and could be a fantastic offensive player when his time comes.
Rutschman won the Golden Spikes and the Dick Howser awards in college baseball in 2019. He was a big part of why Oregon State was able to win the College World Series, and it earned him the number one pick in the draft and was pretty much a no-doubter to go first.
He got a huge $8.1 million signing bonus from the Orioles and is expected to make his debut this year. Rutschman has tons of tools to become a star player in the MLB, and we could see his potential as early as Spring Training.
Rutschman hit .353/.473/.559 with 28 home runs, 174 RBI, and 151 runs in 185 college games.
He is also a plus defender, which means he has very few flaws in his game. The Orioles will be excited about their future star, and you should be excited to see him within the next couple of months and eventually throughout his career.
Joey Bart (San Francisco Giants)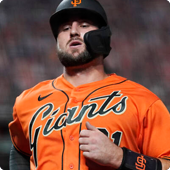 How about another catcher that should be ready to show us what he's capable of in Spring Training? Joey Bart is another MLB's top prospect and will be a great player for San Francisco.
The Giants' franchise catcher called it a career, and boy, was it great.
Giants fans might not have to wait long for their next catcher to take his place, though, as Bart has tons of tools to be another great catcher for the Giants. He could also be a great candidate for the 2022 NL Rookie of the Year award.
Like Witt, Bart was also the second overall draft pick but back in 2018. Bart already made his MLB debut back in 2020, as Posey sat out that year as well. The Giants liked him so much that they named him to their Opening Day roster and played in 33 games that year.
He broke a bone in his left hand from a pitch, which delayed some of his development, but he's ready now. Bart didn't go crazy in his first 35 MLB games, but not many players do. He still has a ton of potential and could be ready to become the Giants full-time catcher before we know it.
He hit 30 home runs in 144 games in college, but he hasn't got his first MLB one yet. Here's one from the 2020 MLB Spring Training, though.
First Joey Bart at bat, first Joey Bart home run.
#SFGSpring pic.twitter.com/2juYi84X6Y

— SFGiants (@SFGiants) February 23, 2020
Once he gets used to the highest level of baseball, he will start to show his power.
Tips for Betting on MLB Spring Training
Spring Training will be an enjoyable time for baseball fans and bettors. After a wildly disappointing offseason, it will be even more exciting to have baseball back.
We will finally get to see the players we know already, but the new faces will get their chances to shine for this year.
Betting on the 2022 Spring Training can be challenging to read, so here are some great tips.
First things first, you need to know the lineups for the games you plan to bet on. Mike Trout is not always playing for the Angels in Spring Training, so you don't need to prepare for that too much.
The starting lineups are very important, and you must know the players you will be relying on when placing your bets.

Top Tip
Next is betting on the underdogs. Underdogs are a fantastic value in a preseason match because everybody is just preparing for the season and isn't taking things too seriously.
That is a great time for underdog betting and targeting players like the top prospects looking to make their own name. They are sure to offer tons of value, and you could start your baseball betting season off in a major way.
Want even more advice that you can apply to betting on 2022 MLB Spring Training? Check out our guide for more baseball betting strategies.
Betting on MLB Spring Training in 2022
With all this said, we need to have baseball this season if we want to watch and bet on it. That would naturally start with 2022 MLB Spring Training coming before the regular season, in some capacity. From what we have seen from the negotiations so far, however, I wouldn't count on baseball happening until April and maybe even later.
Hopefully, I'm wrong, and one of the sides (preferably the owners) takes a step down and allows us to have a baseball season this year.
I am very excited to see the top players that we have heard rumors about through the pipeline. I can't wait to see what Bobby Witt does for the Royals and the other players for their franchises.
Make sure you take advantage of all the great betting options you will have for Spring Training. Check out the top MLB betting sites and bookmark them to make sure you can bet on Spring Training when it eventually rolls around.
Also, be sure to check out our other great MLB betting article below that'll help you pass the time until baseball season starts.