2021 NFL Betting Trends to Watch for Week 1

Following a seven-month offseason, the 2021 NFL season is finally set to kick off. Week 1 begins this week and excitement is through the roof for NFL fans.
Week 1 is your first opportunity to place your bets on the NFL and win some money. Betting can be tricky, so I'm here to help. I'm going to show you some trends that stood out to me when it comes to Week 1 games.
The public is out there placing bets, and with week one drawing closer, you can start to make decisions based on early traction.
You can get started now at the best NFL betting sites, but it may pay to see how the public is betting on the NFL ahead of week one.
I'll point out the most interesting NFL betting trends for week one (and the wagers they're affiliated with), and assess how it may impact how you bet to start off 2021.
Los Angeles Rams (-7)
Both the Chicago Bears and Los Angeles Rams underwent major changes this offseason, particularly at the quarterback position.
Los Angeles acquired Matthew Stafford in a trade that sent Jared Goff and draft picks to the Detroit Lions.
Chicago moved on from Mitchell Trubisky by drafting Justin Fields in the first round of this year's draft. However, free agent signing Andy Dalton will likely start Week 1.
Despite this being a battle of two playoff teams, bettors are heavily siding with the Rams.
We've seen 85 percent of bettors place their bet on the Rams to cover the spread of -7. That number goes up to 87 percent when you look at the percentage of money that people bet on Los Angeles.
And this isn't a small sample size. According to Action Network, 10,655 bets have been placed on this game.
Check out the games that have more bets on them in Week 1.
Dallas Cowboys vs Tampa Bay Buccaneers (15,497)
San Francisco 49ers vs Detroit Lions (11,285)
Los Angeles comes into this season with Super Bowl aspirations. They should have one of the top passing offenses with Stafford, Cooper Kupp, and Robert Woods.
Their defense finished number one last season in yards allowed and should be an elite unit once again. Aaron Donald and Jalen Ramsey are the players to watch out for.
The Bears elite defense has slipped a bit over the past year or two. This season, they're looking especially vulnerable in the secondary.
Last season, the Rams defeated the Bears 24-10 in Los Angeles. They were a lot closer in talent level than they are this season.
It can be tough when the spread is this big but I think bettors have the right idea. Watch out for the Rams as they begin their pursuit of another NFC West title.
Green Bay Packers (-210)
Outside factors have already affected the Green Bay Packers vs New Orleans Saints matchup.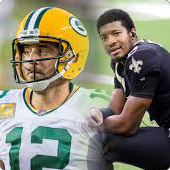 Hurricane Ida ripped through the New Orleans area last week, forcing the NFL to move this game from New Orleans to Jacksonville.
It'll essentially act as a neutral site game.
New Orleans definitely took a hit this offseason when longtime quarterback Drew Brees retired. Things didn't get much better when Michael Thomas had offseason surgery that will sideline him for at least five games.
Green Bay nearly had a disastrous offseason with Aaron Rodgers looking for a trade. He eventually returned ahead of training camp.
On paper, the Packers have the advantage but it's not a huge one, right? Well, you're in for a surprise.
A whopping 91 percent of the bets have been placed on the Packers moneyline this week. That is 13 percent more than the second-highest matchup (San Francisco 49ers over Detroit Lions).
Originally, the Saints opened as the favorite, so I assume a lot of people hammered the Packers bet at that time. Now that Rodgers is back in the fold, Green Bay is definitely the favorite.
It probably helps that they are playing in Jacksonville as opposed to New Orleans.
The #Packers season opener vs. the Saints has been moved to Jacksonville

?: https://t.co/ep0bs391tK#GBvsNO pic.twitter.com/RTO8ropGcp

— Green Bay Packers (@packers) September 1, 2021
New Orleans comes into the matchup with Jameis Winston and Alvin Kamara leading their offense. Winston looked strong in the preseason but I think everyone knows that he is a downgrade from Brees.
The Packers probably have the best offensive trio in the league in Rodgers, Aaron Jones, and Davante Adams. New Orleans has a good defense but I don't think they can stop that.
Last season, Green Bay came into New Orleans and beat the Saints 37-30.
Because it's just the moneyline, you don't have to worry about the Packers winning by a certain amount. The moneyline stands at -210 for Green Bay.
Dolphins vs. Patriots Over 43.5 (-105)
The New England Patriots made a major move this past week that definitely affected bettors. They released quarterback Cam Newton, meaning first-round pick Mac Jones will start in Week 1.
On the other side, the Miami Dolphins are sticking with 2020 first-round pick Tua Tagovailoa. They upgraded his receiving core, signing Will Fuller and using their first-round pick on Jaylen Waddle.
When it comes to betting on the total, it's all about how the two offenses stack up against each other.
Let's check out how each offense performed in 2020.
| | | |
| --- | --- | --- |
| Stat | Miami Dolphins | New England Patriots |
| Yards Per Game | 339.0 (22nd) | 327.3 (27th) |
| Passing Yards Per Game | 233.5 (20th) | 180.6 (30th) |
| Rushing Yards Per Game | 105.5 (22nd) | 146.6 (4th) |
| Points Per Game | 25.3 (15th) | 20.4 (27th) |
Both teams made upgrades this offseason but I don't think we'll see a drastic change in Week 1. They also both finished top 10 in points allowed last season.
It's not much of a surprise to see a 55/45 split when looking at the over/under. However, the money bet is shocking.
A whopping 97 percent of the money bet on the total is on the over. Now, this could be a few big bets compared to smaller ones favoring the under, but it's definitely not what I expected.
I would've expected a much closer percentage when it comes to money bet, with the under coming out on top. Clearly, that's not the case but I think this is one of those cases where the percentages can be misleading.
That's why I feel it's more valuable to look at the percentage of bets on the total or even the spread or moneyline for that matter. Percentage of money doesn't always give you the most accurate result.
Just something to think about moving forward.
Houston Texans (+140)
There is no doubt that this is the most surprising bet.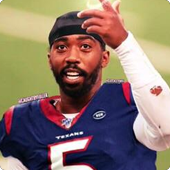 The Jacksonville Jaguars finished with the worst record in the league last season. That put them in position to select quarterback Trevor Lawrence with the first overall pick. Combined with new head coach Urban Meyer, this should be a must-see game in Week 1.
This offseason has been rough for the Houston Texans. Deshaun Watson is dealing with off-field issues, and Houston traded their longtime leader, J.J. Watt.
I can't imagine Houston competing for anything more than the number one pick in next year's draft. They're among the best bets to finish with the worst record in the NFL in 2021, after all.
According to Action Network, 63 percent of bets on the moneyline are on the Texans to win?
Honestly, I don't understand that one. I guess it's possible that people think the Texans odds of +140 are good enough to give them good value. However, Jacksonville's odds are -160.
I'm not going to say Jacksonville has a guaranteed win. Last season, we saw the Jaguars pull off a Week 1 upset over the Indianapolis Colts.
Of course, the Jaguars didn't win a game for the remainder of the season.
There's also the fact that this is a division game and they can be unpredictable.
Even with all those factors, the Jaguars should have the majority of money placed on them.
It's possible those numbers change over the next week considering just under 6,000 people have bet on the moneyline. That may not seem like a lot of people, but it's the least bet game in Week 1.
When you look at percentage of money bet, the numbers change drastically. In fact, 98 percent of money is on the Jaguars. It's definitely interesting to see the contrast in the two categories.
It'll be interesting to see if those percentages change over the next few days. And while it's tough to fully understand the early week one NFL betting trends for this game, it isn't hard to see why there is interest.
This Texans vs. Jaguars tilt can be filed under the top week one NFL games to bet on.
Atlanta Falcons (-175)
I'm not sure there is a more even matchup in Week 1 than the Philadelphia Eagles vs. Atlanta Falcons. Both teams finished last in their division last season and likely won't compete for a playoff spot this season.
Atlanta will still be a pass-heavy team, but instead of Julio Jones and Calvin Ridley, it'll be Ridley and first-round pick Kyle Pitts. They still have a bad defense, so they'll likely be playing catch up.
The Eagles traded Carson Wentz this offseason, opening the door for Jalen Hurts to take over. Philadelphia still has a weak receiving core, even after drafting DeVonta Smith.
Bettors have taken notice of the even matchup. Let's check out the numbers on Action Network.
| | | |
| --- | --- | --- |
| Bet | Percentage of Bets | Percentage of Money |
| Spread (Falcons -3.5) | 52 percent (Eagles) | 52 percent (Falcons) |
| Moneyline (-175) | 53 percent (Falcons) | 69 percent (Falcons) |
| Total (46.5) | 57 percent (Over) | 51 percent (Under) |
It's hard to differentiate a favorite when the percentages are so close.
When something like this happens, you almost have to look at individual matchups. It's sort of like a game within a game.
Because Jalen Hurts is a dual-threat quarterback, Philadelphia likely goes ground-heavy this year. The Falcons had a bad defense last season, but they allowed the sixth-fewest rushing yards.
Atlanta also finished top-five last season in passing yards. Philadelphia's pass defense ranked mid-pack but they have new pieces in their secondary this season. It's possible those guys start slow.
Both teams have a new head coach, so it's hard to say their team will look the same as they did last season.
Sometimes, it's best to avoid certain games, especially in Week 1 when there is so much uncertainty. This appears to be one of those games.
NFL Betting Advice for Week 1
Week 1 may be the toughest week to bet on for the entire 2021 season. There are so many moving parts in the offseason that a team can look completely different from the previous season.
Experts do their best to predict how teams will perform but no one truly knows until the teams hit the field.
You can never have too much knowledge when it comes to betting. Be sure to check out the following betting articles to help you bet on the NFL in week one.