2019 Waste Management Phoenix Open Betting Preview – Matchup Picks and DFS Advice for DraftKings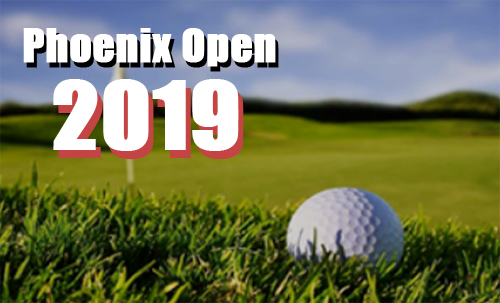 Things heat up this week as the PGA Tour heads to the Grand Canyon State for the 2019 Waste Management Phoenix Open.
Get ready for a party in the desert, and get ready to see a whole bunch of birdies.
ASU alum like Phil Mickelson and Jon Rahm are on deck and are set to compete, but you can't forget about names like Justin Thomas and Rickie Fowler.
Before I jump into my betting tips and advice for the tournament, get started with a foundation of what's in store by checking out some useful links.
Here are some helpful pages to make sure you're ready with the key information you need to start betting on the 2019 Phoenix Open.
Here are some of the key stats you should check ahead of the tournament.
Now that you have some groundwork to get started, let's dive right in!
2019 Waste Management Phoenix Open Matchup Picks
You know the drill. Forget about trying to pick the winner, and I honestly recommend skipping the "to finish inside the top ten" bets as well.
Even though most of the top golf betting sites were slacking early in the week when it came to setting their head-to-head matchups, our trusty friends over at Bovada.lv made sure not to drop the ball.
After scoping out what they had to offer, here is where I think the value lies.
Chez Reavie (-105) vs. Adam Hadwin (-125)
Boy, am I glad that Adam Hadwin showed up in Palm Springs two weeks ago and shot 25 under par to finish second. Apparently, it's given the oddsmakers over at Bovada.lv enough confidence to list Hadwin as a -125 favorite in an H2H matchup over Chez Reavie.
Adam played lights-out in La Quinta, but I'm still scratching my head a bit over this line.
I know they're aware that Chez is a product of Arizona State University. They understand that he knows this golf course like the back of his hand. But what they don't know is just how seriously well Chez has been striking the ball during the early portion of the season.
If you're wondering when the last time Reavie shot above 69 was, you'll have to go back to the final round of the WGC-HSBC Champions event in Shanghai. That was before Halloween, folks. In 12 rounds on the PGA Tour since, Reavie has compiled a ridiculous 67.3 scoring average.
That doesn't include the string of sub-65s he was routinely firing off in Scottsdale over the holidays, as per what our reliable source Drew Stoltz, aka @thesleezyman, had stated on Twitter. For any of you looking for a leg up betting golf, give this cat a follow and listen to his podcast. I promise you'll learn plenty.
If these data points aren't enough, just look back at the 2018 WMPO. You'll see that Chez shot 18 under and lost in a playoff to Gary Woodland.
The point is, Chez is in a serious groove right now, and I'm not ready to deem Adam Hadwin a favorite over him in this spot. Considering I'd pay -115 for Reavie here, you know I'm jumping on the -105 price tag that Bovada.lv has to offer.
Justin Thomas (+110) vs. Jon Rahm (-140)
Jon Rahm has been nothing short of brilliant since winning Tiger's tournament in the Bahamas the first weekend of December. He has played in three PGA Tour events since without finishing worse than 8th, including a top-five showing at Torrey Pines last week.
In a total vacuum, he'd probably be the logical choice as my top pick for who I think should win this golf tournament. But the thing is, betting golf matchups doesn't occur in a vacuum; it happens in real life.
And if you want to pass up a situation where Justin Thomas, world #4, is a +110 underdog in a matchup against Jon Rahm, go ahead. I just can't do it.
It's hard to show a profit betting matchups where one player is a -140 favorite. But when you can spot value at +110, you're in business. And as perfectly as things are lining up for Rahm in this particular spot, keep this in mind.
This will be Jon's third straight week competing. After being in contention during each of the last two weeks, I wonder how much the 24-year-old Spaniard traveling with his fiancée has left in the tank – not physically, but mentally.
With all the fans and support he'll be receiving from fellow ASU alum, perhaps it can carry him through. But I just can't get comfortable laying that steep of a number against someone as talented as JT.
Justin finished 3rd and 16th during his two-tournament stop in Hawaii and has since been working hard on his game at home in Florida. With Thomas fresh and ready to attack pins all week long, locking him in as an underdog to anyone not named Justin Rose at this point seems like a pretty good idea to me.
Now let's take a look at how the pricing over at DraftKings is setting up. Hopefully I can lend some insight that'll help you structure your lineup for this week's PGA $400k Drive to the Green.
2019 Waste Management Phoenix Open – Guide for DFS Players on DraftKings
What's more captivating than having a chance to turn $5 into $100 grand? If you submit a lineup into the most enticing GPP on DraftKings this week, you'll have that opportunity.
Here's my advice on how to go about creating that perfect lineup.
Note that these recommendations are based off entering lineups into the large field, guaranteed-prize-pool events (GPP). That means that being cognizant of ownership percentages and fading the "chalky plays" at the right time can play a big factor.
I've broken the pool of players into three tiers.
Top-Tier = Players priced at $9k and up
Mid-Tier = Players priced from $7,500 to $8,900
Low-Tier = Players priced from $6,000 to $7,400
I'll go through each one and highlight the names I'd be focusing on.
Let's start with the top-tier players.
Justin Thomas – $11,000
He's somewhat "under the radar" with all the attention on Rahm and Mickelson. The 2017 FedEx Cup winner finished 17th here last year, but here's the kicker.
He led the field in proximity. If Justin gets hot with the flat stick this week, all I can say is watch out.
Hideki Matsuyama – $10,700
With two wins under his belt at TPC Scottsdale and a top-three finish last week in San Diego, what's not to love? What you should be cautious of is his projected ownership that promises to be bloated in the small buy-in GPPs. A lock for cash this week may need to stay on the sidelines come "GPP" time.
However, if you feel like you have to roster either Rahm or Matsuyama, I'd lean toward Hideki. That way you can pocket the $800 in savings and upgrade elsewhere in your lineup.
Xander Schauffele – $10,100
He looked completely unfazed while paired with Tiger Woods during Thursday and Friday's first two rounds at Torrey Pines, proving more and more that this kid is the real deal. He cranked out yet another top-25 in the process, despite not having his best stuff.
The FedEx Cup leader in points had a chance to win here going into Sunday last year, and I wouldn't be shocked if the same type of situation panned out once again.
Cameron Smith – $9,100
What I love here is that Cameron Smith is sandwiched between some really popular players. He's sitting directly underneath Phil Mickelson and Matt Kuchar and right above Adam Hadwin, Bubba Watson, and Billy Horschel.
This should leave Cam's ownership a bit depressed, in spite of the fact that he closed out the Farmers Insurance Open with the low round of the day (65).
It's only a matter of time before the young Aussie starts contending on a regular basis, and getting on his bandwagon before it's too late makes the most sense to me.
Now we'll move on to the mid-tier players.
Chez Reavie – $8,700
The runner-up to Gary Woodland in last year's Waste Management Phoenix Open is playing even better this time around. Chez has yet to miss a cut in seven starts this season and has shown his ability to make eagles and birdies in bunches.
He's a must-play for me this week.
Alex Noren – $8,400
Alex Noren is a perfect candidate for your GPP lineup this week. He missed the cut last week in La Jolla, he isn't that popular to begin with, and he's priced right ahead of Cameron Champ. That means plenty of people should gloss right over the 36-year-old Swede who finished 21st here last year.
Don't forget that at #21 in the Official World Golf Rankings (OWGR), Alex is ahead of names like Matt Kuchar, Gary Woodland, and Hideki Matsuyama.
Cameron Champ – $8,300
Will Cameron Champ's 73rd-place showing in Honolulu and his "MC-Hammer" in San Diego finally force people off of rostering the insanely long hitter from northern California?
The former Texas A&M golfer finally slowed down after a rock-solid fall campaign, but I actually think the course setup this week will allow him to do some damage.
Expect Cameron to hit plenty of drivers, and that should translate into a boatload of birdies.
Austin Cook – $7,900
If you are wondering where Austin Cook has been in 2019, give the guy a break.
After welcoming his first child into the world earlier this month, Austin is finally ready to get back into competition.
I suspect that most people will glance at his game log and ignore his name when they see he hasn't played an event since the RSM Classic in November.
But Austin finished 11th there, he fired four under-par rounds in Phoenix last year, and most importantly…
He's riding the Nappy Factor. There's no motivation like a newborn baby, especially for a professional golfer!
Ryan Palmer – $7,700
Ryan Palmer knows how to go low and is no stranger to making a bunch of birdies. A Saturday 75 derailed Ryan's chances of keeping pace with Justin Rose, but he bounced back with a 68 on Sunday to finish in the top 15.
Palmer ended the week ranked third in strokes gained on approach shots and was second in the field with 23 birdies made. Both are key stats this week, so keep an eye out for another former Aggie aside from Cameron Champ.
Finally, let's take a look at the low-tier players.
Lucas Glover – $7,200
I had to double check, but Lucas Glover made just one bogey over 72 holes in the Desert Classic the last time he teed it up. In five starts so far in the 2018/2019 FedEx Cup season, Glover has yet to post a finish worse than 17th.
Sam Burns – $7,100
Sam Burns is still searching to play his best golf, although he has contributed an 18th and 40th over the past two weeks. After blazing through the Web.com Tour last season, Sam is primed to have a big year on the big stage in 2019.
After eagling his final hole at Torrey Pines on Sunday, TPC Scottsdale and the WMPO seems like the perfect place for Sam to break through and make a name for himself.
J.J. Spaun – $7,100
J.J. Spaun missed the cut last week, and he withdrew during the first round during last year's WMPO.
Surely Spaun has burned plenty of DFS players, so perhaps they'll steer clear of his name this week. But I know firsthand just how good of a ball striker the former Aztec golfer is, and I know he can get red-hot with his putter.
Plus he lives just minutes from TPC Scottsdale and is newly engaged. Could this be the week for J.J. to ride the good vibes and break into the winner's circle? To be honest, I wouldn't be too surprised.
Joel Dahmen – $6,800
I referenced Joel Dahmen last week at $6,900, and he paid off famously with a top-ten finish. So why did DraftKings decide to reduce his salary to $6,800?
He's now made eight of eight cuts this season and has been steadily making progress. He has finished 69th-41st-37th-22nd-9th over his last five events, and I wouldn't bat an eye if Joel churned out another top-ten finish this week. At $6,800 and giving us plenty of funds to spare, rostering Dahmen could put us in a really good position.
I live in Las Vegas and am shut out from competing on DraftKings. That's why I have no qualms about recommending my ideal lineup for GPPs this week.
My DK Lineup in GPPs for the 2019 Waste Management Phoenix Open
Justin Thomas $11,100
Cameron Smith $9,100
Chez Reavie $8,700
Lucas Glover $7,200
Sam Burns $7,100
Joel Dahmen $6,800
Going Away
I know this weekend is generally all about betting Super Bowl 53. But that doesn't mean it's time to put golf on the back burner and not take advantage of the betting opportunities we have been presented with.
Between the head-to-head matchups on Bovada.lv and all the fun you can have on DraftKings, you'd be silly not to jump into the action. Don't wait until Monday morning and look back and tell yourself you should have placed these bets.
Do it now and give yourself the chance to smile and celebrate.