2019 Farmers Insurance Open Betting Preview – Odds and Predictions with Matchup Picks and DFS Advice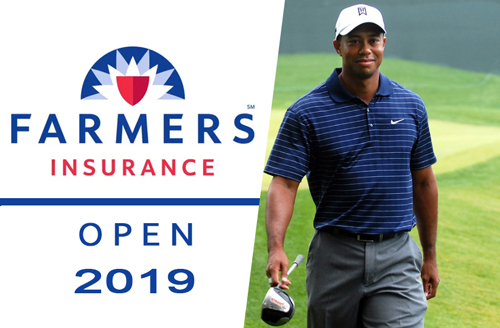 It's one of my favorite weeks on the PGA Tour, but not because I used to scrub the players' shoes in the locker room post-round.
Quite frankly, I don't really miss having to arrive at Torrey Pines at 6:00 am when the dew was still on the ground, either.
But I do sincerely miss being inches away from Tiger's locker. I miss being immersed in the action all week long. And most of all, I miss being that "kid in the candy store."
I was the guy who used to run around ripping headcovers off the clubs so that I could see the newest equipment the pros were playing. I was that golf nerd who couldn't help myself.
Well, I'm still a golf nerd at heart; I just don't have those luxuries at my disposal anymore. But back during my playing days at San Diego State University, my teammates and I used to get assigned to locker room duties at Torrey Pines during this event.
I was there when Tiger successfully defended his title in 2006 and again in 2007. I was even there when he won his fourth consecutive Buick Invitational (former name of this golf tournament) in 2008 by a whopping 8 shots!
And even though I won't be in La Jolla this weekend, another Tiger Woods victory isn't out of the realm of possibilities.
Tiger's outlook and expectations heading into 2019 are through the roof when you consider how he ended the 2018 campaign, as he is among the betting favorites to hoist the trophy at week's end.
But rather than focus on who will win the Farmers Insurance Open this weekend, I'm concentrating on the bets that I believe I can take advantage of.
And I'm here to share them with you below.
Those of you DFS players who are searching for the perfect lineup to submit into the PGA $500k King of the Pines tournament on DraftKings, scroll down to that section toward the bottom of this page.
I mean, who wouldn't want to take a stab at turning $5 into $100 grand?
Here's my full betting preview for the 2019 Farmers Insurance Open.
Farmers Insurance Open Matchup Picks
When it comes to betting PGA Tour golf tournaments, the matchups are my bread and butter.
It's hard to try and pinpoint a single player who will emerge victorious, as the fields are so incredibly deep, and there are so many variables involved.
But figuring out which players are destined to perform favorably? Now, that's a much easier task.
Gary Woodland (-150) vs. Cameron Smith (+130)
It's hard to consistently make money betting head-to-head golf matchups if you are always laying -110 or -120. That's why targeting Cameron Smith against Gary Woodland at +130 this week can really set you up for success.
Don't get me wrong; I'm really high on Gary Woodland this season and feel like he's in line for some spectacular performances. If it wasn't for Xander Schauffele's remarkable final round in Maui, Gary would already be sitting on a win in the calendar year.
To be truthful, there are plenty of players in this field that I could get on board with Gary Woodland being -150 against; it's just that Cameron Smith isn't one of them. The 25-year-old Aussie isn't quite a "household name" yet, but trust me. He's getting there.
Smith capped off a productive 2018 by winning the Australian PGA Championship by 2 shots over Marc Leishman, and I believe he's hungry for more in 2019. After resting over the holidays, Cameron used four rounds in the 60s at the Sony Open to finish in a tie for 22nd, and he finished 20th at this event last season.
I'd understand if Gary was a slight favorite here, but come on. Bovada.lv has Woodland at -165 against Smith, and that's just not right. Rather than snag Smith there at +125, I found an even better price at MyBookie.ag.
Rory McIlroy (-120) vs. Tiger Woods (+100)
Tiger has won this golf tournament seven times, plus he won the 2008 U.S. Open here on one leg. And you are telling me he is available at even money against a dude who has never played a competitive round of golf at the South Course?
Sure, Rory McIlroy is a unique talent and is capable of winning anywhere at any time. But the truth is, Rory isn't an accurate driver of the golf ball (was ranked 163rd in driving accuracy in 2018) and has been known to struggle on greens he is unfamiliar with.
Well, there isn't a harder place to hole out your three-footers on the PGA Tour than at Torrey, namely because of the Poa Annua that causes fits for the players. And if you are missing fairways at the South Course, salvaging pars becomes extremely difficult.
As great as McIlroy is, I don't see this venue as being an ideal fit for him. I hardly need to get into the affinity that Tiger has for this place, as eight victories as a professional on this property tell you all you need to know.
I'm not positive that Tiger will turn back the clock and win for a ninth time at this golf course, but I am certain that locking him in at +100 against Rory McIlroy in this instance is the pure definition of value.
Xander Schauffele (-105) vs. Rickie Fowler (-115)
Rickie Fowler was born and raised in Murrieta, a California city just 60 miles away from Torrey Pines. But unfortunately for Rickie, his hometown knowledge has served him anything but well here over the years.
Fowler recently signed a golf ball/glove deal with TaylorMade and will put the new ball in play this week, but that's not what makes me wary about backing "Slick Rick." It's how dreadfully Rickie has fared here that makes me nervous.
Fowler has been downright abysmal at the Farmers Insurance Open since 2014, missing four of his last five cuts at Torrey Pines. Considering all he has to show for his last five appearances at the South Course is a tie for 61st in 2015, I'm a bit "up in the air" as to how he'll perform this week.
As far as his opponent in this matchup goes, now that's a different story.
If you know of any golfers on the planet that are hotter than Xander Schauffele is right now, you'll have to point them out to me. And if you thought Rickie had local knowledge this week, Xander has even more.
The former Aztec golfer was a standout at San Diego State and was even born in La Jolla. Xander's putting coach will be on hand to assist in working out any kinks he might have with the flat stick, although I can't imagine there will be anything to fix.
Derek Uyeda has already done wonders with Schauffele's stroke this offseason, and that isn't just hearsay. It's evidenced in the numbers.
Here's a kid who ranked second in putts per GIR and finished third in strokes gained putting his last time out. The sixth-ranked player in the Official World Golf Rankings (OWGR) is on a fast track to superstardom, and you know me when it comes to value.
I've seen Schauffele at -125 in this matchup on some golf betting sites, and he's listed ahead of Rickie across the board on just about all of them. That's why when I saw X-Man lurking at -105 against Fowler on BetOnline.ag, I didn't waste much time.
PICK
Xander Schauffele
-105
Farmers Insurance Open DFS Advice for DraftKings Players
Now for the fun part. Betting matchups are surely the most lucrative way to go about steadily seeing a positive return when it comes to wagering golf tournaments.
But if you want to take a shot at earning life-changing money and want to have a lot of fun in the process, try heading over to DraftKings and playing in a $5 entry fee tournament that shells out $100,000 to the winner!
Sound like fun? If Nevada would amend their law and I was allowed to participate, here are the guys I'd be interested in rostering.
Let's start with the top tier – the golfers priced at $9,000 or above. Given their projection/price, here is who I fancy the most.
Justin Rose ($10,800)
His ownership percentage is the one thing I'd worry about in GPPs, but it's hard to find any faults with someone as rock-solid as Justin Rose.
The world's top-ranked player got his feet wet in competition last week in the Desert, making it hard to imagine a scenario where he doesn't play well this week.
Tiger Woods ($10,500)
I've mentioned his seven wins at the Farmers Insurance Open, and we all remember him winning the 2018 TOUR Championship back in September. But Tiger is more of a cash game play for me this week, as his ownership will be severely inflated due to the fact that it's his first tournament of the year.
Being that he's probably the "chalkiest" play on the board, fading him in GPPs might not be the worst idea.
Xander Schauffele ($9,400)
I'm trying to find holes in Xander's game, and I keep coming up empty. It's obvious he has a flair for the big moment, and he's been in a groove since winning in the WGC in Shanghai in the fall.
Until he proves otherwise, he'll continue being a force to be reckoned with.
Patrick Cantlay ($9,200)
Patrick Cantlay has quietly surged to #17 in the OWGR, closing in on the prediction I made at the start of last season that he would elevate himself into a top 15 player in the world within a year. After beginning the season with a 17th-place finish at the Safeway Open, Cantlay has reeled off three straight top 10s.
If I had to make a single pick to win this week, Cantlay would be my guy.
Charles Howell III ($9,100)
If it ain't broke, don't fix it. "Chucky Three Sticks" has never missed the cut at Torrey Pines in 16 tries, including finishing second here on three separate occasions. Entering the week slotted fifth in the FedEx Cup standings, Howell is percolating for more good finishes.
Charles led the field in GIR last week in Palm Springs, and until the West Coast Swing is over, you can confidently lock "CH III" into all formats of DFS golf.
Now let's look at the next tier of players. Out of the golfers priced between $7,500 and $8,900, here's who sticks out to me.
Cameron Smith ($8,800)
Looking for a young player who might be next up to break out into a superstar? Look no further than Cameron Smith.
Sitting directly below Jordan Spieth who is priced at $8,900 and directly above Patrick Reed who is priced at $8,700, it appears that Smith will be a name that people gloss over. That makes him a perfect candidate to target when playing GPPs on DraftKings.
Abraham Ancer ($8,200)
Similar story here. Not only is Abraham Ancer another young gun on the PGA Tour with all the tools to be a world beater, but he's priced in a way that makes me believe his ownership will be deflated.
Guys like Cameron Champ and Brandt Snedeker will garner most of the attention at this price point, and there are loads of interesting plays further down the list.
When most people zig, I like to zag. So if most people are going to sleep on Ancer at $8,200, consider doing the opposite.
Hideki Matsuyama ($8,000)
It's funny to think that Hideki Matsuyama priced down at $8,000 is actually still sort of an "out-of-the-box" type of play. Here's a guy who has let many DFS players down over the past year, but I have a hard time believing that his talent has just disappeared.
Habitually known as one of the premier ball strikers around, Hideki finished 12th here last season. The fact that he hasn't had any good finishes lately bodes well in terms of his popularity – and that right there makes him an intriguing play.
And finally, for the bottom tier: the players listed between $6,000 and $7,400. Locating value in this tier is the key to placing well in the large-field GPPs.
J.J. Spaun ($7,300)
Xander Schauffele isn't the only former San Diego State University golfer to keep an eye on this week. J.J. Spaun had a chance to win this golf tournament during his rookie season in 2017, and he backed up his stellar play at Torrey Pines with a top-25 finish here last year.
I don't see making the switch from Srixon to Callaway over the offseason as being a hindrance at all, and if anything, it should give him a boost. Angling for his first victory on the PGA Tour, J.J.'s time could come as soon as this week.
Patrick Rodgers ($7,100)
Patrick Rodgers might be a boom or bust play this week, but in GPPs on DraftKings, that's not the end of the world. Rodgers finished fourth at the 2017 Farmers Insurance Open and lost in a playoff to Charles Howell III at the RSM Classic in November.
For a guy who can bomb it and make a ton of birdies, don't leave him completely off your radar when toying with tournament lineups.
Keith Mitchell ($7,000)
I actually look at Keith Mitchell's final round of two over par (72) at the Sony Open as a blessing in disguise. The 27-year-old former Georgia Bulldog found himself in the final pairing on Sunday at Waialae but was unable to overcome the nerves of being in contention.
Considering that he sported the fastest club head speed on the PGA Tour in 2018, I'll go ahead and say this kid is fearless with a golf club in his hands. I think he learns from his mistakes quickly and ends up redeeming them in a big way.
Joel Dahmen ($6,900)
Here's a guy who will almost certainly go under-owned relative to how good of a player he actually is. The fact that he withdrew shortly before last week's Desert Classic will unequivocally shrink his ownership, and that should make your eyes light up in GPPs.
Joel has connected on seven of seven cuts so far this season, and that's following a 2018 campaign in which he logged 11 top-25 finishes. Dahmen ranked seventh on the PGA Tour in proximity from the rough, which will be a big benefit here at Torrey Pines.
Sam Burns ($6,800)
After breezing through the Web.com Tour last season, Sam Burns is a player to keep close tabs on this upcoming year. He flashed what he is capable of in parts last week, finishing at 16 under par and in a tie for 18th place.
The best putter on the Web.com last season totaled just 100 putts (second fewest in the field) last week in La Quinta. If he starts hitting his irons close this week, a top-10 finish could be imminent.
Taking all of the above into consideration, here's the DFS lineup I'm going with for the 2019 Farmers Insurance Open.
Patrick Cantlay $9,200
Charles Howell III $9,100
Cameron Smith $8,800
Abraham Ancer $8,200
J.J. Spaun $7,300
Keith Mitchell $7,000
Some Final Thoughts
If you check out our detailed guide to the South Course at Torrey Pines, you can get a better feel for what this venue is like. But if you are strictly here to try and eke out some value when betting the matchups, hopefully you found what you are looking for.
Those of you who are seeking assistance while scripting your DraftKings lineups, surely you found some appetizing plays.
All that's left is to get locked into your action and get ready to watch some golf this weekend. That's what's on my agenda!