Hide Bonus Offers
| | | | | |
| --- | --- | --- | --- | --- |
| #1 | Bovada Sports | 50% Up To $250 | Visit Site | Bovada Sports |
| #2 | BetUS | 125% Up To $2,500 | Visit Site | BetUS |
| #3 | MyBookie | 100% Up To $1,000 | Visit Site | MyBookie |
| #4 | Everygame | 100% Up To $500 | Visit Site | Everygame |
| #5 | BetOnline Sports | 60% Up To $1,000 | Visit Site | BetOnline Sports |
2019 College Basketball Player of the Year Odds – Zion Williamson the Betting Favorite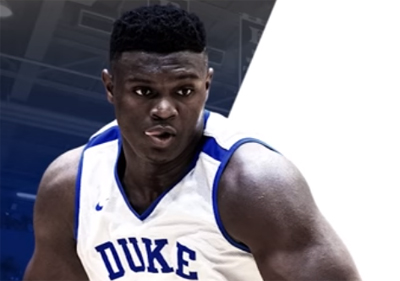 Zion Williamson is a freak.
That might be putting it mildly. He's built like a dumpster truck and drops highlight-reel dunks like he's Michael Jordan.
If you were searching for the next NBA superstar, you've found him.
The Duke standout is a borderline lock to be the first pick in the 2019 NBA Draft, and whatever team gets him is getting a true sensation.
Williamson's numbers speak for themselves. Even if you've been unable to catch his jaw-dropping athleticism and saliva-inducing dunks, his stat line of 20.9 points, 9.5 rebounds, 2.4 assists, 2.2 steals, and 1.9 blocks per game should tell you roughly all you need to know.
The big takeaway?
He's a massive star, but his numbers don't ring hollow. He has an impact in virtually every facet of the game.
Seeing is believing, of course.
Yeah, the kid is nuts. He's even drawn praise from Vince Carter.
Williamson is also a ton of fun to watch, and he's injected a brand-new energy into a Duke program that will be eyeing its first national title since the 2014-15 college basketball season.
Williamson's stellar play has Duke in line to compete for that.
The Blue Devils are a stout 13-1 and presently own the top spot in most college basketball rankings. Duke is clearly one of the top threats to win the college basketball title (+200 favorites at SportsBetting.ag) when March Madness rolls back around this year.
Latest 2019 College Basketball Player of the Year Odds
As if Williamson didn't have his hand in everything prestigious already, his numbers and on-court impact are likely to bleed into a National Player of the Year trophy, too.
As locked in as that feels, though, bettors may want to wonder if someone else could steal the show. There are certainly other options out there, with SportsBetting.ag giving everyone a pretty thick list to work with.
Here are the latest College Player of the Year odds.
Zion Williamson – Duke
+125
Markus Howard – Marquette
+450
Dedric Lawson – Kansas
+1000
Ethan Happ – Wisconsin
+1000
Rui Hachimura – Gonzaga
+1000
Grant Williams – Tennessee
+1400
Carsen Edwards – Purdue
+1600
Cassius Winston – Michigan State
+1600
Nickeil Alexander-Walker – Virginia Tech
+1800
Ignas Brazdeikis – Michigan
+2000
Myles Powell – Seton Hall
+2000
Caleb Martin – Nevada
+2500
Jordan Caroline – Nevada
+2500
Shamorie Ponds – St. John's
+2500
Admiral Schofield – Tennessee
+3300
Charles Matthews – Michigan
+3300
Jarrett Culver – Texas Tech
+3300
Williamson has been the favorite since before the season began, but a number of basketball betting websites had his price way lower just a couple of months ago.
That tells us the top college sportsbooks want to tighten things up to generate interest in other wagers or there just really are a lot of viable bets in this field.
Top Contenders for 2019 NCAA Basketball POTY
I actually might argue for the latter. Markus Howard makes a ton of sense as the runner-up right now, as he's fresh off a crazy 53-point game.
The Marquette star is averaging 25.8 points per game on the year (fourth most in the country) and keeping his Golden Eagles in the mix for a solid seed come March Madness.
Howard is probably the biggest threat to Zion's throne, but he's not alone.
Wisconsin's Ethan Happ is also putting up a cool double-double (19 points and 10 rebounds) on a nightly basis. His woes at the charity stripe are troubling, but he has the Badgers at 11-4 and in position for a solid tournament run.
Team performance appears to play a hand in who wins this award each year, as the voters tend to put emphasis both on jaw-dropping stats and a player's impact leading to team success.
The top candidates can safely say both, so bettors looking for elite betting value may want to stress anyone who has comparable numbers to Williamson.
As far as favorites go, Williamson teammate Barrett (22.8 points per game), Rui Hachimura (21.4), Cassius Winston (18 points and 7 dimes per game), and Carsen Edwards (24.5) round out your best bets.
Edwards is the least likely of the top contenders, of course, seeing as Purdue's overall team success probably isn't where it needs to be.
Sneaky Sleepers for 2019 NCAA Basketball POTY
For the most part, I think your betting energy should focus on the college basketball prospects we've already covered.
They have the best odds, and the combination of elite production and high-level team success gives them the best chance to win.
That doesn't mean a sleeper can't emerge, however.
The College Basketball Player of the Year doesn't always have the best numbers, and his team isn't always necessarily the best in the nation. Looking at the last seven winners, just two topped even 19.2 points per game.
Regardless, some interesting value plays bettors should at least lend a cursory glance include Shamorie Ponds (+2500), Kyle Guy (+3300), and Charles Matthews (+3300).
The stats don't jump off the page for Guy and Matthews, but as I write this, Virginia and Michigan are both undefeated.
Both teams will probably eat a loss eventually, but if these two guys can pick up their numbers, and the team success remains at an elite level, they could work their way up the ladder.
Needless to say, getting them now at a +3300 price could end up being a crazy steal.
Ponds is less likely, but it's worth noting that St. John's is presently inside the top 25, and he's a big reason why, thanks to 20 points and six assists per game.
Beyond the listed options, there are some more names to consider in the event other online sportsbooks offer enhanced options or a "field" wager.
If so, don't write off the likes of Justin Wright-Foreman (26.7 points per game), Chris Clemons (first in nation with 29.3 points per game), and Ja Morant (23.3 points and 9.9 assists per game), who aren't enjoying much team success but are obviously dropping awesome numbers on a regular basis.
Will Zion Williamson Win College Player of the Year?
The college basketball player of the year sleepers are fun to look at for two reasons: pricing, and the numbers are crazy. The same can be said for some of the top contenders, but this is realistically a two-man race with perhaps two more options a ways behind them.
Ethan Happ and R.J. Barrett are in the mix, but they're quite a bit behind Markus Howard, who is presently your best value bet behind Zion Williamson. Howard is just scoring at such a ridiculous rate and also keeping Marquette (21st in the nation) inside the top 25.
It's just tough to know if it will stick. Howard's scoring could always take a dip, while Marquette as a team could easily regress. This is your best bet to keep Zion from winning, and at +450, he's very much worth a flier bet.
But all roads lead to Zion Williamson winning College Basketball Player of the Year.
Duke is the best team in the nation, and Williamson has played a huge hand in their success. They will probably be in the running for a title as well, and even if they fail in that plight, his numbers across the board are so good that he feels like a lock at this point.
I think there is merit in looking at Howard and maybe a couple of other options, but most of your focus should be geared toward Williamson.
He's a heavy favorite, yet you're actually soaking up amazing value at +120. His price should be way lower and actually was just a few months ago. I'd jump on him now before Vegas responds and drops it back down.