2018 Pegasus World Cup Odds: Is This Gun Runner's Race to Lose?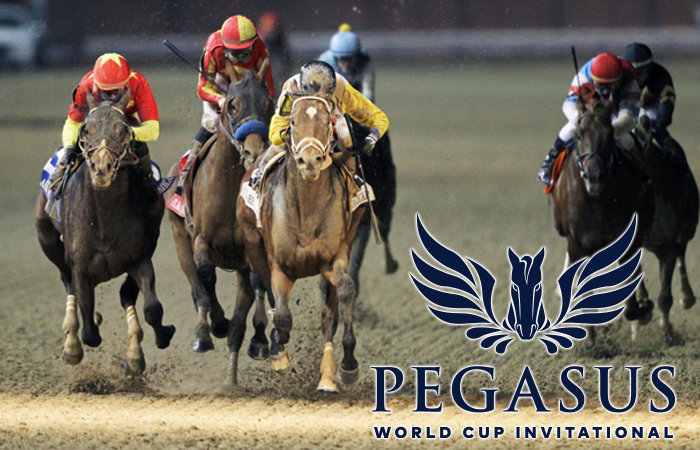 The Kentucky Derby is getting all of the hype and it's still almost 5 months away. A much more lucrative horse race touches down at Gulfstream Park in Hallandale Beach, Florida on January 27th and it's almost like nobody is paying attention.
You'd have to be pretty far outside the horse racing world for that to be the case, though.
Regular sports fans should be taking notice, as the 2018 Pegasus World Cup prepares for its second-ever run in roughly 10 days. Some of the best horses – 12 to be exact – will collide in an uber-hyped event that is putting a whopping $16 million on the line.
The prize money only grows from last year, when the inaugural running of the Pegasus World Cup put $12 million up for grabs. That mark placed the Pegasus World Cup ahead of the Dubai World Cup as the richest horse racing event in the world.
That number is only being trumped this month, while the prestigious event again is attracting major players in the horse racing circuit. Arrogate bested California Chrome and a stacked field in 2017 and the oddsmakers peg Gun Runner as this year's early favorite.
The flat-racing event is run on dirt and is shorter than the Kentucky Derby (9 furlongs) and will showcase Thoroughbreds aged 4 and up.
All odds that are referenced in this article were taken from BetOnline at 4:41 pm CT on 1/15/2018. These odds may have changed since the time of this writing.
2018 Pegasus World Cup Odds
As intense as this race is from a financial and star power perspective, there could be plenty of cash up for grabs for bettors, too. Gun Runner is the obvious favorite (-150 at BetOnline) after taking down the 2017 Breeders' Cup Classic, but taking first may not be the lock everyone thinks it will be.
With Gun Runner set to retire after this massive event, it makes sense that the oddsmakers have the horse going out on top, though.
While Gun Runner leads the way, this could be a loaded field once the 12-horse lineup is officially set. For now, BetOnline lists five more options than there are expected to be. Here are the latest Pegasus World Cup odds:
Gun Runner (-150)
Sharp Azteca (+475)
Collected (+650)
West Coast (+650)
Seeking the Soul (+1500)
Toast of New York (+2200)
Gunnevera (+2500)
Giant Expectations (+2500)
Fear the Cowboys (+3500)
War Story (+3500)
Stellar Wind (+3500)
Destin (+4000)
Mind Your Biscuits (+4000)
Giuseppe the Great (+5000)
Prime Attraction (+7500)
Singing Bullet (+7500)
Game Over (+7500)
This is admittedly a top-heavy field at first glance, while this also isn't the official final lineup just yet. Still, some contenders have emerged from the pack.
Sharp Azteca is the next horse up in terms of favorites, largely due to several successful runs recently. The 5-year old won the Cigar Mile on December 2nd and has scored first-place finishes in 3 of its last 4 runs.
Sharp Azteca's form and talent are difficult to deny, yet bettors get solid +475 odds at BetOnline. This is a competitive horse that figures to return value as a top-3 finisher in general, having finished inside the top 3 in each of its last 10 events.
There are more contenders to consider, of course. Big names like Collected, Gunnevera and Destin all deserve the attention of bettors looking for some serious betting value, while War Story might actually take the cake in that department.
War Story actually finished in 5th in this exact race a year ago, while the 6-year old took home first at the Brooklyn Invitational last June. A string of three straight 4th place finishes cast some doubt on War Story's true upside, but last year's solid run keeps it in the running with fun +3500 odds.
Collected ranks third in Pegasus World Cup odds at BetOnline and as a Bob Baffert horse, it's certainly one to keep an eye on.
The 5-year old has been around, having secured wins at the Sham Stakes and Pacific Classic. In all Collected has 6 wins in its last 9 runs and might feel more promising had it not been for a disappointing 10th place finish at the 2016 Preakness Stakes.
Don't forget about Destin or Gunnevera, either.
Destin is best remembered for winning the Tampa Bay Derby back in 2016, before a respectable 6th place run at the Kentucky Derby. Todd Pletcher's 5-year old has fizzled since, but still has a big name and has pushed elite competition in the past.
The same goes for Gunnevera, who recently won the Tangelo Stakes to lift its stock up a bit. The 4-year old also finished 2nd at the 2017 Travers Stakes and pushed into 5th at this past year's Breeders' Cup Classic.
Gunnevera isn't necessarily a favorite, but this is a horse with a lot of success and experience. It'll be hard to ignore the value (+2500) bettors could be getting.
While some familiar names are worthy of your wagers, don't leave out some of the lesser known talents, nor the horses with the most betting upside.
No horse offers more cash earnings potential than Prime Attraction, Game Over or Singing Bullet, while Giant Expectations comes in with as much momentum as anyone after taking down the San Antonio Stakes in December.
Who Takes First?
This is a huge race in two regards; there is a lot of talent being shoved into a 12-horse pool and there is loads of money on the line.
Given everything, I want a little upside with my bet. Gun Runner is a deserving favorite and very well could take the cake here, but Collected may be the top challenger worth throwing some cash behind.
Finishing second behind only Gun Runner at the Breeders' Cup Classic is what does it for me. This is a very talented horse, it's trained by the legendary Bob Baffert and it has a sustained history of winning.
It's only two recent losses have come at two highly competitive events, one of which is of iconic nature and came against this year's favorite for this specific horse racing event. It's previous four races all ended in victory.
Gun Runner is a strong favorite and Sharp Azteca is a worthy challenger, but for me Collected is the horse that offers all of the betting upside in this crop.