Hide Bonus Offers
| | | | | |
| --- | --- | --- | --- | --- |
| #1 | Bovada Sports | 50% Up To $250 | Visit Site | Bovada Sports |
| #2 | BetUS | 125% Up To $2,500 | Visit Site | BetUS |
| #3 | MyBookie | 100% Up To $1,000 | Visit Site | MyBookie |
| #4 | Everygame | 100% Up To $500 | Visit Site | Everygame |
| #5 | BetOnline Sports | 60% Up To $1,000 | Visit Site | BetOnline Sports |
2018 NFL Props: Which Head Coach Will Get Fired First?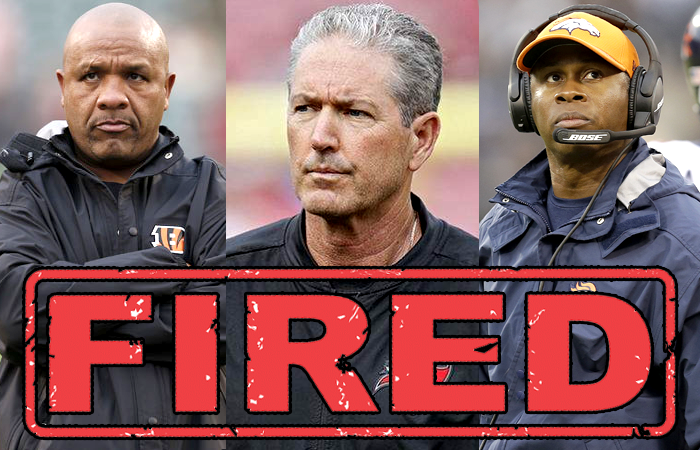 In less than a full month, the 2018 NFL season will unofficially return.
Training camps will open up, fans will be highlighting their week-one preseason games, and before you know it, the regular season will arrive.
It's probably all just going to end in a New England Patriots title when it's all said and done, but for the moment, all 32 NFL teams remain hopeful that they can vie for this year's Lombardi Trophy.
For those who can't, it may be time to cut ties with the main man running their show.
Some head coaches are admittedly on hotter seats than others, and top NFL betting sites like Bookmaker.eu are taking advantage of their less-than-ideal situations.
That's right. You can wager on which coaches could get canned at any point during the upcoming NFL season.
The question, of course, is which coach will actually convert that bet.

NFL Head Coach Firing Odds
There are a lot of options here, as Bookmaker turns over every stone by including numerous high-profile head coaches, as well as other wager options.
You can pick "no coach," bet on "the field," or target 12 specific coaches that have been called out by sports betting sites.
Cleveland showrunner Hue Jackson starts the bidding at +303, and it only gets more interesting from there.
Here's a look at the odds for which NFL head coach will get fired first in 2018.
Hue Jackson – Cleveland Browns
+303
Dirk Koetter – Tampa Bay Buccaneers
+508
Vance Joseph – Denver Broncos
+539
Adam Gase – Miami Dolphins
+765
Marvin Lewis – Cincinnati Bengals
+1135
Jay Gruden – Washington Redskins
+1343
Todd Bowles – New York Jets
+1289
John Harbaugh – Baltimore Ravens
+1802
Pete Carroll – Seattle Seahawks
+2017
Bill O'Brien – Houston Texans
+2097
Jason Garrett – Dallas Cowboys
+3880
Ron Rivera – Carolina Panthers
+4500
I often gripe about these types of sports wagers not including viable alternative options, but Bookmaker nails it by offering two (no coach and the field) non-coach picks for bettors.
Ignoring either of these could easily be a mistake.
In-season head coach firings aren't always a lock, as franchises often want to give the head coach a chance to finish the season strong and/or keep continuity with the team to close out the year.
At +303, betting on no coaches being fired during the regular season isn't that crazy.
I also like the Field/Any bet, just because few head coaching gigs are truly concrete.
Bill Belichick might be the only guy who is pretty much safe in the NFL, and even the guys you'd line up right behind him make up a small number.
Still, guys like Sean Payton (Saints) and Mike McCarthy (Packers) have been in the firing conversation for long enough that a brutal start to 2018 could get them axed.
There's a slew of first-year head coaches like Matt Patricia and others that could fail to survive year one on the job, but usually teams give coaches at least one full season to prove themselves.
For the most part, the list you're looking at features the best bets to be handed a pink slip during the regular season, and you need to decide whether one will get fired and which one it will be.
(Probably) Going Nowhere
I don't think you can ever truly rule anyone out when it comes to something like getting canned during the regular season, as these moves often come out of nowhere.
That being said, I'd be pretty surprised to see the likes of Rivera, Carroll, Harbaugh, Garrett, O'Brien, or even Gruden be fired before the year ends – let alone be the first head coach let go.
Rivera is just a few years removed from a Super Bowl run and is actually the winningest head coach in Panthers history. Carolina got back to the playoffs under his watch last year and routinely has one of the better defenses in the NFL.
Carroll's Seahawks did miss the playoffs last year, but they had a slew of injuries and still finished a respectable 9-7 and barely missed out on a wild card spot.
Seattle has won their lone Super Bowl and gotten to two title games under Carroll's guidance.
With a bunch of roster turnover this offseason and production on his side, I highly doubt Seattle will decide to move on from their head coach anytime soon.
The same goes for Harbaugh. Baltimore hasn't been great lately, but the Ravens won a title under his guidance.
The Ravens have also finished below .500 just once in Harbaugh's 10-year run in Maryland, and after investing in a rookie quarterback in Lamar Jackson, something tells me the leash is long here.
O'Brien and Gruden should be given time to figure things out, too.
Gruden just got a new quarterback when the team traded for Alex Smith, while O'Brien deserves the opportunity to maximize second-year passer Deshaun Watson's upside.
Garrett may be the lone wild card of this group, but he's kept the 'Boys quite competitive in his years on the job. He seems to be Jerry Jones' guy, for better or worse.
Best Bets
I certainly am not saying you can't consider anyone else listed at Bookmaker.
However, I feel like there are a few guys who have solid arguments against getting fired before the end of the year.
Adam Gase got to the playoffs in his first year and then had to endure a full season of Jay Cutler. I think Miami owes it to a once-brilliant offensive mind to try to prove he's better than that.
There are other arguments to consider, but your time is better spent on targeting the coaches who might actually get fired.
Here are the three I'd probably bet on the hardest.
Hue Jackson (+303)
You can't go 1-31 in your first two years on the job and not head this list. In fact, there's a pretty straightforward argument that Jackson should have already been fired.
Jackson is here, though, and the Browns are going to give him one last try to prove acquiring actual talent will be the difference.
I'm still not sold it is.
Cleveland did go get a lot of solid players, as Tyrod Taylor, Carlos Hyde, and Jarvis Landry alone give the Browns a trio of interesting offensive pieces.
Of course, that does not make this team a lock to win games. For one, Taylor is one of the more erratic passers in the league and barely nudged the Bills into the playoffs last year.
Hyde has played on a 49ers team that has won literally 21 games in the four years he was in the Bay Area. Landry wasn't able to be big enough of a difference-maker for the Dolphins (six wins) in 2017, either.
When their powers combine…
…they probably just create a mediocre offense that looks way better than last year's Browns.
And that's saying basically nothing at all.
Even if they're better, they may need to be a lot better. Suffice it to say, Jackson is on fire watch from the jump in 2018.
Dirk Koetter (+508)
If there is someone who could rival Jackson's firing odds, it has to be Koetter.
Not only was Koetter probably at risk after the Bucs went just 5-11, but they actually regressed from their 9-7 finish in 2016. Two years on the job, and Koetter has failed to get the Bucs back to the playoffs.
Even worse, his specialty is on the offensive side of the ball, and his team ranked 18th in points per game and 27th in rushing yards per game last year.
The lone bright spot in his offense was the passing game, but even that takes a hit with franchise quarterback Jameis Winston slapped with a three-game suspension.
Given Tampa Bay's brutal early-season schedule (Eagles, Saints, and Steelers), Koetter is probably looking at an 0-3 start that his team won't be able to recover from.
The only question is if Tampa Bay will give Koetter a break for that bad luck or if they'll judge him for a slow start. If so, he could be the first coach to get axed.
Vance Joseph (+539)
Again, I'm not saying you can't bet on other NFL head coaches to be canned this year. However, Joseph ends my favorite trio of coaches that could get fired.
Joseph makes a ton of sense and really offers the most value, seeing as Broncos GM John Elway was dangerously close to parting ways with his head coach after last season.
Denver's inability to figure out the quarterback situation was one issue, but their once-vaunted defense also took a nosedive.
The Broncos ranked 22nd in points allowed per game and slid to 22nd in sacks. That's a trouble development, especially since Joseph's background is on the defensive side of the ball.
If you don't believe Joseph is in danger of losing his job, just look back and remember that John Elway called this team soft under his leadership.
After that, Elway did his job and got Joseph the goods to get competitive again.
Elway drafted arguably the top defensive presence in Bradley Chubb, brought in a veteran quarterback in Case Keenum, and even added a new running back to help balance out the offense.
On paper, Elway has given Joseph enough to win in 2018. If he doesn't show signs of being able to do that early, it could spell trouble.
Which NFL Head Coach Gets Fired First?
I really don't see how you can stray far away from Hue Jackson when it comes to this prop bet.
I see a few options worthy of flier bets, but until the Browns actually win even one game, his seat has to be hotter than anyone else's.
Adding to the allure of Jackson getting canned early? The presence of Todd Haley.
A terrific offensive coordinator, Haley just got done helping the Pittsburgh Steelers put up points for the past five years.
He also has head coaching experience, one time leading the Kansas City Chiefs to the AFC West title and a playoff appearance.
Should things go south early in Ohio, the Browns could can Jackson and promote a guy who is just as good offensively and also has head coaching experience.
In fact, it's pretty safe to say Haley is already a far more qualified candidate, and upon the (likely) firing of Jackson, he'd surely be one of the top names on Cleveland's list.
But this isn't just about convenience or finding a replacement.
If Jackson is again any part of why Cleveland can't get wins at a much higher rate, the Browns need to stop wasting time and move on.
They probably should have done it after Cleveland went 1-15 two years ago, and mid-way through last year would have been a good time to cut ties, too.
Once the Browns finished just the second 0-16 run in league history, the choice should have been made easy.
Cleveland opted to roll Jackson out there one more time, but at +303, you're still getting solid value to bet it won't last much longer.
PICK
Hue Jackson – Cleveland Browns
+303