Hide Bonus Offers
| | | | | |
| --- | --- | --- | --- | --- |
| #1 | Bovada Sports | 50% Up To $250 | Visit Site | Bovada Sports |
| #2 | BetUS | 125% Up To $2,500 | Visit Site | BetUS |
| #3 | MyBookie | 100% Up To $1,000 | Visit Site | MyBookie |
| #4 | Everygame | 100% Up To $500 | Visit Site | Everygame |
| #5 | BetOnline Sports | 60% Up To $1,000 | Visit Site | BetOnline Sports |
2018 NFL MVP Value Bets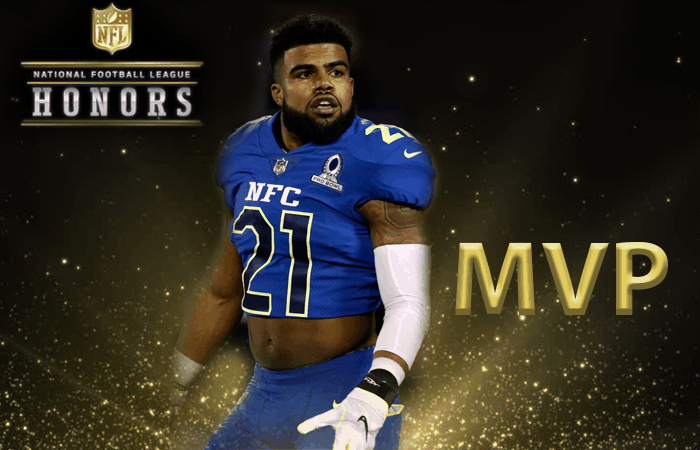 To be frank, a case can be made that New England Patriots quarterback Tom Brady is the rightful NFL MVP each and every year. The guy has won five Super Bowl titles and somehow seems to be getting even better as he gets close to the age of 40. It's rather insane, really.
That's not how it works, though. Brady has won a pair of league MVPs over the course of his incredibly decorated career, though he hasn't won the award since 2010. Remarkably, he has twice as many Super Bowl MVP trophies as regular season MVP trophies. If you had to ask him, one would imagine he'd prefer to be Super Bowl MVP, so it's all good.
Matt Ryan won the regular season MVP award last year. To be fair, it was well-deserved. Ryan led the Falcons to one of the most prolific offensive seasons in the history of the NFL, and Ryan set new career-highs in a number of statistical areas.
A lot of times, MVPs are players that lead their teams to strong seasons after not garnering a whole lot of preseason hype. Before last season, nobody thought much of Atlanta's Super Bowl chances, yet they were just minutes from winning it all in the end. Ryan was properly rewarded for the part he played in their tremendous season.
As we head into the 2017 regular season, though, will Ryan be able to make it back-to-back? Will Brady win a third? Or will a new name emerge? We've identified a few of our favorite value options using BetOnline's odds.
Ezekiel Elliott, RB, Dallas Cowboys +1600
Elliott had a legitimate case to win the award last season despite being a rookie. Elliott lived up to his billing as the No. 4 overall pick in last year's draft, as he would go on to lead the NFL in rushing with 1,631 yards and a whopping 15 touchdowns. The Cowboys surprised many last year by going 13-3 during the regular season despite having two rookies (Elliott and Dak Prescott) playing premium positions.
They won't be sneaking up on anybody this fall, but it may not even matter. The Cowboys have what appears to be the most dominant offensive line in football and a dynamic rusher fully capable of taking advantage. Elliott's effectiveness in year two will depend a lot on how effective Prescott's passing game can be. If Dallas is able to keep defenses honest with a capable aerial attack, Elliott should have all the more room in which to operate.
Problem is, not many running backs win league MVP. It takes a truly marvelous statistical season for a running back to win it. Adrian Peterson was the last to do so in 2012, and he needed to surpass 2,000 rushing yards to get there. Before that, it was LaDainian Tomlinson in 2006, and he broke an NFL record by scoring 31 rushing TDs. So, it's not easy to win this thing if you're a runner.
Still, we think Elliott is fully capable of cracking the 2,000-yard milestone. The Cowboys are a run-first offense, and they won't be afraid to hand the ball to Elliott as often as he can handle it. If the Cowboys put together another stellar season, Elliott should be rewarded. He's a solid value play at +1600.
Marcus Mariota, QB, Tennessee Titans +5000
There's a lot of buzz around the Titans right now, and with good reason. This is a team that quietly went 9-7 last season without a lot of people noticing. Marcus Mariota has been impressive in each of his first two NFL campaigns, though he has endured season-ending injuries in both. If he can stay healthy, the Titans have a great shot at making their first playoff appearance since 2008.
Tennessee has gotten him some help. They drafted wideout Corey Davis with a top-10 pick and also snagged a stable veteran receiver in Eric Decker on the free agent market. If Mariota is able to stay on the field, the Titans' offense appears much improved. Let's not forget that they have a solid two-pronged rushing attack with DeMarco Murray and Derrick Henry, as well.
The AFC South is extremely winnable. Nobody really knows what to make of the Colts or Jaguars at this point, but neither seems like a very serious threat in the division. The Texans have the best overall roster, but they still have questions at the most important position on the field. If Houston gets unstable QB play again, they may struggle to get to the top once again.
That leaves the door wide open for the Titans. They have loads of talent on both sides of the ball and Mariota could be primed to explode onto the national radar in his third pro campaign. Mariota's a longshot at +5000, but that just makes him a tremendous value. He's a fun flyer with big profit potential.
Andrew Luck, QB, Indianapolis Colts +2500
Luck's odds are half as favorable as Mariota's, but he's still an intriguing value. The shine seems to have worn off of Luck over the last few years as the Colts have stumbled from a legitimate contender to an also-ran in the AFC. So, we really haven't heard a whole lot of buzz around him or Indianapolis for a while now.
The team finally fired noted awful GM Ryan Grigson and made a few splashy moves over the offseason. They signed Jonathan Hankins to a large contract to try and fortify the defensive line and also spent numerous high draft picks trying to replenish the defense. That side of the ball will be the key to whether the Colts can contend in the AFC South.
Luck has also had some injury issues over the last couple of years that have helped thwart the team's playoff hopes. Interceptions have been a problem for him throughout his career, but he's also put up some downright gaudy numbers. He threw for over 4,200 yards with 31 touchdowns a season ago. Those are salty.
There are worse bets on the board than Luck at +2500 to win league MVP. The Colts could surprise some people, and one would imagine Luck will be right in the middle of it if they do.
Derek Carr, QB, Oakland Raiders +1600
Carr was in the thick of the MVP conversation last year before he sustained a broken leg that cost him the final game of the season in addition to Oakland's playoff defeat against the Texans. He's going to be healthy heading into training camp, though, and one would imagine the Raiders will enter the season as the odds-on favorites to win the AFC West.
The Raiders certainly had the element of surprise working for them last season. They hadn't qualified for the playoffs since 2002, and not many expected them to make a leap forward and win 12 games. They won't surprise anybody this time around, but there's still enough talent on the roster to where it would be a surprise not to see the Raiders making a second straight playoff appearance.
Carr's statistical numbers likely won't be as gaudy as Luck's or Ryan's, but he takes care of the ball and rarely makes crushing mistakes. If he makes the usual statistical improvements heading into his fourth pro campaign, there's no reason to expect Carr not to find his way back into the MVP picture. We like Mariota and Luck as better values, but +1600 isn't an awful price for Carr.
Eli Manning, QB, New York Giants +3300
Eli Manning has won a pair of Super Bowl MVPs, but never the regular season version. He certainly had a viable case last season, but there wasn't a whole lot of buzz around him. Manning completed 63 percent of his throws for 4,027 yards with 26 touchdowns and 16 interceptions. The pick totals are always high for Eli, but he still puts up numbers and tends to get the job done.
Big things are expected of the Giants this season. They have oodles of talent on both sides of the ball, and Manning will have the luxury of throwing to a group of receivers that includes Odell Beckham, Sterling Shepard, and veteran Brandon Marshall. The Giants figure to have one of the more dynamic offenses in all of football, and Eli should keep things humming along nicely.
If New York can overtake the Cowboys and win the tough NFC East, we like his chances of being rewarded handsomely. +3300 seems a bit long for him, so we like the value here.