Hide Bonus Offers
| | | | | |
| --- | --- | --- | --- | --- |
| #1 | Bovada Sports | 50% Up To $250 | Visit Site | Bovada Sports |
| #2 | BetUS | 125% Up To $2,500 | Visit Site | BetUS |
| #3 | MyBookie | 100% Up To $1,000 | Visit Site | MyBookie |
| #4 | Everygame | 100% Up To $500 | Visit Site | Everygame |
| #5 | BetOnline Sports | 60% Up To $1,000 | Visit Site | BetOnline Sports |
2018 NFL Draft Odds: Which Quarterback Will Be Taken First?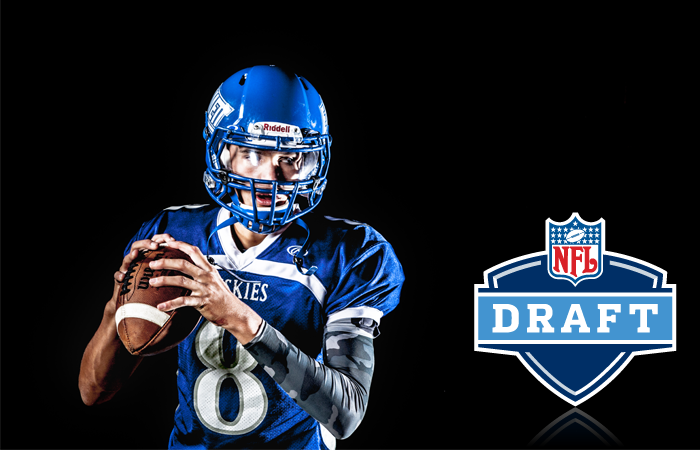 The second the 2017 NFL regular season ended, hype started being pumped out for the 2018 season.
It will be a while before scheduling comes out and every non-playoff team has a good idea as to what next year's aspirations will be, but at the very least, the end of this season breathes life into the draft season.
That's certainly the case for some of the very worst teams pro football has to offer, as franchises like the Cleveland Browns, New York Giants, Denver Broncos, and New York Jets will undoubtedly be on the hunt for an upgrade under center.
New York is the odd team out of that group, considering they still have a steady veteran in Eli Manning, but they could still opt to start over at quarterback.
Cleveland, New York, and Denver, meanwhile, currently do not have a long-term answer at the position and are all threats to make a splash atop the 2018 NFL Draft.
The question, of course, is which signal caller should these teams be holding in highest regard and which team will pounce on a passer first? The Browns hold the top pick in the draft and understandably have first say, while they also hold the #4 pick overall.
Should the Giants (and Colts) bypass a quarterback at the #2 and #3 spot, it stands to reason that Cleveland will finally get the coveted passing talent they've been seeking for, well, forever.
Again, the big dilemma is actually getting that pick right. And if bettors can figure it out first, it could be a rather profitable situation.
All odds that are referenced in this article were taken from BetOnline at 6:05 pm CT on 1/9/2018. These odds may have changed since the time of this writing.
Odds for First QB Taken
BetOnline is already offering NFL Draft prop bets, and the main wager they have at the moment concerns the top college football passer.
More specifically, BetOnline asks bettors which quarterback will be taken first in the 2018 NFL Draft.
That isn't to be confused with who the top pick in this year's draft might be, but it's quite possible they could be one and the same.
Before you try figuring out who it could be, take a look at the odds for who is most likely to hear their name called first:
Josh Rosen – UCLA (+100)
Sam Darnold – USC (+125)
Josh Allen – Wyoming (+600)
Lamar Jackson – Louisville (+1400)
Mason Rudolph – Oklahoma State (+1600)
Baker Mayfield – Oklahoma (+2500)
Will Grier – West Virginia (+3300)
Luke Falk – Washington State (+5000)
Nick Fitzgerald – Mississippi State (+5000)
This is a pretty loaded quarterback class, but anyone looking to place bets will want to do two things: research who the best bets are to be taken within the top ten in this year's draft, and which of these options have no chance of even going in the first round.
A good place to start is Will Grier, who already announced in December that he won't be leaving school. Instead, he'll be back for one more go of it in 2018:
Grier isn't the only guy you can rule out from this list, either. Junior Nick Fitzgerald broke his ankle in December and currently plans to be ready for spring practice at Mississippi State, not a pro team.
Everyone else on this list has declared for the draft officially or is expected to (deadline to declare is January 15th), but these two passers being out of the running shrinks this specific odds list to seven options.
No Chance?
Bettors can cut that list down considerably with little trouble, too. Luke Falk and Mason Rudolph have long been interesting pro prospects, but neither is considered to be a first-round lock, let alone serious threats to be the first quarterback selected in the 2018 NFL Draft.
The same probably goes for Lamar Jackson, who is a tantalizing athlete and an interesting dual-threat passer, but as of now is not considered to be among the top three pure passers in this draft class.
In fact, some scouts feel Jackson's best shot at making it at the pro level in a sustained fashion is as a wide receiver. While that is not the overwhelming popular opinion, doubt about Jackson's pocket presence and accuracy make him a tough bet to go #1 amongst this deep crop of high-level passing prospects.
Even Baker Mayfield feels like a longshot to be the first quarterback off the board. The Sooners stud absolutely ramped up his draft stock with an impressive showing during the College Football Playoff, and if it weren't for some character concerns, he might worm his way into this conversation.
If anyone in this "bottom four" grouping has a chance to shock as the top quarterback in the 2018 NFL Draft, it's Mayfield. He's got the talent and moxie to be a legit gamer at the next level, after all.
Still, as good as he is, he's got his question marks and makes more sense as a top fifteen pick, rather than a top three pick.
Three-Man Race
The race to be the first quarterback taken in the 2018 NFL Draft undeniably comes down to three passers: Sam Darnold, Josh Allen, and Josh Rosen.
That trio could be split, depending on who you ask. And as I suggested, some scouts even think Mayfield and Jackson deserve some mild consideration.
That's probably a 1A and 1B discussion, with Josh Allen operating as a relatively distant third.
By all accounts, USC product Sam Darnold has looked like the best overall passing prospect for the past year, and the only guy ready to truly challenge him for the top spot figures to be UCLA's own Josh Rosen.
Trying to separate Rosen and Darnold isn't easy. Both passers faced high-level competition during their NCAA careers and put up impressive stats, but Darnold may get the edge by many due to leading a far superior Trojans team during his college career.
Skill-wise, Rosen looks like the most natural passer in this draft class. He has the pocket awareness, a big arm, and the natural mechanics of a star quarterback at the next level.
The talent is there, but there is some mild concern that Rosen couldn't be big enough of a difference for a struggling Bruins program. That, and there have been whispers that he has no desire to be drafted #1 overall by the Cleveland Browns.
That is one big reason why the Browns could opt to roll with Darnold, who is every bit as tantalizing of a prospect in his own right. Darnold has the physical ability and potential of a superstar but arguably took a mild step back in 2017 due to turnovers and overall decision-making.
These two are neck-and-neck for the top spot, and depending on what the Browns plan on doing (and how seriously they take Rosen's desire to play elsewhere), it could be anyone's guess who gets taken first.
It really does seem like one of these guys will be going off the board first for quarterbacks, and quite likely as the first overall pick in the 2018 NFL Draft.
The difference is razor thin, but I'll take the value where I can get it. Darnold is the better value pick at +125, while you can aim high if you believe that Mayfield (+2500) could storm the #1 pick castle over the next several months.