Hide Bonus Offers
| | | | | |
| --- | --- | --- | --- | --- |
| #1 | Bovada Sports | 50% Up To $250 | Visit Site | Bovada Sports |
| #2 | BetUS | 125% Up To $2,500 | Visit Site | BetUS |
| #3 | MyBookie | 100% Up To $1,000 | Visit Site | MyBookie |
| #4 | Everygame | 100% Up To $500 | Visit Site | Everygame |
| #5 | BetOnline Sports | 60% Up To $1,000 | Visit Site | BetOnline Sports |
2018 NFC South Division Preview: Can a Trio of Teams Make the Playoffs Again?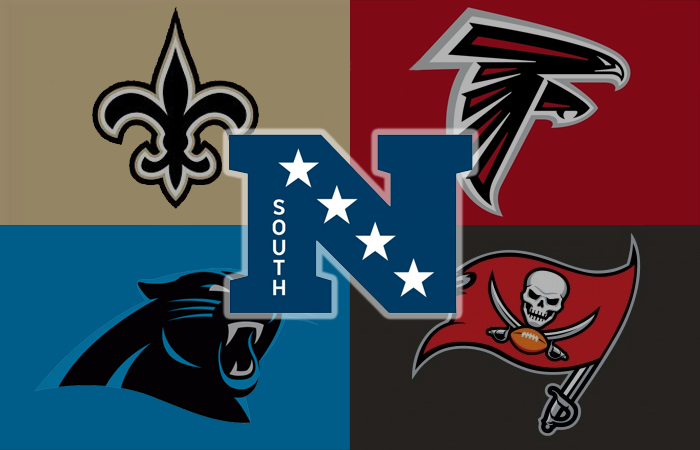 The NFC South Division was a logjam up at the top a season ago, with 3 teams winning 10 or more games and clinching berths into the postseason. Unfortunately for the last-place Buccaneers, they were well off the pace, finishing just 5-11.
By the looks of Betonline.ag's betting sheet, it appears that Vegas thinks that 2018 will be more of the same down south.
Will Sean Payton and the Saints repeat as champs, or will they take a step back with Drew Brees getting another year older?
How will Matt Ryan handle the 2018 season? The entire Falcons team spent the 2017 campaign in a lull, still experiencing the nightmares from their loss in Super Bowl LI to the Patriots. It remains to be seen if head coach Dan Quinn can rally his troops and put the past behind them.
The Carolina Panthers still have Cam Newton at the helm and are a threat to win this division, while the team down in Tampa Bay is a complete mess.
Follow along as Noah Davis and I break down the NFC South Division in further detail. Perhaps there are some wagers piquing your interest.
The casino operators and online sportsbooks say that the Saints are the favorites to emerge from this division, so let's start right there in the Big Easy.
New Orleans Saints
If you don't remember how last season ended for the New Orleans Saints, watch this unfathomable 26-second clip to refresh your memory.
I show this not to remind Vikings fans what happened, but to point out how devastating of a loss this was for the Saints. New Orleans appeared primed to make a run at the Super Bowl, only to see their chances derailed by a one-in-a-million type of play.
With that being said, Vegas still likes their chances of repeating as divisional champs.
The New Orleans Saints will open this season with a home game versus a depleted Buccaneers squad who will be without Jameis Winston. They'll get to sleep in their own beds again in Week 2 when the Cleveland Browns roll into town.
Can we just chalk the Saints up as 2-0 by the time they arrive in Atlanta for their Week 3 tilt against the Falcons?
As long as Drew Brees is commanding the huddle in New Orleans, the Saints are in good hands. They'll be looking to continue to involve 2nd year running back Alvin Kamara as much as they can, as the former Tennessee Volunteer runner wowed the league last season with his dual-threat abilities.
Kamara flashed his speed on the outside while catching 81 balls last year, more than every running back in the league besides Steelers workhorse Le'Veon Bell. His 6.1 yards per carry last season were more than a full yard higher than any other running back in the entire league!
I haven't even brought up his backfield mate Mark Ingram, nor did I introduce how effective Michael Thomas has been out of the slot during his first two seasons. The defense has question marks, but this offense is as high-octane and powerful as any in the league.
If they can secure at least a home game or two in the postseason, look for this team to be a real threat to get to the Super Bowl. At +1600 to win the thing, sure, I think it's worth a flier.
Noah Davis Analysis
I find the Saints interesting. Mark Ingram will miss the start of the season due to a suspension, but due to the presence of versatile offensive weapon Alvin Kamara, the Saints won't feel the impact.
As a whole, the Saints are built to school defenses. Brees can still take the top off defenses when need be, while their running game and intermediate passing game can pick the opposition apart.
The kicker for New Orleans is forever their defense. An improving unit a season ago, it's no longer this glaring weakness the Saints need be ashamed of.
If anything, the biggest issues for New Orleans are two-fold: getting over last year's crushing second-round playoff loss and surviving an increasingly lethal division.
I think they can get back to the playoffs, but +150 for them to win the division isn't giving me enough value. They absolutely could make another title run, too, but I'm not biting given how loaded the NFC seems to be.
The Saints are a balanced team with solid coaching, though. The one bet you can attack with confidence is this team getting to 10 wins (-120).
Atlanta Falcons
The Falcons have their work cut out for them this season. After opening up with a road game at the defending Super Bowl champs, it won't get much easier for the Falcons in weeks 2 and 3.
They'll face off against divisional rivals Carolina and New Orleans before finally getting what looks like a breather in Week 4 when the inept Bengals stroll into the ATL.
There's a lot to like with their 1-2 punch of Devonta Freeman and Tevin Coleman out of the backfield. Julio Jones is as explosive of a wide receiver as we have in this league. Drafting Crimson Tide rookie Calvin Ridley will only help take some of the double teams off of Julio, but there's still one big problem.
The Falcons defense struggles to get off the field on third downs. DE Adrian Clayborn and DT Dontari Poe are both no longer with the team, further raising questions about the leadership on this defense.
I don't think the Falcons will have a hard time putting up points; I'm just not sold on defensive coordinator Marquand Manuel's schemes and philosophies.
This is the type of squad that can get hot and make a run into and through the postseason, but when push comes to shove, I think both New Orleans and Carolina are more equipped to make some serious noise.
The fact that this team will still play 8 games under the roof of Mercedes-Benz Stadium should provide at least 6 wins, as the environment gets mighty raucous for the opposition. The issue is that I don't see many cupcake road games on their schedule, save for their Week 17 bout at the Buccaneers.
I'm not amped up enough to get on board any of these wagers, but perhaps Noah has a different point of view.
Noah Davis Analysis
The lull Michael spoke of in the introduction says everything about the Falcons, who inexplicably went away from an amazing offensive scheme that got them to a Super Bowl.
I have to think a stacked offense led by one of the steadiest passers in the NFL has to rediscover what works for them.
Atlanta has the stable of running backs to work the clock and a slew of explosive wide receivers to scorch any and all defenses. Closing ability has always been a weakness for this team, though, so even when they get back to the playoffs, I'm not sure they'll have the same magic they appeared to in 2016.
Still, the Falcons are as talented as anyone, and there's no doubt they're driven by their recent failures. They're a fun division winner bet at +200, and they're another 10-win team I wouldn't mind betting in favor of (+105).
Carolina Panthers
The Panthers are coming off an impressive 11-5 season in 2017. However, if you ask head coach Ron Rivera, he'd say that the team underachieved.
The good news was that Cam Newton stayed healthy enough to lace it up for all 16 regular-season games, and rookie running back Christian McCaffrey played anything like a first-year player.
The bad news is that Cam still completed less than 60% of his passes, and his most reliable weapon spent the offseason auditioning for a gig as an analyst on MNF!
In all seriousness, Greg Olsen will be back, but he will need to stay healthy this season if the Panthers want to contend.
Christian McCaffrey led all running backs in 2017 with 113 targets, and they still have Luke Kuechly calling the shots on defense. They were the first team to take a wide receiver off the board in April's draft when they scooped up D.J. Moore with the 24th overall pick, so there are certainly plenty of things to be excited about in Carolina.
Needing help in the secondary, they used the 3rd-round pick they acquired from Buffalo in the Kelvin Benjamin trade to select LSU cornerback Donte Jackson.
Rashaan Gaulden is another rookie corner who was chosen in round 3 that GM Marty Hurney hopes can step in right away, perhaps even slotting him in as the free safety.
When you start looking at the prices, I see one I particularly like. It seems that the +275 number to capture the division seems more than fair for a team who won 11 games last year.
C.J. Anderson was brought in to replace Jonathan Stewart as their change-of-pace back, but all eyes are on the second-year runner out of Stanford. Can McCaffrey take the next step into becoming a complete back in the NFL?
I'll be watching to find out, and I'll probably splash around with the over 8.5 wins (at -120) as well.
Noah Davis Analysis
As usual, the Panthers come and go as Cam Newton does. If he's healthy, upright, and effective, this team has the balance and big-play ability to make another title run. If not, they're toast.
For now, bettors have to regard the Panthers as a viable Super Bowl 53 sleeper and a very real threat to take back the NFC South. Their +275 odds are the best value you're getting when betting on the winner in this division, and they're probably my favorite play.
Newton is still a dynamic dual-threat quarterback, and with the progress of Christian McCaffrey and a dangerous weapon like D.J. Moore added to the mix, we may get the best Carolina offense in years.
That, and Norv Turner is back on the sideline and should map out a strategy to help Carolina make a deep playoff run.
Carolina's defense remains deep and talented, too, meaning there isn't a glaring hole on a roster with ambitious goals.
I won't vouch for them as my Super Bowl favorite, but they're a viable wager in every fashion in 2018. Of course, the safest bet is banking on them getting to 9-7 or better (-120).
Tampa Bay Buccaneers
It's just such a shame that Jameis Winston can't take this "professional football thing" seriously.
The Glazer family has remained patient with the former Seminole QB, but when is enough going to be enough?
Jameis Winston was officially suspended 3 games by the NFL after reports stated that he inappropriately touched his female Uber driver after a drunken night back in March of 2016.
Not only will this likely go a long way in Jameis ever seeing the contract extension he was due at the end of this season, but it forces the Bucs' hand into starting a 35-year-old journeyman at QB.
As it stands, Ryan Fitzpatrick will open the season as the starting quarterback. Tampa was dead last in the NFL last year in passing yards against, yet they failed to address their needs in the secondary with either of their first 2 picks in the draft.
I'm not sure if HC Dirk Koetter has some master plan, but I have a hard time seeing this current roster stay competitive in a division that has 3 proven quarterbacks leading the charge.
You'll be throwing your money away if you place any wagers on this team prospering through the division and beyond, so a bet on the win total is really our only option.
The outlook isn't pretty in Tampa Bay, and the books say we can take +110 on the under 5.5 wins. That sounds better to me than laying -130 and putting stock in a team in this much disarray.
Perhaps Mr. Davis feels differently, but I think that diehard Buccaneers fans are in for a long season.
Noah Davis Analysis
Jameis Winston is disgusting, both for his actions and generic apology for said actions. There's an argument that he shouldn't play at all in 2018 or ever again.
That might be a bit rash, but at least he's missing the first three games of the 2018 NFL season. Due to his replacement and a brutal schedule, you can dial up an 0-3 start for the Bucs.
That's almost certainly going to bury this team in such a crowded division, while Winston may face a lot of scrutiny and pressure upon his return.
It's all adding up for 2018 be one big disaster for Tampa Bay, which will surely lead to the firing of Koetter and may force Tampa to move on from their prized franchise passer.
Suffice it to say, betting on the Bucs in any capacity feels silly. Winning six games (-130) isn't an awful bet, but at this point, even that feels like a stretch.
I'm not getting enough value for confiding in the Bucs this year, so I simply won't be doing it.
Summary
The consensus coming out of the NFC South this year is, well, that there isn't one. In fact, the only thing Noah and I for sure agree on is that the Buccaneers aren't worth wagering on in 2018.
From there, good luck trying to figure this division out.
The Saints are obviously solid bets to win the division again, but the Falcons remain very talented, and Carolina is as balanced as anyone.
The Panthers offer the most bang for your buck, but all three teams are viable bets, and once in the playoffs, they absolutely could make a title run. Figuring out who does it won't be easy, however.