Hide Bonus Offers
| | | | | |
| --- | --- | --- | --- | --- |
| #1 | Bovada Sports | 50% Up To $250 | Visit Site | Bovada Sports |
| #2 | BetUS | 125% Up To $2,500 | Visit Site | BetUS |
| #3 | MyBookie | 100% Up To $1,000 | Visit Site | MyBookie |
| #4 | Everygame | 100% Up To $500 | Visit Site | Everygame |
| #5 | BetOnline Sports | 60% Up To $1,000 | Visit Site | BetOnline Sports |
2018 NFC North Division Preview: Is Kirk Cousins an Upgrade over Case Keenum?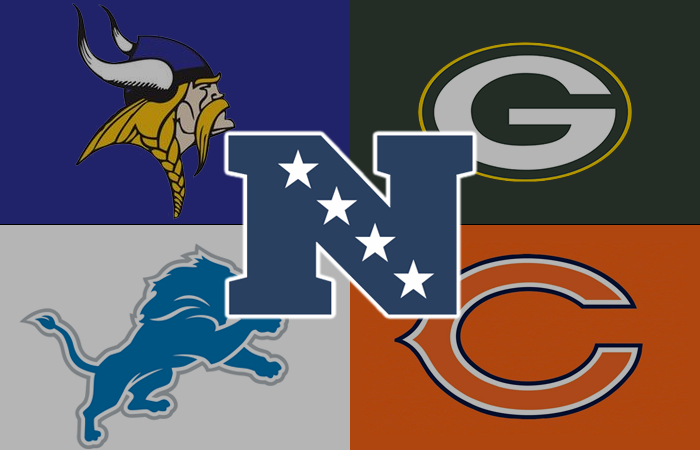 It's not often that a team goes 13-3 and doesn't bring back the quarterback who got them there, but that's exactly the case in Minnesota.
Owner Zygi Wilf sure thinks Kirk Cousins is a significant upgrade over Case Keenum because he's already guaranteed Kirk $84 million over the next 3 seasons.
The Detroit Lions made headlines by bringing in long-time Patriots defensive coordinator Matt Patricia as their new head coach, and the Packers have a healthy Aaron Rodgers at the helm.
The last team in the NFC North is the Chicago Bears, and Chi-Town appears to have handed over the keys of the franchise to Mitchell Trubisky. But is this necessarily a good thing?
Read along as NFL expert Noah Davis and I discuss all of these topics. We'll highlight which preseason bets (if any) we feel are worthy of being endorsed.
We'll start with the 84-million-dollar man and his new team, the Minnesota Vikings.
Minnesota Vikings
This is the year that Minnesota Vikings fans have been waiting for.
They got the guy they had been coveting in Kirk Cousins, and they have a pair of tremendous wideouts in Stefon Diggs and Adam Thielen.
Dalvin Cook has progressed through his offseason rehab regiment, and his left knee appears to be fully healed.
So it's all locked and loaded in Minnesota, right?
Check out the odds below, and you'll see just how much the top NFL sportsbooks are respecting Minnesota.
Total Wins Under 10.5
-140
Only the defending champion Eagles have better odds to win the NFC than Minnesota.
As much commotion as there has been surrounding the addition of "Captain Kirk," the reason Vegas likes their chances so much is because the Vikings D can shut teams down at the drop of a hat.
In 2017, their defense gave up the fewest points per game (15.8) in all of the National Football League. And all they did this offseason was beef up their front 7 by bringing in Sheldon Richardson, who will immediately plug in as a starting defensive tackle for Mike Zimmer's 4-3 scheme.
As solid as the Vikings are, it will be tough sledding from the get-go thanks to who they will face. I peeked at their schedule and saw that 3 of their first 5 games are on the road at Green Bay, Los Angeles (Rams), and Philadelphia.
Then in weeks 13 and 14, they have to travel east and play a Sunday Night Football Game at New England, before flying to the west coast to play the Seahawks at CenturyLink Field.
Seems like a tough challenge ahead for a group that has to win 11 games for you to prosper from a "total # of wins" bet. The +140 figure to win the division does seem rather appetizing, however, because I can assure you that no team likes facing this defense.
Noah Davis
The Vikings are a weird team. They clearly have an elite defense and have pieced together a loaded offense, yet they hit a serious wall in Philly in the NFC title game.
Was that all Case Keenum finally being exposed as a pedestrian band-aid, or was Minnesota just never really that good?
It might be something somewhere in the middle, but I struggle to believe Kirk Cousins is some massive upgrade over Keenum. In a lot of ways, they're the same exact player, while Cousins has never enjoyed any high-level team success in his career.
He joins a better team with a dangerous defense and a loaded offense, but the pressure he's feeling has to be enormous.
On top of that, the Vikings have to face Aaron Rodgers twice a year (assuming they don't intentionally drive him into the ground again) and also may have to worry about the NFC North as a whole improving.
Minnesota has the best defense in this division, but I'm not yet sold they're the best team.
That being said, they're a fine Super Bowl flier at their +1000 price. They did, after all, get to a game within that destination a season ago.
Green Bay Packers
2017 was a lost season for Mike McCarthy and his Green Bay Packers. Aaron Rodgers played just 6 games before suffering a broken collarbone that landed him on the IR.
He prematurely came back for a Week 15 must-win game against the Panthers but was a ghost of himself that entire afternoon.
What happens this year for the Green and Yellow?
Total Wins Under 10.5
-190
It's unusual for Vegas to set the bar at 10.5 wins for a team who is coming off a 7-9 season.
Apparently, #12 means that much to this franchise. The team looked absolutely lost without A-Rod, resorting to the likes of Brett Hundley as their starting quarterback for 9 games.
While Rodgers is set to return to the Packers' lineup, his long-time safety blanket Jordy Nelson will not. Green Bay watched Jordy move on to the Raiders, and Rodgers was not happy that the Packers let Nelson walk.
The Packers are counting on Randall Cobb "waking up" after he regressed last season. They're hoping that third-year receiver Geronimo Allison improves on his 23-catch season. But the main guy that hopes to fill the void of missing Nelson is the acquisition of Saints' tight end Jimmy Graham.
As for the defense, the Pack brought in former Browns' HC Mike Pettine to serve as their defensive coordinator and hope that he can shore up a group that finished 26th in the league in points allowed.
I don't think they'll win 11 games, but I sure as heck don't feel comfortable laying an egregious price of -190 to find out. I'm not going to touch these lines, but perhaps Noah sees it differently.
Noah Davis
Full disclosure: I'm a Packers fan. However, my bias doesn't cloud my judgment here, as I didn't think Green Bay was going anywhere meaningful last year due to a porous defense.
Things change, though. As Michael pointed out, Mike Pettine finally makes a changing of guard at defensive coordinator official in Green Bay. Not only was that move a long time coming, but it was a big upgrade.
Pettine delivered mixed results as a head coach in Cleveland, but he's pieced together successful defenses at every stop.
Green Bay has been aggressive for him this offseason, too, as they added the talented Muhammad Wilkerson to an already-talented defensive line, brought in some veteran cornerback depth, and spent their top two draft picks on young defensive back prospects.
The Packers should be better defensively. That might not be saying much, or whatever boost they offer could mean the world.
That's the upside of having an Aaron Rodgers-led offense, while the arrival of star tight end Jimmy Graham possibly hands A-Rod his best red-zone weapon yet.
Green Bay fans hated to see Jordy Nelson go, but his speed was sapped, and his production was more about Rodgers finding him than Nelson dominating. He was regressing and had to go, while the Packers went out and drafted a litany of intriguing receivers for Rodgers to go to war with.
It's long-winded, but Green Bay is markedly better than they were a season ago, and they just might be the team to beat in this division – if not the NFC.
I'm not jumping on them as Super Bowl favorites, but 11 wins (+165) and a division crown (+150) are two very viable wagers.
Detroit Lions
The Jim Caldwell era is over. General Manager Bob Quinn brought in Patriots' defensive shot-caller Matt Patricia.
In turn, Patricia brought with him LeGarrette Blount, who gives the Lions the 1st and 2nd down back they have lacked in prior seasons.
Despite going 9-7 in each of the past 2 seasons, Vegas seems a bit down on Detroit heading into 2018.
Not everyone is, but I happen to be a big fan of Matthew Stafford. His arm talent has never been questioned, and I believe he can be the leader that the Lions' franchise needs him to be.
However, Stafford has been unable to win the "big games" in past seasons, and until he proves otherwise, will continue facing questions from the doubters.
The addition of LeGarrette Blount gives the Lions a presence in the backfield, something they didn't have last year.
To be truthful, Detroit was embarrassingly bad on the ground in 2017. Not only did they finish dead last in rushing yards/game, but they were more than 9 yards lower than the second-worst team in that category.
Considering that their defense ranked near the bottom of the league in many of the key statistics, it's quite a miracle that this team was able to win 9 games and have a chance at cracking the postseason.
I'm not really crazy about any of these bets, although eclipsing 8 wins should be in the cards for this group. Laying -110 won't break the bank, so I'll throw a small wager down here.
Is Patricia cut out for this much responsibility, or did he just reap the benefits of coaching under Bill Belichick? Only time will tell.
Noah Davis
Like usual, I'm not sold on the Lions. I'll agree with Michael that Stafford has a cannon arm and is a true gamer, but he also has never consistently gotten it done when it mattered most.
Not having an elite defense or a reliable rushing attack hasn't helped, and I'm not sure those negative trends get bucked for Detroit this year.
Detroit has a nice stable of rushers in theory, but they simply cannot produce on the ground and can't be taken seriously until they do.
Defensively, the arrival of Patricia gives the Lions hope, but their turnaround there may take some time as well.
The Lions do have some talent on their roster, they have a smart mind taking over the head coaching position, and Stafford alone is good for 4-5 wins a year. I just don't think it'll be enough in a division that's only getting tougher.
I'll buy the Lions to win eight games at a -110 price, but that's about it.
Chicago Bears
Last, and probably least, is the Chicago Bears. I'm allowed to say that because they are one of four teams with the longest odds to win it all at +10000.
Don't waste any money hoping that the Bears get hot and win the division. It's not going to happen in 2018.
So, is this Mitchell Trubisky guy the real deal or what?
It's a little early to say, as the jury is still out on the 2nd overall pick from the 2017 NFL Draft. The Bears plugged him in for the final 12 games of the season, and Mitchell at least flashed signs that he can contribute at this level.
The help around him was less than stellar, but the addition of Allen Robinson at least gives Trubisky a skilled weapon on the outside. Their D is by no means terrible, but DC Vic Fangio will have to mix and match pieces all year long if this defense is going to keep the Bears in games.
Their first test comes right away in a Prime-Time spot against the Packers in a Week 1 SNF game at Lambeau Field. However, they'll have some chances to put some early season W's on the board after that, so I don't think getting to 7 wins is entirely out of the question.
I'd feel more comfortable placing the wager if the price was in the +130-140 range, so I may not end up betting it at all.
Am I missing something, Noah, or is this Bears team destined to fall in the 5-7 win range?
Noah Davis
I actually disagree with Michael here, and it's all about upside.
Mitchell Trubisky has the talent to take a huge step in 2018, and there are several reasons why: the arrival of offensive guru Matt Nagy, a healthy rushing attack, and free agent acquisitions Allen Robinson and Trey Burton.
Obviously, there's no way to know if Nagy's system will work in Chicago. It worked wonders in Kansas City, though, while the Bears have certainly worked hard to surround Trubisky with viable talent.
I think it does fall on Trubisky putting in the work to get better, but after Carson Wentz and Jared Goff both experienced huge leaps in 2017, the optimism is very real.
What helps is that the Bears have a good and improving defense. This was also a very competitive team in general in 2017, so if Chicago can get off to a hot start and gain confidence early, they could be a sneaky bet.
If you're down for fliers, the Bears at +600 to win this division might be one of my favorite plays across the board. While that's an admitted reach, I do think they can win seven games, so their win total (-130) is an easy call.
Summary
I think there is solid value throughout this division, so if you want to take some stabs this year, the NFC North isn't the worst place to look.
Regardless, the two best teams are hands-down the Vikings and Packers.
Minnesota still has the better defense and swept Green Bay last year, too, so until the Green and Gold rise back up, it makes sense to roll with the Vikes.
The Vikings did improve under center, and their mission is obvious: finally get this franchise a Super Bowl win.
They're probably not doing that by failing to secure the NFC North, so at +140, they're a pretty good bet to get off on the right foot before the playoffs.
PICK
Minnesota Vikings
+140