2018 NBA Rookie of the Year Odds: Why the Race is Still Ben Simmons' to Lose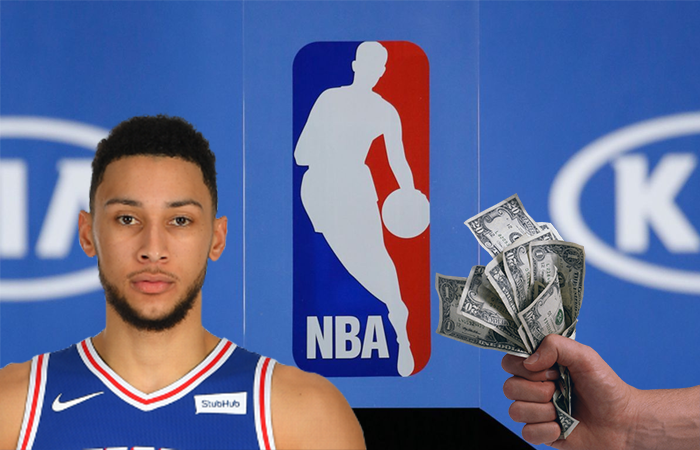 The 2017-18 NBA season still has over a month to go, but the season-long awards look like they may have already been decided. The MVP is almost certain to be Rockets star James Harden, who was runner-up last season to Russell Westbrook. Victor Oladipo, who had previously been tabbed as a bust with the Magic and Thunder, looks well on his way to winning Most Improved Player now that he's an All-Star with the Pacers.
Dwane Casey, Brad Stevens, Nate McMillan and Mike D'Antoni each have a viable case for Coach of the Year, but that looks like Casey's to lose at this point.
One of the more hotly-contested debate topics on social media has surrounded who should win Rookie of the Year. This has been an absolutely loaded class, with players like Kyle Kuzma, Jayson Tatum, John Collins and others putting forth excellent rookie campaigns.
However, it's clear at this point that the race is down to 2. Ben Simmons has been the favorite since the season tipped off, but he's gotten a serious run for his money from Utah's Donovan Mitchell. Mitchell has gained momentum as the year has progressed, but here's why Simmons should still be considered the heavy favorite.
The Case Against Simmons

To Win Rookie of the Year
Ben Simmons -250
Donovan Mitchell +170
While the lore surrounding Mitchell keeps gaining steam, the job Simmons is doing with the 76ers is going almost criminally unnoticed. Are we already so desensitized to his greatness that it's no longer impressive? Fortunately, the Vegas odds still list Simmons as a fairly heavy favorite here against Mitchell.
While Simmons is considered a rookie, this is really his second year in the league. He was drafted first overall back in 2016, but he would go on to miss that entire season after breaking his foot during training camp. Some will hold that against him in the Rookie of the Year voting this year, which is understandable.
Different leagues have different criteria for rookies. In baseball, you have to log a certain number of games at the major league level before you're no longer considered to be a rookie. For example, Aaron Judge won AL Rookie of the Year in 2017 despite playing 27 games with the Yankees late in 2016.
In basketball, it's different.
If Simmons had played exactly 30 seconds in the 2016-17 season opener before breaking his foot, that would've comprised his rookie season. He'd be considered a second-year player in that scenario. Of course, we know he didn't. He sat on the sidelines the entire time and didn't log a single second of playing time until this past October.
While Simmons never saw NBA game action last year, he was still around the team for an entire season. He got to practice, use the facilities and get to know his teammates and coaching staff. So, it makes sense to argue that he's not really a rookie at all. He's only a rookie in the sense that he'd never played in an NBA game until this season.
It's fair to hold that against him, even though the league says he's technically a rookie. Therefore, he qualifies, and voters will likely reward his outstanding season with the ROY.
That's The Only Case Against Simmons
In terms of actual basketball playing, I haven't seen a viable argument to convince me that Mitchell deserves to be given serious consideration to win the award over Simmons. You can take the rookie/not a rookie argument, but in terms of actual on-court impact, Simmons is lapping the rest of the rookie field.
On the season, the Australia native is averaging 16.6 points, 7.7 rebounds and 7.4 assists per game. He's also shooting better than 53% from the field. He ranks second (behind Mitchell) among all rookies in scoring, first in rebounding and first in assists. He's also first in steals and third in blocks.
The fact that Simmons has managed to dominate despite not having much shooting range tells you just how dominant he's been. Simmons hasn't made a 3-pointer all season, but he still manages to be an efficient scorer in the modern pace-and-space era of the NBA.
How many players in the league are averaging at least 16-7-7 this season?
LeBron James, Russell Westbrook and Ben Simmons. Not even James Harden, Giannis Antetokounmpo or Nikola Jokic are currently accomplishing the feat. It's quite the exclusive list.
Mitchell has exceeded expectations and helped the Jazz stay relevant in the Western Conference playoff picture. He leads Utah in scoring, which is incredibly rare for any rookie. He's scoring 19.6 points per game while also contributing 3.5 rebounds and 3.5 assists.
He's shooting 43.7% from the field and better than 35% from 3-point range. Neither is an awful number, to be sure. We've seen many rookies endure miserable shooting campaigns, and Mitchell's stroke has been impressive. That said, he has been far more one-dimensional than Simmons.
Mitchell certainly looks like the steal of the draft considering the Jazz were able to nab him with the No. 13 overall pick. He looks far better than several players picked ahead of him, including Zach Collins, Malik Monk, Luke Kennard and, obviously, Simmons' teammate Markelle Fultz. If teams were given a do-over on this past draft class, Mitchell has a viable case to be taken first overall.
76ers > Jazz
The Jazz recently rattled off 10 consecutive wins to get themselves into the playoff picture in the Western Conference. They've wobbled a bit since the All-Star break, though, as they've lost 2 of 3 with the lone victory coming over the tanking Mavericks.
As of this writing, Utah is still 10th in the conference, though they're only 2 games back of the Nuggets, who hold the final playoff spot. Their schedule looks somewhat favorable down the stretch, and there's a real chance the Jazz are able to sneak in by the time the season ends in mid-April.
That said, the Sixers don't have the look of a team that is going to have to sweat it out during the season's latter stages. Philly (32-27) is currently occupying the No. 6 position in the East, which would set up a first-round date with the Cleveland Cavaliers.
We're used to the Western Conference having more depth than the East, but that's not necessarily the case this season. All 8 teams currently in playoff position in the East deserve to be there, which hasn't always been the case in the past. The teams at the bottom half of the West don't look any more fearsome than their Eastern counterparts.
It's easy to forget that the Sixers haven't appeared in the playoffs since 2012. To put into perspective just how long ago that was, that was Derrick Rose's MVP season. Now, Rose is essentially out of the league altogether. It's been a while.
The 76ers have made the leap many expected this season thanks in large part to Simmons' emergence. Joel Embiid may be the centerpiece of the team on both ends, but Philly wouldn't have advanced this quickly without Simmons coming in and playing at a high level from day one.
You can similarly credit Mitchell with keeping the Jazz relevant, especially considering they lost franchise player Gordon Hayward to the Celtics last summer. Mitchell has come right in and replaced Hayward as the face of the franchise, and the Jazz look to have some bright years ahead.
Simmons is just more advanced, and understandably so. Mitchell is going to have to make some massive strides before he'll even be able to put up the kind of well-rounded stat lines Simmons is as a rookie. Both players will only improve from here, but Simmons has had a far greater overall impact this year than Mitchell.
Don't get cute with this. Mitchell is a tempting value bet, but Simmons should run away with Rookie of the Year this season.