Hide Bonus Offers
| | | | | |
| --- | --- | --- | --- | --- |
| #1 | Bovada Sports | 50% Up To $250 | Visit Site | Bovada Sports |
| #2 | BetUS | 125% Up To $2,500 | Visit Site | BetUS |
| #3 | MyBookie | 100% Up To $1,000 | Visit Site | MyBookie |
| #4 | Everygame | 100% Up To $500 | Visit Site | Everygame |
| #5 | BetOnline Sports | 60% Up To $1,000 | Visit Site | BetOnline Sports |
2018 NBA Finals Odds: Are We Headed for Cavs and Warriors Again?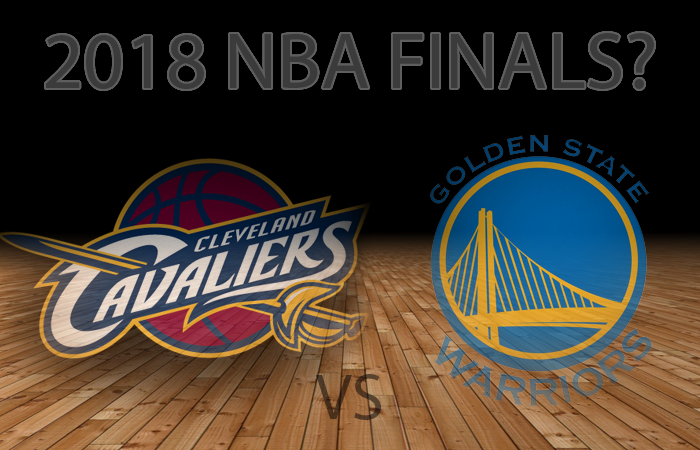 The 2017 NBA Finals officially start on Thursday, as we get a third consecutive showdown between the Cleveland Cavaliers and Golden State Warriors. In addition to this being a rare trilogy title series, this year's NBA Finals also serve as a rubber match, with either side hoping they get to take a 2-1 lead with each side already winning a title over the last two years.
As exciting as this year's Finals series is set up to be, it's hard not to already ponder what the 2017-18 season could bring. That's made even more difficult thanks to early 2018 NBA Finals odds from top NBA betting sites like BetOnline, which understandably already love the odds of a fourth straight meeting between the two best teams in the NBA.
2018 NBA Finals Odds
It's way too early to seriously place bets on who will win next year, but that's probably only true if we don't think both of these teams will be back here again next summer. Let's take a look at the latest 2018 NBA Finals odds and see if there is any obvious value we should be targeting:
Golden State Warriors | +100
Cleveland Cavaliers | +400
San Antonio Spurs | +1000
Boston Celtics | +1600
Houston Rockets | +2500
Los Angeles Clippers | +3300
Washington Wizards | +3300
Milwaukee Bucks | +5000
Toronto Raptors | +5000
Utah Jazz +5000
New Orleans Pelicans | +5000
Oklahoma City Thunder | +5000
Memphis Grizzlies | +8000
Minnesota Timberwolves | +10000
Indiana Pacers | +10000
Chicago Bulls | +10000
Denver Nuggets | +10000
Los Angeles Lakers | +10000
Orlando Magic | +10000
Philadelphia 76ers | +10000
Miami Heat | +12500
Charlotte Hornets | +12500
Dallas Mavericks | +12500
Detroit Pistons | +12500
Portland Trail Blazers | +12500
Atlanta Hawks | +15000
New York Knicks | +15000
Sacramento Kings | +50000
Phoenix Suns | +50000
Brooklyn Nets | +50000
We don't even know who is going to win this year's Finals yet, but BetOnline likes the talented Warriors, regardless. Things could easily shift depending on who wins this year's title series, of course, as players could retire or opt out of deals, or the winner could shift BetOnline and other NBA betting sites to favor one side a little more going into next year.
For instance, what if Kevin Durant decides to opt out this summer and go elsewhere? Naturally, that'd dramatically impact Golden State's title odds. A huge high-level move like that isn't expected, but if KD wins a title or worse – fails to – he could have a change of heart and look to go play somewhere else or even return to OKC.
That's not happening, but it's so early in the process that we can't completely rule it out.
Golden State still looks like a great bet to make it back to the Finals again next year and in terms of sheer talented and production, they could win this year and next year. If they lose this year, they'd understandably be even hungrier to get back and pay the Cavs back for two straight losses in the Finals.
If we want value at the top, though, it again looks like it will reside with Cleveland. The Cavs give us the most value going into this year's NBA Finals and at +400 we're getting serious bang for our buck by riding LeBron James and co.
James has proven in the past that once he starts winning titles, he finds it difficult to stop. He also has made a living lately of at least getting to the Finals (7th straight NBA Finals appearance starts on Thursday) and once in, betting against King James feels like a considerable gamble.
Just considering value and upside, the Cavs remain the top bet when we look at these odds.
Viable Contenders
The big question we need to ask ourselves is whether or not we're locked in for a fourth title series with the exact same two teams. The answer is a shrug of the shoulders with a "probably", but things could still change this summer and we could see a handful of teams rise up the ranks. There are without a doubt the Spurs, Rockets, Celtics, Clippers and Wizards.
NBA teams rarely make huge leaps without showing signs of built success, so we can probably forget about the rest of the league. It's possible the Raptors, Bulls, Jazz or Grizzlies make a huge move to vault themselves back into the title discussion, but we doubt it.
Instead, we're looking at five potential title threats to make a huge move and knock one of these teams off on either side. Both the Cavs and Dubs getting knocked off before the 2018 NBA Finals seems very unlikely, but it's possible of of the Spurs, Rockets, Celtics, Clippers or Wizards can worm their way into next year's title series. Let's take a quick look at each case and see who is the best bet:
Spurs
It doesn't take a rocket scientist to realize the team with the best shot at dethroning the Warriors is probably the Spurs. San Antonio was about to shell the Dubs in game one of their Western Conference Finals series, but crumbled once Kawhi Leonard (ankle) had to bow out.
Leonard never returned to the court again and the Warriors moved on easily with four straight wins. Before Leonard went down, though, San Antonio had the Dubs where they wanted them and it's possible we could have had a monstrous series on our hands. With Leonard back and maybe a big acquisition (Chris Paul, anyone?), the Spurs could be right back in the WCF with a shot to take out the Dubs.
Celtics
Cleveland's top threat on the other side is without a doubt the Celtics, but probably not in their current form. Isaiah Thomas got exposed through two games in the Eastern Conference Finals and really needs a ton of offensive help to battle the Cavs next year.
Boston needs to do two things to take the next step: mask Thomas defensively and get him some help on offense. Making a big trade for an impact scorer like Jimmy Butler or Paul George could give Thomas some much-needed help, while landing an effective two-way big man like Paul Millsap or Serge Ibaka in free agency could help the team's defensive bite down low, as well as their weak rebounding.
The Celtics can't take out the Cavs as they stand, but if they retool this team without sacrificing too much of its role players, they just might have a shot.
Rockets
Back to the Western Conference we go to see James Harden and the Rockets, who flamed out at home against the Spurs after a solid showing in the playoffs. It's worth wondering if Harden has what it takes to lead this team into the fray, but we also can't bury him for one bad outing.
Harden is still an offensive juggernaut on his own and he's got a terrific supporting cast around him. Better defense and perhaps adding a big man that is a little more consistent than the erratic Ryan Anderson are Houston's two roadblocks at the moment. Anderson doesn't defend and is extremely hit or miss as an offensive weapon, which could have the Rockets thinking about an upgrade.
If Houston can add a big name like Serge Ibaka, Paul Millsap or even Chris Bosh to replace Anderson, they'd still have a big man who can space the floor, but can also rebound and defend. That may be enough to push them over the top and in contention with the Warriors.
Clippers
L.A. needs to decide whether they want to blow up their roster and rebuild or if the guys they've had the last few years still have a title run in them. The likes of Chris Paul, Blake Griffin and J.J. Redick could all flee in free agency, but the money lies in Los Angeles and they have some unfinished business.
Health and inconsistency have derailed this team for years, but they still remain one of the most talented groups in the entire league. If the Clippers can hold onto their key players and find a way to bring in one more difference-maker (preferably at small forward), then they just might have a chance to give the Warriors a serious run for their money.
Wizards
One other team that seems dangerously close to a title run already are the Wizards, who were a team to be reckoned with in the second half of the regular season last year. John Wall was a man possessed for most of the year, as he helped the Wiz turn around after a slow start and almost knock off the Boston Celtics to reach the Eastern Conference Finals.
That didn't happen for two reasons: Washington can't defend and their bench isn't reliable. A shaky bench hurt the Wiz by asking too much out of their top players, while the defense forced Washington to put up too many points in order to get a win on a nightly basis.
This is already a very dangerous offensive team that has significant upside, but Washington needs to fill out their bench. They also need to hang onto restricted free agent Otto Porter and see about adding one more impact player. If they're a little bit more complete going into next year, they just might be ready to challenge the Cavs.
Who Will Win the 2018 NBA Finals?
It's weird to be touching on this so early, but BetOnline and other sites are pushing out 2018 NBA Finals odds, so we at least need to broach it and we certainly want to place some flier bets way ahead of this summer's action.
I think it still all starts and ends with Cleveland, however. The NBA has quite the gift on their hands with the Warriors and Cavs and unless some team makes a crazy move, it's not very likely we see a different combination of teams in the Finals next year. Some say it's boring or rigged, but the reality is there aren't any teams that are flat out better than Cleveland or Golden State right now.
We certainly can take some flier bets on these other five teams we've discussed – especially if they make some big moves – but ultimately the Cavs carry the most value yet again going into next year. That doesn't mean Cleveland will for sure win this year or next year, but they'll at least be in position to. Considering how close it is to call, we'd love Cleveland's +400 odds compared to Golden State's +100.
Pick: Cavaliers (+400)