2018 NBA Draft Prop Bets: Will Grayson Allen Be Picked in the First Round?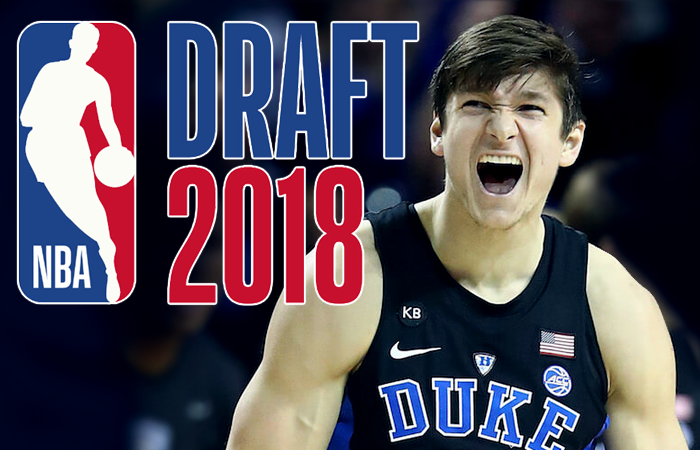 With the NBA Draft lottery a thing of the past, the 2018 NBA Draft order is all set up, and sports bettors can start thinking about how to wager on this year's draft.
Most of the excitement can't even be quantified by bettors, as draft day trades make up most of the big moves. Still, there is a ton of buzz at the top spot, as the Phoenix Suns debate whether to spend the #1 pick on DeAndre Ayton or someone else.
While the battle for the top, second, or even third spot makes for interesting wagering (all available for betting at BetOnline), there are also numerous player-specific NBA Draft prop bets.
One features Duke Blue Devils guard Grayson Allen, who is notorious for his tripping antics but is also a very interesting NBA prospect.
The question, of course, is just how good is he, and will a team take a chance on him in the first round?
All odds that are referenced in this article were taken from Topbet.eu on 5/21/2018. These odds may have changed since the time of this writing.
What Do We Know About Grayson Allen?
Allen was once thought of as a potential lottery pick. He came on strong during his freshman season, as he tore through the Wisconsin Badgers and helped Coach K earn yet another title back in 2015.
It's been a mixed bag for Allen ever since.
On one hand, Allen blew up in his sophomore season and proved that he can be an effective go-to scorer. He exhibited a solid handle, quality playmaking ability, high-level athleticism, and a deadly outside jumper.
Unfortunately, Allen regressed over the next two years and added some character concerns to the mix.
NBA scouts now have to wonder if his personality flaws make him worth the trouble and if he's more the guy we saw in 2015-16 or the guy who saw his numbers dip a bit over the last two years.
Betting on Grayson Allen
For bettors, of course, the bigger question is if this all leads to him being taken amongst the first 30 draft picks.
First of all, I love the betting value here.
Ideally, you're finding a more reputable NBA betting site than Topbet.eu, but for the moment, that's the main spot to attack this wager.
Regardless, Topbet.eu is known for a wide array of fun wager opportunities, and they again have a decent collection of NBA Draft player prop bets.
Grayson Allen is part of that, and I am initially interested in the "yes" side of this prop.
What I Like About Grayson Allen
I know Allen comes off as a cocky kid who makes questionable decisions, but the four characteristics that are destined to get him at least drafted this year are the following.
Elite outside shooting
Ability to create
Clutch performer
High-level athleticism
Allen displayed a very good outside shooting stroke through his time at Duke. His best season was his sophomore year (41%), but he never shot below 34% from long range and topped at least 36% three out of four years.
The shooting percentages from the floor overall aren't amazing, but it's fairly encouraging that Allen's season with the highest volume (2014-15) is the one where he posted his best numbers.
Another big asset Allen offers is his handle and overall ability to create. I wouldn't classify Allen as an elite ball handler, but he's perfectly capable of fending off his defender, getting to the hole, and creating for others.
This could enhance Allen's value, as some scouts may wonder if he has the tools to develop into a starting point guard. He has a ways to go to get there, but the skill-set and size could be there.
Allen has also proven over time that he's got the clutch gene. He balled out when it mattered most in the 2015 national championship, and he came up big in huge moments time after time.
Playing in the tough ACC and March Madness every single year turned this guy into a legit gamer, and he never seems afraid of any challenge.
The last aspect that favors Allen for the next level is his severely underrated (and quite frankly elite) overall athleticism.
Allen showed once again just how dynamic, fluid, and explosive he can really be at this year's combine, where he flat-out killed it.
More specifically, Allen posted one of the five best lane agility drill times ever and also dropped a 40.5-inch vertical. Needless to say, the dude can move around the court, and he's got some serious hops.
If you're still unsure of how that translates, just take a look at this dunk highlight reel.
Is He a 1st-Round Pick?
Okay, so I've talked Grayson Allen up a bit. But really, in summary, the dude is a winner, he's not scared of the big moment, he can create his own shot, he can shoot the lights out, he's an elite athlete, and he has enough size to play either guard spot.
That's a mouthful, but it eventually gets to one obvious opinion: Grayson Allen is a first-round talent.
The two things to factor into gauging this bet are which teams would want Allen late in round one and which prospects could push him down the pecking order.
Allen is not a lottery pick talent at this point, but any time after 20, I can see his name being called. That gives him a 10-pick window to potentially land in the first round, while team need and system will also factor in.
In the range, the Timberwolves, Jazz, Bulls, Pacers, Blazers, Lakers, 76ers, Celtics, Warriors, Nets, and Hawks are all viable threats to pluck him off the draft board.
Of that group, the team that stands out the most is Philadelphia.
The 76ers seem built to contend for a title next year, but they could lose veteran sharpshooter J.J. Redick (among others) in free agency. They could use one extra shooter off the bench, while all of their trade talk may eventually put someone like Markelle Fultz on the trade block.
I don't know for sure how things will shake out, but he'd fit their system really well, and he'd be a fitting long-term replacement for when Redick retires.
These other options could still use a new starting shooting guard or bench scoring, so really the final 10 picks of round one keep Allen in play.
Ultimately, I believe in Allen's talent and the need for what he brings to the table as a high-level combo guard. Throw in the value at +150, and I'll take the plunge and bet he's taken before round two.