2018 College World Series Preview and Predictions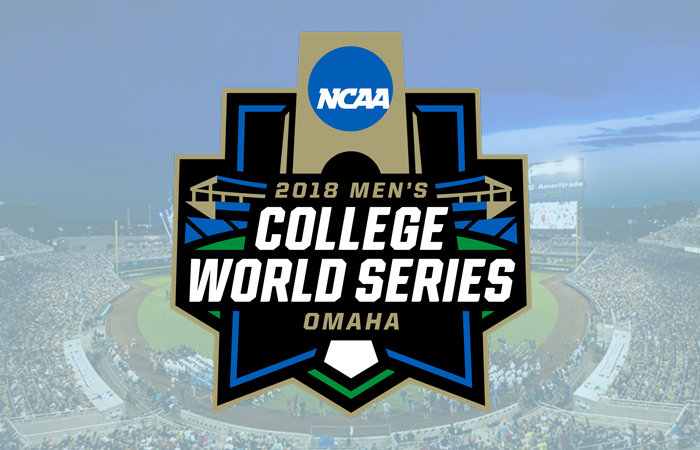 The sports world has entered the dog days of summer. Major League Baseball isn't even to its midway point, the NFL isn't back yet, and the NBA and NHL have ended their seasons.
If it weren't the case already, then it's official; all eyes will be on the 2018 College World Series.
Future MLB hopefuls and star college baseball talent alike will touch down at TD Ameritrade Park starting on Saturday, June 16th, hoping to cap their season with a title.
With just eight teams left in a two-pronged bracket, Florida eyes the difficult repeat.
South Carolina was the last to pull it off in the 2010 and 2011 seasons, but the Gators look primed to claim it all again.
They were supposed to be here, and they're here.
They've been the top favorites at College World Series betting sites since February (8/1 odds to win it all back then), and that hasn't changed much in the months since.
2018 College World Series Odds
The question, of course, is if any of the other seven teams have a realistic shot at taking them down.
At first glance, there are a few candidates to at least consider.
The Gators emerged relatively unscathed out of the brutal SEC, while future MLB talent like Jonathan India and others give them a stacked lineup nobody really wants to mess with.
Here's a look at the latest College World Series odds.
Oregon State mildly trumps the Gators for now, while there are a few legit contenders in this group. Everyone has a different narrative driving them, too.
You have teams like Texas (36th time in the CWS), and you have others like Washington (first appearance ever).
There is also Oregon State (repeat winners in 2006 and 2007), while North Carolina (the team they beat both times for the title) faces them immediately in round one.
The storylines abound, but the goal for every team is the same: make sure Florida doesn't win again.
It's probably a futile plight, but bettors still want to know which non-Florida-based teams have a real shot at this thing.
Here's a quick look at every team in the 2018 College World Series.
Oregon State (49-10-1)
If you're looking for a realistic threat to Florida this year, you might as well start with the Beavers.
Oregon State leads the way with the best odds and has championship experience under their belt.
They've also simply been red-hot through this NCAA tourney. More specifically, they've just completely flattened the competition thus far, crushing their opponents by 41 runs.
After dismantling a storied LSU program easily, the Beavers have the makings of a legit title contender.
From top to bottom, this very well may be Florida's biggest threat. Oregon State can stifle you defensively, they operate cleanly in the field, and they can murder you with their bats.
If they come into the College World Series still ablaze, they might be one of the best teams to bet on.
North Carolina (43-18)
The Tar Heels are known more for their success in college basketball, but they've made it to the CWS 11 times. Still, if they manage to secure the hardware this summer, it'd be the first time in school history.
The competition is steep, but there is reason to back North Carolina. The Tar Heels are another team that has ripped through the NCAA tournament with ease and appears to have the balance needed to make a run at a title.
Michael Busch (13 home runs) supplies the power for this offense, while star third baseman Kyle Datres (.344 batting average) is about as automatic as it gets at the plate.
North Carolina can certainly sting defenses with their bats, and they tend to do it early. Once ahead, the Tar Heels are one of the toughest teams to catch from behind.
Mississippi State (37-27)
The Bulldogs are back to claim the title they lost in 2013 when they finished in second place behind UCLA.
It's tough to take Mississippi State too seriously, though, as they didn't prove to be a tough out very often in the competitive SEC.
Just surviving that conference takes some serious talent, though, while the Bulldogs did find a way to advance past some tough teams just to crack the College World Series field.
But can they win? Consistency probably stands in their way, but the Bulldogs do have some power via Elijah MacNamee (8 HR) and Rowdey Jordan (7).
Pitching hasn't exactly been their strong suit, as no arm has an ERA better than 3.00.
Washington (35-24)
The Huskies might be a mild step above the Bulldogs as they try to make a historic title run in their first-ever College World Series appearance.
There is a fun narrative here, but Washington has been banged up all year and could be a product of hot hitting at the right time.
If you're wondering if that's hyperbole, it's not.
Joe Wainhouse (12 long balls in his last 18 games) has specifically been on fire, and it's worth wondering if his (and Washington's) hot run is sustainable.
Washington does add in some strong pitching, but against elite college baseball competition, I struggle to believe it will be enough.
Arkansas (44-19)
The Razorbacks are no joke. They've got a stud hurler in Blaine Knight leading the charge on the mound, while their power (88 homers) ranked third in the country.
Dave Van Horn knows how to build a winner, and he's got one here in Arkansas, who actually gave Florida quite a fight this year.
Arkansas got blasted in one meeting (17-2) but won two others and lost a tight 5-4 barn burner in the other.
If they can find a way to meet up with Florida at some point, they appear battle-tested enough to actually give them a run for their money.
Texas (42-21)
The Longhorns are absolutely in the mix to win the 2018 College World Series. Doing so would just be adding to their stacked trophy room, where they could slide in title number seven.
They still have a tough path to manage before that happens, but Texas has more than history on their side; they also have some pedigree.
Hall of Fame pitcher Roger Clemens' kid suits up for the Longhorns, and he's been nothing short of amazing.
Kody Clemens is more than just a name, as he's crushed the ball (24 homers, .356 batting average) and heads a very dangerous Texas offense.
Nobody swings the bat in Texas quite like Clemens does, though, so it will be interesting to see if his teammates leave him stranded.
The Longhorns have had some bumps in the road when it comes to their starting pitching, but if opponents see Parker Joe Robinson (3-0, 1.17 ERA), they can assume they're in trouble.
Texas Tech (44-18)
I talked up Kody Clemens a bit, but he may not lead the best offense in the state of Texas. Clemens might stand alone as the best hitting talent there, but the Red Raiders collectively are much more imposing.
Clemens has just one teammate joining him in the 10+ home run club, while Texas Tech boasts five. That's not even counting 17 other long balls littered across their roster.
Zach Rheams (17 homers) leads the charge, but this is a true team effort by one of the most loaded offenses in college baseball.
If you put any stock in future MLB talent playing for a College World Series championship, take a long, hard look at the Red Raiders.
They had a whopping 11 prospects taken in this year's MLB Draft, and they are just dripping with elite talent.
While most of that comes from their explosive offense, Caleb Kilian (9-2, 3.04 ERA) heads an underrated pitching rotation.
Still, if you're putting money down on Texas Tech, you're assuming their high-powered offense will roll them to a title.
Florida (47-19)
And then there's the Gators. There are certainly some stiff competitors in this field, but Florida has basically turned into a dynasty.
It's shown up when you space this team out as individuals, too. The Gators are responsible for coach of the year, pitcher of the year, and player of the year.
The latter title belongs to the aforementioned Jonathan India, who has launched 20 home runs and leads an extremely potent (96 home runs) Florida offense.
While the Gators can absolutely tattoo their way through the 2018 College World Series, they can also rely on stingy pitching.
Brady Singer (12-1, 2.30 ERA) has been one of the top arms in college baseball all season long and doesn't figure to stop now.
Who Will Win the 2018 College Baseball World Series?
Truth be told, this is a pretty deep field. You have your two obvious favorites in Oregon State and Florida, and then you have some very viable threats in Texas, Texas Tech, and Arkansas.
At this point, I'd write off Washington. They seem to be more a product of momentum than actual title-winning talent.
I don't want to cut Mississippi State or North Carolina short, either, but I don't see either winning. The Tar Heels may be worth a deep flier bet, however, as that elusive first title is also something worth cheering for.
For me, it's really down to just five teams in an eight-team field, and at the end of the day, it's probably Oregon State vs. Florida.
If you need a sleeper, I find the Red Raiders hard to quit. They are just so incredibly damaging as a whole on offense.
All that said, the Gators were favored back when College World Series odds were first released, and I see little reason to stray from that logic.
Even if it's the Beavers they face at the end, I think they have the best combination of hitting, pitching, and coaching and will ultimately repeat as national champions.