2018 College Football Playoffs – Get Your Bet in SOONER Rather Than Later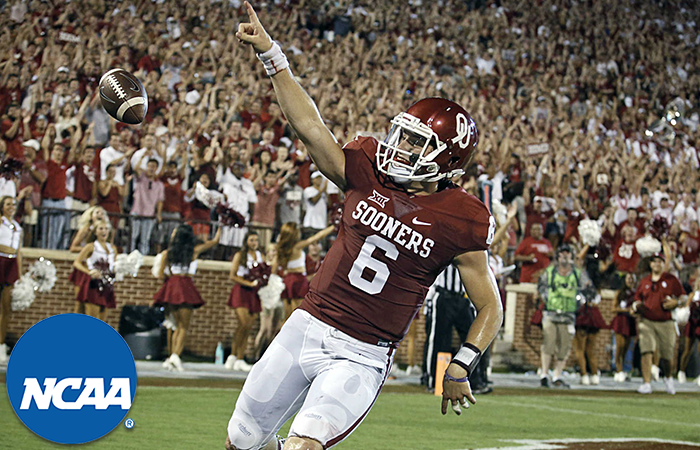 Most people in Vegas will be spending New Year's Day recovering from their shenanigans from the night before. I'll be getting ready to win some money. I plan on doing that by attacking the college football playoffs, with two bets in mind.
This blog focuses on how to earn some dough while you take-in the first day of 2018. Watching two games showcasing the four best teams in college football battling it out is a treat in itself. It's even better when you can make some cash while you are kicking back and enjoying the games.
The great thing about reading this blog now is you will be able to get your bet in right away and still be able to participate in the festivities as you ring in the New Year!
The first game features a matchup between the Oklahoma Sooners and the Georgia Bulldogs. As close as the game seems on paper and is evidenced by the line, I still think there is some room for us to turn a profit.
The second marquee event of the day immediately follows the first contest. I don't need to hype up the Alabama vs. Clemson game any more than it already has been built up. They faced off in the National Championship Game in each of the last two years. What's more fitting than having to play each other again with everything on the line?
The excitement is going to be there on January 1st, there's no doubt about that. The only question left is whether or not you will be on the right side of each game? Follow along below to get the tips and advice you need to make the most out of the betting opportunities.
Let's start with the first game of the doubleheader.
Georgia Bulldogs vs Oklahoma Sooners
On paper, the clash seems to be fairly even. That was proven when the line opened at a "pick'em" and is now sitting at Georgia -2. The over/under is hanging around 60 on most sites, and I'm not too interested in going near it. Here's what does peak my interest.
Heisman Trophy winner Baker Mayfield and the Oklahoma Sooners team. A top-of-the-line overall résumé is what you need to be selected in order to make it into the four-team playoff. Now that the four teams are here and the matchups are set, I am looking closely at how the teams have been playing as of late. My eyes and the statistics are pointing me directly at the team from the Big-12 Conference.
I understand that Georgia is no slouch and sports a stout defense that can fly around the field and make plays. But the firepower of this Oklahoma offense is no joke. As I will talk about in the next game, great defenses don't always prevail in primetime games. If I'm going to be throwing my eggs in one basket, I'm leaning on the team with an offense that can move the ball and score points more consistently.
A lot of Sooner fans were worried about head coach Bob Stoops retiring at the end of last season, unsure of how first-year coach Lincoln Riley would respond. All Riley has done in his first year at the helm is lead his squad to the #2 seed as we head into the New Year's Day playoff games. Despite the questions and uncertainty that surrounded the 34-year old former Texas Tech quarterback, Riley has shown unwavering leadership throughout the season.
Everything is telling me to not overthink it and go with the Sooners. My eyes are telling me that Oklahoma looks like the better team, which is a great starting point. Even better, the data and statistics I like to rely on are pointing towards the squad from Norman, Oklahoma. The way I go about formulating an opinion on how I anticipate a game is going to play out involves looking at the facts and applying them to the situation.
I am not as concerned with what all of the touts and so-called experts on ESPN are saying about the game. Everybody has an opinion and they are entitled. However, I would much rather spend my time and energy researching what really matters- and that's what actually happens on the football field.
I know that the bigger the game is, the more significant it becomes to have a starting quarterback that is not only dependable as a passer but is someone who can lead a team through adversity- when all the chips are down. Players like to rally around a quarterback that they truly believe can get it done during crunch time.
Baker Mayfield is that guy. The Sooner quarterback was in charge of an offense that led the entire nation in yards per game. The 44.9 points Oklahoma averaged each time they took the field during the season was good enough for the fourth-highest mark in the country. Baker ran away with the Heisman Trophy, winning in a complete landslide. By looking at his numbers and his team's success, it's no secret why.
Baker's 41 passing touchdowns were second in the country, and more impressively, he only threw 5 interceptions. To put that in perspective, out of the 12 quarterbacks that tossed 30 or more touchdowns, none of them threw less than 9 picks. Mayfield's 203.8 passer efficiency rating was 19 points higher than anyone else.
The reason I am bringing all these accomplishments to light is that in a big game, you are going to need to rely on your quarterback to make plays. I think most people would agree that it's hard to pick a side here because of how even the matchup looks. The cream rises to the top this time of year and that's why Kirby Smart's Georgia Bulldogs are here.
The biggest difference between the two teams is the experience of the quarterback.
I have a lot of respect for Georgia, just like I have a lot of respect for Oklahoma. I see two prolific programs with two great coaches. It's a matchup of two teams full of studs at nearly every position. The major difference is the quarterback position. Freshman Jake From has looked poised and obviously is a talented football player.
On the other hand, Baker Mayfield is a unique talent and just seems to have college football "figured out". I have a tough time believing the game on January 1st against the Georgia Bulldogs is going to be the senior quarterback's last. That Oklahoma moneyline bet at +110 to win the game outright is too appetizing for me to pass up. Baker is good enough to be the factor that decides this game. As alluded to above- when push comes to shove with two evenly matched teams, I'm taking the team with the best quarterback.
When he happens to be the best offensive player and leader in the country- that's a just a big cherry on top.
Alabama Crimson Tide vs Clemson Tigers
I am not going to be nearly as bold with my pick with who is going to win this game. In fact, I am not really even going to address it. You landed on this page to gain some insight into what will help you win some money betting the game. Attacking the over/under is going to give you that chance. It's clear that Alabama and Clemson are great football teams and entirely motivated to show up in New Orleans on the first day of 2018.
I have had a hard time figuring out who will end up coming out on top. What truly caught my eye when doing my homework was the mysterious over/under line of only 47 or 47.5 points, depending on which one of the online betting sites you are visiting. I am a bit puzzled by this as I would have projected a significantly higher total.
See, most times when the casino operators are setting college football lines, they have to rely heavily on mismatched data, as teams have different schedules and play different opponents. In the instance of the game on New Year's Day, this will be the third consecutive year that 'Bama and Clemson have met in the college football playoff.
The last two college football seasons have been witness to exhilarating National Championship games between these two squads. While some of the players have certainly moved on to the NFL and new players are in key positions, the coaches and their philosophies remain the same.
What I am saying is we can learn a lot about this matchup by examining what happened the last two times they played in similar situations. Here's what I'm getting at.
The 2015 season ended with the Crimson Tide defeating the Tigers 45-40. 85 points were scored.
The 2016 season ended with the Tigers defeating the Crimson Tide 35-31. 66 points were scored.
Notice any trends? Looks like we can expect a tightly contested ballgame with a whole lot of points being scored. Don't tell me about how good Alabama and Clemson's defenses are this year. They both had two of the top defenses in the country in each of the last two seasons and that didn't stop each team from getting in the end zone time and time again.
Nick Saban and Dabo Swinney are two masterminds of college football. Having a full month to watch film and prepare for the opposing defense makes me think both teams will have a few tricks up their sleeves. Recommending betting the OVER 47 doesn't mean I am disrespecting each team's defense- not in the least. I understand that these defenses are full of guys that will be playing on Sundays in future years.
But let's look at the flip side. Alabama is averaging 39.1 points per game and Clemson clocks in at 35.4 points per contest over the course of this season. The last two times they played was recently and under similar circumstances. The average total was 75.5 points.
I am simply using data, statistics, and what my eyes are telling me to produce my best prediction. In the case of the "rubber match" between these two powerhouse squads, I see no reason why much will change from the previous two meetings. I am anticipating a close game that is back and forth with a bunch of points scored. That means I'm betting the over.
To Summarize
It doesn't take a whole lot to get amped up for the last two games on New Year's Day. The college football playoff bracket highlights four historic programs and it's hard to imagine a scenario where we don't see highly entertaining and competitive games.
The point of writing this blog was not just to tell you what I think will happen- but tell you why I think it will happen.
In the first matchup between Kirby Smart's Georgia Bulldogs and the Sooners of Oklahoma, the ammunition of receivers and backs that surround the Heisman Trophy winner are going to be the difference that propels Lincoln Riley and Sooner nation to the Championship Game.
Both teams have strengths and very few weaknesses. Having a playmaker like Baker Mayfield at the quarterback position is enough to tilt me to one side. The fact that Georgia is favored by 2 points means we get a sweet +110 price on our "Oklahoma moneyline" bet.
In the second game, we get to witness "the trilogy". I am referring to this game as that because the Alabama Crimson Tide and the Clemson Tigers squared off in the National Championship Game in each of the last two years. Each team won a game and they both went down to the wire. I am not going to sit here and pretend I know who has the edge this time out and who is going to win.
What I can see pretty evidently is that the over/under total appears to be blatantly too low. Both teams are very similar to their squads from the last two seasons. We know the total of each game was 85 and 66 points respectively. Why is the line set so low this time around at a mere 47 points?
The answer is- I don't really know and I am not going to overthink it. Maybe they think the extra time for preparation will help each defense get prepared. Perhaps they think the last two games were just anomalies?
My job is to not overlook the actual data. It's sitting right in front of me in plain view and it's pointing at another high-scoring game. Don't think twice and bet the over.
The last piece of advice is this. With the Oklahoma Sooners sitting at +350 to win the National Championship, I'd take a serious look at placing that wager. If Baker Mayfield puts on a show against Georgia on New Year's Day which I think he will- you better believe your chances of betting on Oklahoma to win it all at a decent price will be long gone. I really like the Sooners to be the last team standing. At 3.5/1 to do so, I suggest you take a shot.
Enjoy the games and good luck betting!