Hide Bonus Offers
| | | | | |
| --- | --- | --- | --- | --- |
| #1 | Bovada Sports | 50% Up To $250 | Visit Site | Bovada Sports |
| #2 | BetUS | 125% Up To $2,500 | Visit Site | BetUS |
| #3 | MyBookie | 100% Up To $1,000 | Visit Site | MyBookie |
| #4 | Everygame | 100% Up To $500 | Visit Site | Everygame |
| #5 | BetOnline Sports | 60% Up To $1,000 | Visit Site | BetOnline Sports |
Betting on the 2018 College Football Championship – Which Teams Offer the Most Value?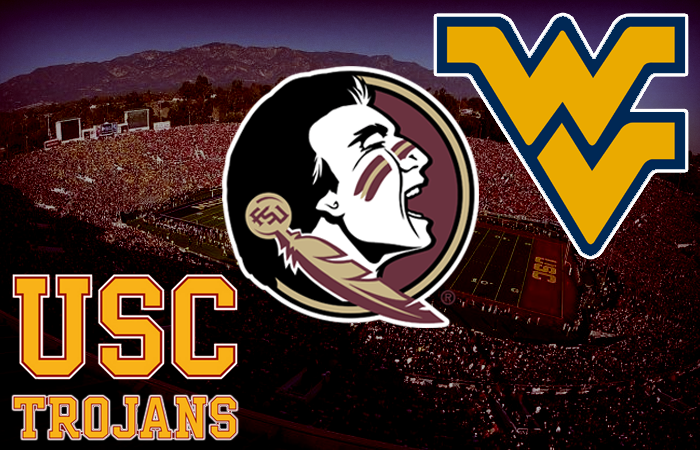 It doesn't seem that long since Tua Tagovailoa hooked up with DeVonta Smith on a 41-yard touchdown pass to lift Alabama to a dramatic 26-23 OT win over Georgia in the national college football championship game.
But, it's actually been over three whole months. Time marches on, and Bama can't celebrate that national title forever. In fact, Nick Saban was probably back in the office the following day to start laying plans for how Alabama is going to defend its championship in 2018.
To no one's surprise, the Crimson Tide is already a pretty solid favorite to hoist the crystal football once again next January, paying +220 on BetOnline's NCAA football futures. But although having a title-winning sophomore quarterback (Tagovailoa) may make Bama look even more invincible, those odds suggest there's still about a 70% chance that a team other than the Tide wins it all next year.
What other programs could potentially dethrone Saban's dynasty in 2018? More importantly for bettors, where does the best value lie in the current college football futures odds?
All odds that are referenced in this article were taken from BetOnline.ag at 10:30 a.m. Eastern on February 20, 2018. These odds may have changed since the time of this writing.
2018 College Football Championship Odds
As mentioned, Alabama stands alone at the top of the BetOnline college football championship odds for next season. Fellow playoff participants Clemson and Georgia join Ohio State as the only other teams to pay less than a +1400 return, while semifinalist Oklahoma has tumbled all the way to +2500 following the graduation of star quarterback Baker Mayfield.
Here's a full list of BetOnline's college football futures:
Alabama +200
Clemson +600
Ohio State +700
Georgia +800
Michigan +1400
Penn State +1800
Wisconsin +2000
Oklahoma +2500
Auburn +2500
Washington +2500
Florida State +2800
Miami Florida +2800
Michigan State +3300
LSU +3300
Texas +4000
USC +4000
Notre Dame +4000
Virginia Tech +5000
West Virginia +5000
Stanford +5000
Florida +5000
Texas A&M +6600
TCU +10000
UCF +10000
Oregon +10000
Oklahoma State +10000
UCLA +15000
Texas Tech +30000
Which Teams Offer the Best Value?
Looking for value in the college football futures market is always a dicey proposition.
There may be teams who you feel are drastically underrated and have the potential to be huge surprises in 2018. But unless you can actually envision those squads having a legitimate shot at qualifying for the national playoff, you're far better off betting those teams over their season win totals or to win their conference next year instead.
For an example of what I'm talking about, you don't need to look any further than UCF last season. The Knights weren't even ranked in the top 100 of 5Dimes' NCAA futures odds in August, and still paid +10000 to win the national title at Bovada in mid-October. Betting UCF at those massive odds may have seemed like a brilliant wager as the Knights went on to finish the year with a 12-0 record, but those tickets were worthless, as UCF wasn't even invited to the playoff.
So in the hunt for value on these 2018 college football futures, I'm looking for overpriced teams that actually have a decent chance of getting into the semifinals. Criteria includes being part of one of the power conferences (sorry, UCF fans), having the potential to win that conference, and/or playing a tough enough schedule to earn voters' respect even if you finish with a couple of losses.
Here are 3 teams that check off all those boxes in my opinion.
1. Florida State (+2800)
It's understandable for people to be down on the Seminoles, following their disastrous 7-6 campaign in 2017 and Jimbo Fisher's decision to leave Tallahassee for a massive contract at Texas A&M.
But the Noles were one of the top title contenders going into last year before losing highly-touted quarterback Deondre Francois to a season-ending knee injury in their opener against Alabama. True freshman James Blackman was thrown into the fire under center, and his greenness showed with as many interceptions as touchdowns (7 apiece) in his first 6 career starts.
Blackman showed a lot of improvement down the stretch (10 touchdowns and 3 picks in his final 4 starts, all victories), giving Florida State options at quarterback if Francois doesn't completely recover from his torn patellar tendon. And new coach Willie Taggart inherits the fourth-most-talented roster in the nation (based on recruitment rankings), giving some hope that the transition from Fisher to Taggart will be as seamless as possible.
If Florida State can beat out Clemson (granted, not an easy task) and Miami to win the ACC, that should be enough to get them an invite to the playoff. The schedule does set up pretty nicely for the Seminoles, who open at home against Virginia Tech, can build their confidence with a few softies against non-conference opponents, will host Clemson in late October, and can pad their resume with late-season games versus Notre Dame and Florida.
2. USC (+4000)
The graduation of Sam Darnold is the only reason we're able to get the defending Pac-12 champions at this price, and I'm not convinced that they'll actually miss Darnold that much.
Don't get me wrong; Darnold may go on to enjoy a great NFL career. But let's not pretend that he was the only reason the Trojans won 11 games last year. Darnold was 29th in the nation in quarterback rating, was 21st in touchdown passes (26), and threw the 10th-most interceptions (13).
USC's offense was successful last year because of its balance (16th passing, 39th running) and not necessarily because of an over-dependence on an elite quarterback. That bodes well for whoever replaces Darnold under center this season for Southern Cal, including highly-touted freshman J.T. Daniels, the 16th-ranked recruit in the country.
The Trojans have strong lines on both sides of the ball and enter this season both with the confidence of having won the Pac-12 title and the hunger for improvement after losing the Cotton Bowl 24-7 to Ohio State. Even with Darnold gone, they're the team to beat in the Pac-12 South, and finishing first in that division automatically gives them a berth in the conference championship game in Santa Clara, probably against either Washington or Stanford.
I'm not sure the playoff committee will want to ignore the Pac-12 champion for the second straight year. If USC can win the conference and have just a couple of losses on its resume (their toughest road games are at Stanford and Texas in back-to-back weeks in September), I like their chances of getting in.
3. West Virginia (+5000)
Of the 5 power conferences in college football, the Big 12 looks like the easiest to come out of with a sparkling record. While Ohio State, Michigan, Michigan State, Penn State, and Wisconsin are busy beating each other up in the Big Ten, the top teams in the Big 12 will only have a couple of really tough conference tests.
Although Oklahoma still has plenty of talent on offense, I'm not convinced they'll be able to score enough points without Mayfield to compensate for a defense that was 68th in points allowed this past year. Some believe this is the year for Texas to return to prominence in the Big 12, but until the Longhorns actually live up to the hype they seem to get every year, I'm not buying in on them, either.
The door looks wide open for a new champion to emerge, and the Mountaineers fit the profile of a team that could take advantage. They've got tons of experience at the offensive skill positions, as QB Will Grier and receivers David Sills and Gary Jennings all passed up on NFL opportunities to return for their senior seasons. Admittedly, the defense was bad last year, but it allowed the second-fewest points in the conference 2 years ago and is expected to improve once again in 2018.
With the return of the Big 12 championship game last season, West Virginia simply needs to finish in the top 2 in the conference standings to have a shot at the Big 12 crown and national playoff contention. The Mountaineers will host Kansas State, TCU, and Oklahoma this year, and with Oklahoma State in rebuilding mode, West Virginia's only tough road game might be at Texas.
The non-conference schedule is not that impressive (Tennessee, Youngstown State, and North Carolina State), so West Virginia can probably only afford one loss to earn playoff consideration as the Big 12 champ. But at +5000 odds, I think it's a chance well worth taking.
Conclusion
As the Seminoles showed last year, it can just take one injury to completely derail a national title contender. That's why, even when teams like Alabama, Clemson, Ohio State, and Georgia look like shoo-ins for the national playoff, the best strategy in college football futures is to look for the best value.
Florida State, USC, and West Virginia may not be favored to win their conferences, but they're certainly capable. I'd much rather back dark horses from the ACC, Pac-12, and Big 12 than take teams from the tough SEC and Big Ten, where even the best squads are in jeopardy of losing several games during the year.
Plus, as long as the Seminoles, Trojans, and Mountaineers reach their conference championship games, you'll have an opportunity to hedge against these futures and profit even if they don't get to the national playoff.