2018 AFC West Division Preview: Are Bettors Overlooking the Chiefs?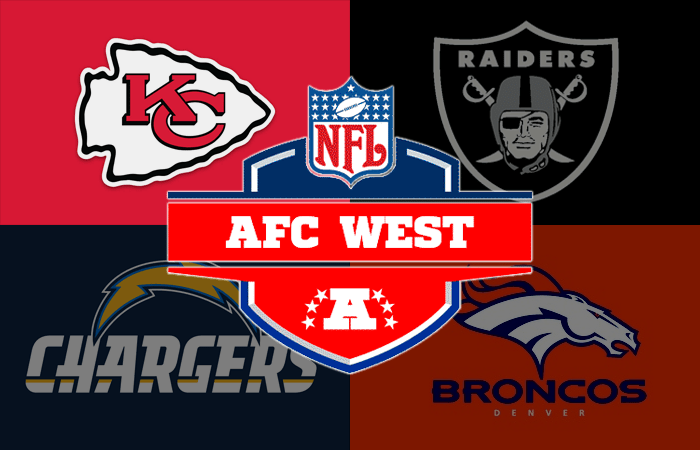 It's amazing the difference one NFL offseason can make.
Alex Smith no longer plays for the Kansas City Chiefs, and the Los Angeles Chargers think they're relevant again. The Denver Broncos found a competent quarterback, too, while the Oakland Raiders brought back head coach Jon Gruden.
Some of that feels like my franchise mode in Madden, while the last part has to be part of a scary nightmare I recently had.
Nope, I checked online, and it's all just horrifyingly real.
In all seriousness, the AFC West is set up to be loads of fun in 2018. It's been Kansas City's division, as they've taken the top spot in each of the past two years and haven't finished worse than second since head coach Andy Reid arrived in 2013.
That's all well and good, but KC also made a huge change by dealing away starting quarterback Alex Smith. Does that push them back a step, or are they still the team to bet on to take this division?
I'm joined by Michael Wynn to answer that and more.
Kansas City Chiefs
While trading away Alex Smith could be a death blow to one of the most dynamic offenses in the NFL, Kansas City wasn't getting anywhere with him under center.
In theory, moving away to the generally more conservative Smith could make the Chiefs even better, especially if the rocket-armed Patrick Mahomes is the answer Reid and co. believe he can be.
If so, the Chiefs could be a steal in the NFL betting market.
Here are their odds for 2018 over at BetOnline.
Analysis – Noah Davis
I'm certainly not ready to anoint Mahomes as some stud passer that will for sure bring the Chiefs to the next level, but it's impossible to deny his big arm, athleticism, and penchant for the big play at the right time.
There should be growing pains here, but Mahomes has that raw talent coaches covet and a supporting cast to die for. Kareem Hunt, Travis Kelce, Tyreek Hill, and even the freshly-signed Sammy Watkins make this an offense to fear.
The question, oddly enough, is if the regressing defense can keep up. I'm not sold that it can, but in what remains a pretty wide-open division, it's tough to balk at Kansas City's +300 odds.
I'm not ready to call this team a title threat, but they should be decent enough. They'll at worst be in the mix for the AFC West crown again, and betting the Over on their win total (-170) makes sense.
Analysis – Michael Wynn
Noah is exactly right. Alex Smith is a viable quarterback in the National Football League, but he wasn't going to take this Chiefs team to a Super Bowl.
Owner Clark Hunt felt like the time was now to move on from Smith and thrust Patrick Mahomes into the starting role, so we'll see if his premonitions about the former Texas Tech QB are correct.
Adding Sammy Watkins to their receiving core should take some of the attention off of Travis Kelce and Tyreek "The Freak" Hill, and it gives Mahomes another reliable weapon downfield. As Noah alluded to, it's actually the defense in Arrowhead that has Chiefs fans a bit nervous heading into the year.
They released long-time starting linebacker Tamba Hali and let another one walk away in Derrick Johnson. They traded their top corner Marcus Peters to the Rams, and their defensive line remains a question mark after giving up an uncharacteristic 119 yards/game on the ground in 2017.
At first glance, the over 7.5 wins seems like a pretty solid bet, but when I look at the improvements elsewhere in this division, I can understand the precaution. However, if you think the +300 number on them winning the division is worth a shot, then surely you will lay -170 on them winning more than 7.5 games.
Oakland Raiders
Jon Gruden returns to his old stomping grounds to lead the Silver and Black back to the promised land.
There are doubts that Gruden's old strategies will work in the modern NFL, but he's actually been around the league throughout his "retirement."
There's a very good argument that Gruden is exactly what Oakland needs, which may make them an interesting value bet in numerous ways in 2018:
Analysis – ND
I wouldn't call myself a Jon Gruden truther, but I do tend to think he's a bit better than people give him credit for. He still got the Raiders inches away from the Super Bowl and then did in Tampa Bay what Tony Dungy couldn't – sealed the deal.
Gruden knows football, and he knows offense. It wouldn't be shocking for the talented Derek Carr to develop under his watch, while the Raiders have no shortage of weapons in Amari Cooper, Jordy Nelson, Martavis Bryant, and Jared Cook.
The main question in Oakland is if a stable of aging running backs can get their ground game going. That, and if Khalil Mack can keep delivering this one-man show the Raiders have tasked him with.
I doubt it, but the Raiders are talented and have hit the reset button on their mission statement.
They aren't Super Bowl bound, but the +300 price tag to steal back the AFC West really isn't that crazy, and the Over (+120) on their win total feels like a value pick as well.
Analysis – MW
As a Las Vegas native, I really have no choice but to jump on the Raiders' bandwagon. As Noah referred to, the addition of Jon Gruden as the head coach immediately puts a "pep in the step" of this franchise, and boy, did they need it.
After an electric 12-4 campaign in 2016, an abysmal 6-10 mark last season clearly wasn't what the organization had in mind, which is why you see so many changes at the top.
If Derek Carr can't succeed with the weapons and coaching staff around him, then maybe he wasn't built for this league after all. I happen to think that Carr and this team are on the rise, but their defense will have to step it up.
Khalil Mack can't keep doing it alone, so we'll see if the talent that Reggie McKenzie brought in on the defensive end this past offseason will pay dividends.
I'm with ND here, as +120 on the over 8.5 wins seems like the most likely to pay off. The +300 tag to win the division isn't out of the question, either, but remember, I'm now a Raiders fan!
Los Angeles Chargers
It's hard not to feel for the Bolts, who are seemingly ready each and every year to take the next step.
They wasted LaDainian Tomlinson's career and since then have failed to surround Philip Rivers with a team that can truly contend. However, going into 2018, this may be the best Chargers team we've seen in years.
Will a balanced offense and surging defense finally deliver for the Bolts, or will they just tease us all again?
Analysis – ND
I'll believe it when I see it with the Chargers, who can never seem to get out of their own way.
Philip Rivers is one of most ferocious competitors in sports, so I genuinely want things to go well for L.A., but Vegas casting them as +2000 title sleepers feels like a gigantic reach.
The talent is there for the Chargers to prove me wrong. Melvin Gordon heads a capable rushing attack, and Rivers is a maestro in the pocket. He has plenty of weapons around him – enough to the point where losing tight end Hunter Henry doesn't have to be a total buzz kill.
Los Angeles is even going to be tough defensively, which very well could turn this into one of the more balanced teams in the NFL.
They're just so good at shooting themselves in the foot that I can't buy them for any of their current wagers at BetOnline, though.
Analysis – MW
As a San Diego State University alum and someone who lived less than a mile away from the stadium, I can certainly vouch for what Noah mentioned about the Chargers shooting themselves in the foot.
I watched it unfold in real time as my roommates grimaced in pain each time the Chargers squandered away an opportunity.
The good news for my old buddies and the rest of the Charger nation is that the Spanos family finally appears to have all the right pieces in place to get over that hump.
Philip Rivers leads a balanced offensive attack that can dink and dunk its way down the field, as well as strike quickly with a deep ball, thanks to Tyrell "The Gazelle" Williams.
With that being said, what I like most about Anthony Lynn's team is what they possess on the other side of the coin.
Melvin Ingram is an absolute stud on the right side of the line, while Joey Bosa showed off his motor with a division-high 12.5 sacks a season ago.
Unfortunately, with the Raiders and Chiefs lurking at +300, the value just isn't really there with the +175 number to win the division. Accumulating 10 or more wins at even money is a bit enticing, so that's the bet that attracts my attention most.
Denver Broncos
Lastly, we have the Denver Broncos, who won a title just three years ago. They've maintained a pretty talented defense but slipped in that regard in 2018.
Beyond that, they've struggled to consistently produce on offense, largely thanks to never figuring out who Peyton Manning's long-term replacement will be.
For now, that figures to be Case Keenum. Should that signing work out, the Broncos could be competitive again. If not, betting on them in any capacity could be a tragic mistake.
Analysis – ND
I just realized how in flux this entire division is. Oakland is under new management, two of these teams have new quarterbacks, and it's impossible to trust the Chargers.
Denver can't escape that narrative. They have the aforementioned quarterback change, they really don't know who their running back is, they lost some defensive talent, and it's never seemed like GM John Elway has fully backed head coach Vance Joseph.
Truth be told, the Broncos could be on their way to a balanced team that competes every week, or they could be about to implode.
Perhaps it's somewhere in the middle, but personally, I don't see a great team here.
Denver isn't an awful division wager at +300, and +120 for them to get eight wins is in play, too. I just wouldn't put any real money on them.
Analysis – MW
I think Noah was being polite when he said that John Elway hasn't fully committed to trusting HC Vance Joseph with his "baby." Personally, I don't see any way that Joseph survives this season and can't imagine that Elway brings him back for a third year.
I definitely feel that Case Keenum is a significant upgrade over the likes of Trevor Siemian and Brock Osweiler, so that's a plus. But it's more than evident that Paxton Lynch will not be the franchise quarterback that Denver hoped he would evolve into, and the departure of C.J. Anderson leaves a hole in the backfield.
And here's the worst part for fans in Mile High.
If you are still thinking this defense is the "lights out" group it was during its Super Bowl run in 2015-2016, you clearly didn't watch this team close enough last season. The Broncos dipped all the way down to a 3-way tie for 22nd in the NFL, allowing 23.9 points per game.
Case Keenum can certainly manage games well, but don't expect this offense to score 3+ TDs per game. I wouldn't mind laying -140 on the under 7.5 wins because I don't see this team getting to .500.
Summary
This division is as up in the air as any, and that's evidenced in the pricing. All 7 of the other NFL divisions have at least one team at +450 or worse to win the division, while all 4 teams in the AFC West are at +300 or better.
Vegas is saying that it's totally up for grabs, but Michael and I agree that the Broncos are in a tier below the other 3.
The Chiefs have the tools on offense to make plenty of noise, while this Chargers D has a chance to be amongst the very best in the league.
We certainly can't count out a Raiders team that is just 2 years removed from a 12-win season, especially considering they brought in Jon Gruden, the man who franchises were salivating over to become their next HC.
Snagging the Chiefs and Raiders to win the division at +300 seem like the most logical choices here.