2017 World Series Odds: Who Offers the Most Betting Value?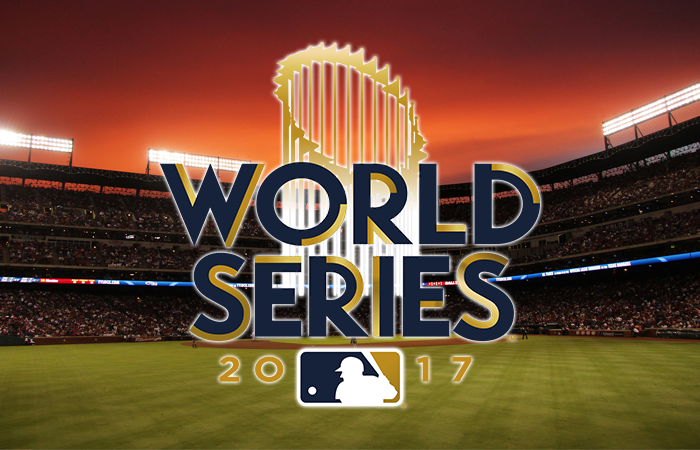 We are certainly getting down to the nitty-gritty in MLB right now. The final week of the 2017 MLB regular season is almost over and teams are still jockeying for position, with the top seed in the AL even up for grabs.
The Astros and Indians are separated by one game, while the Red Sox are the last team remaining that has yet to clinch their division. That puts the Yankees in play in the AL, while the Milwaukee Brewers and St. Louis Cardinals cling to faint life behind the Colorado Rockies for the NL Wild Card.
There is still a lot to be decided, yet the top MLB betting sites have pushed out new World Series odds. The timing is perfect, but with things not totally settled, it actually could even be advantageous for bettors.
2017 World Series Odds
With things not completely hammered out, there is an opportunity for some serious betting value with the latest World Series odds. Even the Dodgers (tied for the lead with Cleveland at +300 at BetOnline) still offer some value as the clear favorite in the eyes of Vegas.
Just take a look at the 12 teams still alive in the race for this year's MLB title, per BetOnline:
Los Angeles Dodgers +300
Cleveland Indians +300
Houston Astros +400
Chicago Cubs +700
Boston Red Sox +800
Washington Nationals +800
New York Yankees +1000
Arizona Diamondbacks +1600
Colorado Rockies +2000
Minnesota Twins +2000
Milwaukee Brewers +10000
Louis Cardinals +25000
The favorites are beyond obvious. The Dodgers are slated to finish with the best record in baseball and are already over 100 wins. The Indians and Astros aren't far behind and Washington is getting healthy at just the right time.
Any of these teams could easily win it all, but as bettors, we need to consider which team is the best overall pick and which teams offer the most value.
If we're just looking at a winner, we can fight all day between the Dodgers or Indians, who understandably sit with the same exact +300 World Series odds. Why? Because both teams have top shelf offenses and are absolutely stacked in the pitching department.
Nobody really compares to either if we look at the flat numbers and talent on their rosters. Either one of them could still face-plant once the MLB playoffs arrive, but as things stand, the safe money looks to be going on one of those two teams.
That being said, there is value to be had behind them.

Sleeper Value
There is a lot to consider here. For one, the NL Wild Card isn't even decided yet. The Rockies have been an inconsistent team in 2017 and even though they seem to have a commanding 2.5 game lead, they could easily blow it.
The Rockies do feel like locks here, as their only risk is probably if they lose their final three games. That's not very likely, so right now we could take them at +2000 and never look back.
There is a strong narrative with the Rockies, who haven't been back to the MLB playoffs since 2010. It's been a lengthy drought, plus they have one of the most dangerous (and volatile) parks in the majors. A series including Coors Field would naturally turn into a bit of a toss-up.
Adding to the allure of Colorado is the fact that two of the teams in this thing already – Arizona and L.A. – are in their division. They know both of these NL West foes quite well and if it's just a matter of getting hot at the right time, they could swing for the fences and come away as a shocker.
That isn't to say we should completely ignore the Brewers and Cardinals. Both could still get in if they win out and the Rockies crater. St. Louis is easily the more compelling bet of the two, of course, both due to their past championship experience and superior pitching.

Top Value Picks
These three teams, while all holding value, probably aren't where you're going to want to go. We can probably write off the Twins, too. Minnesota has a very dangerous offense and they also hold a fun narrative after losing over 100 games a year ago, but they simply don't have the pitching to realistically contend in the playoffs.
Outside of the two obvious favorites, any World Series value pick is probably coming down to the Astros (+400), Cubs (+700), Red Sox (+800), Nationals (+800), Yankees (+1000) and Diamondbacks (+1600).
Every one of these teams are truly viable bets. Houston might have the very best offense in the majors. Their lone weakness? Pitching.
Justin Verlander spearheads an improved rotation, but arguably not one that can handle a full run to a title. They can't be ruled out, but with their odds so close to the two biggest threats, they're not giving you as much bang for your buck as you're going to want.
The Yankees are in the same boat. While not nearly as efficient as Houston, their offense – one led by mashers like Aaron Judge and Gary Sanchez – can match wits with anyone.
Unfortunately, New York doesn't have elite pitching. Masahiro Tanaka has been up and down all year and Sonny Gray is probably their only other viable ace. C.C. Sabathia probably won't hold up against the best offenses when the games really matter and not having Michael Pineda around will likely hurt this defense in the long run.
New York and Houston are worthy bets, but they don't provide the balance and ultimately the value you want with your World Series wager.
It gets harder to downgrade the likes of the Cubs, Red Sox, Nats and D'Backs.
Arizona is a little less threatening just because they're going to have to first emerge from a wild card game. They offer insane value as a +1600 World Series pick, but if they don't make it out of that first game, who cares?
The D'Backs have what it takes to get in done, though, in theory. Zack Greinke heads a very strong pitching rotation, while Robbie Ray has morphed into an elite hurler and the likes of Patrick Corbin, Taijuan Walker and Zack Godley have turned into more than serviceable arms.
Offensively, Arizona can battle with anyone. Chase Field can turn any game into a fireworks display, while the mid-season acquisition of J.D. Martinez could easily go down as the biggest move by anyone this year.
Still, that path looks rough.
That could have us turning back to the Cubs, who have seen their pitching take a dip, but on paper still have the arms and elite offense to repeat as champs. They have virtually the same team that won it all in 2016 and their offense has been as nasty as ever over the second half of the year. If their pitching shows up, look out.
Chris Sale heads an improved Boston defense, too, while the Red Sox have quietly been a top-notch offense despite a surprising lack of power.
Big Papi took a lot of their power away when he retired, but this offense could easily heat up with their season on the line. Sale is good for a win each series, too, while a respectable stable including Drew Pomeranz, Rick Porcello and Eduardo Rodriguez could hypothetically do the job.
We can't find many knocks on those two clubs, while the Nats boast Max Scherzer, a passable stable of arms and without a doubt one of the more polished offenses the majors has to offer.
Who Offers the Most Value?
If we're looking for safety and logic, the answer is the Nats at +800.
Mad Max could be ready to lead this team into the fray and with possibly a duel with Clayton Kershaw and the Dodgers as their lone obstacle between them and a World Series run, this could very well be one of the best value bets remaining.
I still can't seem to quit the Diamondbacks, though.
Their park is as much of a hindrance to them as it is helpful, but they are stacked from a pitching perspective and have arguably the best collection of bats you'll find anywhere.
Step for step, they can match anyone once the playoffs start. The crazy part is they're priced like a team that isn't even in the playoffs yet, or as if they're slumping, don't have pitching or have suspect offense.
Arizona is already locked into a wild card, though. They could easily take down the rival Rockies or the Brewers/Cardinals. From there, they can take down the Nats and Dodgers. They have the goods to run the table and much like Colorado, they have a fun "playoff return" narrative after missing out on the playoffs over the last five seasons.
I'm not saying Arizona is a lock to win it this year. I'm also not saying they're the only value pick worth considering or even betting on. But if you're looking for elite value with a team that has all of the talent necessary to win a title, they seem to give us the total package.
Pick: Arizona Diamondbacks (+1600)