2017 World Series Betting: Value Bets Worth Considering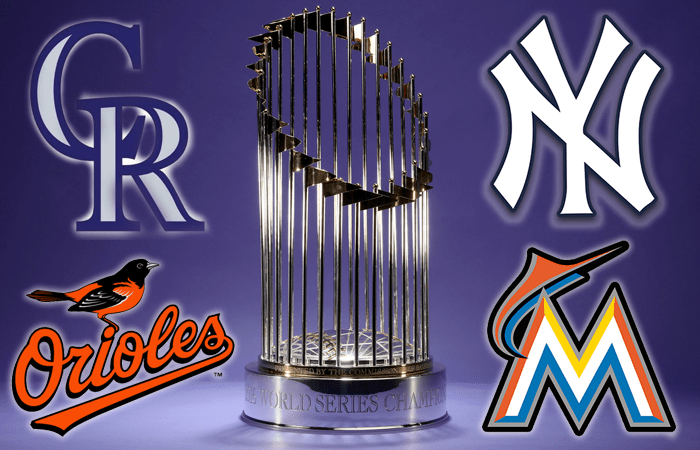 The 2017 MLB season has already given us our fair share of surprises, both good and bad. Teams like the Giants and Blue Jays are already facing disaster after some serious struggles, while others have come out of the gates blazing hot and look like potential title contenders.
How do we separate contenders from pretenders? That's often the challenge when we have a limited sample size with which to work, but there are already some trends to identify with a variety of teams. Using odds from Bovada, let's take a look at some potentially solid World Series value bets at this young stage of the season.
Colorado Rockies (13-6, +2200 to Win World Series)
The Rockies have started the season like gangbusters, as they're coming off a weekend three-game sweep of the Giants during which they outscored San Francisco 26-8. They've now won six of the seven meetings with the Giants on the year and have played a major hand in SF plummeting to the bottom of the NL West standings.
Most expected improvement from Colorado this season, but few could've reasonably anticipated a start like this. As is always the case with the Rockies, whether they remain in the race all year long will depend on whether the pitching can hold up. So far, so good on that front. The starters have been so-so (4.08 ERA, 18th in MLB), but the revamped bullpen has been lights-out.
Colorado spent some cash in the offseason to bring in the likes of Greg Holland and Mike Dunn, and those two have been instrumental in helping the Rockies' 'pen to an excellent 2.76 ERA (5th-best). Holland, who missed all of 2016 after undergoing Tommy John surgery, has been particularly impressive. He's converted all nine of his save opportunities to this point and certainly looks like the shutdown arm this team needed to close out ballgames.
A lockdown relief corps is something this team has lacked for years. They undoubtedly have enough offense to stay relevant, but if the pitching is now up to par there's no reason to expect the Rockies to fall out of the race any time soon. Perhaps most impressive of all is that they have been excellent while enduring key injuries to guys like Jon Gray and Ian Desmond.
Bovada currently has Colorado listed with +2200 odds to win it all come October. Hop on that bet while you still can, because those odds are going to be coming down before too long. The Rockies are contenders.
Baltimore Orioles (12-5, +2000 to Win World Series)
The Orioles are the zombies of the American League East. Every winter we talk ourselves into one of the other four teams rising up on the heels of a strong offseason, only to see the O's stay right in the thick of things once the regular season rolls around. Outside of a few minor tweaks here and there, this is largely the same team that lost a heartbreaker in the AL Wild Card game last October.
They own baseball's best record at 12-5 heading into play on Monday after taking two of three from the perceived division frontrunners (Boston) over the weekend. The fact that the O's are this good despite the struggles of both Manny Machado (.206 average, .292 OBP) and Mark Trumbo (.227 average, one HR) is incredibly impressive. They can thank the hot sticks of Trey Mancini and Jonathan Schoop for picking up the slack.
Mancini and Schoop have combined to club nine home runs already and they've knocked in 21 of the 66 runs Baltimore has plated in the early going. Mancini now has eight bombs in just 53 Major League at-bats. While he obviously won't be able to sustain that torrid pace all year long, the 25-year-old still looks like a serious revelation for this ballclub.
Starting pitching will dictate the Orioles' long-term sustainability in the AL East race. Kevin Gausman (7.50 ERA) has been a massive disappointment early on, while Ubaldo Jimenez (5.51 ERA) is another massive weak spot in the rotation. On the flip side, both Dylan Bundy (1.37) and Wade Miley (1.89) have each been excellent through seven combined starts. Gausman is too talented to not improve, while we can expect some reasonable regression from Miley.
This has the feel of a team that is going to need to make a move near the trade deadline in order to fortify that starting unit. Guys like Miley and Jimenez can't be counted on to start meaningful postseason games if the Orioles really want to make a run at this. They're a strong underdog bet at +2000 to win the World Series, but they will have to address some holes before we can give a full endorsement.
Miami Marlins (10-8, +4000 to Win World Series)
Most figure the NL East will come down to the Nationals or the Mets, but the Marlins have the look of a club that could destroy those plans altogether. Speaking of destruction, there isn't a singular figure in the game as dangerous with a bat in his hands as a fully healthy Giancarlo Stanton. We've been largely deprived of the big man's exploits thanks to injuries over the last two years, but if his performance in April is any indication, he's primed to have a monster season at the plate.
Stanton has already blasted seven homers through his first 70-at bats in 2017, including four in his last four games. He combines with Christian Yelich and Marcell Ozuna to give Miami perhaps the most potent trio of outfield bats in the league. Ozuna has quietly been tearing the cover off the ball, as well, and he currently leads the majors with 21 RBI. With elite table-setters Dee Gordon and Martin Prado occupying the top two spots in the order, Yelich, Stanton and Ozuna should have no shortage of opportunities to generate runs.
As is the case with every team on this list, the questions for the Marlins center around the pitching staff. The bats are clearly good enough, but what about the arms? The loss of Jose Fernandez atop the rotation speaks for itself, but the Miami front office opted to try and fill that hole with depth rather than making a splashy move for a potential ace in a trade. So, they brought in veteran right-handers Edinson Volquez and Dan Straily.
To this point, it's been a mixed bag. Volquez has given up four earned runs in two of his four starts, which isn't exactly ideal. Straily was mediocre through his first three outings for the Fish before exploding on Saturday night in San Diego. Straily struck out a whopping 14 Padres over the course of seven innings in a 6-3 victory. That was obviously quite the welcome sight for the Marlins, but it's also surely not something we'll see again. In reality, Volquez and Straily are No. 3 starters at best, yet Miami is essentially forced to lean on them as top-of-the-rotation options.
As is the case with Baltimore, we'd like to see Miami address the starting pitching at the trade deadline. They don't exactly own a deep farm system, though, which could prove problematic in such a venture. The Marlins obviously have a history of success when making the postseason, as they've won the World Series twice in two all-time playoff appearances, but they just don't have the necessary quality in terms of starting pitching to get it done this year.
Arizona Diamondbacks (12-8, +4000 to Win World Series)
The Diamondbacks were one of the very worst teams in all of baseball last season, but their hot start to 2017 isn't particularly surprising. Having AJ Pollock back atop the lineup is massive considering he missed just about all of the '16 season after breaking his arm at the end of spring training. He's a rare combination of speed and power that any team would love to have hitting in the leadoff spot, and his .308/.341/.487 start is encouraging.
Perhaps the biggest reason for Arizona's struggles last season was the horrendous pitching. Zack Greinke wasn't himself in his first season in the desert, while fellow new acquisition Shelby Miller was possibly the worst starter in the majors. It's certainly early, but all five starters have pitched reasonably well for the D-Backs thus far. Taijuan Walker (4.57) has the worst ERA among the five starters, but there are still reasons for Arizona to be encouraged by the 24-year-old's start. His K-rate is up to 22.7 percent from 20.8 percent last year with Seattle, and he's only allowed two homers through his first 21.2 innings.
Miller left Sunday's start with forearm tightness and his status moving forward is up in the air. The team could potentially move Archie Bradley back into the rotation if Miller is forced to miss an extended period of time, or they could dip into the minors and find a band-aid that way. Regardless, they would appear to have the depth necessary to survive a potential injury situation.
Hitting won't be an issue with this club. They play their home games in perhaps the second-friendliest hitting environment in the league, and as of Monday the D-Backs lead all of baseball in runs scored by a wide margin (105). With Pollock health, Arizona boasts a deep lineup featuring sluggers like Paul Goldschmidt, Jake Lamb, Yasmany Tomas and David Peralta. It's safe to declare that this will be one of the league's most potent offenses all season long.
The NL West will be tough with Colorado and the Dodgers providing serious competition all season long. If Arizona can weather that storm, though, there's no reason to believe they can't be a World Series caliber club. They're a great value at +4000.
New York Yankees (11-7, +1800)
Amazingly, the Yankees may be the team on this list with the most stability as far as pitching goes. The rotation was a serious concern coming out of spring training, but early returns have been very encouraging for the Bronx Bombers. Opening day starter Masahiro Tanaka has been the worst of the five starters so far, but the Yankees are confident that the 28-year-old will turn it around. He was stellar in his last outing, tossing seven one-run innings against the White Sox last week.
New York must really be thrilled by what they've seen from youngster Luis Severino. He boasts an insane strikeout rate north of 35 percent through three starts, which is easily one of the best marks in all of baseball in the early going. He has given up four homers through three starts, which is slightly concerning, but 27 strikeouts through 20 innings is staggering. If he can emerge as a top-of-the-rotation arm for the Yankees this season, they have a serious shot at doing some major damage come October.
It's also helped that several players have been swinging hot bats to start. Veterans Starlin Castro, Chase Headley and Jacoby Ellsbury have helped set the tone, while young slugger Aaron Judge has already blasted a team-best six home runs. Once Greg Bird (hitting just .104) and Gary Sanchez (currently injured) return to form, New York could have a fearsome lineup 1-through-9.
The Yankees have the eighth-highest odds of any team to win it all at +1800, per Bovada. Still, for a team supposedly in rebuilding mode, they look rather potent already. It'll be tough for them to overcome some serious challengers in Baltimore and Boston in their own rugged division, but the Yankees look like real players in this thing in the short-term. We're buying into the hype.