Triple Crown Odds: Can Always Dreaming Run the Table?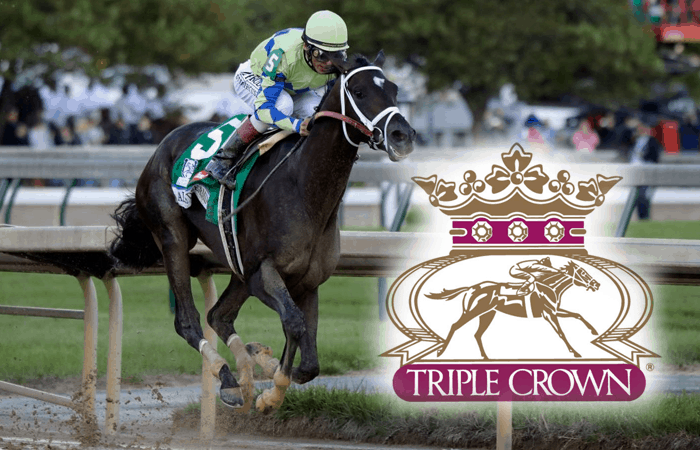 The run for the 2017 Triple Crown officially begins on Saturday, May 20th, when Always Dreaming sets forth on a potentially historic journey. Trainer Todd Pletcher's Always Dreaming made easy work of the field at last weekend's Kentucky Derby, winning by 2 ¾ lengths on a muddy track.
The win handed Pletcher his second victory at the Kentucky Derby, while also giving horse racing fans a successful Kentucky Derby favorite for the fifth year in a row. Could that see Always Dreaming parlay a strong run into a win at the 2017 Preakness Stakes and a Triple Crown sweep? Only time will tell.
Favored Again
What we do know is Always Dreaming will again be favored by most horse racing betting sites in just 12 days. This horse has proven it has the pedigree, training and jockey experience to not just take the second leg of the Triple Crown, but perhaps the entire event.
Vegas doesn't disagree as we march forward to the 2017 Preakness Stakes. Here are the latest Preakness Stakes odds via top horse racing betting site, Bovada:
Always Dreaming EVEN
Irish War Cry +550
Classic Empire +650
Looking at Lee +1100
Battle of Midway +1100
Cloud of Computing +1400
Conquest Mo Money +1600
Gunnevera +1600
Malagacy +1600
Practical Joke +1800
The knee-jerk reaction is two-fold; there is virtually no upside with betting on Always Dreaming as these odds stand and this is still a very tough field. Looking at Lee and Battle of Midway weren't tight with Always Dreaming in the end, but they did surprise as 2nd and 3rd place finishers.
Could those horses perform even better should the conditions be better at Pimlico Race Course? Perhaps, while we can't exactly rule out stout horses like Classic Empire or Irish War Cry, while Malagacy, Practical Joke and Gunnevera are interesting deep sleepers in this grouping.
We also don't yet know the field field, as several Kentucky Derby participants understandably could bow out of this next race. This is as good of a start as we can hope for with just 12 days to finalize our Preakness Stakes and Triple Crown bets, of course, but we can expect changes to the field and the odds before the next race arrives in less than two weeks.
Triple Crown Odds
While understandably favored to win the Preakness Stakes, horse racing bettors also want to know just how likely it is that Always Dreaming could sweep the Triple Crown. History makes it a tough call regardless how talented or well trained a horse is, as American Pharoah accomplished the difficult feat in 2015, but that was after a long drought.
Not surprisingly, we did not get a Triple Crown winner in 2016 even though Nyquist looked like a real threat to make it happen. Prior to American Pharoah's amazing run two years ago, we hadn't seen a clean sweep of horse racing's biggest event since Affirmed managed to pull it off back in 1978.
Affirmed gave us back-to-back winners with Seattle Slew winning the Triple Crown the year before, but in all we've seen this historic challenge accomplished just 12 times. The odds don't support a second winner in just three years after an insane 37 years.
Top Triple Crown betting sites like Bovada are prepared to reward anyone willing to make a big bet on it happening, though, as they currently offer playable Triple Crown odds:
Even without looking into the actual possibility of Always Dreaming pulling it off, these odds are playable enough to constitute a dart throw on your favorite horse racing betting site. At Bovada specifically we're getting $300 back for every $100 we bet, should Always Dreaming pull this off.
For those interested in heavy Triple Crown betting, a $1,000 bet would naturally return $3,000 and a $10,000 bet would bring back $30,000. That makes for a fun build up through the next two races, provided Always Dreaming can at least first keep his momentum going with a big win at the Preakness Stakes.
Of course, Vegas is protecting itself here, too. The odds for a Triple Crown sweep aren't totally out of this world insane, while the obvious bet is "No" and we're not making much profit on that bet unless we go ridiculously hard. To put it in perspective, that same $10,000 bet going toward a profitable "Yes" would bring back just $2,000 if Always Dreaming failed in a fashion so many other horses have.
This bet could be a ton of fun and highly profitable, especially if the odds get better as the second race draws closer. An earlier flier bet might not be a bad idea in case the odds don't improve, however, while the playability would likely take a huge hit if Always Dreaming does in fact win the second leg of the Triple Crown.
Of course, the downside is you're not hoping Always Dreaming can win just one race and the odds naturally dip after already securing the Kentucky Derby. Instead, this horse needs to win two more high profile races against the stiffest of competition.
Can Always Dreaming Win the Triple Crown?
Always Dreaming certainly has an argument behind it to pull off the impossible. Here's the quick-hitting list of reasons why we can't rule it out:
Elite Training
Jockey Experience
Vegas Backing
Diluted Field
This Isn't a Dream
The first big reason to get behind Always Dreaming to run the table is that this horse just won the Kentucky Derby in rough conditions and only one horse really had a chance to stop it. Todd Pletcher has a history of success at an extremely high level, having secured two Kentucky Derby titles and has twice won the Belmont Stakes.
This would be Pletcher's first successful run at the Preakness Stakes if all goes well, but to be fair, it's also just his second try ever to make a run at the Triple Crown. He certainly has an elite jockey on the back of Always Dreaming, as John R. Velazquez notched his second KD victory this past weekend and owns big wins at the Belmont Stakes (twice) and numerous Breeders Cup events.
Like Pletcher, Velazquez is chasing that elusive Preakness Stakes win and will likely relish the opportunity to do it with a red hot horse. It's likely a comforting feeling that Vegas is currently behind Always Dreaming to do so, too, while this second race could create a sizable gap between Always Dreaming and the other contenders depending on what happens to a field that already could be seeing some big names dipping.
There are a lot of variables that bleed into a decision on Always Dreaming, but the most compelling one is that this horse has some serious momentum behind it. Always Dreaming has now ripped off four straight first place finishes, including wins at the Kentucky Derby and Florida Derby.
Always Dreaming has been experiencing a high level of success, while the worst runs we've seen have been 2nd and 3rd place finishes. Are we in the midst of a torrid run that ends with the Triple Crown title, or another horse that took advantage of a favorable situation and flames out in the second or third leg of this massive event?
Odds are it's the latter. Always Dreaming did what it was supposed to do going into the Kentucky Derby; he won. However, it's going to get much more intense from this point on and we're going to find out awfully fast if this horse can really hang with elite competition and if the weather at last weekend's KD played a bigger hand that we initially thought. It certainly seemed that was the case in a surge by Looking at Lee, and an easy argument can be made the slop helped Always Dreaming, too.
This horse is still worth a flier bet, but Pletcher and Velazquez have never won at the Preakness Stakes and Triple Crown winners don't grow on trees.
You won't find many people backing Always Dreaming to run the table (and we certainly won't be), but this horse remains a solid bet to hang up front in the upcoming race and due to the playable odds, is worth a flier Triple Crown bet. Ideally those odds would fatten up a bit over the next week, but at +300 we'd still take a shot.