Hide Bonus Offers
| | | | | |
| --- | --- | --- | --- | --- |
| #1 | Bovada Sports | 50% Up To $250 | Visit Site | Bovada Sports |
| #2 | BetUS | 125% Up To $2,500 | Visit Site | BetUS |
| #3 | MyBookie | 100% Up To $1,000 | Visit Site | MyBookie |
| #4 | Everygame | 100% Up To $500 | Visit Site | Everygame |
| #5 | BetOnline Sports | 60% Up To $1,000 | Visit Site | BetOnline Sports |
2017 Super Bowl Odds: Would Marshawn Lynch Make Raiders Title Threats?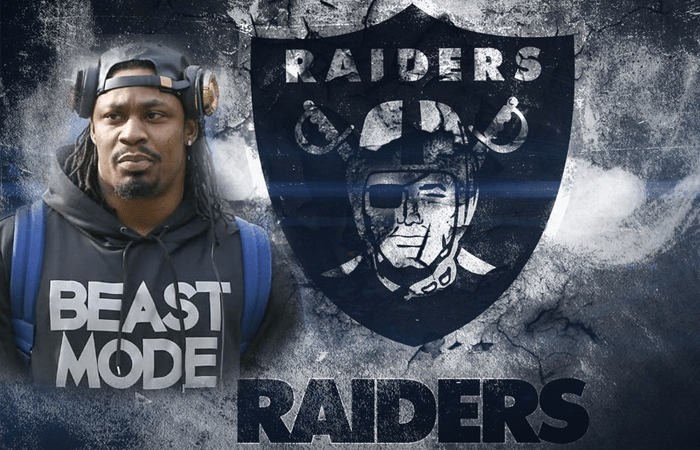 A season ago the Oakland Raiders looked like a team very much on the rise. A gutsy call late in their week one battle with the New Orleans Saints led to a 1-0 start that sparked an amazing 12-4 run and nearly ended with the AFC West division title.
Along the way, Raiders fans started to realize this team wasn't just headed back to the playoffs for the first time since Super Bowl XXXVII, but Derek Carr and co. just might have the goods to go win one.
Unfortunately, that wasn't to be, as a broken leg ended Carr's magical season before the playoffs ever rolled around and Oakland was quickly bounced in round one.
From there, the Raiders decided not to bring back talented running back Latavius Murray, who instead opted to latch on with the Minnesota Vikings. Suddenly this genius organization that built themselves back up from the ground up was regressing. Would Oakland's Super Bowl hopes come and go, just like that, in one year?
Outside Help
Perhaps that still ends up being the case, but the current whispers could suggest the Raiders were actually carrying out a far more ambitious plan.
The recent Marshawn Lynch rumors suggest the former Seahawks star rusher is quite serious about coming out of retirement and the team he'd prefer to play for – perhaps the only team he wants to play for – are his hometown Raiders.
This certainly could be another fake NFL news story that media outlets pass around just to pass the time, but there has been evidence supporting a Marshawn Lynch and Raiders union. For one, Lynch is from the area and he even tweeted out a mysterious playlist that contained the song "Oakland Raiders".
Reports have even emerged that Lynch had met with Seattle management to official request his release, while he's even actively been wearing Oakland Raiders gear:
Source: Marshawn Lynch met w/Pete Carroll+Schneider yesterday and asked to be released. Privately (w/friends) has been wearing #Raiders gear

— Jordan Schultz (@Schultz_Report) March 17, 2017
All of this could easily be coincidence. Lynch is only 30 years old and abruptly retired after the 2015 season, so it'd make sense at a borderline dead period in the NFL schedule for Marshawn Lynch rumors to pop up.
Lynch meeting with his former team isn't weird, either. He's been seen at games and other Seattle events since his retirement and it doesn't seem like there has been any bad blood between him and the organization. Lynch backing his hometown Raiders by wearing their merchandise isn't all that odd, either.
Of course, all of this rolled up together certainly is interesting. Lynch could be wanting back in the NFL and the Raiders do have a hole at running back and he'd certainly need to get his release from Seattle to expedite the process.
Does Marshawn Lynch to Raiders Make Sense?
On the surface, the Raiders adding Marshawn Lynch even for one season is a fantastic move. Obviously, there is the slight concern the Lynch we last saw (banged up and less effective) in 2015 would be the Lynch we'd be getting in 2017. There would also be concern that he'd simply be rusty or his skill-set further regressed after a year of being away from the game.
On paper, however, this is a perfect marriage. Latavius Murray was a gifted runner, but his vision, consistency, pass protection and receiving were all valid question marks. He wasn't the most complete back in the world and as good as he was, he really only shined in spurts.
Lynch can do everything Murray can do, and while he probably isn't quite as elite as he once was, a healthy Lynch at 30 years old could still potentially "beast out" and carry a heavy workload for a playoff contender.
This can work two different ways. Either Lynch is now refreshed and ready to rock after resting his body for a full year and can now dominate as Oakland's true feature back, or he can come in and just be the early down grinder and allow young talents like DeAndre Washington and Jalen Richard to fill their roles.
The latter might be the best bet, seeing as Lynch is probably still fully capable of handling a huge load, but it might make more sense to save him for a deep playoff run. In that same breath, keeping Washington and Richard involved at a fairly high level will not only keep Lynch fresh and effective, but also continue to groom their two talented backup running backs for bigger roles going forward.
Adding Lynch gives the Raiders a championship rusher, a legit starter, enhanced depth and more wiggle room in regards to the future.
By bringing Marshawn Lynch on, the Raiders look smart for not overpaying to keep Murray and they also wouldn't feel forced into drafting a new rusher in the 2017 NFL Draft.
Does Beast Mode = Super Bowl?
There are only two downfalls to adding Lynch; he's not any good anymore or he's not quite good enough to lift Oakland into title contender status.
Even if that's somehow the case, Lynch has championship experience, getting two Super Bowls and winning one. He doesn't necessarily have to be his old elite self to provide a real impact for a team trying to prove it belongs in the same breath as the Patriots.
It's doubtful his skills have completely eroded, though, and even without Lynch it's pretty arguable they're already a championship contender. Jack Del Rio has beefed this defense up into being a very aggressive and explosive unit. They still have some things to iron out, but Oakland's defense is about as good as we've seen it since it got to the Super Bowl. It might even be better going into the 2017 NFL regular season.
Everyone knows the heart of this team right now is its offense, though. Derek Carr was in the thick of the NFL MVP race last year and had he not succumbed to a leg injury, he may have gotten it. After all, we just can't know if the Raiders would have locked up their division and made a real run at the Patriots in the AFC title game.
They didn't, but a healthy Carr provides Oakland with a very potent and reliable passing attack. With an increasingly dangerous defense backing them up and Marshawn Lynch potentially stabilizing the running game – if not dramatically improving it – the Raiders suddenly go from dangerous and potent to flat out scary.
Again, many would say Oakland was there already, anyways. Just as top NFL betting sites like Bovada, who give the Raiders +1600 Super Bowl odds going into next year.
That doesn't sound amazing at first, but it actually stands in as the seventh best title odds in the NFL. New England (+400) understandably leads the way after getting even better shortly after winning it all, but the Pittsburgh Steelers (+1400) are the only other AFC team the oddsmakers are currently putting ahead of the Silver & Black.
Even that placement could be a mistake. The Raiders were 12-4 and made the playoffs last year in a season where it truly felt like they were only getting started.
Marshawn Lynch seems to realize that and probably wants to come to Oakland to realize two things:
He's not done leaving his mark on the NFL just yet.
Nothing would thrill him more than to help his hometown team win a title.
The Raiders aren't locks to win Super Bowl 52 if Marshawn Lynch does in fact latch on with them, but he certainly can't hurt their odds. In fact, once the news goes official (and at this point we fully expect it to), don't be shocked if the Raiders see an odds spike and trump the Steelers.