2017 NFL Prop Bets: Predictions For Myles Garrett, Marshawn Lynch and More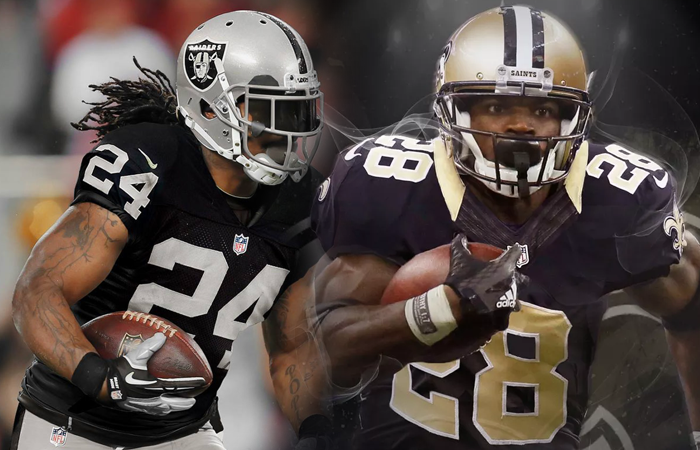 Prognostication in the NFL is alive and well. With the closure of the 2017 NFL Draft, fans and experts alike have already begun the transition from offseason to the 2017 NFL regular season, and nothing helps that more than making bold predictions.
It's one thing to piece together a list of proclamations on your own, but top NFL betting sites like Bovada are allowing us all to put our money where our mouth is with several new 2017 NFL prop bets. We saw a few bust out back during NFL free agency, but with the draft in the bag and the new season now just four months away, there are new prop bets for us to consider wagering on.
Most of the latest NFL prop bets ask us how various star rookies will fare, while the recent signing of Marshawn Lynch with the Oakland Raiders also has the former Seahawks in our betting crosshairs.
Will Garrett terrorize the league as a sack master in year one? Will Beast Mode be fully unleashed as a member of the silver & black? Let's take a look at the latest NFL prop bet odds at Bovada to find out:
Corey Davis – Total Receiving Yards
Tennessee traded up to land the guy they hope will turn into their go-to #1 wide receiver, but it's fair to wonder just how long it takes for Davis to translate his big-play college ability to the pros. Bovada and others sites start his receiving yardage Over/Under at 750 yards:
Over 750 (-115)
Under 750 (-115)
Normally we'd refrain from getting too excited about a first-year wide receiver, but we may not have a choice here. Neither do the Titans, who have very average talent at the position right now and will do all they can to ensure Davis has a big role from day one. Considering his size, athleticism and penchant for the deep ball, this feels like a rather conservative output.
Davis could easily struggle to adapt in his first season, but the Titans are going to take shots with him and he was a beast in college. With guys like Odell Beckham Jr. and others busting out early in their careers, we can bank on Davis rising up and at least topping the Over.
Adrian Peterson – Total Rushing Yards
Peterson gives us a step away from the rookie talk for a second, as we're forced to ponder the future of one of the best NFL running backs of all-time. The end does come for everyone eventually, but are we really to bet against All Day?
Over 900 (+145)
Under 900 (-175)
Logic says yes, as Peterson was pushed out of Minnesota after struggling to stay healthy or deliver productive play in 2016. Peterson, now 32, will enter a totally new environment with a team that not only already had the steady Mark Ingram in place, but also drafted a new running back Alvin Kamara.
Even if we were to believe Peterson still had it and was about to crush skulls, we also need to consider who the Saints are. They're a pass-happy team, for starters, but even when they run the ball they spread their touches out. Peterson is very likely looking at a contained role and as a volume rusher, the Under is inevitable in a new town.
Christian McCaffrey – Total Offensive Yardage
Back to the rookie betting game we go, as Stanford utility man Christian McCaffrey hopes to make an early impact as a member of the Panthers and we get to bet on just how big of an impact that will be:
Over 1,100 (-115)
Under 1,100 (-115)
This is a very tough call, as it isn't just talking about McCaffrey as a running back, but also including his versatility as a receiver. That's actually good news, as it's tough to know what his exact role will be with veteran rusher Jonathan Stewart still in town. Due to Stewart's presence, the running stats might be a bit curbed early on. However, McCaffrey is an accomplished receiver and runner and should be used early and often to spice up Carolina's offense.
Stewarts makes things messy from a strictly running perspective, while Cam Newton tends to run a lot, as well. A good way to look at this is the Panthers got 824 rushing yards ut of Stewart last year, but neither of their top two running backs exceeded 300 rushing yards or 300 receiving yards. To be frank, they barely did that with their production combined.
If McCaffrey eats into Stewart's workload and completely replaces both Fozzy Whittaker and Cameron Artis-Payne, then sure, we can make a bet on the Over. But this is a lot of yardage and we get zero wiggle room or upside. Because of everything we need to consider here, we'd bet the Under or avoid this bet entirely.
John Ross – Total Receiving Yards
Ross is in a tough spot, as he comes onto the Bengals in an effort to give them some more speed and down the field ability. As much upside as he brings to the table, we can't exactly be sure what to expect with stars like A.J. Green and Tyler Eifert running the show in Cincy's passing game. Still, Bovada wonders where he'll be at in terms of receiving yardage at the end of the year:
Over 700 (-115)
Under 700 (-115)
Ross could easily end up vaulting to the #2 receiver spot with the Bengals, but until he gets there and shows he can execute at a high level in his rookie season, he's going to be awfully difficult to trust. More importantly, it's fair to wonder how much room the Bengals offense has for another 700 receiving yards.
Green and Eifert weren't healthy for all of 2016, yet Brandon LaFell was the only other receiver to top 700 receiving yards. Rookie Tyler Boyd, who could also join LaFell with a solid role again this year, managed just 603 yards on 54 receptions.
And this was with Green and Eifert missing time with injuries. With Cincy's top two receiving threats back to full strength and Boyd and LaFell factoring in to some degree, it's tough to bank on Ross chipping in over 700 yards. Because of that, the Under feels like the play here.
Leonard Fournette – Total Rushing Yards
Fournette is an easy prop bet to consider, as he's locked in as the top running back for the Jacksonville Jaguars. When you look at his role and talent, it's easy to see why Bovada listed such a high yardage amount for his prop bet:
Over 1,000 (-115)
Under 1,000 (-115)
T.J. Yeldon has been a bust for the Jags, yet he put up 740 rushing yards as a rookie. Fournette is far more talented and comes into a better situation than Yeldon did, potentially making him a lock for this bet.
It's possible Fournette ends up being a bust and he isn't really helped by a struggling Blake Bortles, but the talent and role are there. He's a solid bet for the Over.
Marshawn Lynch – Total Rushing Yards
Beast Mode brings another non-rookie stat bet to the table, as Bovada and other pro football betting sites are wondering just how good he'll be with the Raiders in 2017:
Over 850 (-115)
Under 850 (-115)
What you think of Lynch might depend on two things: whether or not you think he has gas left in the tank and what his role will be. By all accounts, he should see plenty of work in Oakland's running game, as they don't have another viable starter on the team and Latavius Murray fled for Minnesota.
As for Lynch's ability, he's certainly older than you'd like but he gets to play for his hometown Raiders and seems highly motivated. He wasn't good in a final injury-riddled campaign with the Seahawks in 2015, but he's been out of football the past year and could be fresh and ready to rock. Considering Lynch mustered 417 rushing yards in a down year in 2015, he could be in a great spot to hit this Over.
Mike Williams – Total Receiving Yard
The Chargers grabbed Clemson star wide receiver Mike Williams early in round one and never looked back. Los Angeles has a solid offensive cast and veteran quarterback Philip Rivers tossing the rookie darts, so it's fair to suggest Williams could go either way as a rookie.
Over 750 (-115)
Under 750 (-115)
This is a very interesting Over/Under, seeing as the Bolts do hope to get top receiver Keenan Allen back and still have a plethora of quality receiving weapons in Antonio Gates, Hunter Henry, Travis Benjamin and Tyrell Williams. Davis could be a smashing success in year one, but there are a ton of bodies to worry about in L.A. This is a toss-up bet with no real upside attached to it, so we'd bet the Under or refrain from it, altogether.
Myles Garrett – Total Sacks
The Cleveland Browns wisely bypassed reaching for a franchise quarterback with the top pick, instead landing on immediate edge rushing stud, Myles Garrett. Garrett looks like a hit on paper, but does his elite athleticism on the outside actually mean he'll rack up a ton of sacks for a bad defense?
Over 7.5 (-115)
Under 7.5 (-115)
Like most of these NFL prop bets, we're looking at little margin for error and very little upside to show for our efforts, as well. The good news is Garrett is a total beast and his skills should translate immediately. We did see Von Miller find quick success as rookie, too, with Miller posting 11.5 sacks in his first season back in 2011. There's no guarantee Garrett pops off quite like that in year one, but he's a real threat to chase 10 sacks due to his immense talent, upside and the clear need for him to make a big impact.
This bet is a 50/50 proposition no matter how you look at it, but on talent alone Garrett can make the Over profitable.
That does it for our look at the latest 2017 NFL prop bets. Think we got some wrong or have some more you found elsewhere? Get the conversation going in the comments below!