2017 NFL Futures: Odds and Predictions For NFC Division Winners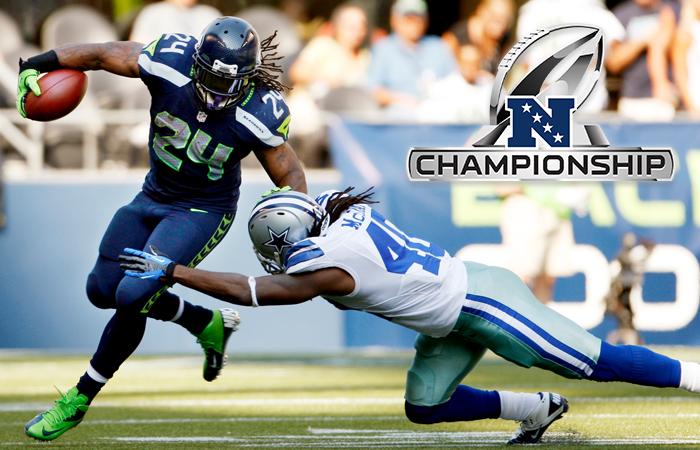 The 2017 NFL season is officially in our crosshairs, as rookies have already reported to their teams and in just a few months we'll be getting ready for a new season of pro football. The New England Patriots predictably open up the year as Super Bowl 52 favorites despite winning just last season, which naturally also has them ahead of the pack in the AFC East.
Now is the perfect time to start putting down bets for the 2017 NFL regular season, whether it be player prop bets, taking a stab at the latest Super Bowl odds or putting money down on NFL futures. One said future that we can all take a look at now and over the next few months is NFL division winners, as top NFL betting sites like BetOnline currently offer odds on which teams could win their respective divisions.
The Pats are probably one of the safest locks of the 32 teams in the league, but it could be a little trickier throughout the rest of the NFL. More importantly, if we can see the right team rising before they make their mark, we could take advantage of some serious value. For instance, few saw the Falcons, Cowboys or Chiefs rising to nab their division crown in 2016, but if they had, they could have made a nice profit based on their playable odds.
Are there some fun targets we need to consider in 2017, or is it going to be another run of the mill year with the same old faces at the top? Let's take a look at the NFC's side via BetOnline's NFL division winner odds to find out:
NFC East
The Dallas Cowboys returned from a hiatus from the playoffs due to injuries and in the process discovered franchise cornerstones in Dak Prescott and Ezekiel Elliott. Built for the long haul with a beastly o-line and a stacked offense, the Cowboys return as favorites to mount the NFC East again in 2017.
Dallas does have some realistic threats, as Kirk Cousins fuels a competitive Redskins team and Eli Manning and the Giants actually swept Dallas a year ago. Carson Wentz is the driving force behind a young and rising Eagles team that was pesky at times in 2016, as well.
Cowboys +140
Giants +220
Eagles +400
Redskins +450
There are value fliers throughout this division, as you're making money no matter where you bet. Dallas actually offers some solid value as a hard favorite. The only problem is they do have three talented teams behind them and this race could last deep into 2017.
New York is without a doubt the second favorite in this division. New York's defense was vastly improved a year ago and Brandon Marshall and rookie tight end Evan Engram could give this offense the jolt it needs.
If you're not picking Dallas, however, the true value lies with the Redskins. Cousins got the 'Skins to the playoffs two years ago and had his team on the cusp of a return last year. In a contract year with everything to prove, Captain Kirk and his Redskins are extremely playable with their +450 odds.
Pick: As tempting as these other teams may be, Dallas is the most talented squad in the NFC East and possibly the entire NFC. This remains their division to lose.
NFC North
The Green Bay Packers survived an ugly middle portion to their 2016 season to make the playoffs and tease everyone into believing they were legit title contenders. They weren't going all the way, but with a draft focused largely on repairing a horrid defense, they return as realistic Super Bowl contenders in 2017.
That understandably could place Green Bay atop the NFC North, but they did have some trouble with the Vikings, who boast an elite defense and beefed up their offense by adding explosive runners in Latavius Murray and Dalvin Cook. If the defense is back to playing at a high level and their offense improves, Minnesota could finally complete the pass over the pack.
Detroit teased us all in 2016 as a true playoff contender before backing into postseason play with three straight losses – including one at home that could have stolen the NFC North crown. Thanks to a leaky defense and a lethargic ground game, the Lions don't look like great bets to make the playoffs again.
There's also the Bears, who ditched Jay Cutler for Mike Glennon and Mitchell Trubisky and seem shockingly further away from contending than they were a year ago. The Bears will need many miracles to hope to contender for the top spot in this division and predictably open 2017 at the bottom when it comes to the NFC North odds:
Packers -175
Vikings +275
Lions +500
Bears +2000
Green Bay is the obvious favorite, but we're not making much money back on them. Minnesota is without a doubt the best play here, as they have nice +275 odds and have the defense and balance to really give the Packers a run for their money at the top of the division.
Detroit is somewhat in the mix but they feel like they're regressing. Chicago is a dart toss for fun, but they're not remotely realistic and are surely a waste of money.
Pick: Give the Vikings a shot for the value they provide, but the smart money remains with Green Bay.
NFC South
Cam Newton and the Carolina Panthers suffered through a nasty Super Bowl hangover in 2016, which helped pave the way for Matt Ryan and the Atlanta Falcons to take over the division. Ryan and co. produced the top offense in the league en route to the franchise's second ever Super Bowl appearance and even had a title in the bag before blowing a 28-3 lead in Super Bowl 51.
Whether or not ATL can bounce back and put that collapse in the rearview mirror will play a big hand in the NFC South standings. Behind Atlanta are a lot of willing contenders, as the Panthers upgraded their offensive arsenal and could be ready for another deep playoff run, while the Saints and Buccaneers could both be looking to turn mediocre 2016 runs into stellar 2017 seasons. Here's how BetOnline has these teams grading out based on the latest NFC South odds:
Falcons +175
Panthers +250
Buccaneers +275
Saints +400
Much like the NFC East, the NFC South feels wide open and highly profitable, depending on where your betting loyalties lie. Atlanta is the natural favorite after making it to the title game last year and as long as they can overcome their mental demons, they should again be in the mix for a special season.
It's tough to completely rule out anyone in this division, though. A healthy Cam Newton is as dangerous as anyone, Jameis Winston could be ready for the next step and if the defensive adjustments in New Orleans work out, the Saints could suddenly be a threat with a more balanced roster.
That likely hands the value to the Saints in this division, but bets on Carolina or Tampa Bay would bring back strong profit, as well.
Pick: There are teams to worry about here, but the Falcons are stacked and still give you some upside with these odds. Atlanta remains the team to fear in the NFC South.
NFC West
The Arizona Cardinals were supposed to be big threats to the Seattle Seahawks in this division going into last year. Instead, Carson Palmer seemed to never get over an NFC title game meltdown and the Cardinals struggled to a 7-8-1 finish. The Seahawks weren't much better, but finished 10-5-1 and won the division before being bounced in round two of the playoffs. As shaky as both teams were a year ago, they've patched up their rosters and remain the top two threats for this division.
The 49ers and Rams were predictably dreadful, but nobody knew just how bad they could be. Both teams fired their head coaches and are starting over from scratch. That's good for the long-term, but in a division with nasty Arizona and Seattle defenses, it should be awful news for them in 2017. Here's a look at how each team shapes up with the NFC West odds:
Seahawks -275
Cardinals +250
Rams +1600
49ers +2500
This division continues to boil down to Arizona and Seattle. The Seahawks took measures to improve their o-line and ground game, while Early Thomas returns to lead a hopefully revitalized defense. If the Seahawks are themselves on defense again, the league better watch out.
As much of a lock as the Seahawks probably are, the value bet is easily the Cardinals. Carson Palmer and Larry Fitzgerald return to give a title one last shot and David Johnson has turned into arguably the most dynamic rusher in the NFL. If Arizona's offense and defense are in sync, they could storm Seattle's castle.
The Niners and Rams are fun fliers based on their crazy odds, but they're not going anywhere. The Rams can't be trusted to win more than 5 games with the inept Jared Goff under center and the Niners literally have rookies at GM and head coach.
Pick: Arizona offers the best value here, but the Seahawks are winning this thing again.