2017 NFL Draft Rankings: Mitchell Trubisky and the Top 10 Quarterbacks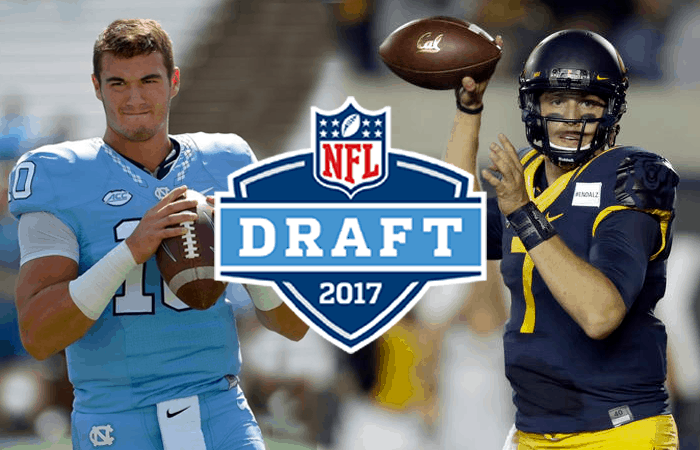 One of the biggest problems bad NFL teams have on a yearly basis is figuring out what to do under center. Having a franchise quarterback doesn't always mean you're a title contender.
Just ask the San Diego Chargers or New Orleans Saints. Both teams have strong offenses and are always mild playoff threats, but even with Philip Rivers and Drew Brees leading the way, their respective success in the playoffs leaves a lot to be desired.
It's one thing to routinely fall short of expectations or merely be competitive. It's another to never come close to threatening. There are plenty of franchises who know the far worse position of not having a franchise passer. Just ask the New York Jets, Chicago Bears or probably worst of all, the Cleveland Browns.
Teams can win Super Bowls without a franchise quarterback or even quality play from the position, but it's rare. The history of the NFL shows us a winning team still typically requires high level play from under center and unless they have an elite defense and get a little lucky, they won't be going very far most seasons.
That's a long-winded way of saying it's pretty important to have an answer at quarterback.
And if a team doesn't have one, they better start looking for one.
Insert the 2017 NFL Draft, where the quarterback class isn't as deep as draft enthusiasts would prefer, but still boasts plenty of interesting arm talent. There questions are layered with this class, too. Is there an arm worthy of the #1 pick? Which passers deserve to hear their name called in the first round? Which quarterbacks fit where?
All of those questions are important, but before we can really get anywhere in the drafting process, we first need to know who to look for. After taking a look at all of the best passing talent, here's our 10 favorite quarterback prospects (ranked) heading into the 2017 NFL Draft:
C.J. Beathard (Iowa)
Some quarterbacks are simply given too much credit. Whether it's due to their physical attributes, their high football IQ, their pedigree or their college production – some guys are just flat out overrated. We wanted to make the cut for our top-10 mean something, so we ignored the likes of Cooper Rush and Alek Torgersen, who simply do not look like NFL talents.
Instead, that has us kicking our top 10 NFL Draft quarterbacks with Beathard, who is a natural gamer that loves the deep ball and can execute it with the best of them. Beathard plays and looks bigger than he is, but even though he doesn't have ideal size he's still a big bodied quarterback with adequate height and the ability to hit home run plays.
The big thing working against Beathard is a lack of trust in the development of plays, his weapons or himself. He often hesitates to deliver passes, which can come off as poor pocket awareness and/or an inability to trust what he's seeing. That's understandably a very bad thing for the pro level, but if he can learn to read and react quicker and trust his initial instinct, he just might be a gem.
When not bogged down by over-thinking or telegraphing his intentions, Beathard can be a terror with a strong arm. He's at his best when he's decisive, he can sell the heck out of a play action pass and when he has time to throw he's very tough to rattle.
Coming from a pro style system and having a big arm is a very nice combination, but Beathard has some work to do to prove he's not going to wilt under pressure and that big arm won't go wasted with poor downfield accuracy or the inability to trust himself in tense situations. There are red flags, but Beathard looks the part and still could have some untapped upside to his game.
Joshua Dobbs (Tennessee)
If we're only grading Dobbs on his physical ability and tendency to change games with his legs, he absolutely belongs to be ranked very high on this list. No matter what you take of Dobbs is at the next level, there's no denying his elusiveness in and outside the pocket, his vision as a runner and his ability to spring long gains when under pressure.
As tantalizing he is as a dual threat option, he's not quite as dazzling as a passing prospect. That isn't to say Dobbs is way too far behind or can't come around. He's already proven to hit the deep ball with regularity and is also fully capable of reading defenses and adjusting his approach. That being said, his impact will surely be felt more on the ground at first at the next level, as his awareness and pocket presence leave a lot to be desired.
Much of Dobbs' exciting playmaking with his feet is born out of a lack of anticipation of the pass rush, while his footwork and decision-making both tend to be sloppy. He's not a lost cause by any means and is worth the investment given his solid size, athleticism and upside as a downfield thrower. He just isn't where he needs to be collectively yet, so we can't rank him too high on our 2017 NFL Draft quarterback rankings.
Davis Webb (California)
When you're looking for next level starters you go back to the prototypical passer that everyone wants: big body that can see over the line and a big arm that can make all the throws. On the surface, Webb could offer both, but so far he feels like a system quarterback who hasn't been asked to really show what he's capable of.
That, or he simply has never been able to take the next step yet in his development and now it'll be on an NFL team to tap into his potential. The physical tools are there and Webb was a very productive college starter, but he was also very much tied to the system and it's fair to wonder if he'll be able to think on his own and make something out of nothing in the pros.
The early signs suggest he'll have difficulty doing that. The size and natural tools are there to make Webb worth a pick at some point, but the whispers about round one come off as a joke. Webb hasn't proven much of anything yet and still has a ways to go before he can be a steady NFL passer. He probably should be a mid-round pick at this point.
Nathan Peterman (Pittsburgh)
Peterson is very interesting just because there isn't much about his game that pops off the tape and wows you, but he does few things wrong and brings solid size, nice athleticism and excellent poise in the pocket to the table. I know, landing the next Trevor Siemian isn't going to excite anyone, but Peterman really is just flat out solid across the board, displaying an ability to regularly make throws from inside the pocket, while also testing defenses on the outside with his underrated mobility.
Peterson is far from an elite athlete and his long timed speed isn't anything to get excited about, but he's a complete passer that will be ready to rock, having played in a pro style system. This is a kid that can make all the throws, isn't afraid of tense situations and isn't going to fold under pressure. The arm isn't a rocket, he's not the biggest and he doesn't have amazing wheels, but he can simply play football and projects as a capable starter early in his career.
Brad Kaaya (Miami)
Miami's Kaaya is another guy who doesn't make many boneheaded mistakes, tends to play within himself and looks the part of a steady passer who could easily transition to the next level. In addition, Kaaya offers solid size and the ability to make every throw at the next level.
Kaay's best attribute is his mental makeup. Operating out of a pro style system, the transition from a mental perspective should not be difficult, while Kaaya knows how to read defenses and progress through his options. The problem, of course, is that this can often come off as too robotic and when things break down, the always prepared Kaaya suddenly isn't on top of his game.
Finding the fine middle ground is key for Kaaya, who has the physical ability and smarts to run an NFL offense effectively, but is otherwise not an overly tantalizing prospect. It's tough to knock a talent for being boring or predictable when it largely benefits them, but Kaaya's lack of flash and tendency to get caught up in predictable outcomes is what ultimately keeps him from being a safer pick.
Chad Kelly (Ole Miss)
We toss the word "gamer" around a lot, but that's Chad Kelly in a nutshell. It's tough to get past the negatives (two torn ACLs), character concerns and backyard playing style, but Kelly can flat out sling it and isn't afraid to step up and make plays in big time situations.
Kelly has adequate size and mobility for the next level and heightens his next level stock with a big arm and a chameleon game that allows him to make all kinds of throws from any spot or situation on the field. He's certainly no stranger to mistakes and has an unorthodox game, but Kelly can anticipate the defense, extend plays and fit the ball into windows most wouldn't dare.
A lot of Kelly's game can also come back to bite him, just as his personality and decision-making could to whoever drafts him. He's a considerable risk given his injury history, tendency to take shots and character concerns, but if we're looking at sheer talent and upside, Kelly is among this draft's best options.
Patrick Mahomes (Texas Tech)
Mahomes is a tough call when it comes to finding where he ranks with this year's quarterback draft class, seeing as Air Raid quarterback frequently face plant in the pros. One huge issue here is Mahomes relies on his penchant for the deep ball, which does show off his awesome arm strength and accuracy deep down the field, but also offers up the possibility that he's a one-trick pony that thrived in a pass-happy system.
The latter is a scary thought, but Mahomes is more than a deep ball king, as he plays with some moxie and appears to have the makings of a true gamer. Mahomes can extend plays with his legs and be a threat on the run, he rarely panics under pressure and seems to make most of his throws come off as effortless.
The danger with Mahomes, though, is he's either a high energy guy with a rocket arm like Matthew Stafford, or he's a guy playing beyond his means in an inflated system like a Case Keenum. The fact that we can't know for sure is what keeps him from ascending these 2017 NFL Draft quarterback rankings.
Deshone Kizer (Notre Dame)
Kizer certainly has plenty of upside to him, while the Steve McNair comparisons aren't that far off when you look at his physicality, size, running ability and penchant for the deep ball. Kizer is that same type of player, but consistency and continued development are understandable concerns.
Kizer looks the part and has a great skill-set, but production at the next level doesn't happen by accident. We can already see negative wrinkles to his game that open the floodgates to poor play in the NFL, as Kizer doesn't always read defenses correctly, can be late on throws, his accuracy can waver and his overall decision-making can be spotty.
These are signs of a young player struggling to take his game to that next level, which for now simply suggest Kizer is a high level talent that needs time to mature. That probably means he's a bit of a project in the pros, but I don't think he'd be a nightmare if thrust into action right away, either. Kizer has the arm, frame and baller mentality to learn as he goes if that's the route his next team goes. That just isn't preferred and he's ideally not yet ready to make a consistently positive impact.
The bottom line here is he could be McNair or he could be a more athletic version of Byron Leftwich. One is amazing and the other is just disappointing. There is a lot of talent to work with here, but the cries for Kizer to be #1 among this quarterback class fall on deaf ears.
Deshaun Watson (Clemson)
Watson is not the best quarterback in this draft class, but he does a good job in making it a fairly underrated one. If we want the most NFL-ready passer, he's probably it. Watson is a game changer, a dual threat option and a flat out winner.
You don't get to back-to-back title games by accident and Watson finally showed up big and sealed the deal this year, helping the Tigers to their first championship in 30 years. The winning is obviously impressive, but that gets underrated when you look to the next level, so does natural instincts, leadership and high football IQ.
Watson brings all of this to the table but continues to be downgraded due to some poor decision-making, a thin frame and some inconsistency with his accuracy. Everything you can knock Watson for he can be coached on and improve on. The problem is, even with corrections and everything breaking just right, he's not quite the best passing prospect in this class. He still has an argument for the top spot and I'd agree to him being a 1B option. But he's not #1 by himself.
Mitchell Trubisky (North Carolina)
That title belongs to Trubisky. If we want the best quarterback for 2017, it's probably Deshaun Watson. If we want nothing but upside and we don't assume any risk, perhaps we take a stab at Kizer or Mahomes. But if we want it all, it's Trubisky and it's not even close.
The Tar Heel lacks elite size and is still raw after just one full season at the helm, but he has literally everything else you can look for in a franchise quarterback. Trubisky has the big arm, he has the pocket presence, the high level athleticism, the knack for the big play, anticipation – the list goes on.
Trubisky will need to mature and transition to a pro system, but he already has the look of a franchise passer, has everything physically you want and seems to have a ceiling we can't yet see.
Because of that, he's without a doubt the top arm going into the 2017 NFL Draft and if the Cleveland Browns wanted to take the plunge with him at #1, nobody should blame them.
Think we got the order of our quarterback rankings all jacked up? Tell us how you'd rank the top arms in the 2017 NFL Draft in the comments below!