Hide Bonus Offers
| | | | | |
| --- | --- | --- | --- | --- |
| #1 | Bovada Sports | 50% Up To $250 | Visit Site | Bovada Sports |
| #2 | BetUS | 125% Up To $2,500 | Visit Site | BetUS |
| #3 | MyBookie | 100% Up To $1,000 | Visit Site | MyBookie |
| #4 | Everygame | 100% Up To $500 | Visit Site | Everygame |
| #5 | BetOnline Sports | 60% Up To $1,000 | Visit Site | BetOnline Sports |
2017 NFL Draft Mock: How the Latest Free Agency Moves Could Impact Round One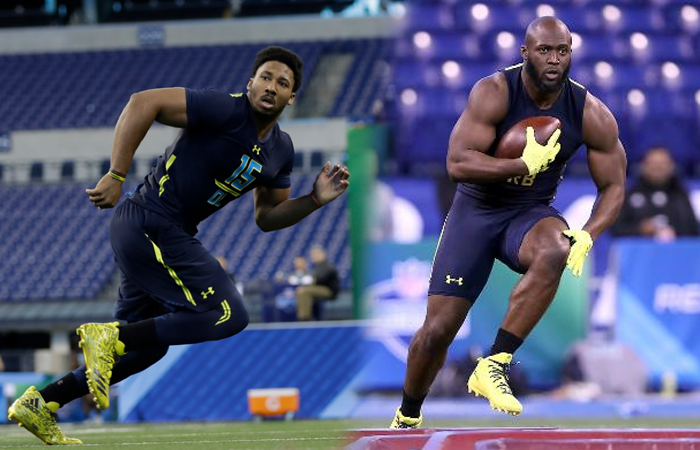 NFL teams are already busy making big moves with the start of the 2017 NFL Free Agency period on Tuesday. In the past two days, several teams have cut ties with big names that are no longer fits on their respective rosters, while handing out big contracts to stars they either want to keep in town or bring in to boost their system.
Brandon Marshall could enhance the Giants' passing game, Calais Campbell and Barry Church may turn Jacksonville into an elite defensive unit and where Tony Romo ultimately lands could shift how some teams react throughout the rest of the free agency process, as well as the draft.
Free agency is really just the start, as teams will either address major holes here, or bypass overspending to continue building for the future. Given the moves that have already been made and the others being rumored, we're starting to get a clearer picture of how the first round of the 2017 NFL Draft could unfold.
The pieces are starting to fall into place, so let's take another look at how things could shake out as we mock the first round of the 2017 NFL Draft:
Cleveland Browns – Myles Garrett, DE/OLB, Texas A&M
Cleveland isn't enamored with any of the top quarterbacks to take the dive at #1 and they probably are still in on the Jimmy Garoppolo sweepstakes. That makes this top pick easy, as Garrett is a pass rushing menace that could lift the Browns on the defensive side of the football.
The Browns aren't one player away from contending, so adding key building blocks is the way to really start over. Garrett is precisely that, and then some.
Washington Redskins (Trade w/49ers) – Jonathan Allen, DE, Alabama
The writing seems to be on the wall with Kirk Cousins. He'll eventually get traded and the 49ers will be forced to part with this pick to make a deal happen. That gets San Francisco their quarterback, while the Redskins bring a veteran like Jay Cutler in for the interim while building out the rest of their team.
As for this spot, the Redskins will have their options wide open. Taking a quarterback to replace the departing Cousins (we're guessing) could make sense, but there are too many tempting defensive studs to consider here. Considering they just lost Chris Baker in free agency, hitting up the draft's top defensive lineman could make sense.
Chicago Bears – Jamal Adams, S, LSU
Chicago has a lot of question marks, but after signing Mike Glennon it doesn't look likely that they'll reach for a future franchise passer this early in the draft. Taking a quarterback at some point still isn't out of the question, but here they can focus on a true difference-maker elsewhere.
With a lot of their core offensive pieces actually already in place, the Bears can continue to work their way back to their elite defensive days. Bringing in a stud safety like Adams sure is a great place to start.
Jacksonville Jaguars – Leonard Fournette, RB, LSU
The Jaguars are the exact opposite of the Bears, as they've made numerous defensive additions over the years and kept that narrative rolling by adding Calais Campbell and Barry Church early in free agency. Their defense is stacked, leaving only an erratic offense to blame if they can't take their game to the next level.
One big issue with Jacksonville is their running game, which suffers due to shaky quarterback play and a weak offensive line.
The line has talent, though, so perhaps upgrading the rushing talent could be in order. Chris Ivory is rarely healthy and T.J. Yeldon looks like a bust, so adding an arguable generational talent like Fournette could be the answer.
Tennessee Titans – Marshon Lattimore, CB, Ohio State
The Titans look to be improving on both sides of the ball, but their two biggest needs heading into the 2017 NFL Draft continue to be wide receiver and defensive back. Instead of reaching for the top wide receiver this early, they get a more stable difference-maker in Lattimore, who figures to be the best cover man in this draft class.
Once the Titans solidify their pass defense with Lattimore, they can turn their focus to landing Marcus Mariota a reliable number one receiver.
New York Jets – Deshaun Watson, QB, Clemson
Do the Jets have to go quarterback here? No, not if they want to take a chance on Jay Cutler or trade for A.J. McCarron. But for the sake of the future of this franchise, they probably should.
New York needs pieces on defense and could use another wide receiver, but they need to start where it counts.
The Jets have absolutely nothing under center to get excited about and it's not crazy to think Watson's dual threat ability and championship experience could provide that much-needed optimism.
Los Angeles Chargers – Malik Hooker, S, Ohio State
Los Angeles is among the most unlucky teams in the league, but if they can get healthy again in 2017, Philip Rivers and co. should once again field a fairly deep and versatile offense. The issues reside on defense, where they still need a franchise safety to replace Eric Weddle.
Carolina Panthers – Derek Barnett, DE/OLB, Tennessee
Carolina's issues are similar to the Chargers, as they seem largely set offensively and simply need to find their old identity again. That was a power run offense that teamed up with a smash mouth defense. Barnett is a big piece to the puzzle, as he can put enormous pressure on the quarterback and get the Panthers back to an elite level.
Cincinnati Bengals – Mike Williams, WR, Clemson
Last year was proof the Bengals need more help on offense. A.J. Green is a stud still, but he couldn't do it all by his lonesome and once he went down Andy Dalton looked lost. Mike Williams is a massive target that could one day replace Green, but for now gives the Bengals one of the nastiest pass-catching duos around.
Buffalo Bills – Sidney Jones, CB, Washington
Buffalo has a lot of work to do, and it oddly should start on defense. They could use another impact wide receiver, but for a team that is fine under center and has a loaded o-line, they should probably focus on building a sulking defense back up.
Losing star corner Stephon Gilmore to the rival Patriots could be a massive blow if Buffalo allows it to be.
Landing a potential star cover man like Jones could help stop the bleeding and eventually make the Bills a defense to be feared again.
New Orleans Saints – Solomon Thomas, DE, Stanford
It is obvious what the Saints need to do to improve: control the clock more on offense and step up their effectiveness on defense. New Orleans either scores too quickly and tires out their defense, or their awful defense just gets off to bad starts.
Either way, defense is where the Saints will continue to go to work come the first round of the 2017 NFL Draft, and edge rusher makes sense as a key target area. Several big names could fit here, but Stanford's Solomon Thomas makes good sense as an athletic outside option.
Cleveland Browns – Mitchell Trubisky, QB, North Carolina
What the Browns do leading into the draft (possibly trading for Jimmy Garoppolo) will dictate what they do here, but if Mitchell Trubisky falls to them with their second first rounder, they have to pounce. Already having Jimmy G is the only way they don't, as many view the raw Trubisky as the best pure passer in this draft class and Cleveland has been tied to him all year.
Cleveland doesn't currently have a solution under center and Trubisky has the athleticism and gusto to be a gem. Even if he isn't the long-term fix, the hopeless Browns have to keep trying.
Arizona Cardinals – Jabrill Peppers, S, Michigan
Tony Jefferson left via free agency and the Cardinals quickly applied a band-aid via Antoine Bethea. That's potentially a solid signing, but it won't fix everything when we're looking ahead.
Adding a versatile stud like Peppers should, especially since Arizona is as good as anyone at moving their defensive talent around to fit offensive looks. Peppers says he's a safety, but in AZ he's just a beastly football player that will help their defense get better, position be damned.
Philadelphia Eagles – Dalvin Cook, RB, Florida State
The Eagles have never been high on the aging Ryan Mathews and they don't have much behind him at running back, so this has to be the position they target here. Wide receiver could be a good play here, as well, but Cook is a burner with feature back ability. The Eagles can't mess this one up.
Indianapolis Colts – Cam Robinson, OT, Alabama
Getting a running back is an option here, too, but what good is a fresh runner if you can't block or keep Andrew Luck off of his behind? The Colts need to start taking the health of their franchise quarterback seriously.
Bringing in the top offensive tackle in the draft is a pretty good way of expressing they actually care.
Baltimore Ravens – Reuben Foster, ILB, Alabama
Foster admittedly could go a lot higher, but this is a pretty deep draft class and inside linebackers tend to fall. Baltimore may not necessarily require him right now, but they're good at making the most out of instinctive inside 'backers. Foster will enjoy a long-term role in Baltimore in what has always been a fine spot for smart defensive talent.
Washington Redskins – John Ross, WR, Washington
From one Washington to the other, John Ross will go. The man that set the new NFL Combine 40-yard dash record isn't just all speed, as he was a true gamer in college and projects as a star in the pros. This is a big need, too, as DeSean Jackson and Pierre Garcon are gone and the Redskins have Jamison Crowder and little else to rely on at the moment. Ross could come in and compete immediately for a starting spot across from Josh Doctson.
Tennessee Titans – Corey Davis, WR, Western Michigan
As of right now, the Titans still don't have a great cast of wide receivers, possibly making a big WR splash one of their main focuses of the first round of this draft. Luckily, they do have two first round picks, so if they don't make a play early, they can try to land someone like the big and athletic Davis here. Tennessee has had a lot of wide receiver busts, so it would be nice if this one finally paid off.
Tampa Bay Buccaneers – Budda Baker, S, Washington
Baker is arguably the best remaining safety at this point in the draft and the Bucs need to keep adding pieces to a maturing defense. Chris Conte was surprisingly solid last year, but he can't possibly be the long-term solution. Talent breeds competition and high level depth, either way, making Baker a borderline necessity, if not a fun luxury pick.
Denver Broncos – Ryan Ramczyk, OT, Wisconsin
Denver does not have a ton of massive holes to fill, but if they're going to make a big move at quarterback, they're going to want to make sure whoever they get is well protected. With Russell Okung likely vacating the left tackle spot in Denver, finding a quality pass protector is as important as ever for the Broncos.
Detroit Lions – Quincy Wilson, CB, Florida
The Lions have quite a few options in round one, but with a solid offense built around Matthew Stafford, it makes sense to keep building up a very mediocre defense. Wilson could prove to be the perfect addition, as he could develop into a star corner and the Lions don't have much in their secondary to get excited about beyond Darius Slay.
Miami Dolphins – Tre'Davious White, CB, LSU
Ditto for Miami, who has a growing defense and a balanced offense, but probably need to keep filling mild holes if they want to take that next step. Part of that process starts in their defensive backfield, where the Fins have the talented Byron Maxwell but are otherwise riddled with question marks – specifically at corner.
Perhaps adding a talented cover man like White could spice things up enough to allow Miami to take that next big step.
New York Giants – Garett Bolles, OT, Utah
The G-Men have improved defensively over the past year, which should open the door to turning their focus back to shoring up their offensive line. New York still has some nice pieces in the trenches, but protecting Eli Manning is priority number one.
Bolles doesn't even need to be a factor immediately, either. But he's a freak athlete and should be able to play guard or tackle at the next level. Improving the o-line depth and upside should pay dividends late in the season and moving forward.
Oakland Raiders – Christian McCaffrey, RB, Stanford
The Raiders seem perfectly content with letting Latavius Murray get overpaid by someone else in free agency, but that leaves them with DeAndre Washington and little else in the running game. Insert McCaffrey, who at the very worst is a dynamic offensive weapon that can add value in the return game, and at best is that feature back the Raiders haven't had in years.
Houston Texans – T.J. Watt, DE/OLB, Wisconsin
Many are trying to connect the dots between Watt and the Packers, but Houston can use some edge rushing help as much as anyone and why not bring the talented Badger alum to his brother's team? Houston's defense is its strength, but adding a stud athlete that knows how to get after the passer and create havoc is always something worth bringing on. Watt can do both and has untapped upside after just one full season as a key starter.
Seattle Seahawks – Marlon Humphrey, CB, Alabama
Richard Sherman is still a boss NFL corner, but he's bound to slow down eventually and the spot across from him has been a revolving door ever since Brandon Browner left.
Seattle still has defensive backfield talent, but all of that Earl Thomas retirement talk has to have them thinking more long-term about this defense.
Adding a star talent like Humphrey improves the depth for now and ultimately gives them an every down starter down the road.
Kansas City Chiefs – Tim Williams, OLB, Alabama
Kansas City boasts one of the more talented defense in football, but as great as they are, they can still use another body to help put pressure on the quarterback. Dee Ford was a breakout star last year, but the Chiefs are aging in their pass rush elsewhere and probably wouldn't mind some extra explosiveness on the edge. The athletic Williams can certainly give them a boost as a situational threat.
Dallas Cowboys – Charles Harris, DE, Missouri
Dallas is another team that could really use some help at putting pressure on the quarterback, as the 'Boys have had some terrible luck with defensive ends lately and who knows if they'll ever really get anything out of Randy McGregor. For now, they need to just keep plugging away until something sticks, as they have an offense built to win and need their defense to catch up with their high level of play. Bringing in a strong pass rusher like Harris is a good way to attempt to do that.
Green Bay Packers – O.J. Howard, TE, Alabama
Defense has to be the main route for the Packers early, and that'll have them looking at edge rushers, inside linebackers and certainly cornerback. However, with a lot of the top shelf talent gone at this point, it may make sense to take a stab at an elite tight end to give Aaron Rodgers another weapon.
Howard is a fine addition, seeing as he offers size and athleticism as a passing weapon, but also has the tools to provide help as a blocker, as well. With Jared Cook possibly leaving via free agency, this could quickly turn into a major necessity.
Pittsburgh Steelers – Malik McDowell, DT, Michigan State
The Steelers could be in a spot to go for a luxury pick, as they do not have many holes on offense and have drafted fairly well over the years across the board. Adding another impact pass rusher could be nice, but they did just re-sign James Harrison and they could just attack the best available talent here.
Talent is the key word here, as McDowell has major questions marks and didn't put up amazing numbers in college. However, he has great size and athleticism to work with and could eventually be a killer addition to Pittsburgh's defensive line.
Atlanta Falcons – Takkarist McKinley, DE, UCLA
Atlanta seemed to be a rising defense late last year, as Dan Quinn continued to prop up a talented unit that flashed fantastic speed and game-changing instincts. With the Falcons' offense settled for the most part, Quinn and co. can keep piling on helpful bodies to take that strong defense to an even higher level.
Pass rush is probably the spot the Falcons will want to look at the most, and a talented defensive end like McKinley would end up being the perfect addition.
New England Patriots – Deshone Kizer, QB, Notre Dame
Last, but certainly not least are the Pats, who could end up snatching someone like Deshone Kizer, simply because they can. There actually could be some method to the madness, though, as backup quarterback Jimmy Garoppolo is entering a contract year and he may end up being dangled in trade talks.
With Tom Brady pushing 40, the Pats should look to the future.
Whether that makes Kizer New England's future starter or more trade fodder, of course, is anyone's guess.
Love or hate some of our picks? Think we included some prospects that don't belong in the first round and left out some prospects that definitely do?
Let us hear all about it in the comments below and feel free to share this blog with your friends!