Hide Bonus Offers
| | | | | |
| --- | --- | --- | --- | --- |
| #1 | Bovada Sports | 50% Up To $250 | Visit Site | Bovada Sports |
| #2 | BetUS | 125% Up To $2,500 | Visit Site | BetUS |
| #3 | MyBookie | 100% Up To $1,000 | Visit Site | MyBookie |
| #4 | Everygame | 100% Up To $500 | Visit Site | Everygame |
| #5 | BetOnline Sports | 60% Up To $1,000 | Visit Site | BetOnline Sports |
2017 NFL Draft: 5 Huge Names That Could Slide Out of Round One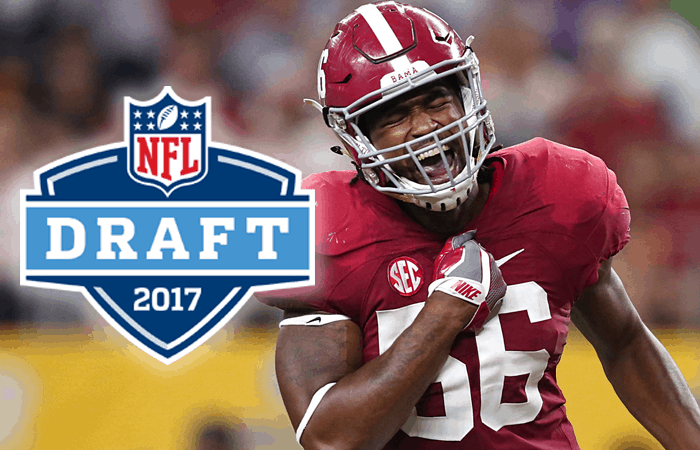 The 2017 NFL Draft is less than a full month away, as all 32 NFL teams get ready to find a way to improve their rosters come Thursday, April 27th. League executives and scouts have provided insight and inevitable buzz that has led to prospects rising and falling in mock drafts around the country and there still remains plenty of time for player stock to dramatically shift.
Every year we see some players invited to the green room and still be waiting to hear their name called until after day one. That, or we have players projected for the second half of the first round, yet for one reason or another, they slide into round two or even further.
This year's draft isn't likely to be much different, as there will again be several prospects that mock drafters like more or don't like nearly as much as the real-life NFL franchises. Naturally, that could play a hand in several big names sliding out of round one that we currently project to hear their name called on the draft's first day.
You could make a number for a slew of them, but these five are the ones we see as having the greatest risk of sliding out of the first round of this year's draft:
Tim Williams, OLB, Alabama
Once a top 10 threat and arguable top 20 lock, Crimson Tide edge rusher Tim Williams has not plummeted down many expert's draft boards. Bleacher Report's Matt Miller cited him as a key 2017 NFL Draft faller back in late February, suggesting his off-field issues and lack of ideal size could cripple his high-end draft stock.
There is no denying that Williams is a heat-seeking missile on the outside and as Miller noted, his run defense has improved and should only get better. From an athletic, production, talent and upside perspective, Williams is 100% a day one prospect. Unfortunately, his character and some minor red flags for the next level may have him slide into round two.
David Njoku, TE, Miami
We're not listing Njoku here because he isn't good. On the contrary, he's an athletic freak at the tight end position for the next level and potentially a weekly matchup nightmare. A classic move tight end, Njoku has the size, athleticism and fluidity to be a real problem all over the field. A capable and willing blocker, Njoku might even be a little more complete than some would lead you to believe.
So, why hate on the Miami product, then? Necessity, my friends. Tight end is not a huge need for a lot of teams right now, whether because most franchises have a reliable option in place, simply don't utilize the position that much or have plans to wait on the position until round two or later.
Part of why Njoku could slide is the lack of need, plus the growing perception that he'll be available beyond the first round.
On top of that, he's not the top tight end in this draft class. Alabama's O.J. Howard is also quite athletic, is a superior blocker and brings a little more size to the table.
With Howard setting the tone among tight ends, there might not be enough room for Njoku – as good as he is – to also get in amongst the first 32 picks. There is more impressive talent and greater need at cornerback, defensive end and offensive tackle. Njoku is a first round talent, but because tight end isn't a huge first round need, he might not go there.
Carl Lawson, DE, Auburn
Lawson started out the 2016 college football season as one of the top pass rushing prospects, and while he still remains high on most scout's list, he has slid considerably. The main problem everywhere you ask is Lawson's injury history and whether or not he can be durable at the next level.
The Auburn star also doesn't have ideal height for a defensive end in a 4-3 system, while some question his ability to slide out as an outside linebacker in a 3-4 at the next level. Answering those questions will be key for Lawson, who once felt like a lock for round one and may not be looking like more of a day two pick.
Dalvin Cook, RB, Florida State
I tend to think the running back position is stacked in this year's draft, but there are three backs – Leonard Fournette, Christian McCaffrey and Dalvin Cook – that stand head and shoulders above the rest. For the longest time it looked like Fournette was #1 all by himself and then Cook had a nice gap ahead of McCaffrey, but in the past month it almost feels like Cook has now slid all the way down to #3 in this group.
One big reason for Cook's potential slide is past character issues, which stem from high school and bled into his college days at Florida State.
There is no denying the fact that Cook is a baller who can be a physical and explosive workhorse at the next level, but there are also questions about his ability to block.
The character concerns take center stage here, plus there is the very real possibility the need for a first round running back doesn't stretch beyond two teams. With Fournette a lock as the top running back and McCaffrey gaining steam, it's not crazy to think Cook could be the odd back out in round one.
Teez Tabor, CB, Florida
Listing a big corner prospect like Sidney Jones here would be too easy, as he tore his Achilles at his pro day and is probably going to slide to round two or three. Tabor is healthy, though, and still might not make the first round cut despite being plenty talented.
Tabor certainly doesn't lack any confidence, but his seemingly solid field speed didn't translate to this year's combine and it has many scouts wondering if he'll be able to consistently stay in front of elite NFL wide receivers. Speed aside, Tabor has the swagger, experience and natural athleticism to potentially thrive in the right situation.
Where that situation is remains to be determined, of course, and due to long speed concerns, we might not find out on day one of this year's draft.
Have an even more concerning 2017 NFL Draft faller we should have listed? Have some thoughts on our picks? Tell us your take in the comments below!