Hide Bonus Offers
| | | | | |
| --- | --- | --- | --- | --- |
| #1 | Bovada Sports | 50% Up To $250 | Visit Site | Bovada Sports |
| #2 | BetUS | 125% Up To $2,500 | Visit Site | BetUS |
| #3 | MyBookie | 100% Up To $1,000 | Visit Site | MyBookie |
| #4 | Everygame | 100% Up To $500 | Visit Site | Everygame |
| #5 | BetOnline Sports | 60% Up To $1,000 | Visit Site | BetOnline Sports |
2017 NCAA Men's Basketball Championship Odds and Prediction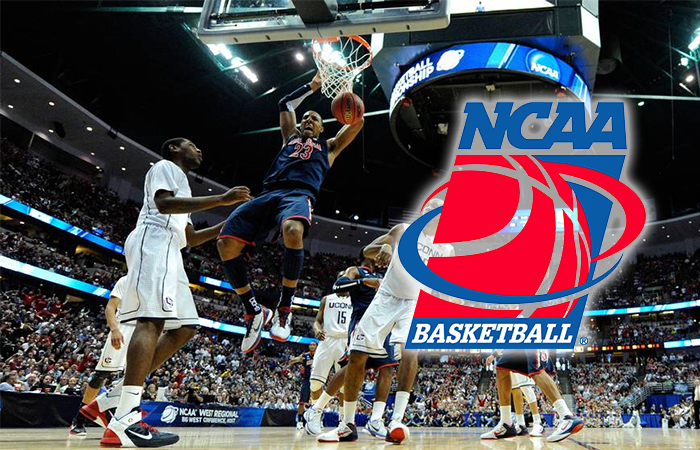 Every year we all huddle around our online or printed college basketball brackets, pondering which teams have the best chance at running the table. With nailing the entire bracket 100% being a borderline impossibility, the real payment comes in our Final Four picks.
The biggest of those Final Four predictions always ends up being which two teams you predict can make it to the title game, and of course whether or not you can correctly guess who in fact wins the national title.
Some years it's obvious, and others we see a few Cinderella teams shake things up to the extent where it's truly anyone's guess who emerges from those final four teams to win it all.
We still have some time before the brackets come out and we need to make those calls, but whether we're filling out brackets or betting on who will win it all at our favorite college basketball betting site, it's important to look ahead early to gauge which teams might have the best odds:
Odds to Win 2017 Men's College Basketball Championship
Literal odds are a great place to start, but they shouldn't end your research. They're part of the process, just like spreads and Totals can be, as Vegas seems to often be quite intuitive and have a pretty good handle on the sports realm.
That being said, the top favorites do not always win and often it's a sleeper team nobody saw coming. We may have to dig a little deeper to unearth what the case is for this season specifically, but first let's check out the latest NCAA national title odds, per Bovada:
Gonzaga +800
UCLA +900
Kansas +900
Arizona +1000
Duke +1000
Oregon +1000
Louisville +1100
Kentucky +1100
Villanova +1100
North Carolina +1200
Florida State +1800
Virginia +1800
West Virginia +2000
Florida +2200
Wisconsin +3300
Maryland +3300
Baylor +3300
Purdue +4000
Notre Dame +4000
Cincinnati +4000
Creighton +4000
Syracuse +5000
Butler +6600
Michigan State +7500

South Carolina +7500
Xavier +10000
Indiana +10000
Iowa State +15000
Mary's +15000
USC +15000
Marquette +15000
Oklahoma State +20000
SMU +20000
Northwestern +20000
Michigan +20000
Wichita State +20000
Virginia Tech +20000
Kansas State +20000
Miami +25000
Dayton +25000
Alabama +50000
Rhode Island +50000
California +50000
Texas A&M +50000
Seton Hall +50000
Clemson +50000
Arkansas +50000
Tennessee +50000
The biggest takeaway from these odds is two-fold. For one, Bovada and a lot of the other top betting sites are keeping a wide approach and taking on a lot of longshot bets. That's smart on their end, and considering how rarely it is that a team comes truly out of nowhere to win a college basketball championship, it's probably not the smartest bet for casual bettors.
The other big thing is oddsmakers might be as much prisoners of the moment as fans and experts, alike. Gonzaga is certainly looking like a real title contender right now, as they're #1 in the country right now and at 26-0 are the only undefeated team in the Top 25.
Needless to say, that makes the Zags look quite formidable and given Mark Few's elite coaching experience inside and outside of March Madness, his best team yet could be a very viable championship threat.
Or Gonzaga loses 1-3 games and narrowly holds onto a #1 seed (or doesn't even get that) and sinks out of the title picture. It's anyone's guess, but there are still a lot of games to be played, which makes us wonder; is Gonzaga actually a safe bet and is that a bet we want to be making?
What's in a Contender?
Maybe you love Gonzaga's chances. Up until the time of this writing, there isn't much going against that logic. Gonzaga boasts a top-10 offense (3rd most efficient in the nation), an experienced coach and a ton of talent with nice size and scoring ability on their roster.
Of course, this would-be title favorite also hails from the West Coast Conference, which really has St. Mary's and BYU and not much else. Needless to say, as strong as Gonzaga looks right now, they might be fool's gold in the end.
Instead, we need to look at some bigger programs that have playable odds and could step back into this thing.
Villanova is an obvious choice, and they even have very interesting +1100 odds. Of course, it's never easy to repeat as a champion and they lost some very key bodies from last year's championship squad.
Teams like UCLA, Kansas and Arizona also are in serious consideration. Kansas ranks 3rd in the nation, while Arizona (6th) and UCLA (7th) aren't far behind. These are three of the best teams in the nation, while Kansas and Arizona both rank inside the top-10 in the country in terms of RPI.
RPI is a great tool the experts use (Ratings Percentage Index) to separate the good teams from the great ones. This can help us gauge who has the most difficult schedules, which can lead us to pointing out bloated or inflated records, or also locate sleeper teams that may have had it harder than others and may be a lot better than their records indicates.
That could potentially drop a team like UCLA down your list (26th in RPI), while someone like Louisville (ranked two spots below UCLA) is actually 4th in RPI in the country. The Bruins might become an even more dangerous team to confide in when it comes to March Madness betting, simply because some people may fall in love with their explosive offense.
It's true that UCLA is very potent offensively (#1 scoring team in the nation), but they leave a lot to be desired on the other end. As in, 252nd in the country, left to be desired.
The point here is we can't just blindly bet on teams with legendary coaches, star players or prolific offenses. UCLA could have an off night come the tourney and get housed due to a less than stellar defense. A great coach may not be able to overcome a team that simply isn't a legit title contender. And a very good team – perhaps like the Zags – might not be quite championship material.
College Basketball Title Sleepers
There is a ton to consider before we can come to any real conclusion, and a lot of it will play out before us as February roars on. Regular season schedules and conference tournaments have a lot to say about how we'll feel about any given team, where they ultimately get seeded in the NCAA tournament will be very key and then each given matchup they have during March Madness will also play a role in their betting upside.
Before all of that, however, you're going to need a few sleepers to hang your hat on.
Per the odds, here are four we are interested in and will want to keep tabs on as March Madness draws closer:
Duke Blue Devils
This should come as no surprise. Coach K is still at the helm of a pretty good team that hasn't been consistently elite this year, but just got a huge win over North Carolina recently and might finally have Grayson Allen checked in at the right mental level.
Duke is 20-4 and boasts the #20 offense with a strong 14th ranked RPI standing, yet they're just the 12th best team in the nation right now. That isn't to say the college basketball rankings are wrong. Duke hasn't been quite as consistent as we would like to see and they're not as good defensively as they probably need to be to run the table.
That being said, Allen is just one piece to a very versatile and explosive offense and if the Blue Devils come together at the right time, it's very possibly Coach K has another gem on his hands.
Wisconsin Badgers
Funny we should note the Badgers, who lost to the Blue Devils in the national title game three years ago, and could be ready to make another epic run again this year. Their record doesn't suggest they can't, as Wisconsin is a solid 21-4 and stands in as the 11th best team in the nation.
Wisconsin has some endured some tough losses, but they've remained the class of the Big 10 while clocking in as the nation's 4th best defense. Ethan Happ can dominate the paint, Bronson Koenig can get hot from outside and Nigel Hayes can attack with the best of them. If that trio is on come tourney time, we could have a sleeper run on our hands.
The Badgers' 24th RPI standing shows just how tough their run has been, yet they stand tall as the likely Big 10 champions.
Baylor Bears
We must not ignore the Baylor Bears, who sit in as a pesky top-5 team in the nation right now, while sporting the #1 RPI in the nation. Baylor is 34th in the country in offensive efficiency, while two of their losses came in tough games against both Kansas and Kansas State.
Baylor offers balance, experience and has been battled tested. They also sport an elite defense, ranking 9th in the country in points allowed per game. The Bears won't be a trendy pick to go all the way this year, but they have true grit and the balance needed to sneak out of some tough matchups. That could make them a sneaky Final Four play.
Michigan State Spartans
Speaking of sneaky, we've learned by now not to underestimate a Tom Izzo squad. There is no denying that this year has been tough for the usually elite Spartans (just 15-10), but a late surge could still get this team into the tournament and that's the last place you want to see them.
The Spartans still run an efficient and often explosive offense (38th in three-point percentage and 37th in field goal percentage), while some of their losses (Arizona, Kentucky and Duke) aren't bad losses. In fact, the Spartans challenge themselves early every year and their 41st overall RPI ranking shows this year has been no different.
Michigan State probably isn't winning it all and this could easily end up being a rare occurrence where they don't even get into the tourney, but if they pick up their play and get in, they'll be one of the more dangerous sleepers to monitor.
College Basketball Championship Prediction
It's probably too early to feel overly confident about any one team running the table yet. Once we get a better idea of how teams close their regular season out and what their exact path to the title game could potentially look like, the picture will quickly get a lot clearer.
That being said, Kansas stands out the most to us. It seems they have had endless amazing runs go sour early in the tournament under Bill Self, but he's still pieced together true championship contenders almost every season. This could be the year it finally clicks and he gets another ring, as the Jayhawks have favorable odds, currently rank 3rd in the nation, sport the 13th best offense, have enough defense to give some teams fits and even rank 3rd in RPI ranking.
Kansas feels like the most complete team in the nation from top to bottom.
It's early and things could change quite a bit in the coming weeks, but right now they're our pick to run the table.