2017 NBA Playoffs: Predicting Who Will Win it All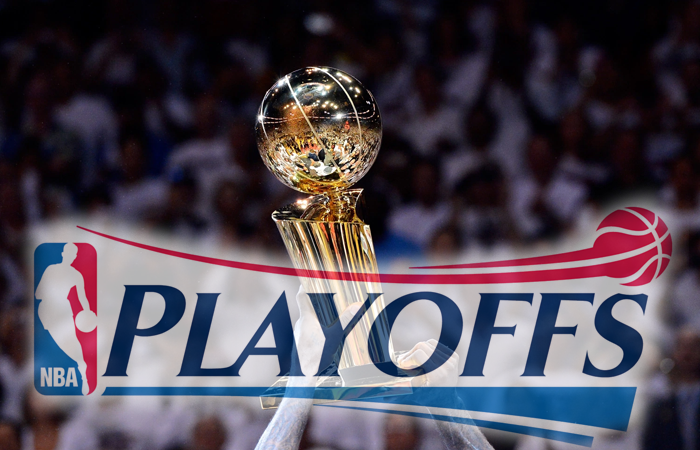 The field for the 2017 NBA Playoffs has finally been set, as Wednesday's finale slate of regular season games set all of the seeds in stone. The Boston Celtics clinched the top seed in the Eastern Conference, while the Pacers, Bulls and Heat all won. The latter hands Indiana and Chicago spots in this year's playoffs, while Miami narrowly misses out on reaching the playoffs.
In the Western Conference, Utah gave a valiant effort as they aimed for the #4 seed, but lost out to the Clippers, who took down the Kings to gain home court advantage in the first round of the playoffs.
2017 NBA Finals Odds
Before we can dive into each round and work our way to the end, we should probably take notice of how Vegas views this thing. Despite Boston claiming the top seed in the Eastern Conference, the Cleveland Cavaliers are heavy favorites (-275) to work their way back to the NBA Finals and represent their conference for the third year in a row. Ditto for the Warriors (-250), who have close to the same odds and are fully expected to be back in the league title series for the third consecutive season.
Unsurprisingly, those are the two teams who lead the way with the best NBA Finals odds at top NBA betting sites like Bovada. Here's the updated odds for the 2017 NBA Finals:

2017 NBA Playoffs: Round One Predictions
With everything set, we can finally take a look at this year's NBA playoff structure and see how things might map out en route to the 2017 NBA Finals. We get the ball rolling with our round one matchups and predictions:
Eastern Conference
Boston Celtics (1) vs. Chicago Bulls (8)
The Celtics locked up the top seed in their conference and should find a way to get past a very erratic Bulls team in round one. That doesn't mean they're immune to a full blown upset, however, as Chicago did split the season series (2-2), can be very good at the United Center and their slow pace can limit possessions.
The Bulls have two gamers in Jimmy Butler and an aging Dwyane Wade. They alone could easily steal 1-2 games in this series, while Chicago's slow pace and randomly suffocating defense could truly give the Celtics some problems – especially with Boston not being particularly good on the glass. On the flip side, though, Isaiah Thomas has been pretty much unstoppable all year and the Celtics have defensive stoppers in Avery Bradley, Jae Crowder and Marcus Smart. They won't completely stifle Butler and Wade, but they'll slow them down enough to gain the edge in this series.
That home court advantage could come into play in what actually could be a surprisingly competitive series, but ultimately the Bulls are too shaky and don't shoot the ball well enough. Chicago's lack of shooting and troubling complacency could easily get them swept, but they're stubborn enough to give us hope by tying things up at 2-2 and coasting the rest of the way to a series loss.
Cleveland Cavaliers (2) vs. Indiana Pacers (7)
It is hilarious how everyone is wondering if the Cavs are still championship material just because they didn't get the #1 seed this year or because their defense has been shaky or (insert your excuse here). The reality is LeBron James and co. have just been bogged down by injuries and fatigue. They'll now be well rested and completely healthy and frankly, probably a little annoyed so many experts jumped ship on them.
Cleveland also might take it as an insult that anyone gives the Pacers a real shot at taking them down in round one. The Cavs got to the Finals as the #2 seed out of this conference two years ago and they're destined to do so again. Perhaps the biggest reason why is the media is allowing the best team in the Eastern Conference to be viewed as underdogs. That's got to be laughable to these Cavs.
For this matchup, there's no denying James vs. Lance Stephenson and Paul George is going to be must-see TV. Indiana has been good lately, too, as the Pacers have ripped off five straight wins to force their way into the playoffs. Their inconsistency and poor defense all year prior to that also almost had them watching the playoffs from home.
Indiana as a team is not a threat to the Cavs. They have talent, but lack cohesion and don't consistently defend. Maybe PG-13 beasts out for a win and maybe Stephenson's presence makes life difficult on King James, but the Cavs still have the home court edge and Kyrie Irving and Kevin Love to provide help if James indeed struggles. Cleveland won the season series 3-1, though, and will be pretty dialed in early. PG-13 is good for one huge game in this series – if not several – and Indy was pretty stout at home. I can see them extending this series in game three after going down 2-0, but that's probably as close as this one gets.
Toronto Raptors (3) vs. Milwaukee Bucks (6)
This is where the 2017 NBA Playoffs could truly start to get interesting. The Raptors are another team that has tons of talent but isn't as cohesive as they should be due to in-season changes and a slew of injuries. On paper, though, they have a very efficient offense, can grind the game down defensively and in this particular series will have the home court edge.
The Raptors are seasoned playoff veterans, too. They made it to the Eastern Conference Finals a year ago and stole two games from the Cavs. Had things gone a little more their way during the regular season, perhaps they'd again have the #2 seed or even better. Their calling card is dictating pace, doing just enough defensively and allowing Lowry and DeMar to score at will. Adding Serge Ibaka and P.J. Tucker with DeMarre Carroll also gives them some very intense defensive bodies.
I don't see this being an easy series for the Raptors, as Milwaukee has no fear, is very dangerous at the Bradley Center and can be problematic with their length and athleticism. Giannis Antetokounmpo can flat out take over games with his size, length and athleticism. He'll specifically be a problem for DMR, while Lowry could easily get bottled up by Khris Middleton, Matthew Dellavedova and Malcolm Brogdon.
Brogdon might be the key to this series for the Bucks, as he's a do-it-all player that can penetrate, create for himself and even defend. The Bucks aren't the worst upset play in round one, but they don't win consistently on the road and their interior defense is garbage (24th in the league). This is also a series Toronto has had a handle on, winning 6 of the last 7 meetings.
The Greek Freak is good enough to get a win or two and I wouldn't be floored by a Bucks upset, but the Raptors are the better team overall and should make it out of round one.
Washington Wizards (4) vs. Atlanta Hawks (5)
The last game of round one in the Eastern Conference is normally a toss-up between the 4 and 5 seed, but the Wizards seem to be considerably better than the Hawks. Atlanta hasn't known who their are for much of the year and needed a late-season run to even make sure they'd be in the playoffs.
Dwight Howard is always a problem down low defensively and on paper, the Hawks should rule the paint with him and the versatile Paul Millsap. Washington has enough to at least combat them, though, as Markieff Morris can draw Millsap out with his shooting and both Marcin Gortat and Ian Mahinmi can defend and score on the block. Gortat could easily get Howard in a lot of foul trouble with the pick-and-roll game, too.
The kicker here is forever John Wall, though. Wall has been a man possessed all year, as he put the Wiz on his shoulders and turned them into a top-5 team in the second half of the season. If things broke a little differently, we'd be looking at the top seed in the Eastern Conference.
Wall isn't alone, as Brad Beal has turned into a complete scorer that can attack, create for others or hit outside shots with ease. Otto Porter and Bojan Bogdanovic round out a pretty versatile and explosive offense that will surely test Atlanta's strength – it's defense.
Dennis Schroder has been a ghost all year defensively and that contributed in this series during the regular season, with Wall's Wizards racing out to a 3-1 advantage. Schroder, Millsap and Howard are good enough to tighten things up at some point in this series, but the Hawks are painfully average far too often and ultimately probably won't be able to keep up with the 9th most efficient offense in the NBA. We should get a solid series, but the Wiz won't test their fan's hearts too much.
Western Conference
Golden State Warriors (1) vs. Portland Trail Blazers (8)
The Warriors are ready to rock in round one, as they've had several chances to rest up their key guys and have a healthy Kevin Durant back in the saddle. They actually get a pretty explosive Portland team that could easily steal a win or two if they're not careful, but nobody is seriously concerned a barely above .500 Blazers team is going to stage the series upset.
Portland plays a lot like the Warriors, but they're the poor man's version, as they don't defend well and don't win with any regularity outside of Portland. They'd have a very interesting lineup if they could get big man Jusuf Nurkic (broken leg) back, but he could just as well get run off the court in this matchup, while he also can be prone to foul trouble.
The Blazers could be a real handful in another year, but we've seen Golden State take care of them fairly easily (won six straight during the regular season), while they ousted these Blazers (4-1) in the playoffs last year. The only game Portland won had Stephen Curry (knee) on the sidelines, so it could make sense for the Dubs to flex their muscle early and show everyone how dominant they can be. It wouldn't be shocking if Portland got hot and stole a game or even two games, but this is a good series for the Warriors to pull out the broom.
Pick: Warriors in 4 (4-0)
San Antonio Spurs (2) vs. Memphis Grizzlies (7)
This is actually a tough series to call on paper, as the Spurs and Grizzlies play similar styles. Both teams defend very well and have elite talent on the block, while Mike Conley doesn't really have anyone on the other side that can slow him down.
Memphis has seemed to be stuck in mud for years, though, and they regressed this season with Chandler Parsons turning out to be an epic fail. They don't have a reliable offense and when Conley and/or Marc Gasol aren't dominating a matchup, they find it very difficult to stay competitive.
The Grizzlies can stick this one out with their grind-it-out ways, but they haven't been a great road team and they barely showed up in this same series last year (swept, 4-0). They won't forget that, though, while Memphis has really given the Spurs a good fight all year (split the season series, 2-2). The Spurs will be very focused and looked all year like the second best team in the league, but Memphis should steal a win and possibly even two this time around.
Houston Rockets (3) vs. Oklahoma City Thunder (6)
One of the tougher first round playoff series to call is this clash between the Rockets and Thunder. We get the top two NBA MVP candidates with James Harden and Russell Westbrook facing off, and it's very difficult to gauge whether this is going to be an epic battle that bleeds into a game seven, or if the better team (Houston) will just flat out wax a one-man show.
I think Westbrook is far too determined to get shown the door super early. OKC also isn't as much of a one-man wrecking crew as his eye-popping numbers might suggest, as Victor Oladipo can ease some of the scoring load and we saw how troublesome the twin towers of Enes Kanter and Steven Adams can be for the opposition in last year's playoffs.
OKC has the defensive upside and the superstar power to really give this series a go, but at some point their lack of depth and shooting will derail them. Harden has lifted his Rockets to new heights and has a superior supporting cast. The Rockets have also been tough to beat on their home floor and showed all year (3-1 in the season series) that they're the more complete team.
Westbrook could absolutely raise his game (and his teammates) to another level and deliver the upset, but that is a very tall order. Narrative street could be alive and well if Harden gets snubbed for the league MVP, too. He surely won't mind taking out his former team, either. Westbrook should will OKC to two wins in this series and we certainly are open to this series going the distance, but we love the Rockets to advance.
Los Angeles Clippers (4) vs. Utah Jazz (5)
Easily the toughest series to call going into round one, the Clippers and Jazz are destined for a full seven-game series. The Clippers not only tend to make life harder than it has to be in the playoffs, but they also routinely choke away games. In addition, they're facing a very strong Utah team that has a lot of different scoring options and plays elite team defense.
L.A. admittedly enters round one with a clear edge in this series. Not only are they extremely hot (won 7 straight), have home court advantage in this series and won the season series (3-1), but they have two very strong big men that can give defensive menace Rudy Gobert trouble down low. The real issue is going to be how the Clippers attack Gobert, who could be prone to foul trouble in this series or have his own issues scoring.
Los Angeles has had no qualms about playing a slower, more methodical game in this series and it's even benefited them. The Clippers can adapt their offense as needed and when they're on top of their game, they also can defend at a very high level, showing that by finishing the season as a top-10 defense in shooting percentage.
From a matchup perspective, these teams seem to be pretty dead even. The Clippers have more playoff experience and the home court edge, while this team seems to be on a mission to fight back against the notion that this roster should be blown up. It won't be easy, but the Clippers will once again be forced to display mental toughness as they fight their way out of an intense first round series. Utah, on the other hand, has the defensive grit to hang in every single game and will want to prove they belong.
Pick: Clippers in 7 (4-3)
Round Two Predictions: Conference Semifinals
Eastern Conference
Boston Celtics (1) vs. Washington Wizards (4)
We don't foresee any big upsets in round one, but starting with this Celtics vs. Wizards clash, we certainly should prepare for the possibility come round two. The Wizards and Celtics match up very well and we got to see that during the regular season, where they split their season series right down the middle (2-2).
Three of their four meetings had both teams scoring over 100+ points and both of these teams like to push the ball and can put up a ton of points. They don't just fly by the seat of their pants, either, as both teams can penetrate or kill you from outside and sit inside the top 10 as extremely efficient and explosive offenses.
Defense is where these two get separated, as the Celtics have several guys to toss at John Wall and Bradley Beal and the same can't be said on the other side. Isaiah Thomas could obviously struggle with Wall's size and length on the other side, but I'm not sure it becomes a real issue.
The numbers support Boston as a superior defensive team as a whole, too, as the Wizards gave up the 25th worst interior shooting percentage during the regular season and weren't a whole lot better at covering long range shots (19th). Boston was, ranking second against the three on the year. This could easily be Washington's time to shine and the offensive matchup should make for a very intense series, but defense is going to be the deciding factor here. Boston has the clear edge there and having home court advantage in this series certainly won't hurt their chances, either.
John Wall and co. will come in focused and will give the Celtics a series – one in which could very well make it to seven games and end up being one of the better series of the entire playoffs.
Cleveland Cavaliers (2) vs. Toronto Raptors (3)
We're not expecting many surprises in the NBA Playoffs until perhaps the last few series and that doesn't stop when the Cavs take on the Raptors. Toronto did give the Cavs a few problems last year in the ECF, but they've taken a step back defensively this year. Both teams have, really, but it's arguable things will tighten up on both sides once this series starts.
These teams know each other and don't like each other, so it's not crazy to think stats go out the window once we get rolling here. The Raptors a slower brand of basketball and love to kill team's with their strong iso offense, but it didn't really deliver smashing success against Cleveland in the regular season (Cavs won, 3-1). In fact, the only game the Raptors won had the Cavs sit all of their studs in the regular season finale.
We can't be sure how defensive additions like Serge Ibaka or P.J. Tucker will impact this series, though, as we haven't seen these two sides face off with them on Toronto's roster yet. Hypothetically, Ibaka gives the Raptors a stopper on Kevin Love, while Tucker and Carroll can rotate on LeBron James and/or Kyrie Irving.
The problem here is there isn't much actual logic favoring the Cavs. Toronto has a far more efficient defense and plenty of offensive pieces to deal a death blow in this series. While that's the case, one could argue the Cavs haven't really been trying their hardest all year and they'll be hoping to turn it on when the playoffs start. That's probably what happens, so the defensive numbers will be better and ultimately the Cavs will have too many options for Toronto's defense to handle. It should still lead to another hard-fought series, but one the Cavs will win.
Western Conference
Golden State Warriors (1) vs. Los Angeles Clippers (4)
After (probably) sweeping the Blazers in round one, it's possible the Warriors won't be quite ready for a new and improved Clippers team that just got done with an intense battle with the Jazz. I think that leads to these rivals giving us a better than expected series, as L.A. gives it their best shot and hangs around in their games at the Staples Center.
I'm not giving the Clippers much of a chance to win at the Oracle Arena, though, and I don't think they can win this series. They do have a good cover man to toss at Kevin Durant and Chris Paul can potentially slow down Stephen Curry, but there are just too many options for Golden State and their home court edge is forever frustrating. Blake Griffin won't be able to overpower Draymond Green, either and the Warriors will surely use DeAndre Jordan's horrid free-throw shooting against him at some point.
The Clippers can defend and have elite offensive spurts, but they will need to play flawless ball to contain the Warriors and make this a legit series. We really haven't seen them take it to that level in this series lately, as the Dubs have ripped off 10 wins in a row in this series. I can see the Clippers sending a message early or holding it down at home in games three or four, but they don't have the mental toughness to trump Golden State. A full game seven would be a lot of fun, but with KD leading the way, I doubt it gets that far.
Pick: Warriors in 6 (4-2)
San Antonio Spurs (2) vs. Houston Rockets (3)
This game is probably the other tough contest to figure out in round three of the 2017 NBA Playoffs. James Harden has turned the Rockets into true title threats due to a balanced, versatile and explosive offense. He literally does it all, but gets a ton of help with a slew of shooters that won't allow even an elite Spurs defense to hone in on just one facet of their offense.
Harden remains the key to Houston's title hopes, and whether or not he can effectively (and consistently) work his way past Kawhi Leonard's suffocating defense could be pretty telling. He was actually able to do as he pleased for much of the regular season, but San Antonio's strong team defense (and Houston's lack of defense) balanced things out, allowing the Spurs to take the series, 3-1.
That's probably the direction we're headed in if the Rockets aren't careful. As great as this team is offensively, they don't defend the paint well enough. They actually do close out shooters and gave up the 4th lowest shooting percentage from outside, but their interior defense could end up being abused by the likes of LaMarcus Aldridge, Pau Gasol and even Kawhi Leonard.
The reality is the Rockets just don't have the defensive bodies to hang with those guys. The one guy they do have – Nene Hilario – is a headcase that can be prone to foul trouble. Clint Capela can rebound and block shots, but he also can get into foul trouble and probably isn't single-handedly shutting anyone down at the other end.
Can Harden and his shooters step up and bring that perimeter defense to the table? Yeah, and that should play a hand in making this one of the top series during these playoffs. This is a perfect contrast of styles and it will be a never-ending game of chess. While this is Mike D'Antoni's best team yet (arguably, at least), I'm not sure it's quite ready to get past the Spurs. San Antonio, meanwhile, is annoyed at two straight disappointing runs and I don't think they settle for anything less than a run-in with the Warriors in the Western Conference Finals this year.
Round Three Predictions: Conference Finals
Eastern Conference
Boston Celtics (1) vs. Cleveland Cavaliers (2)
The NBA is predictable, so why get cute with it? One way or another, the odds look pretty good we're getting the top two teams in the conference finals. Boston might get upset by the Wizards, but I think they'll survive and get a real shot at proving they actually were the top team in the Eastern Conference.
The problem is, they weren't. The Celtics have the defensive bodies to give LeBron James and Kyrie Irving problems, but Kevin Love and the likes of Kyle Korver and J.R. Smith could benefit greatly from wide open looks. I also think Cleveland will actually thrive from dropping to the #2 seed. They'll see all of the lack of respect, embrace this weird and totally inappropriate underdog role and work harder on getting their defensive bite back.
Cleveland can still play elite defense and when they have all of their pieces together, I think they will. That's bad news for the Celtics, who don't have much going on with their interior offense and will really need some huge games from Isaiah Thomas to get out of this series alive.
The regular season series showed us the Celtics have some fight and could keep this close, but the Cavs were far better at closing the games out (3-1). Cleveland won't have the home court edge and that might be a big deal if they're not careful, but they won the Finals on the road a year ago and can certainly get there by doing the same here.
The only way you're betting against the Cavs here is if you actually believe the Celtics are better or you don't think LeBron James and co. can improve as the playoffs roll on. We saw last year the latter can be done rather easily by them and there's been very little to suggest the Celtics are actually the superior team when these two sides match up.
Boston could get all the hype trains moving with a big opening win, but the Cavs will have this thing at 2-2 and will likely take over and keep it from going to a game seven.
Western Conference
Golden State Warriors (1) vs. San Antonio Spurs (2)
This is a much more difficult game to asses than the ECF, as the Spurs shelled the Dubs on opening night and owned them all year to the tune of a 2-1 record. Golden State did bounce back and convincingly downed the Spurs in the third meeting and even did so without Kevin Durant on hand. The second Spurs win also had both sides sitting all of their key players for rest.
So, really, this series was 1-1 and that still tells us basically nothing. What we really know is Kevin Durant came to the Warriors to win a title and the Dubs are an impossibly tough team to account for when Kawhi Leonard will naturally be exhausting himself, both trying to stifle KD and keep up with the Warriors defensively.
Stopping Durant alone is not an easy assignment, but even if that happens, we could see Stephen Curry and Klay Thompson fire off. And even if the Warriors don't blow the Spurs away, this is a terrific defensive team that paced the league in preventing outside shooting (#1 in 3PT% allowed) and was third at defending the paint.
The Warriors gave up some size and depth to land KD and come back stronger against the Cavs, and a tougher playoff run this year will only aid them, as well. Taking out the Spurs still won't come easy. San Antonio has a strong team offense, they have two very effective midrange scorers in LaMarcus Aldridge and Kawhi Leonard and they also boasted the most efficient defense in the entire NBA.
San Antonio absolutely can derail KD's dream run with the Warriors, but Golden State defends just as well and is the more potent offense. Logic suggests the Spurs will stifle one or two of their guys in some spots, but the Warriors as a whole will come out on top in the end. That being said, the Spurs are here to play and this one feels destined to go the distance.
Pick: Warriors in 7 (4-3)
2017 NBA Finals Predictions
Golden State Warriors (1) vs. Cleveland Cavaliers (2)
As we all should come to expect – and just how the oddsmakers predict it – we're looking at yet another NBA Finals showdown between the Warriors and Cavaliers. So, what's the better narrative here? It's either Kevin Durant being that missing link to take down a Warriors team that is out for blood after losing last year, or the would-be underdog Cavs rising up to defend their crown "for the land".
When we look at the numbers, this is a Warriors title, all the way. That's how it was two years ago and on paper, that's how it was last year, too. Just look at the logic; the Dubs were up 3-1 and had the title in their grasp. Then Draymond Green couldn't control himself and the Dubs slowly cratered and blew the first 3-1 series lead in NBA Finals history.
That was truly unreal and we can't expect to ever see something like that again. What we can hope for, though, is another amazing series where each game feels like it's a game seven. We can't bank on stats here, much like before, largely because Cleveland regressed sharply as a defense. By the time we get here, though, the Cavs will be firing on all cylinders, hitting outside shots and defending at an elite level. That's just what they do.
Ultimately, I think the better story is KD finally getting his ring, but it's going to be a process. I think he's going to get there with the Dubs in his first season, but the Warriors will again have to stand strong in the face of scrutiny when they don't finish the job despite bringing in yet another superstar talent.
The reality is, it's extremely difficult to win NBA championships and Durant hasn't done that yet. This is without a doubt his best shot yet, but he may need to figure out the Cavs for an entire series before being fully ready to take them out. Golden State lost depth from their amazing bench last year, too, while the Cavs have the defensive potential to give this offense serious fits.
There is also that lingering narrative that LeBron James is still the best player in the world and we keep trying to replace him. His time for true regression will come eventually, but not when he's still arguably in his prime with a loaded contender. Golden State should be back here again in the coming years and at some point Durant will finally get that elusive ring. I just think he has to taste defeat in the Finals one more time before it all clicks. Brace for an intense series and obviously remain open to a Dubs title, but Cleveland has the pressure off of them right now and won't back down for a second.
Love or hate our NBA predictions for the playoffs? Tell us your thoughts on how you think the NBA Playoffs will unfold in the comments below!