Hide Bonus Offers
| | | | | |
| --- | --- | --- | --- | --- |
| #1 | Bovada Sports | 50% Up To $250 | Visit Site | Bovada Sports |
| #2 | BetUS | 125% Up To $2,500 | Visit Site | BetUS |
| #3 | MyBookie | 100% Up To $1,000 | Visit Site | MyBookie |
| #4 | Everygame | 100% Up To $500 | Visit Site | Everygame |
| #5 | BetOnline Sports | 60% Up To $1,000 | Visit Site | BetOnline Sports |
2017 NBA Draft Betting: 20 Prop Bets That Could Win You Money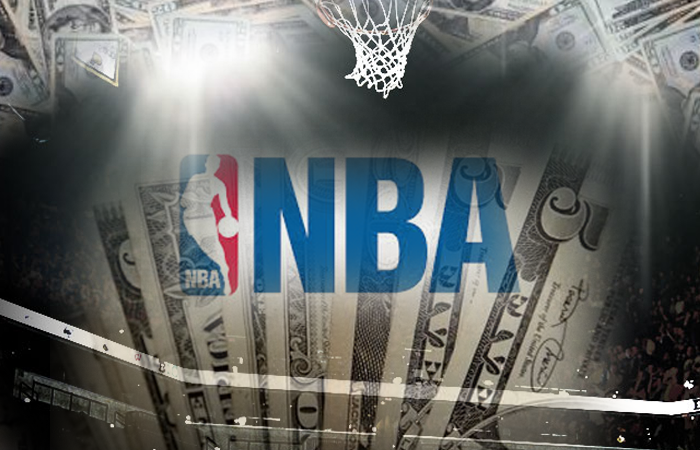 With the 2017 NBA Draft just around the corner, some of the top NBA betting sites are getting fans excited with the release of a slew of NBA Draft prop bets. The debate is officially on for who will be the top pick in the draft, which players will make up the first three picks, and much more.
BetOnline looks like one of the best spots to attempt to make money betting on the NBA Draft this year, as the popular betting site boasts 20 tantalizing 2017 NBA Draft prop bets. Let's dive in and see which bets are worth our time and how we may want to approach them:
#1 Pick in the Draft
There are plenty of NBA Draft betting opportunities to consider this year, but we probably will want to pick our spots. The most popular one probably remains who the #1 pick will be, where Washington star guard Markelle Fultz has dominated for the past year.
We can consider some other guys listed here, but Fultz is the clear front-runner to be selected by the Boston Celtics with the top pick this year:
Markelle Fultz, G, Washington | -1000
Lonzo Ball, G, UCLA | +700
Josh Jackson, F, Kansas | +1600
Jayson Tatum, F, Duke | +3300
Lauri Markkanen, F, Arizona | +5000
Dennis Smith, G, NC State | +6600
Fultz doesn't return much value here, but he's shaping up as a very safe pick. You could certainly opt to hedge that bet with some flier bets on Ball, Jackson and Tatum, however. Dennis Smith doesn't feel like a legit threat to go #1, while Markkanen isn't even a top three lock.
Jackson and Ball are both immensely talented and have been discussed as number one pick candidates in the past. Tatum is a bit of a dark horse option, but probably ranks third in this second tier group.
Realistically, Ball is probably the only real threat to Fultz, but even he shouldn't dethrone the Washington star. Truth be told, the only way this pick is't Fultz is probably if the Celtics end up trading this pick. Even then, Fultz remain the likely pick to kick off the 2017 NBA Draft.
Pick: Fultz (-1000)
# of Duke Players Taken in 1st Round
There are some less exciting NBA Draft prop bets we can consider, starting with predicting the number of players that will be drafted from some of the bigger schools. Duke is first up on BetOnline's list with a Total of 3.5 for round one:
Over 3.5 (+145)
Under 3.5 (-175)
There are two locked in options in Jayson Tatum and Luke Kennard. Tatum is a top three candidate and top 10 lock, while Kennard could find his way into the Lottery and seems like a lock to hear his name called in round one. It could get a little dicey from there, with Duke's best bets for the first round then being Harry Giles and Frank Jackson.
The last is a considerable reach, while Grayson Allen opting to return for his final season likely helps promote the Under here. Giles isn't even a lock for round one. As talented as he is, he barely played in his lone college season and has suffered numerous knee injuries. The odds look solid that two Blue Devils will go in round one and Giles has a reasonable chance at getting us to three. We need four to hit the Over, though, and that feels like a stretch.
Pick: Under 3.5 (-175)
# of Kentucky Players Taken in 1st Round
We get the same bet for Kentucky, which is notorious for producing high level NBA prospects. Considering that, their projected number of picks in round one feels low at first glance:
Over 2.5 (-350)
Under 2.5 (+260)
The Under promises some serious value, but I'm not sure we can get there. That means we're betting on just two Wildcats being selected in the first round of the 2017 NBA Draft and we can probably bank on two going inside the top 10 picks, alone.
De'Aaron Fox is the top Kentucky prospect going into the draft and Malik Monk isn't too far behind him. Those guys are locked in, so we only need one more Kentucky player to feel comfortable about the over. A stacked Wildcats roster is also pushing Bam Adebayo into first round consideration.
This bet hangs on how you look at Adebayo, but most draft experts see him as a first round lock, and so do we. That puts Kentucky in round one with three players, so we need to shoot for the Over.
Pick: Over 2.5 (-350)
# of UCLA Players Taken in 1st Round
The same bet resides with Bruins, as BetOnline projects three or more players from UCLA to be taken in round one:
Over 2.5 (-450)
Under 2.5 (+325)
We know for sure one will (Lonzo Ball) and it's fairly safe to assume sharpshooting big man T.J. Leaf will also be taken in the top half of round one. But searching for that locked in third UCLA player isn't going to be easy. Our best bets is Ike Anigbogu, who currently is looked at as a late first round draft choice.
Anigbogu probably gets us to three, as he's a tantalizing prospect and most mock drafts have him going just inside the top 20 picks, or barely outside of the top 20. He seems like a solid bet to land in round one, making three Bruins players a fairly safe play.
Pick: Over 2.5 (-450)
# of UNC Players Taken in 1st Round
The same bet resides with the North Carolina Tar Heels, who have just one obvious first round prospect in Justin Jackson. BetOnline challenges you to find a second UNC player you can trust to be selected in round one of this year's draft:
Over 1.5 (+150)
Under 1.5 (-180)
Jackson was himself a fringe first round pick before UNC marched to a title during March Madness last year. He now looks like a threat for the lottery and seems like a guarantee for round one, at the very worst. The trouble here is finding a second first round threat, but we do have some candidates in potential NBA talents like Kennedy Meeks, Isaiah Hicks and Tony Bradley.
These three guys are probably more like second round options, but Bradley is creeping into the first round discussion. Meeks is also a big, bruising body that some teams could warm up to and Hicks could be a solid two-way player at the next level. All three don't get in, but we can take a shot at two of these four UNC players finding their way into the first round.
Pick: Over 1.5 (+150)
# of Kansas Players Drafted Overall
The bet changes a bit with BetOnline asking us if Kansas will see at least two players drafted this year:
Over 1.5 (-260)
Under 1.5 (+200)
This bet applies to the entire draft, so with Josh Jackson a lottery lock, we really just need to gauge whether or not teammate Frank Mason will hear his name called. Mason has been regarded as a second-round pick throughout the process, but some view him as a potential first round talent.
I am of the latter variety and think Mason is a lock to be drafted. Bet the Over.
Pick: Over 1.5 (-260)
# of Oregon Players Drafted Overall
Our last "team" bet lies with the Oregon Ducks, who have several potential NBA prospects that could be taken at any point in the draft. Oregon is not stacked with elite first round prospects, but you could make the case for several players being taken within the two-round draft. Will it be three or more?
Over 2.5 (-350)
Under 2.5 (+260)
The value doesn't lie with the Over, but that's probably where we're headed. The Ducks had several NBA-type talents on their roster, with Jordan Bell, Dillon Brooks and Tyler Dorsey all looking like fringe next level prospects, at worst.
While the Over makes sense here, both Brooks and Dorsey are projected by many to be late round two prospects. If they both last deep into the draft, it's possible teams pass them over for younger projects or players from overseas. I like the value of betting on one of them not making the cut.
Pick: Under 2.5 (+260)
# of Guards Taken in 1st Round
Our focus shifts to predicting how many guards will be selected in round one of this year's draft. The league loves bringing in elite guard prospects, so it's not crazy to see a high Total of 10.5:
Over 10.5 (+120)
Under 10.5 (-150)
One could actually argue that this is fairly conservative, especially since the top two prospects are both guards and six of the top 10 players (arguably) are guards, as well. If that holds firm, we need just five more guards to be taken amongst the last 20 picks in round one.
Guys like Luke Kennard, Donovan Mitchell, Terrance Ferguson and Juwan Evans feel like first round locks and all should be classified as guards. Correctly gauging who is a guard may be obstacle number one, but this count only arrives at 10 flat. We could also hope for guards like Wesley Iwundu, Frank Jackson, Frank Mason, Josh Hart and others to force their way into round one, but that might be too ambitious.
I think it's possible we get to 10 guards in round one, but 11+ might be a mild reach. With fairly similar odds going both ways, the safer play may be going with the Under.
Pick: Under 10.5 (-150)
# of Point Guards Taken in Top 10
We're forced to get even more specific by taking a look at how many point guards will be selected inside the top 10 picks. We know six guards are in the running there, but we need to be sure they are point guards and help eclipse this 4.5 Total:
Over 4.5 (-500)
Under 4.5 (+350)
Lonzo Ball, Markelle Fultz, Dennis Smith and De'Aaron Fox are four elite NBA prospects that should all be classified as point guards. Frank Ntilikina is a fifth high level point guard option that is very much in play for the top 10, while Malik Monk is really a shooting guard but could be seen as a point guard by some.
If we can use Monk here, the Over is a breeze. If we can't, we're pushing our luck slightly, but we have four top 10 locks and Ntilikina feels like he's destined to get within the first 10 picks, as well. Because of that, I think the Over makes the most sense here.
Pick: Over 4.5 (-500)
# of International Players Taken in 1st Round
A really fun bet could be gauging how many players from overseas will be selected in round one this year. The expectation seems to be down from past years and we'd prefer this bet for the entire draft, but the Total isn't too intimidating:
Over 4.5 (+130)
Under 4.5 (-160)
There really are just two international players that feel like locks in round one, with Frank Ntikilina leading the way and Isaiah Hartenstein looking like a late first round option. It will be interesting to learn if Terrance Ferguson is considered an overseas player for heading to the pros outside of the United States, while other international prospects like Anzejs Pasecniks, Mathias Lessort, Vlatko Cancar and Alberto Abalde all are in the mix.
If we're being realistic, Ntikilina is a lock, Ferguson shouldn't be seen as an international prospect and your two best bets to sneak into round one are Pasecniks and Hartenstein. That should put us at a whopping three international prospects and we'd probably stop at four even if you did include Ferguson, who feels like a lock for the first round. That has us at the Under.
Pick: Under 4.5 (-160)
# of Freshman Taken in 1st Round
From the international prospects, we go to the top Freshman, where there are naturally a ton of one-and-done players with major upside. BetOnline sets the Total for Freshman drafted in round one at 16.5:
Over 16.5 (-115)
Under 16.5 (-115)
While a realistic Total, this is obviously high, as we need to gauge if 17 Freshman (over half of the first 30 picks) will be taken in round one. At first glance without even digging, we can see an estimated 9 Freshman in the first 10 picks.
That right there makes the Over a pretty nice bet, but the closer we look, it's easy to see another six Freshman possibly help round out the top 20 picks. That gives us 15 Freshman and guys like Ike Anigbo, Tony Bradley, Frank Jackson and Kobi Simmons are all viable threats to sneak into the bottom of round one.
The NBA is about pure talent and upside, so one-and-done prospects understandably rule the draft. This Over isn't too crazy too get behind.
Pick: Over 16.5 (-115)
# of Sophomores Taken in 1st Round
The same bet carries over to the Sophomores, where Luke Kennard is arguably our biggest star among second-year college ballers. We need to figure out if he and six other Sophomores can rule round one:
Over 6.5 (+110)
Under 6.5 (-140)
After Kennard, we're probably looking at guys like Ivan Rabb, John Collins, Caleb Swanigan, Juwan Evans, Tyler Dorsey and Tyler Lydon. This could be interesting, as all of these guys either currently are or at one time were seen as first round prospects.
If every one of these Sophomores cracked the top 30, we'd win with the Over. I think that may be a reach at this point, however, as more international players and Freshman will likely trump some of these options.
# of Juniors Taken in 1st Round
The Total gets even lower for Juniors, as there aren't a ton of elite Junior prospects slated to go in round one. BetOnline starts the Over/Under at just 2.5:
Over 2.5 (+120)
Under 2.5 (-150)
The value lies with the Over, but I'm not sure how we get there. Jordan Bell, Kyle Kuzma and Dillon Brooks are all first round threats, but the only Junior lock seems to be UNC's Justin Jackson. I'm not seeing the numbers here, so I'll go with the Under.
Pick: Under 2.5 (-150)
# of Seniors Taken in 1st Round
The numbers dip further for Seniors, as players that stay all four years tend to lose their value in the eye's of NBA decision-makers. The super low Total starts at just 0.5 Seniors via BetOnline's NBA Draft prop bets:
Over 0.5 (+190)
Under 0.5 (-240)
The value again lies with the Over, but BetOnline clearly isn't too concerned that even one Senior will find their way into round one. They're probably right, but four-year players like Sindarius Thornwell, Wesley Iwundu, Derrick White, Alec Peters, Frank Mason and Josh Hart are all viable threats to be taken late in round one.
The NBA doesn't love drafting Seniors, but there is a big enough player pool here to take a stab at the value we get with the Over.
Pick: Over 0.5 (+190)
Where Will Jordan Bell Be Drafted?
Oregon star forward Jordan Bell's draft stock has been all over the place, as he's seen as a fringe first rounder or early second round pick:
1st Round (-135)
2nd Round (+105)
The main problem with Bell is he's way too small to be a reliable center on a daily basis and he doesn't really pop off the paper as a potential star. His talent and size issues probably have him looking more like a round two prospect, and that's fine since that is where the value lies with this bet.
Pick: 2nd Round (+105)
Who Will Draft Lonzo Ball?
Early on in the draft process Lonzo Ball looked like a threat to go first overall and once that wasn't happening he seemed locked in as the #2 overall pick. Ball has also been quite public about his desire to play for the Lakers, where BetOnline seems to think he'll wind up:
Of course, Ball reportedly did not have an amazing workout with the Lake Show and his father has been very public (and annoyingly so) about his kid's playing future. It's possible the Lakers sour on Ball and pick Josh Jackson or Jayson Tatum instead, but we're not buying the smokescreens. Ball's destiny lies in L.A.
Pick: Lakers (-300)
Will Nigel-Williams Goss Be Drafted?
Gonzaga just finished an amazing season where they lost twice on the year and endured their second defeat in the national title game. Lead guard Nigel-Williams Goss was a big reason why, but BetOnline wonders if he'll even get drafted:
The NBA loves talented guards and Goss displayed next level lead guard chops at a pretty high level at Gonzaga. A lack of elite athleticism should hurt his draft stock and we probably can't bank on him going in round one, but he's likely too talented to go undrafted.
Pick: Yes (-215)
1st International Player Taken?
We should have an easy bet on our hands when we try to decide who the first international prospect off of the draft board will be. Frank Ntilikina looks like a top 10 lock and is far and away the most coveted player from overseas:
Frank Ntilikina (-1000)
Field – Any Other (+600)
This really isn't close, as there are a few interesting overseas options, but not that grade out as highly as Ntilikina. There isn't any value to be had here, but it's probably one of the safer NBA Draft bets you can place.
Pick: Frank Ntilikina (-1000)
1st Senior Taken in Draft
We touched on a pretty weak Senior class and how it's quite possible not a single one goes in the first round. You don't have to worry about that with this bet, however, as you can simply gauge which one goes ahead of all the others:
Wesley Iwundu | +150
Monte Morris | +225
Derrick White | +450
Josh Hart | +450
Frank Mason III | +800
Sindarius Thornwell | +800
Field – Any Other | +700
The Field actually interests me quite a bit, as Alec Peters is a very interesting big man prospect, yet doesn't make the list. He could easily wind up being the first four-year player selected here. When we look at the odds, Thornwell probably stands out the most. He's certainly worth a flier bet, as he was an absolute monster during March Madness this past season.
While there are some fun bets to consider here, Iwundu looks like the top overall Senior prospect and most mock drafts have him being the first Senior on the board. I'd toss money at Thornwell and the Field, but Iwundu makes sense here.
Pick: Wesley Iwundu (+150)
Top 3 Picks Order
The last NBA Draft betting opportunity rests with the exact order of the first three picks. BetOnline offers up a 1-3 order of Markelle Fultz, Lonzo Ball and Josh Jackson with some value, or we can take the Field (any order):
Fultz, Ball, Jackson +120
Field – Any Order -150
I certainly prefer the value of BetOnline's exact bet here, while it's also a very realistic and likely order. Fultz looks like a lock to go #1, while the Lakers really shouldn't get cute and bypass Ball. We could easily see De'Aaron Fox, Dennis Smith, Jayson Tatum or Lauri Markkanen go 3rd, but Josh Jackson really is the third best prospect in that group.
I'd roll with BetOnline's value play here.
Pick: Fultz, Ball, Jackson (+120)
That does it for our look at BetOnline's NBA Draft prop bets. There are plenty to pick from, but hopefully our breakdown details the top bets and gives you some insight as to which way you should lean. Good luck with your picks and enjoy the draft!