2017 MLB Betting: Which Teams to Target Versus Right Handed Pitching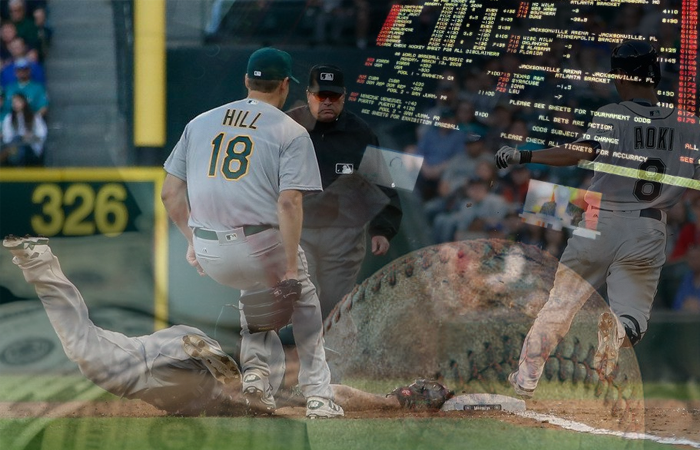 In the ongoing battle to find value on the MLB betting lines, it's critical to pay attention to each team's abilities against righthanded and lefthanded pitching.
Ever since baseball was created more than 200 years ago, which side the pitcher throws from has always been a major factor in deciding ball games.
As a general rule, righthanded batters will always hit better when facing lefthanded pitching, and lefthanded batters will always hit better when facing righthanders. It's why managers will slow games down to a crawl in the late innings, making their fifth pitching change of the frame just to get that righty-righty or lefty-lefty matchup.
But not all teams are created equal. Whether it's due to the number of righthanded, lefthanded and switch hitters in their lineup or just their players' abilities to hit off pitchers who throw from either side, certain squads fare much better against righthanded starters than lefties, and vice versa.
Here are five teams you should look to bet on when they face righthanded pitching this season, and avoid them when they go up against lefties (all stats referenced as of May 15).
1. Houston Astros
With three lefthanded hitters and two switch hitters on its active roster, Houston has easily been the most profitable team to bet on in baseball when facing right-handed pitching in 2017.
The Astros have won 20 of the first 27 games they've played against right-handed starters; good for a profit of a whopping +11.7 units on the moneyline. When Houston has faced lefty starters, the Astros are just 6-5 and are actually -1 unit in that situation.
When the opposition sends a right-handed hurler to the hill, the Astros are hitting .279 as a team and scoring 5.36 runs per game. Versus lefties, those averages drop to .239 and 4.07.
Houston's prowess against righties has actually been led by a pair of righthanded bats in Carlos Correa (five homers and .311 average) and George Springer (six bombs, .284). Switch-hitting Marwin Gonzalez has added six homers and 17 RBI in just 56 at bats against righthanders, while lefthanded Josh Reddick has five homers, a .309 average and .891 slugging percentage when facing pitchers throwing from the opposite side.
2. Arizona Diamondbacks
The Diamondbacks have knocked around right-handed pitching for 5.48 runs per game which is a huge improvement from the 3.84 runs per game they've averaged versus southpaws. That's been a big key in Arizona's strong start to the year, since the Diamondbacks are 15-11 against righthanded starters (+4.2 units on the moneyline) but just 6-7 (-0.4 units) when opponents send a lefty to the mound.
Arizona boasts the fifth-best team batting average in baseball against righthanders, hitting .270. The Diamondbacks are also averaging one home run per 25 at bats against righties, compared to one every 33.75 at bats versus southpaws. Slugger Paul Goldschmidt has led that charge, with eight of his ten homers and 28 of his 32 runs batted in coming against righties.
Interestingly, it's Arizona's right-handed hitters that have been doing most of the damage against righthanded pitchers. Second baseman Brandon Drury, first baseman Goldschmidt and shortstop Chris Owings are all hitting over .300 versus righthanders this season, and center fielder A.J. Pollock isn't far behind at .299.
The Diamondbacks hit .276 as a team against lefties last year and just .256 against righthanded pitching, so it remains to be seen if this early-season trend will continue.
3. St. Louis Cardinals
The Cardinals have gone 18-12 against righties for +3.7 units on the moneyline, but just 3-3 for -0.7 units against lefthanded starters.
The Cards are hitting .266 as a team versus righthanded pitchers, averaging 4.89 runs per outing. It's a significant increase from the .241 average and 3.3 runs per game they've put up against lefthanders.
St. Louis hasn't been a great home run hitting team so far this year, ranking 22nd in baseball with just 40 bombs. However, 35 of those 40 have come off righties, where they're averaging a round tripper per 28.8 at bats. Against lefthanders, that rate drops dramatically to one homer per 45.6.
Despite having a predominantly righthanded-hitting lineup last year, the Cardinals hit home runs more frequently and had a higher batting average, on-base percentage and slugging percentage versus righties last year. This season, four of their six infielders hit from the left side and they've added a switch-handed bat in center fielder Dexter Fowler, making it likely that they'll continue this success against righties in 2017.
4. Los Angeles Dodgers
The Dodgers had the third-best record in baseball against righthanded starters last year, and they're up to their old tricks again so far this season.
Los Angeles has won 14 of its 23 games against righthanded pitching, thanks to the second-best team batting average against righties. The Dodgers are hitting .275 in that situation, which is an MLB-high 45 points higher than their .230 average versus lefties.
That difference in batting average has also translated into a lot more runs. Los Angeles is averaging 5.69 runs per game off righties, more than 1.5 runs better than their typical outing against southpaws.
The Dodgers are always a stronger bet when they go up against righthanders because of the quality of lefthanded bats in their lineup. Corey Seager, Chase Utley, Cody Bellinger, Joc Pedersen and Adrian Gonzalez all hit from the left side while catcher Yasmani Grandal is a switch hitter.
Even though he's righthanded, Justin Turner isn't having a tough time solving righties either. The third baseman is hitting .373 with a .935 OPS off righthanders, which tops his already impressive .333 average and .959 OPS versus lefthanded throwers.
5. Texas Rangers
The Rangers round out our top five list of teams to back against righthanded pitching for a different reason.
Texas isn't exactly bashing righties this season, hitting just .236 as a team. However, you are way better off betting on them when they're facing a righthander than when they go up against a lefty. Versus southpaws, the Rangers are hitting a collective .186. That 50-point differential in batting average is the biggest in baseball.
The difference is even more pronounced when it comes to runs per game. Texas is scoring 5.17 runs per outing against righthanded starters, but ranks ahead of only the Royals and Padres in runs per game against lefthanders (2.98).
Texas ranks fourth in MLB in home runs, but 46 of its 53 homers have come off righthanded pitchers. Southpaws have been able to neutralize the lefties in Texas' lineup, especially team home run leader Joey Gallo, who is hitting just .138 against pitchers from the left side. Powerful second baseman Rougned Odor is also having an awful time hitting lefthanders, managing just six singles in 37 at bats.