Hide Bonus Offers
| | | | | |
| --- | --- | --- | --- | --- |
| #1 | Bovada Sports | 50% Up To $250 | Visit Site | Bovada Sports |
| #2 | BetUS | 125% Up To $2,500 | Visit Site | BetUS |
| #3 | MyBookie | 100% Up To $1,000 | Visit Site | MyBookie |
| #4 | Everygame | 100% Up To $500 | Visit Site | Everygame |
| #5 | BetOnline Sports | 60% Up To $1,000 | Visit Site | BetOnline Sports |
2017 MLB Betting: Which Teams to Target Versus Left Handed Pitching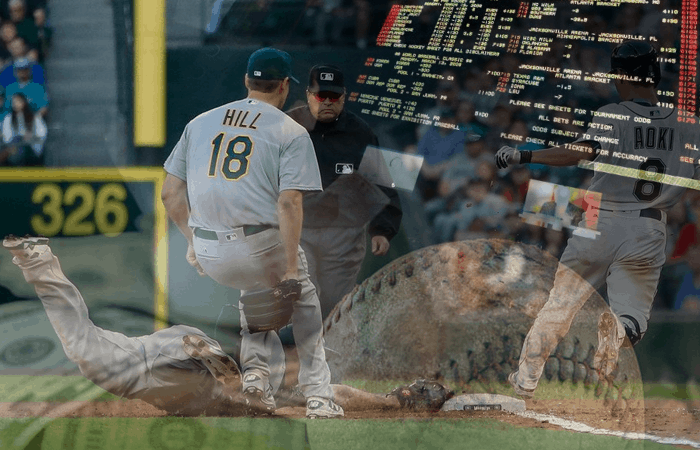 Being lefthanded puts you at a disadvantage at a lot of things in life.
It's harder to use three-ring notebooks or scissors. You get ink on the side of your hand when you write. Can openers weren't designed with lefthanded people in mind. And good luck trying to play PlayStation if you're a lefty!
In baseball, however, lefthanded pitchers are revered. Managers love having a southpaw or two in their starting rotation to shut down their opposition's lefthanded-hitting sluggers. Many a mediocre pitcher has made millions of dollars in their career simply because they threw from the left side.
But lefthanded pitchers don't always have the upper hand in MLB. In fact, if teams have a predominantly righthanded-hitting lineup, they can chew up lefthanded pitchers on a regular basis.
Here's a look at five teams in MLB this year that you'll want to back when they go up against a lefthanded starter.
1. Chicago White Sox
The White Sox are the perfect team to target when facing lefthanded pitching.
You'll usually get nice odds on the Sox, since they're 17-22 on the year and have poor offensive numbers in runs per game (22nd in baseball at 4.28), home runs (25th with 40) and OPS (25th at .691).
But when they face southpaws, the White Sox bats come alive. Chicago has the third-best team batting average in baseball against lefties (.278), which is an MLB-leading 20.8% increase from the .230 the Sox hit versus righthanders. Their slugging percentage also goes up from .377 to .414, and their OPS increases from .663 to .770.
Avisail Garcia is tearing the cover off the ball against lefties, hitting .457 in 35 at bats. Yolmer Sanchez (.391 batting average) and power guy Jose Abreu (.375) join Garcia as three White Sox players with an OPS over 1.000 versus lefties.
In games where they face lefthanded starters, the White Sox are averaging 4.8 runs per game, compared to 3.7 versus righthanded starters. No wonder Chicago is 8-4 versus southpaws this season, a dramatic improvement from its 9-18 mark against righties.
With a heavily righthanded-hitting lineup (catcher Omar Narvaez is their only true lefthanded hitter, though they have three switch hitters), it's likely the Sox will continue to fare much better when facing lefthanded starters.
2. Washington Nationals
Unlike the White Sox, Washington's offense has been dominant regardless of who is on the mound for the opposition. The Nationals lead all of baseball in runs per game (5.92), batting average (.278) and OPS (.834), and they've mashed the second-most homers in baseball (63).
If the Nats faced lefthanders more often, those numbers would be even better. Washington is hitting southpaws at a .318 clip, 40 points higher than the second-best teams. The Nats are also slugging .551 versus lefties (compared to .471 when facing righthanded hurlers), and their OPS of .936 versus lefthanders is nearly 100 points higher than any other team in MLB.
Surprisingly, one of the keys to the Nationals' success versus lefties has been lefthanded-hitting Bryce Harper. Harper is batting .464 in his 28 at bats against lefties, including a home run and three doubles. The outfielder is hitting 32 points lower against southpaws than righthanders in his career, so it'll be interesting to see if he can continue hitting lefthanders at anything close to this early rate.
Righthanded sticks Matt Wieters and Ryan Zimmerman have also teed off on lefthanded opponents, combining for five home runs in 37 at bats and each sporting an OPS of nearly 1.500.
Maybe opponents are aware of Washington's abilities versus lefties. The Nationals have faced just three lefthanded starters in their first 40 games, winning two of those three contests.
3. Milwaukee Brewers
Power has been the key to the Brewers' third-ranked offense in 2017. Milwaukee leads the big leagues in home runs (65 in its first 42 games), which has allowed the Brewers to average 5.26 runs per contest despite sitting 10th in MLB in team batting average.
As hard as the Brew Crew hits the ball against righthanded starters, they're doing it even harder versus southpaws. Milwaukee is hitting .278 as a team against lefthanded pitching, slugging .499 and sporting an OPS of .844. Versus righthanders, they're hitting .252, slugging .455 and have an OPS of .774.
Leading the way has been lefthanded first baseman/outfielder Eric Thames, who is incredibly averaging one home run nearly every six at bats against lefthanded pitching (five in 32 at bats). Fellow lefthanded hitter Travis Shaw has also held his own against southpaws, batting .289 with six extra-base hits in 38 at bats.
Milwaukee's numbers against lefties could get even better when the Brewers get Ryan Braun back in the lineup on a regular basis. Braun, currently on the 10-day disabled list with a left calf strain after battling through a forearm injury earlier in the season, has crushed lefties for a .624 slugging percentage and 1.029 OPS in his career.
4. Miami Marlins
The Marlins have been awful this year, losing 26 of their first 40 games to sit last in a National League East division that features only one team with a winning record.
At least when the Marlins go up against lefthanded starters, they haven't been quite as bad. Miami has won three of the seven games in which opponents sent lefties to the mound, and is hitting 24 points higher as a team (.272 instead of .248) when facing lefties as opposed to righthanders.
The Marlins' slugging percentage also goes up 16% (from .385 to .447) when facing lefties, which is the second-highest increase in baseball. That should come as no surprise, considering how reliant the Miami offense is on righthanded-hitting Giancarlo Stanton.
In just 24 at bats against lefthanders, Stanton has hit five home runs. That's nearly as many as he's hit versus righties (six), even though he's faced righthanders 128 times.
Lefthanded hitters are also doing their share of the damage for the Marlins, however. Derek Dietrich and Justin Bour both have an OPS of over 1.000 when facing pitchers that throw from the left side.
5. Colorado Rockies
The Rockies are one of the pleasant surprises in baseball, going 26-16 in their first 42 games to take the early lead in the National West.
A lot of Colorado's success has come against lefthanded starters. The Rockies are playing .667 ball (10-5) when the opposition starts a southpaw, hitting nearly 20 points higher as a team and boasting the third-best slugging percentage and fifth-best OPS in MLB against lefties.
Third baseman Nolan Arenado, who has led the National League in total bases each of the last two years, is devouring lefties to the tune of 12 extra-base hits in 49 at bats, a .429 batting average and 1.390 OPS. Fellow righthanded hitter D.J. LeMahieu is hitting .382 in 55 at bats against southpaws, while lefthanded sticks Charlie Blackmon (.290) and Carlos Gonzalez (.273) are more than holding their own.
It's easy to dismiss all Colorado players' offensive stats as being inflated by Coors Field, but the Rockies are just 13th in baseball in runs per game, 12th in team batting average and homers, and 15th in OPS. Clearly, the Rockies are benefitting every time the opponent sends a lefthander to the mound.