2017 MLB Awards: Will Aaron Judge or Jose Altuve Win AL MVP?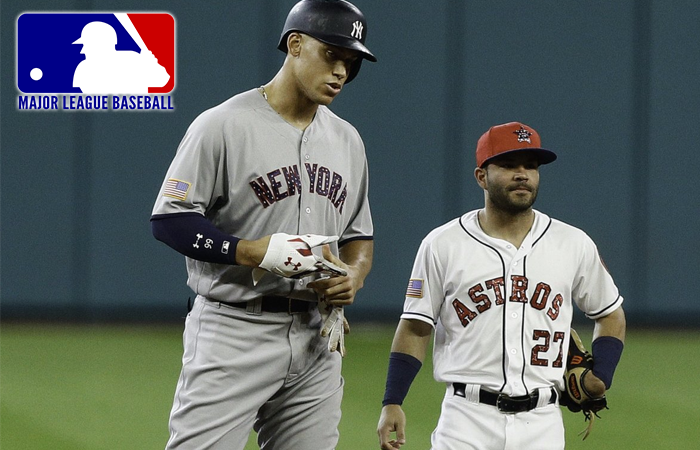 Now that the postseason has come to a close and the Houston Astros have been crowned as World Series champions for the first time, we have officially reached Major League Baseball's offseason. While we've already had a few players stay with their respective clubs (Justin Upton, Masahiro Tanaka), we're also in the midst of the calm before the free agency storm.
Before free agency really gets going over the next few months, 2017 regular season awards still need to be handed out. Rawlings Gold Glove winners were revealed on Tuesday night, and this past weekend we learned the three finalists for each of the other major individual awards.
A few of these awards are absolute locks, while others carry quite a bit more intrigue. There are betting odds posted regarding a number of awards, so let's roll through them and pick a winner for each.
American League Rookie of the Year
Andrew Benintendi, Boston Red Sox +3300
Trey Mancini, Baltimore Orioles +10000
Aaron Judge, New York Yankees -10000
Yeah, this one's a no-doubter. Aaron Judge has essentially had this award on lockdown since May. Andrew Benintendi and Trey Mancini each put together solid rookie campaigns, but neither came even close to having Judge's overall impact. I need not waste much more time on this one. Judge is your American League Rookie of the Year, and it should be unanimous.
More on Judge later.
National League Rookie of the Year
Josh Bell, Pittsburgh Pirates +5000
Paul DeJong, St. Louis Cardinals +5000
Cody Bellinger, Los Angele Dodgers -10000
Bellinger's case isn't quite as clear-cut as Judge's, but this one is another no-brainer. Bellinger got called up to the big leagues in late April as an injury replacement for Adrian Gonzalez. He was only supposed to be in the big leagues for a short stint, but he was so electrifying that the Dodgers had no choice but to keep him on the big league roster for the duration of the season.
Josh Bell and Paul DeJong would have made for nice candidates in a normal year, but this was no normal year. There were quite a few stellar rookies in both leagues, but no National League rookie put his stamp on the season the way Bellinger did. He slashed .267/.352/.581 with 39 homers and 97 runs batted in in 132 games.
The postseason was a struggle for the rookie at times, but that is to be expected for a 22-year-old getting his first taste of MLB-quality pitching. Bellinger will win NL Rookie of the Year, and this one should be another landslide.
Pick: Cody Bellinger -10000
American League Manager of the Year
Terry Francona, Cleveland Indians +500
J. Hinch, Houston Astros +225
Paul Molitor, Minnesota Twins -225
This one is quite a bit tougher than either of the Rookies of the Year. Francona, Hinch, and Molitor each did a wonderful job guiding their respective clubs to the postseason.
Francona led the Indians to the best record in the American League at 102-60. The Tribe would fall disappointingly short by losing to the Yankees in the Division Series, but Francona was instrumental in making sure there was no World Series hangover for his team. The Indians fell painstakingly shy of a title in the fall of 2016 after losing Game 7 at home to the Chicago Cubs.
The Indians used an insane late-season surge to top the Astros for the best record in the AL. Could voters hesitate to give Francona this award for a third time? He won it in 2013 with the Red Sox, and last year with Cleveland. The last time an American League manager won Manager of the Year in back-to-back seasons was…never. It's only happened once, and that was Bobby Cox in the National League in 2004 and 2005.
Hinch, of course, guided the Astros to the first World Series title in franchise history. Houston was the best team in the American League by a longshot in the first half of the season, before faltering and eventually being surpassed by Francona's Indians. Still, the Astros won more than 100 games for just the second time ever.
Unfortunately for Hinch, this is a regular season award. The Astros were obviously tremendous during the 162-game standard schedule, but his case would get a serious boost if voters were able to include the postseason.
Molitor looks like a pretty clear-cut choice. The Twins had the worst record in all of baseball in 2016, and it wasn't even close. Minnesota finished that season 59-103, which was nine fewer wins than the next-worst team in the league. It was an incredibly poor season.
That makes Minnesota's 2017 resurgence all the more unlikely. There was a little roster turnover, but this was the same cast of players, for the most part. The Twins finished 2017 at 85-77, which was good enough for the second Wild Card spot in the AL. They would wind up falling to the Yankees in the Wild Card Game, but it was still a remarkable turnaround.
More often than not, Manager of the Year is given to a manager whose team vastly exceeded expectations. Most believed the Indians and Astros would be playoff teams. Nobody pegged the Twins to make it to the postseason, yet Molitor helped them get there. He should win this award.
National League Manager of the Year
Bud Black, Colorado Rockies +500
Torey Lovullo, Arizona Diamondbacks -165
Dave Roberts, Los Angeles Dodgers +170
Notice anything these three have in common? These three guys represent ⅗ of the National League West. The NL West was easily the best top-to-bottom division in the NL this year, and all three of these clubs were represented in the NL postseason.
The case for Bud Black is pretty simple. The Rockies hadn't appeared in the playoffs since 2009, yet Black managed to get them there in his first year on the job. A former pitching coach and big league pitcher himself, Black's tutelage helped shape an incredibly young Colorado pitching staff into a truly promising unit.
Pitching is always dicey for the Rockies ,considering they play half of their games in the hitter's haven known as Coors Field, but Black helped turn things around. The Rockies finished with a team ERA of 4.51, which was vastly improved from 2016's relatively dismal 4.92 mark.
Lovullo's case is similar to that of Black. He was also in his first year on the job, but this was his first-ever managerial gig. Black had previously enjoyed a lengthy stint in charge of the San Diego Padres.
Lovullo led the Diamondbacks to the first National League Wild Card spot, and Arizona toppled Black's Rockies in the Wild Card game. The D-Backs finished 93-69 during the regular season, which was a remarkable turnaround, considering their brutal 69-93 campaign the season prior.
As mentioned above, managers whose teams greatly exceed expectations tend to fare well in Manager of the Year voting. Lovullo and Black have similar cases, but the Diamondbacks were just a little bit better than the Rockies. That gives the edge to Lovullo.
As for Dave Roberts, he has a couple of things working against him. The Dodgers were expected by many to be great this season, and they were. L.A. did surpass all expectations by finishing with baseball's best record at 104-58, but that likely won't be enough to get him more votes than Lovullo. It's also worth noting that Roberts won this award last season, and we know the history when it comes to managers winning it in back-to-back years.
Lovullo is the betting favorite, and with good reason.
American League Cy Young
Luis Severino, New York Yankees +5000
Corey Kluber, Cleveland Indians -1800
Chris Sale, Boston Red Sox +850
This one should be a bit more hotly contested. While Severino put together a remarkable campaign as a 23-year-old, it's pretty evident that he won't be winning Cy Young. He emerged as the Yankees' ace by posting a 14-6 record with a 2.98 ERA, but the young Dominican is likely going to have to wait to win his first award.
This one will come down to Corey Kluber and Chris Sale. Sale, in his first season with Boston, appeared to be cruising to his first career Cy Young Award early in the season. The lanky lefty was everything the Red Sox could've hoped for when they acquired him from the White Sox last winter. He finished the season 17-8 with a 2.90 ERA, along with a league-leading 308 strikeouts. He faltered in the ALDS against the Astros, but again, playoff performance isn't taken into consideration for these awards.
Sale also stumbled a bit down the stretch, which helped build momentum for Kluber. Sale went 2-2 with a 4.38 in August before going 2-2 with a 3.72 mark in September. Those aren't awful numbers, but they're a far cry from the insane stats Sale was posting earlier in the season.
Kluber, meanwhile, was one of the leading forces in Cleveland's second-half surge. The 2014 AL Cy Young winner finished the year 18-4 with a tidy 2.25 ERA. He also struck out 265 hitters, which ranked third in the majors behind Sale and Max Scherzer.
Unlike Sale, Kluber seemed to get stronger as the season went along. In August and September combined, the Klubot went 10-1 with a miniscule 1.40 ERA. Finishing the season strong leaves a good taste in the mouths of voters. Kluber's success, combined with Sale's late-season scuffles, may have been enough to wrap this thing up for the Cleveland ace.
National League Cy Young
Clayton Kershaw, Los Angeles Dodgers +160
Stephen Strasburg, Washington Nationals +2000
Max Scherzer, Washington Nationals -200
The Nationals' decision to let Jordan Zimmermann walk in order to sign Max Scherzer as a free agent in the summer of 2014 sure looks like a wise one. The former Tigers ace has arguably been baseball's best starting pitcher since leaving Detroit for the nation's capital. He hasn't posted an ERA north of 3.00 in three years with the Nats, and this season he went 16-6 across 31 starts with a career-best 2.51 ERA.
Scherzer is just everything you want out of an ace. He can pitch deep into games, he can pile up strikeouts, and he is unbelievably confident on the mound. Scherzer already has two Cy Young Awards on his mantle, including one from last season, and it's easy to see why he's the odds-on favorite to make it three this year.
While Scherzer has a viable case as baseball's best pitcher, most will tell you that the title really belongs to the Dodgers' Clayton Kershaw. While Kershaw has had his fair share of struggles in the postseason, there's no disputing his status as a future Hall-of-Famer, thanks to his immaculate regular-season track record. Kershaw did allow a career-high 23 home runs during the regular season, but let's not forget that there were more homers hit across baseball this year than ever before.
Kershaw was limited to just 27 starts, thanks to injury, but he went 18-4 with a 2.31 ERA when healthy. He racked up 203 strikeouts compared to just 30 walks, and helped the Dodgers to their first World Series appearance in 29 years. Scherzer is the slight favorite here, but a case can easily be made for Kershaw.
While Scherzer gets all of the attention in DC, let's not overlook the fact that his teammate, Stephen Strasburg, is a bona fide stud in his own right. He's been plagued by injury issues in the past, but the former No. 1 overall pick just compiled his finest professional season to date. The San Diego State product went 15-4 with a 2.52 ERA in 28 starts. He also struck out 204 in 175.1 innings.
Strasburg would be a fun value bet at +2000 here, but it seems as though voters are going to opt for Scherzer instead. Voter fatigue exists, but Scherzer's greatness can't be ignored.
American League Most Valuable Player
Jose Ramirez, Cleveland Indians +5000
Aaron Judge, New York Yankees +375
Jose Altuve, Houston Astros -550
Jose Ramirez is a nice story, but he has no chance of winning this award. AL MVP this season was always going to come down to Aaron Judge vs. Jose Altuve.
Judge's case speaks for itself. He won the Yankees' starting right field job out of spring training and would go on to enjoy one of the most prolific rookie seasons in the long history of the sport. Judge set a rookie record by blasting 52 home runs during the regular season. The 6'8" hulk hit .284/.422/.627 and drove in 114 runs. His 127 walks also led baseball by a wide margin.
It also doesn't hurt that Judge plays in New York. East Coast bias has played a role in awards voting in the past, and it may do so again here. The fact that Judge also plays for the sport's most prolific franchise puts him in a unique spotlight. Judge was the talk of baseball during the regular season, so he stands out as a nice value play here at +375.
It's a bit surprising to see Altuve listed as the betting favorite, but the numbers certainly back his candidacy. He's almost the opposite of Judge. While the Yankees' right fielder stands at 6-foot-8, Altuve is generously listed at 5-foot-7. Despite the height disadvantage, the Venezuela native has quietly become one of baseball's most dynamic overall hitters.
Altuve led the league with a .346 average on the season, and he smacked 24 home runs and drove in 81 more. Did I mention that he stole 32 bases in 38 tries? He was prolific during the Astros' World Series run, blasting 7 more home runs in just 18 games.
This has been the most hotly-debated award of them all, and with good reason. I like Judge as a value play at +375, but Altuve is more deserving of the AL MVP this season. Still, I'm going to say that Judge's status as a Yankee will be a deciding factor in the vote. I'm going Judge in an upset.
National League Most Valuable Player
Paul Goldschmidt, Arizona Diamondbacks -200
Joey Votto, Cincinnati Reds +400
Giancarlo Stanton, Miami Marlins +400
While AL MVP clearly came down to Judge vs. Altuve, the NL MVP is far more wide open. In fact, the final threesome of Goldschmidt, Votto, and Stanton even came with its fair share of controversy. The fact that L.A.'s Cody Bellinger and Colorado's dynamic tandem of Nolan Arenado and Charlie Blackmon missed out on the final three raised a few eyebrows.
The NL MVP is complicated. Two of the finalists didn't even make the playoffs. One can also make the case that the other candidate, Paul Goldschmidt, didn't even post his finest individual statistical campaign in 2017. Yet, here they are.
Stanton's case is somewhat complicated. The Marlins didn't come particularly close to nabbing a playoff spot, but Stanton can't be blamed. That said, the 28-year-old can't be blamed for his team's futility. The All-Star masher hit .281/.376/.631 with a career-high 59 homers in 159 games. It marked Stanton's first truly healthy season in his seven-year career, and the numbers certainly back that up. Stanton's 59 homers were the most by a player in a season since Barry Bonds and Sammy Sosa hit 73 and 64 in 2001, respectively.
As for Votto, he just keeps chugging along as one of baseball's most underrated hitters. Two decades ago, voters may not have given Votto's season a second look. In this new era of advanced stats and sabermetrics, however, Votto's season jumps off the page.
The 34-year-old veteran hit .320/.454/.578 with 36 homers and 100 knocked in in 162 games. The Reds were one of the worst teams in the majors, but Votto has now posted an on-base average of .400 or better in 8 of his 11 professional seasons. That's staggering.
While the numbers are great, will voters really reward a guy whose team finished dead-last in the division?
All signs point to Goldy as a pretty heavy favorite here. I mentioned earlier that the D-Backs exceeded expectations, and Goldschmidt was once again the team's most prolific and consistent bat. Goldschmidt is also an underrated fielder and baserunner, and he's quietly emerged as one of baseball's best overall talents.
Goldschmidt just makes too much sense here. He's an easy call.
Pick: Paul Goldschmidt -200