Hide Bonus Offers
| | | | | |
| --- | --- | --- | --- | --- |
| #1 | Bovada Sports | 50% Up To $250 | Visit Site | Bovada Sports |
| #2 | BetUS | 125% Up To $2,500 | Visit Site | BetUS |
| #3 | MyBookie | 100% Up To $1,000 | Visit Site | MyBookie |
| #4 | Everygame | 100% Up To $500 | Visit Site | Everygame |
| #5 | BetOnline Sports | 60% Up To $1,000 | Visit Site | BetOnline Sports |
2017 Home Run Derby: Is Aaron Judge a Lock to Win?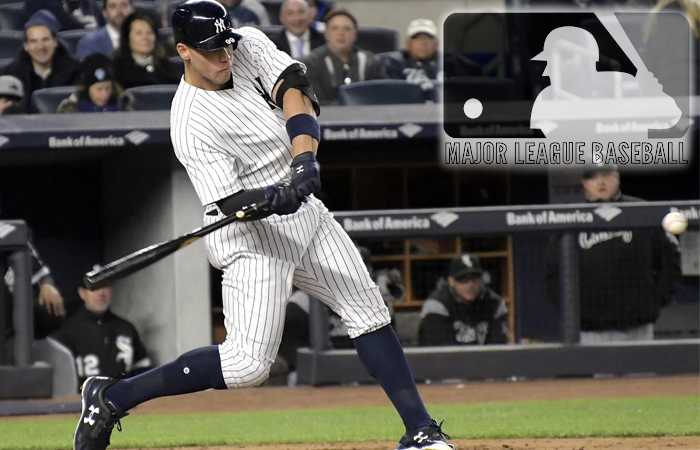 It may be a mere "exhibition" or even "glorified batting practice" but if you aren't just a little amped up for this year's Home Run Derby, then I wonder about your sports fan pulse. They crown a winner every year, but this year FEELS a little bit bigger; the buzz just a little louder, the power just a bit more prodigious (and precocious).
There have been a few Home Run Derbies that have stood out from the rest. Josh Hamilton's coming out party in the Bronx back in 2008, Ken Griffey, Jr's third crown in 1999 in Fenway Park, Samy Sosa's roided out (allegedly) romp in 2000.
But none have outpaced last year's in terms of sheer volume, the 61-homer barrage unleashed by defending champion Giancarlo Stanton. Granted, the format has changed to a time-driven, head-to-head format as opposed to mere outs and swings, but the 61 homeruns onslaught was pretty captivating.
Giancarlo is the defending champion and now he gets to defend that crown in his home ballpark. That's a pretty massive advantage (just ask Todd Frazier in 2015). You know the park, you know the distances and the alleys, and you take batting practice there 100 times a year.
Add in the fervent home fans juicing up the adrenaline, and Giancarlo will be tough to topple. There's a reason he's a nearly even money favorite at just +120.
But Giancarlo will have plenty of competition, namely in co-favorite, rookie sensation, Aaron Judge. The Yankees phenom leads the majors in homeruns by a wide margin with 29. The nearest competitors, Mike Moustakas and George Springer have 25 apiece, and NL leaders Joey Votto and Cody Bellinger have 24, respectively.
He also has the longest homerun recorded in 2017 at 495 feet, and his tape measure batting practice bombs are literally doing damage to Yankee Stadium. He clocks in at a near co-favorite status at +163.
Here's the rest of the odds for the 2017 Home Run Derby:
Complete Odds
Giancarlo Stanton | +120
Aaron Judge | +163
Cody Bellinger | +900
Charlie Blackmon | +1200
Miguel Sano | +1400
Mike Moustakas | +1400
Justin Bour | +1600
Gary Sanchez | +2000
With the new format, the value isn't just in the odds, but also in the matchups. So, perhaps more importantly, here's a look at the Home Run Derby Bracket:
2017 Home Run Derby Bracket
#1 Giancarlo Stanton vs #8 Gary Sanchez
#4 Mike Moustakas vs #5 Miguel Sano
#3 Cody Bellinger vs #6 Charlie Blackmon
#2 Aaron Judge vs #7 Justin Bour
MLB did the competitors a little favor by staggering Sanchez and Bour so we didn't have an awkward teammate on teammate opening round matchup between Judge and Sanchez and Stanton and Bour. Cody Bellinger brings some rookie excitement and star power to the proceedings as well, but as the odds clearly indicate, everyone is EXPECTING a Stanton vs Judge battle for the ages. So, will we GET IT???
First Round
#1 Stanton vs #8 Sanchez
This is actually a pretty tough and potentially tricky matchup for Stanton. Yes, Stanton has prodigious, EASY, power, and he is hitting in his home ballpark, but Sanchez is no joke. He missed 21 games to injury this season, which is why he has the lowest HR total in the Derby, but he did start his career last year with 20 homers in 51 games, matching the MLB record for fastest to 20 homeruns with Wally Berger, who accomplished the feat in 1930.
But Giancarlo is a mountain of a man, batting in his home castle. Sanchez will make it fun, but Stanton advances. There are a TON of reasons to like Stanton here, and we will expand on some of the more obvious reasons later in the column… For now, let's just advance Giancarlo.
My Pick: Giancarlo Stanton
#4 Mike Moustakas vs #5 Miguel Sano
This might be the most competitive opening round matchup. Both are big, powerful guys with natural homerun power and lower body strength. I don't expect either to fatigue or need to radically alter their swing to get the necessary lift. However, Moustakas is less natural of a power hitter than Sano. Prior to this season, his season-high was just 22 homers in 2015. He has surpassed that by the Break in 2017.
Sano already has a 461-foot blast into the fountain at Kauffman Stadium, so he has power to spare. I think he'll have a little more natural home run cut and a little more natural power. I'll take Sano to advance.
My Pick: Miguel Sano
#3 Cody Bellinger vs #6 Charlie Blackmon
Rookie sensation Cody Bellinger is the pick here, though he doesn't have some of the gaudy distance numbers that his peers have amassed. He became the fastest player in MLB history to record 21 HR's, doing it in just 51 games – MOVE over Gary Sanchez! He has natural hitting ability and a beautiful stroke.
He isn't a classic power hitter, but there have been some leaner, more elegant hitters to walk away with the trophy (see: Ken Griffey, Jr.) so it isn't just a competition for big, brawny sluggers.
Charlie Blackmon invites some obvious skepticism because of the Coors Field effect, but he does also have seven homers away from home this season against eleven at Coors. Charlie has some pop and could spring the upset, but I'll go with the kid with the sugary sweet swing.
My Pick: Cody Bellinger
#2 Aaron Judge vs #7 Justin Bour
This is a tricky matchup for Judge. The rookie has ALL the pressure and attention and, even though it is in Miami, will have the crowd buzzing even against hometown Justin Bour. It is also tricky because Bour can RAKE. He has 18 homeruns already this season and has obvious power. But his longest homerun of the season is just 437 feet (I get how absurd "just" is in that sentence).
Compared to Judge though, it is "just". Judge has absolutely captivated the city of New York and is easily the city's most popular athlete since Jeter. His 495-foot blast is already the stuff of legends, and the towering rookie has a chance to author another chapter to his early legend in Miami.
I think he can handle the pressure, and that his easy power will be enough to stave off nerves and grab an opening round victory. Plus, the time bonus he is likely to amass will give him a little extra cushion in ase he needs two or three more first round homers.
My Pick: Aaron Judge
Semifinals
#1 Giancarlo Stanton vs #5 Miguel Sano
I'll take the big guy at home over a valiant challenge from Miguel Sano. Both have plenty of power, but of the twenty hardest hit homeruns in the 2016 Home Run Derby, ALL TWENTY belonged to Stanton. Enough said.
#2 Aaron Judge vs #3 Cody Bellinger
Judge's distance is too much to overcome as the extra time bonus is the cushion Judge needs to advance. His homeruns will come easier, which makes fatigue less a factor. Bellinger is impressive, but Judge edges him out.
Finals
#1 Giancarlo Stanton vs #2 Aaron Judge
We get what we all wanted and what we have all been waiting for – the two most impressive human beings with bats in their hands, hacking it off head-to-head for one of the more memorable Derbies of All Time.
Did I mention that of the twenty hardest hit homeruns in the 2016 Home Run Derby, ALL TWENTY were hit by Stanton?? That is a jarring statistic. In a competition full of powerful homer-hitting savants, the brilliance of Stanton was clearly unparalleled. Now he gets to hit at HOME??? How could he lose?
Well, because of Aaron Judge. Judge wasn't in the majors last year, or those twenty hardest hit balls might have been more evenly distributed. If you look at average exit velocity in 2017, no one in baseball is even CLOSE to Judge's power. His AVERAGE exit velocity is 96.1 mph. Second is Miguel Sano at 94.0 mph, and Giancarlo is way down the list at 90.9 mph.
Judge is also the runaway leader at max velocity at a mind-boggling 121.1 mph. Stanton is second at 118.7 mph. The rest of the list is comprised by a lot of powerful guys who aren't nearly as good of HITTERS. Judge has a special level, an almost mythical amount, of POP in his bat; a thunder rarely seen in this history of baseball.
Where better to parade it than on the largest Homerun Hitting stage on Earth?
Stanton knows the park, but Judge is special. I think it is on full display Monday night.
My Pick: Aaron Judge +163
** The Home Run Derby begins at 8pm EST, Monday, July 10th on ESPN