Hide Bonus Offers
| | | | | |
| --- | --- | --- | --- | --- |
| #1 | Bovada Sports | 50% Up To $250 | Visit Site | Bovada Sports |
| #2 | BetUS | 125% Up To $2,500 | Visit Site | BetUS |
| #3 | MyBookie | 100% Up To $1,000 | Visit Site | MyBookie |
| #4 | Everygame | 100% Up To $500 | Visit Site | Everygame |
| #5 | BetOnline Sports | 60% Up To $1,000 | Visit Site | BetOnline Sports |
2017 Emmy Award Betting: Early Odds and Predictions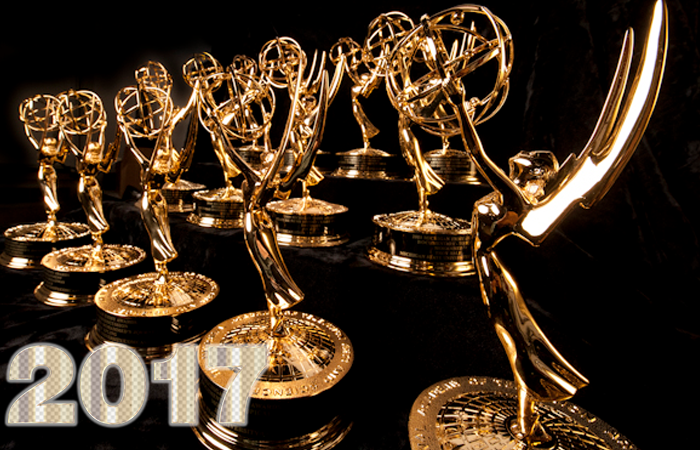 The nominations for the 69th Primetime Emmy Awards are in. Roughly a month from now Stephen Colbert will don the stage and give way to yet another year of deserving awards and the honoring of amazing television.
We are in the age of live streaming and impatience when it comes to getting our entertainment, yet the big award shows like the Emmy's still do it right. There will always be hot takes, readily available debates and ultimate snubs, but on September 17th the winners will be named live at the Microsoft Theater in Los Angeles, California.
The anticipation is mounting, as HBO's Westworld and Saturday Night Live lead the way with an insane 22 nominations, each. The 2017 Emmy's also include a slew of deserving Netflix, Hulu and Amazon programs, with some heavy-hitters going up against each other for the ultimate bragging rights.
Some of the nominees seem fairly predictable, but it's possible we could see a curveball or two thrown our way. That has us on our toes in the entertainment betting community, as we're taking an early look at the Emmy's with an eye on uncovering some value.
The best way to do that is to break down each major category and see which nominees look like the best bets. We can do that thanks to the latest Emmy's odds over at Bovada. Let's take a look and come away with our predictions:
Outstanding Comedy Series
Who hates to laugh? Our first bet gets the ball rolling with some of the best comedies on streaming services or TV these days and you could make a very strong argument for the entire lot:
Veep – HBO (-400)
Atlanta – FX (+300)
Black-ish – ABC (+1800)
Master of None – Netflix (+3000)
Modern Family – ABC (+5000)
Silicon Valley – HBO (+5000)
Unbreakable Kimmy Schmidt – Netflix (+5000)
Veep has been running away with this category and hardly looking over their shoulders, winning in each of the last two years. This was Modern Family's spot for the previous five seasons, though, so it's mildly shocking to see Veep all by themselves and MF so far behind.
The reality has to be somewhere in the middle, while the surging Atlanta is a scary sleeper. Silicon Valley is brilliant in its own weird, awkward way, too, while Master of None feels like that polished gem that not enough people appreciate.
Seriously, Aziz Ansari has created a masterpiece (both seasons rocked), but it doesn't feel like it ever lands the punch the critics want. Veep always does that and while there are some threats here, we're not biting on an upset.
Outstanding Drama Series
What will be the top TV show in the eyes of the Emmy's? Early signs suggest it will be the groundbreaking Stranger Things, which combined horror, humor, and nostalgia to push us back into the 1980's with a heavy dose of introspection and (*gulp) fear:
Stranger Things – Netflix (-120)
The Handmaid's Tale – Hulu (+300)
The Crown – Netflix (+450)
This Is Us – NBC (+750)
Westworld – HBO (+1500)
House of Cards – Netflix (+3300)
Better Call Saul – FX (+5000)
Stranger Things pulls into the lead because it's weird, it seems to have arrived at just the right time and it touches on everything you can ask of a show. Better Call Saul is too light, House of Cards is too boring and Westworld isn't weird enough.
On their own these shows are awesome and you can state strong cases for the emotions enveloped by The Handmaid's Tale and The Crown (oh and don't even get us started on This Is Us), but Stranger Things is all of these shows wrapped up into one big, explosive starburst.
One bite and that sucker pops and we're overloaded with dark, comedic flavors. The point? It is the best show and it's going to be voted as such.
Pick: Stranger Things (-120)
Outstanding Lead Actor – Comedy Series
Jeffrey Tambor returns to make it three years in a row as the Emmy's favorite actor in a comedy series. His turn as a transsexual has drawn rave reviews ever since he took on the role and only the rising Donald Glover looks like a serious threat to take him down:
Donald Glover – Atlanta (-250)
Jeffrey Tambor – Transparent (+300)
William H. Macy – Shameless (+700)
Aziz Ansari – Master of None (+1500)
Anthony Anderson – Black-ish (+3000)
Zach Galifianakis – Baskets (+5000)
Donald Glover enters as the solid favorite behind the incredibly well received Atlanta (100% rating on Rotten Tomatoes). He is joined by the defending Tambor and what looks to be a pretty strong field.
We're not denying Glover the credit he deserves, but we need to pay respect to Tambor, who has held down this spot with ferocity and won't go quietly into the night. Ansari and Macy deserve nods, too, but we can't deny the value with Tambor here at +300.
Pick: Jeffrey Tambor (+300)
Outstanding Lead Actor – Drama Series
It's always interesting to see who takes home the top awards for the drama series, as there are usually a ton of deserving performances. This year Sterling K. Brown leads the way for his portrayal of Randall Pearson in This Is Us and it'd be a mild shock to see him upset:
Sterling K. Brown – This Is Us (-160)
Bob Odenkirk – Better Call Saul (+200)
Anthony Hopkins – Westworld (+500)
Kevin Spacey – House of Cards (+3300)
Matthew Rhys – The Americans (+4000)
Milo Ventimiglia – This Is Us (+4000)
Liev Schreiber – Ray Donovan (+5000)
Milo Ventimiglia is undeniably the heart and soul of This Is Us, but nobody puts their acting chops to work like Brown. Brown conveys varied levels of emotion, ranging from abandonment to pride, betrayal, and recovery.
Brown forces you to endure his breakdowns and rises right along with him, which is a huge reason why This Is Us was so captivating. While he leads the way, that doesn't mean we can ignore the rest of this field.
Bob Odenkirk continues to breathe life into Saul Goodman, who rose to fame in Breaking Bad and keeps on trucking as one of the most likable characters on TV. I'm not sure a watered down Spacey or Hopkins is a big threat here, but even they have an argument and the punishing performance by Liev Schreiber in Ray Donovan continues to get overlooked.
It wouldn't be that shocking to see an upset here, but Brown has earned this one. That being said, Kevin Spacey as a +3300 flier to win for the first time since taking over House of Cards wouldn't be that shocking.
Pick: Sterling K. Brown (-160)
Outstanding Lead Actor – Limited Series/Movie
We get a new hero in this category every year and for 2017 that's undeniably Riz Ahmed, who broke out with a sensational turn in The Night Of. He leads the way, surprisingly in mild fashion:
Riz Ahmed – The Night Of (-150)
Robert De Niro – The Wizard of Lies (+150)
Geoffrey Rush – Genius (+800)
Ewan McGregor – Fargo (+2500)
John Turturro – The Night Of (+3300)
Benedict Cumberbatch – Sherlock: The Lying Detective (+3300)
You could actually build a minor case for just about anyone here, but nobody displayed the range Ahmed did in his complete transformation on screen. There are some huge names and impressive performances to consider here, but a breakout performance like Ahmed's should be awarded appropriately.
Outstanding Lead Actress – Comedy Series
We're probably just wasting our time here. The latest Emmy's odds probably tell us all we need to know, while Louis-Dreyfus has secured wins in this category in each of the last five years:
Julia Louis-Dreyfus – Veep (-700)
Tracee Ellis Ross – Black-ish (+500)
Lily Tomlin – Grace and Frankie (+1200)
Allison Janney – Mom (+4000)
Pamela Adlon – Better Things (+5000)
Jane Fonda – Grace and Frankie (+5000)
Ellie Kemper – Unbreakable Kimmy Schmidt (+5000)
It's pretty remarkable how Julia Louis-Dreyfus fought off being typecast to the point where she might have even exceeded the work she did as Elaine on Seinfeld. Well, perhaps that's a stretch, but she still stands in as the driving force behind one of the best comedies on TV right now and Vegas agrees few will truly challenge her.
If she finally falls, I'm not seeing a clear threat. Ellie Kemper is a fun dark horse to back, though. She was a quiet queen in The Office and has been fantastic on her own show. She won't win, but if a new lead actress breaks through in this spot, we should take a shot at her +5000 odds just in case.
Veep could be coming to an end and after another awesome season, it only makes sense for Dreyfus to go out in style. It's tough to see her losing.
Pick: Julia Louis-Dreyfus (-700)
Outstanding Actress – Drama Series
This is a tough one, as Elisabeth Moss is perfect in The Handmaid's Tale and looks like the overwhelming favorite but this is a stacked field:
Elisabeth Moss – The Handmaid's Tale/Offred (-500)
Claire Foy – The Crown (+250)
Viola Davis – How to Get Away With Murder (+3300)
Robin Wright – House of Cards (+5000)
Keri Russell – The Americans (+5000)
Evan Rachel Wood – Westworld (+5000)
Are we actually going against Moss here? No way, but let's not completely ignore Wright as Kevin Spacey's confidant in House of Cards, or even Evan Rachel Wood as the sweet yet ruthless Dolores, who is both human and android, all in one.
Oh, and then there is the seemingly unstoppable Viola Davis, who actually locked down this award for her same role in HTGAWM in 2015. At +3300, she's a heck of a flier bet as a past winner and one of the more respected actresses in Hollywood.
This is a tough field, but Moss broke out with a role that's tough to top. She's the obvious favorite and it'd be shocking if she didn't take home the hardware.
Pick: Elisabeth Moss (-500)
Outstanding Actress – Limited Series/Movie
It's always fun to bet on who wins best actress for anything, whether it be the Emmy's or the Oscars. The beauty here is this one is wide open:
Nicole Kidman – Big Little Lies (-400)
Jessica Lange – FEUD: Bette and Joan (+250)
Susan Sarandon – FEUD: Bette and Joan (+2000)
Carrie Coon – Fargo (+3300)
Felicity Huffman – American Crime (+5000)
Reese Witherspoon – Big Little Lies (+5000)
As wide open as it seems, Kidman is the easy choice. It's not easy to be both powerful and a victim in the same series, but we get that with Kidman, who is all parts sexy, defiant, weak and uncomfortable. There are other worthy performances here, but none that get us out of our seat like Kidman's.
Huffman and Witherspoon aren't the worst deep dives with insane +5000 odds, but it would be a shock to see anyone but Kidman take this home.
Pick: Nicole Kidman (-400)
Outstanding Limited Series/Movie
This is one of the more interesting categories for this year's Emmy's, as Big Little Lies is a very understandable favorite, but this field is not weak:
Big Little Lies – HBO (-150)
FEUD: Bette and Joan – FX (+175)
The Night Of – HBO (+450)
Fargo – FX (+3300)
Genius – National Geographic (+3300)
Big Little Lies sports an ensemble cast and touches on some harrowing content. The acting performances, writing and delivering from all angles is spot on, so there doesn't feel like a good reason to bet against this series.
This is a tough category for the third running of Fargo (which was great), while The Night Of is probably your real sleeper here at +450. This was about as riveting as television gets, so if you're looking for an upset, this isn't a bad spot to start. Still, Big Little Lies had a more impressive cast and was slightly more layered.
Pick: Big Little Lies (-150)
Outstanding TV Movie
The contenders here are pretty weak, overall, which leads us to believe the favored Black Mirror: San Junipero is probably the best bet:
Black Mirror: San Junipero – Netflix (-275)
The Wizard of Lies – HBO (+400)
Sherlock: The Lying Detective – PBS (+450)
The Immortal Life of Henrietta Lacks – HBO (+1500)
Dolly Parton's Christmas of Many Colors: Circle of Love – NBC (+5000)
There could be some value with The Wizard of Lies (72% rating on Rotten Tomatoes) and maybe the Sherlock movie, but the field is weak enough to keep us from chasing value in this spot.
Pick: Black Mirror: San Junipero (-275)
Outstanding Variety Talk Series
John Oliver is the main man when it comes to late night talk TV, with the only caveat being that he only does one show per week. He still leads the way because his show is just that good:
Last Week Tonight With John Oliver – HBO (-225)
Full Frontal With Samantha Bee – TBS (+250)
The Late Show With Stephen Colbert – CBS (+500)
Jimmy Kimmel Live – ABC (+3300)
Real Time With Bill Maher – HBO (+6600)
The Late Late Show With James Corden – CBS (+6600)
You could make a mild case for talk show heavy-hitters like Kimmel and Colbert, while Maher has always been a huge name and still pieces together an interesting show. That being said, nobody packages humor and information together better than Oliver and his team. They're favored for very good reason.
Pick: Last Week Tonight With John Oliver (-225)
There are more categories that will pour in over the next month, but for now, this is all that we're seeing at Bovada and some of the other top entertainment betting sites.
Remember, odds can shift between now and when the award show goes live, so keep tabs on the buzz around the top contenders and some of these sleepers. Happy betting!