Hide Bonus Offers
| | | | | |
| --- | --- | --- | --- | --- |
| #1 | Bovada Sports | 50% Up To $250 | Visit Site | Bovada Sports |
| #2 | BetUS | 125% Up To $2,500 | Visit Site | BetUS |
| #3 | MyBookie | 100% Up To $1,000 | Visit Site | MyBookie |
| #4 | Everygame | 100% Up To $500 | Visit Site | Everygame |
| #5 | BetOnline Sports | 60% Up To $1,000 | Visit Site | BetOnline Sports |
2017 College Football Playoff: Which Team Offers the Most Betting Value?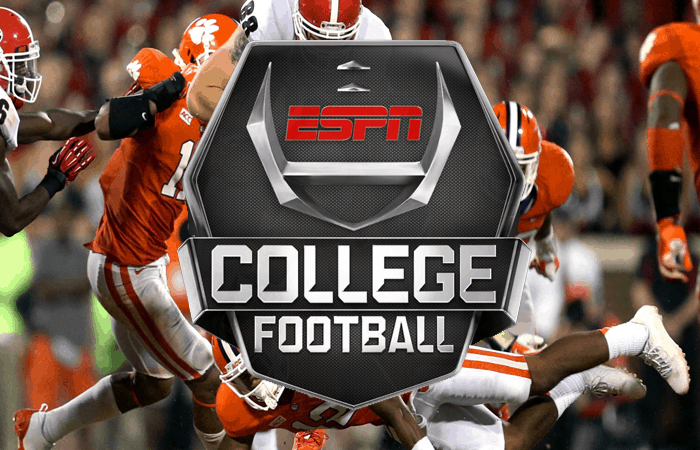 What had already been a crazy year in college football got even crazier last weekend as 2 of last year's national playoff participants suffered their first losses of the season against unranked opponents.
Clemson's hopes of repeating as NCAA champs took a big hit with a stunning 24-21 loss at Syracuse on Friday, and Washington somehow could only manage 1 touchdown in a 13-7 defeat at Arizona State.
2 other ranked teams, Washington State and San Diego State, also suffered their first defeats last weekend, leaving just 8 unbeaten teams as we enter the second half of the season.
Even though Alabama, Penn State, Georgia, TCU, Wisconsin and Miami Florida have yet to taste defeat, they all have mines in their path to perfect seasons.
The 2 other unbeatens, Central Florida and South Florida, will play each other in their regular-season finales, and there's no guarantee that the winner of that game will get an invite to the playoff even if they finish undefeated.
Simply put, there's still a lot up in the air about which 4 teams will advance to the national semifinals. Let's take a look at BetOnline's latest BCS championship odds and national playoff odds, then examine the favorites and darkhorses.
Odds to Win National Championship
Alabama: -105
Ohio State: +700
Clemson: +1000
Penn State: +1000
Georgia: +1000
USC: +1200
Oklahoma State: +1400
Oklahoma: +1600
Wisconsin: +2000
TCU: +2500
Washington: +3300
Miami Florida: +3300
Michigan: +3300
South Florida: +5000
Notre Dame: +5000
Auburn: +5000
LSU: +5000
NC State: +5000
Stanford: +6600
Michigan State: +8000
Virginia Tech: +10000
Washington State: +25000
Odds to Reach College Football Playoff
Alabama: Yes -800, No +500
Georgia: Yes -135, No +105
Clemson: Yes +300, No -500
Miami Florida: Yes +350, No -500
Notre Dame: Yes +800, No -1500
Ohio State: Yes -160, No +130
Oklahoma: Yes +450, No -700
Oklahoma State: Yes +600, No -1000
Penn State: Yes +130, No, -160
TCU: Yes +240, No -300
USC: Yes +400, No -600
Washington: Yes +800, No -1500
Wisconsin: Yes +120, No -150
Favorites to Make the Playoff
It's basically impossible to get any value betting on Alabama right now. They've just been so dominant (average margin of victory of 32.6) that it seems like a foregone conclusion they're going to coast to the SEC championship and a spot in the national semifinals.
The odds certainly suggest that, as you can't even get plus money on the Tide to win the national championship right now.
If anything, it might be worth considering a small wager against Alabama doing the expected and playing on New Year's Day. That's because Auburn's just a game behind the Tide in the SEC West, and the Tigers will host Alabama in the Iron Bowl to close out the regular season.
If Auburn can win out over their next 4 games (the Tigers are 15.5-point chalk this week at Arkansas, and a home game versus Georgia is their toughest test over the next month), a win over Bama on Thanksgiving weekend would put them, not the Tide, in the SEC championship game.
If that happens, Alabama might still make the national football playoff without winning the SEC. But it's no longer a no-brainer, considering that either Auburn or Georgia would probably get invited as the SEC champion, and the Big 12, Big Ten, ACC and Pac-12 also feature worthy candidates. I personally won't be getting involved in either side of the Alabama-to-make-the-playoff prop, but it's hard to argue that there's any value in the Yes at -800.
Urban Meyer's crew has bounced back strong from its Week 2 loss at home to Oklahoma, winning its next 5 games by 31 points or more. However, the Buckeyes were also favored by at least 23 points in all of those games, facing a string of mediocre opponents in Army, UNLV, Rutgers, Maryland and Nebraska.
The next month will determine Ohio State's playoff potential, with games at home against Penn State and Michigan State as well as visits to Iowa and Michigan (with a gimme against Illinois thrown in).
Judging by the early betting lines at 5Dimes, the Buckeyes stand a pretty strong chance of going undefeated the rest of the way. Ohio State is favored by 9.5 points over the Nittany Lions, 20.5 points over Iowa, 21 points over Michigan State and 9.5 points over the Wolverines.
But is there value betting on Ohio State to make the playoff at the current -160 price? Not in my opinion. Each of those 4 conference opponents I mentioned above are capable of pulling off the upset (even Iowa can be dangerous, losing by just 2 points against Penn State and by 7 at Michigan State), and then Ohio State also needs to worry about the Big Ten championship game.
Ohio State at +700 to win the national title? I'll consider that. But I'm not sure about laying that big of a price on the Buckeyes to win their final 6 games of the year.
The Bulldogs are the only other team on which you have to lay a price if you're betting on them to qualify for the national college football playoff.
A 1-point win at Notre Dame in Week 2 was the only time Georgia has even had to break a sweat this season, with its 6 other victories all coming by 21 points or more. The Bulldogs are also 5-2 against the spread this season, continuing to exceed expectations of the betting market.
Georgia's place in the SEC championship game is already all but assured. Kentucky's the only team in the East within a game of the Bulldogs, and Georgia will host the Wildcats in the second-last game of the regular season.
The Bulldogs are 13.5-point favorites to beat Florida later this month on a neutral field, so even if they lose at Auburn on Veterans Day, they should still make it through to the SEC final.
At that point, however, it'll probably require an upset of Alabama (or possibly Auburn) for the Bulldogs to be guaranteed a spot in the playoff. Georgia has the defense to pull it off, but it won't be favored against either opponent. That makes -135 to reach the playoff a dangerous wager in my opinion.
Darkhorses to Make the Playoff
Wait a minute..
Didn't Clemson just lose outright as 23-point favorites
last weekend in Syracuse?
Yeah, that happened. But that loss didn't kill the Tigers' chances at a second straight national title. In fact, it might have actually created some value on a Clemson team that people are suddenly a lot less certain about.
Consider the circumstances in that game. It was on a Friday night, requiring the Tigers to travel earlier in the week and taking them out of their normal routine. And then Tigers starting quarterback Kelly Bryant was knocked out of the contest before halftime, forcing redshirt freshman Zerrick Cooper to run the offense the rest of the way.
Clemson still controls its own destiny in the competitive ACC. Florida State is not a factor this year, and a win at NC State on November 4 would put the Tigers back on top of the Atlantic Division. Clemson also gets the benefit of a bye this week, giving Bryant more time to get healthy and return for the stretch drive.
With their tremendous defense and 3 wins already in their pocket against ranked teams earlier this season (Louisville, Auburn and Virginia Tech), the Tigers still have a decent shot at getting back to the playoff again. At +300 odds, I think it's worth betting on.
The Fighting Irish have been under the national championship radar ever since a Week 2 loss at home to Georgia. But that 1-point loss to the Bulldogs really didn't look that bad at the time, and it looks even less damaging now that we've seen how dominant Georgia has been against all other competition.
Since that defeat, the Irish have won 4 straight games by 20 points or more, including an impressive 38-18 win at now-ranked Michigan State on national television.
Notre Dame will get tested at home on Saturday, hosting USC (the Irish are a 3.5-point favorite). There's also a difficult game on deck next week against NC State, the Irish visits Miami in mid-November and it will close the season with a visit to Stanford. But the silver lining in all of those tough matchups is how impressive victories in those games would look on Notre Dame's season resume.
The Irish has the fifth-best rushing attack in college football and is 22nd in the nation in total yards on offense, and it's allowed the 15th-fewest points per game in the NCAA. Notre Dame also benefits by being an independent team and not needing to play a conference championship game. If the Irish can end the year with 1 loss, with that loss coming by 1 point early in the season against an elite opponent, it's sure to get some playoff consideration.
In my opinion, there's a ton of value right now on last year's national semifinalists. That's what happens when you lay an egg like the Huskies did last week at Arizona State, losing 13-7 despite being 17.5-point favorites.
Before that defeat, Washington's chances of making its second straight trip to the national college football playoff were around 43%, according to FiveThirtyEight.com. After that loss, the Huskies' chances still stand around 24%, making the +800 odds being currently offered a tremendous value.
They'll have to win the rest of their games to merit consideration, but only 1 of those games (a visit to Stanford on November 11, in which 5Dimes already makes Washington a 2.5-point favorite) will be on the road. The Huskies can also get their house in order with a bye this week before hosting UCLA and Oregon, a pair of teams with losing conference records. After its game against Stanford, Washington will almost certainly be double-digit favorites in home games against Utah and Washington State.
The Huskies still have the nation's second-best defense when it comes to rushing yards and total yards allowed, and their average of 10.6 points per game allowed is third in the NCAA. People are down on them right now because of how bad they looked in their last outing, but winning out and then claiming their second straight Pac-12 title would change all of that.
Which team offers the most betting value to make the playoff?
As Syracuse's victory over Clemson and Arizona State's upset of Washington last weekend reminded us, there's never a sure thing in college football.
Alabama is pretty darn close, of course, but there's really no value in betting the Tide to be a national semifinalist at the current -800 odds. Even though Bama is a 10.5-point favorite to beat Auburn on the look-ahead lines at 5Dimes, anything is possible in that rivalry. Remember this ending in 2013?
To me, the best value right now in the college football playoff futures is on the teams that people have subconsciously given up on after suffering a loss.
Getting +800 on Washington is my favorite value play on the board, and I'm not ready to shovel dirt on Clemson (+300) yet either.