2017 Canadian Football League Preview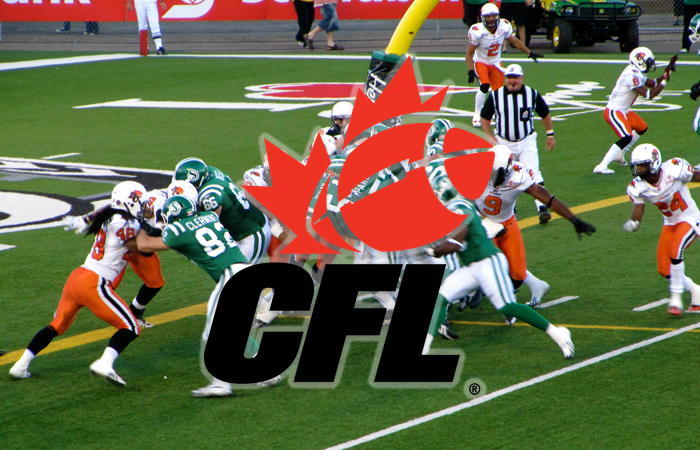 Are you ready for some football?
We may be still a couple of months away from kickoff to the NFL season, but our friends north of the border are ready to provide us with some early gridiron fix as the Canadian Football League kicks off its 2017 campaign this week.
It's a quirky league with its massive end zones, extra players on the field, multiple players in motion, 3 downs instead of 4, and the silly awarding of a single point for a missed field goal that goes through the end zone. This can make for some interesting football betting. But CFL betting can be a ton of fun, especially because it is easier to beat than the NFL markets that are sharpened by millions and millions of dollars being bet on every game.
To get you started, here's a look at each of the 9 teams in the league and my pick on their season win totals (all odds currently available at BetOnline.)
Calgary Stampeders (Over 11.5 +100/Under 11.5 -130)
Calgary has been the class of the CFL for years, at least in the regular season. The Stampeders have won 14+ games in each of the last 4 seasons, and haven't finished below .500 in a decade, but they've only got 1 Grey Cup to their credit since 2008.
The biggest question about whether the Stampeders will eclipse this win total might be how they respond to last year's disappointment. Calgary threatened to tie the CFL single-season record for wins in 2016, finishing 15-2-1, but laid an egg in the Grey Cup, falling to Ottawa in OT as a double-digit favorite.
The Stamps return 23 players from that team, their entire coaching staff and 8 of their 9 all-stars. QB Bo Levi Mitchell is 43-7-1 in his CFL career, and this franchise is used to bouncing back after underachieving in the playoffs. It almost feels like this line is a trap, but if it is, I'm taking the bait.
Edmonton Eskimos (Over 11.5 +140/Under 11.5 -170)
The Eskimos can put up points with the best of them. Last year, they ranked second in the CFL in points, passing yards, passing touchdowns, rushing yards, rushing touchdowns and sacks allowed.
The defense, however, didn't hold up its end of the bargain. It started the season horribly, allowing 30+ points in 4 of its first 5 outings, as the Eskimos came out of the gate with a 2-4 record and had to fight their way back to a 10-8 finish.
Though the Eskies have made a few moves to address their defense, I'm not sold that it'll be enough to improve by 2 wins in 2017, especially in the tough West Division. Edmonton will be fun to watch, but there's also potential for struggles with this aging cast.
British Columbia Lions (Over 11.5 +140/Under 11.5 -170)
There was a lot to like about the Lions last year. They sported the second-best record in the league (12-6) and were the league's best rushing team, pacing the CFL in both yards and TDs on the ground. Defensively, B.C. also held its own, ranking third in points allowed and tying for the league lead in sacks.
The Lions have a good young QB in Jonathon Jennings and return an excellent stable of running backs. On defense, B.C. needs to overcome the loss of 6 starters (including 3 to the NFL) but I'm betting that legendary coach Wally Buono and his defensive co-ordinator will be able to figure things out. The Lions won 12 games last year despite intercepting a league-low 9 passes, and I like their chances of winning 12+ again.
Saskatchewan Roughriders (Over 9.5 +175/Under 9.5 -210)
The Roughriders didn't improve nearly as much as expected last year under new head coach/GM Chris Jones, going 5-13. However, they did close the year with 4 wins in their final 7 games, and 6 of their 13 losses were by a touchdown or less.
Saskatchewan looked like it might be one of the more interesting teams to watch this season after inking former Heisman Trophy-winning quarterback Vince Young. However, Young tore his hamstring in training camp and was cut shortly after, leaving 38-year-old Kevin Glenn as the undisputed opening day starter.
The Roughies have made some much-needed improvements to an offense that was last in the league in points and TDs while ranking second-last in net yards, first downs and sacks allowed. They've upgraded their offensive line, which should help both the run game and the pass protection, and added some speed at receiver as well.
Jones is known for his ability to turn teams around quickly, and I think it shows this year.
Winnipeg Blue Bombers (Over 9.5 +105/Under 9.5 -135)
There's optimism going into this year in Winnipeg, where the Bombers look to build on their first playoff appearance since 2011 and feel they have a shot at snapping their 26-year Grey Cup drought.
Winnipeg was 11-7 last year, so this season win total actually suggests they'll be worse in 2017. That's despite the fact that they return 10 starters on offense, including their entire line, and that they were 10-3 last year after current QB Matt Nichols took over the starting job from Drew Willy.
So what's the catch? How about the possibility that last year was a mirage. Winnipeg was sixth out of 9 teams in the league in net offense, last in passing yards allowed, seventh in sacks and sixth against the run. Their saving grace was turnovers, with the Bombers defense intercepting nearly twice as many passes as any other team in the league (30) while ranking second in forced fumbles.
It'll be virtually impossible for Winnipeg to duplicate their +29 turnover ratio again this year, and I see them regressing as a result. The Blue Bombers going Under 9.5 is one of my favorite bets on the board.
Montreal Alouettes (Over 10.5 +150/Under 10.5 -180)
It's the start of a new era in Montreal, where the Alouettes are coming off consecutive non-playoff years. It's been quite the fall of grace for a franchise that finished atop the East in 5 straight regular seasons from 2008-12, and it cost long-time GM Jim Popp his job.
The GM isn't the only new face in Montreal. The Als also picked up veteran QB Darian Durant and a couple more players on offense, while dismantling one of the league's better defensive units. That'll make it hard to know exactly what to expect from Montreal, especially early in the year.
Quarterback play was a huge issue last year for the Alouettes (they finished last in the league in passing yards) and Durant should be a definite upgrade, but he's also injury-prone, having not played a full season since 2010. I think 11 wins is overly optimistic for Montreal this year.
Hamilton Tiger-Cats (Over 10.5 +130/Under 10.5 -160)
The Tiger-Cats were 7-11 last year but you have to take that record with a grain of salt. Hamilton star QB Zach Collaros missed the first 7 weeks of 2016 due to a torn ACL that ended his previous season, the Ticats turned the ball over a ton, and their secondary was decimated by injuries.
Collaros looks totally healthy and has said he's committed to getting back to the dual-threat QB he's been in the past. That should also help Hamilton cut down on the turnovers, and they've stocked up on defensive backs during the off-season.
The Tiger-Cats haven't won more than 10 games in a season since 2001, but the East looks weak this year and the Tabbies are a motivated bunch.
Ottawa Redblacks (Over 10.5 +110/Under 10.5 -140)
Ottawa may be the defending Grey Cup champions, but it has a lot of question marks going into 2017.
The obvious one is at quarterback following the retirement of Henry Burris, leaving backup Trevor Harris to take over the starting role. Ottawa has also lost several of its top defensive backs, won't sneak up on anyone this year as the defending champion, and has to deal with the pressure of hosting the Grey Cup this year.
Not that Ottawa was a dominant team last season, anyway. The Redblacks were 8-9-1 during the regular season before catching fire in the playoffs. I don't think this team is 3 wins better than last year's bunch.
Toronto Argonauts (Over 9.5 +105/Under 9.5 -135)
Even if the Argos are an afterthought on the Toronto sports scene (and they are, trust me), there's still reason for their fans to be excited about 2017. The architects of the former Alouettes dynasty, general manager Jim Popp and coach Marc Trestman (you may remember him as the former coach of the Bears), are now in charge of a Toronto franchise looking to bounce back from a dreadful 5-13 showing last year.
Trestman is known as an offensive genius, but even he will have his hands full with an Argos attack that put up the second-fewest points, passing yards and rushing TDs in the league last year while committing a CFL-worst 51 turnovers. Ricky Ray used to be an elite CFL quarterback, but he's now 37 years old, injury prone and doesn't have a lot of weapons around him.
Popp and Trestman are the right guys to turn the Argos around, but I don't think they can make a difference of 5 wins in year 1.