Hide Bonus Offers
| | | | | |
| --- | --- | --- | --- | --- |
| #1 | Bovada Sports | 50% Up To $250 | Visit Site | Bovada Sports |
| #2 | BetUS | 125% Up To $2,500 | Visit Site | BetUS |
| #3 | MyBookie | 100% Up To $1,000 | Visit Site | MyBookie |
| #4 | Everygame | 100% Up To $500 | Visit Site | Everygame |
| #5 | BetOnline Sports | 60% Up To $1,000 | Visit Site | BetOnline Sports |
2017 Belmont Stakes Preview: Early Odds and Predictions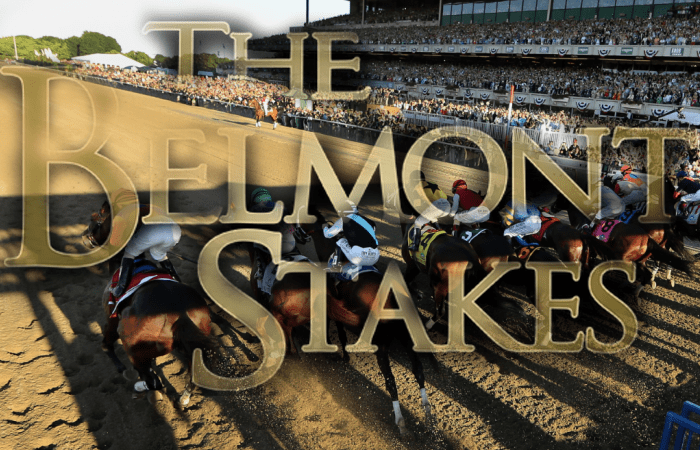 To the Belmont Stakes we go, as the 149th installment of the third leg of the Triple Crown gears up for launch on Saturday, June 10th. Horse racing fans everywhere were shocked to see a huge upset at the Preakness Stakes, which naturally won't allow for Always Dreaming to make a bid to become just the 13th horse ever to sweep the Triple Crown.
Always Dreaming could not make good on its promise heading into the 2017 Preakness Stakes, as this year's Kentucky Derby winner fell way short and faded badly down the stretch, with a total underdog in Cloud Computing coming out of nowhere to edge out top contender Classic Empire by the slimmest of margins.
Seriously, if you haven't seen this race, go back and watch the insane ending. This was supposed to be a two-horse battle for the most part, with the favored Always Dreaming potentially catching serious heat from Classic Empire. That is exactly what happened, but while Always Dreaming faded, Classic Empire held up its end of the bargain and looked ready to steal the show. Cloud Computing took over for Always Dreaming and never gave up in the final seconds, ultimately narrowly inching past Classic Empire for a win that felt like it was made for the movies.
Cloud Computing was naturally the big star at the 2017 Preakness Stakes, but it's pretty fair to assume that may not necessarily be the case as we wrap up the 2017 Triple Crown at this year's Belmont Stakes. Cloud Computing is still among the top contenders due to the big win, obvious rallying ability and closing speed, but we may have to look in a new direction as we prepare to bet on yet another high-level horse race:
2017 Belmont Stakes Odds
Classic Empire opens this year's Belmont Stakes odds as the top favorite over at Bovada. The gap isn't that wide, however, as we get five horses with +800 odds or better:
Classic Empire | +200
Epicharis | +450
Lookin at Lee | +500
Tapwrit | +600
Cloud Computing | +800
Senior Investment | +800
Conquest Mo Money | +1000
Gormley | +1200
Always Dreaming | +1400
Irap | +1400
Multiplier | +2500
Patch | +2500
Meantime | +2500
Twisted Tom | +2500

Top Favorites
Classic Empire gets the ball rolling as the top favorite, as this was arguably the top contender for the Preakness Stakes. This horse had the Preakness Stakes in the bag and fell to a remarkable rally by Cloud Computing. In addition, we've seen this horse finish 4th at the Kentucky Derby, win the Arkansas Derby, place second at the Holy Bull and win two big races at the Breeders Cup event in 2016.
While Classic Empire is the early favorite to get behind, we can't ignore Lookin at Lee, which has been very competitive at a high level for a while now. Steven Asmussen's top horse ran 4th at the Preakness and took 2nd at the Kentucky Derby. We've also seen Lookin at Lee thrive elsewhere, with a 3rd place run at the Arkansas Derby and another 3rd place run at the Southwest Stakes. While Lookin at Lee hasn't taken down first in these huge events, the competitiveness and ability to hang up front with the pack has been encouraging.
Cloud Computing isn't getting a whole lot of credit for an amazing finish, as we could potentially take advantage of kill +800 Belmont Stakes odds right now. This horse lacks experience and was a huge upset, but let's not forget Cloud Computing finished 3rd at the Wood Memorial took 2nd at the Gotham-G3 race and previously had a win under it's belt. None of this means we're destined to get a second straight win from this horse, but these odds make it more than worth our time as a flier bet.
Epicharis, Tapwrit and Senior Investment are the other top favorites when we take a look at the early Belmont Stakes odds. Senior Investment called itself to attention with a 3rd place run at the Preakness, while this horse also nabbed a win at the Lexington-G3 event in mid-April. Tapwrit has long been a viable contender, too. Todd Pletcher's other gem disappointed in 6th at the Kentucky Derby, but was an interesting challenger after wins at the Tampa Bay Derby and Pulpit Stakes.
The other favorite to consider is Epicharis, who will make its Triple Crown debut after placing 2nd at the UAE Derby and getting a big win at the Hyacinth Stakes in February. There could be a huge rust factor here, but the oddsmakers love this horse as a stiff challenger to Classic Empire.

Sneaky Plays
Starting off the sneaky plays has to be Always Dreaming, right? I know this horse faded badly and Preakness losers don't always limp their way into the Belmont Stakes, but as long as this talented horse is in the field, we need to be on high alert. Always Dreaming was still favored to win the last race and was in the lead for most of the race, while it also took home wins at the Kentucky Derby and Florida Derby.
With +1400 odds, Always Dreaming is suddenly a very appealing sleeper with a ton of betting upside as a considerably underdog. We also will want to take a look at Irap, who stole the show at the Blue Grass Stakes before flat lining (18th) at the Kentucky Derby. Perhaps this could be a nice bounce back spot for a horse that has previously finished 4th or better in every race it had run prior to the KD.
The long odd options are also in the mix based on payout upside alone, but the one to consider targeting the most might be Twisted Tom. This Cobra Farm product knows how to win, having stolen first place in each of its last three runs. That may not necessarily make it a threat to win the Belmont Stakes, but the odds demand we consider this as a flier to win or place.
Who Will Win the Belmont Stakes?
Classic Empire is in the driver's seat to take home the top spot going into the 2017 Belmont Stakes and is a solid bet to take first, as well as a borderline lock to at least finish among the top three. This horse has been ridiculously competitive and met expectations every step of the way.
Cloud Computing needed a miracle run late to sneak past this horse, while Classic Empire withstood more bad luck in the previous race, working past an early collision to still land in 4th place in the brutal Kentucky Derby. Running in the slop understandably made that race even tougher to gauge, yet we still got a strong effort and solid finish out of Classic Empire.
That's technically two bad beats in a row, so the tide has to turn eventually for this horse. The field isn't set yet and it should still be pretty competitive one way or the other, with Cloud Computing, Lookin at Lee and Always Dreaming being the other horses we'll really want to keep an eye on.
Classic Empire is favored for a reason, however, and this feels like the spot where this horse finally gets over the hump and nabs that big win. The odds are playable enough, too, so the upside isn't bad when you consider the talent, production and safety. Just be sure to search out the right Belmont Stakes betting site (odds are different depending on the site) before making your final bet. Doing so early can be advantageous, however, as a diluted field could hurt the playability of some of these horses.
Right now, Classic Empire is an understandable favorite and we love this horse to finally finish the job in a huge race to wrap up this year's Triple Crown event.
Pick: Classic Empire (+200)