2016 World Series Game 7: Cubs vs. Indians Game 7 Prediction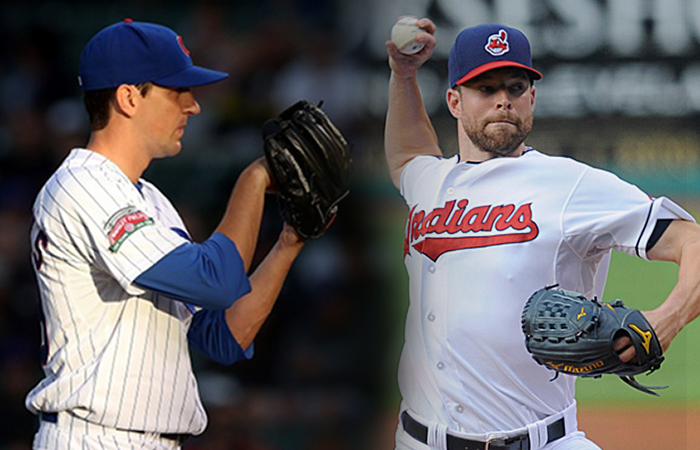 It all comes down to this. The Chicago Cubs finally came alive on Tuesday night, with the league's top offense finally blasting off with nine runs in a route over the Cleveland Indians at Wrigley Field.
Much like they did in their previous series, the Cubs played with fire due to a dormant offense, but have come back from a 3-1 hole to give themselves a chance at breaking a 100+ World Series title drought.
The bummer for the Cubs and their fans? They'll have to try to do it on the road, as the final game of the 2016 World Series shifts back to Progressive Field. Even worse? They'll have to shoot for a third straight win and their first MLB title since 1908 against The Tribe's top ace, Corey Kluber.
Momentum has certainly swung Chicago's way, but this is not a good spot to be in, as the Indians have rode Kluber hard through these playoffs and he's responded with elite performances every time out.
Even so, the top betting sites are not leaning hard one way or the other for game seven of the World Series, as a strong argument could easily be made for either side. On one hand you have the Cubs, who are red hot after two straight wins and do boast the best offense (and defense) in baseball, plus the narrative of not winning a title in over 100 years.
On the other, the Indians are at home with their best ace toeing the rubber and they also have had a long drought (last won in 1948).
Which way does this thing break? Let's take a look at the World Series game seven betting options and matchup at hand as we try to come away with a prediction:
World Series Game 7 Betting
Betting sites like Bovada can't quit the Cubs, who at least over there enter as the ever so mild favorites:
Cubs to Win -118
Indians to Win +108
Again, just like it has been the case throughout the entire World Series, there isn't much money to be made by betting straight up. The wiggle room and payout potential just isn't there and this series (and most of the games) have been arguable toss-ups every single time out.
You really can go either way. The Cubs are hot, are the better team when you look at the numbers and have waited longer for this moment. That being said, Cleveland has the better pitcher on the mound, they also have a strong narrative thanks to over 50+ years of waiting for a World Series title and they're also at home.
If you really want this bet and plan to go hard, refer to our World Series game 7 prediction at the end of this page. We suggest going after more interesting World Series bets tonight, however:
Cubs to Cover
We have three outcomes here, folks. Either we get a game seven for the ages where we need extra innings or some type of walk off hit to win this thing, or one of these teams is going to kick history in the face and run away with a title.
It isn't silly to bet hard on that being the Cubs, who do boast the better overall offense and showed on Tuesday night that they can kick it into high gear when under pressure. Both teams are going to be up for this moment, but of the two, Chicago feels a little more likely to slay offensively again.
If you buy that narrative, the Cubs covering (-4.5 at +600) is a really fun bet. There is a weaker (-1.5) spread bet, but that isn't the play. Aim high for a big Cubs win – especially if you're a Chicago fan.
Margin of Victory
The beauty of MLB betting is often in the details, and in the case of this game seven, it might just be in the narrative. We won't lie, this game is impossible to really feel good about calling, but there are ridiculously strong narratives on either side.
Thanks to betting sites like Bovada, you get to take advantage of that and there might not be a better spot to try it than the Margin of Victory bet:
Cubs Win by 5+ (+600)
Indians Win by 5+ (+950)
Are either one of these teams for sure going to crush it and win easily? No, and that's the point. This game is being predicted as a very tight end to a crazy World Series, so betting it being a route either way is a mild reach. That being said, one of these teams could jump out early and run away with it, and the odds/potential are really fun if that indeed happens.
You could hedge your bets here with a bet on either side and still come away very much in the positive. The game, one way or another, would simply need to be decided by 5+ runs.
It should be noted that there are other Margin of Victory bets to consider, but there are the two that take it to the extreme and offer the most upside.
First Home Run
One other fun bet that could be profitable and a joy to track regardless of how this game shakes out, is which player hits the first home run. Honestly, there could be zero home runs here, as Kluber could deal here and win, 1-0.
We would bet a jack or two is coming in such a massive game for both sides, though. Obviously the studs like Kris Bryant (+750) and Anthony Rizzo (+900) are in play, but we might take a shot on guys with more playable odds like Dexter Fowler (+1600), Jose Ramirez (+2500) or Wilson Contreras (+2500).
This is a shot in the dark, but laying down multiple bets on guys with really playable odds could be a fun way to enjoy this game. When that first dong goes deep, you could instantly become a winner.
Cubs vs. Indians Matchup
While there is a lot of action to consider for Wednesday's game seven, the real play for many is going to be going hard one way or the other with a straight up pick.
On the surface, the early lead naturally goes to the Indians, who will send Corey Kluber (22-10, 3.01 ERA) back out one last time to get the win and bring home Cleveland's first World Series since 1948. Kyle Hendricks (17-9, 2.01 ERA) will be tasked with doing the same for the Cubs, who hit the road to shoot for their first MLB title since 1908.
This is not a great setup for the Cubs, who already used up their top two aces – Jon Lester and Jake Arrieta – and now hang their entire season on a guy who really is at his best at home.
The pitching matchup 100% favors the Indians. Kluber has been a total monster in these playoffs, posting a 4-1 record with an insane 0.89 ERA, one home run allowed and just three total runs allowed.
The guy is ablaze and in two starts against these Cubs, he's specifically been dominant, yielding one run and dishing out 15 strikeouts.
There isn't much to go against him, other than his regular season numbers, where he did lose five games at home and gave up 22 home runs. Still, that feels like light years ago, as Kluber has been on fire in all of October.
Then again, it's now November….
The pitching edge still lies with the Indians, especially when you look and see neither Lester or Arrieta are on the other side.
Hendricks certainly isn't trash, but his stellar pitching has mostly shown up at Wrigley Field. He understandably hasn't been as dominant as Kluber (1-1 in four playoff starts), but his regular season road record (7-6) paled in comparison to his home production (9-2).
As troubling as that looks, it's been all good for Hendricks lately, as the Cubs are surprisingly 5-0 in his last five road starts.
Offensively, the Cubs still get the edge. The run production has actually been really even so far, with the Indians putting up 20 runs across the first six games and Chicago producing 19. Of course, the Cubs failed to score even one run in two shutout losses and made up most of the ground in Tuesday night's 9-3 win.
So, does that mean the Cubs are in the "too little, too late" narrative, or does that show just how explosive they are and how impossible they are to bet against?
Cubs vs. Indians Prediction
There, indeed, lies the rub.
This game feels obvious. Kluber has been sensational, Cleveland has waited for this moment, their NBA franchise just ended a drought last season and they're at home, where they went 53-28 during the regular season.
Oh, and in the history of World Series game sevens, the home team has won 9 out of 10 times.
Everything but the odds across most sites points to an Indians win, yet something in me just can't quite the Cubs.
Perhaps it's that when they needed to win the most, they showed up and made the right plays to win two straight games to get to this point. Maybe it's that Corey Kluber being this dominant for this long feels like it's run its course.
It could be that Cleveland's elite home field advantage hasn't been so elite in this series, too. They should have ended this series earlier, yet the Cubs are 2-1 at Progressive Field in this World Series.
The odds and logic don't always meet up when it comes to playoff baseball, and so it seems, these Chicago Cubs.
The Cubs were the odds on favorite to win the World Series all year and here they are, in game seven, with a chance to finally get a title in the face of an equally deserving and hungry team, as well as a 100+ year old curse.
Color us foolish, but we think the Cubs finally get over the hump.
Pick: Cubs 6, Indians
4