Hide Bonus Offers
| | | | | |
| --- | --- | --- | --- | --- |
| #1 | Bovada Sports | 50% Up To $250 | Visit Site | Bovada Sports |
| #2 | BetUS | 125% Up To $2,500 | Visit Site | BetUS |
| #3 | MyBookie | 100% Up To $1,000 | Visit Site | MyBookie |
| #4 | Everygame | 100% Up To $500 | Visit Site | Everygame |
| #5 | BetOnline Sports | 60% Up To $1,000 | Visit Site | BetOnline Sports |
2016 World Series Game 3: Indians vs. Cubs Preview and Prediction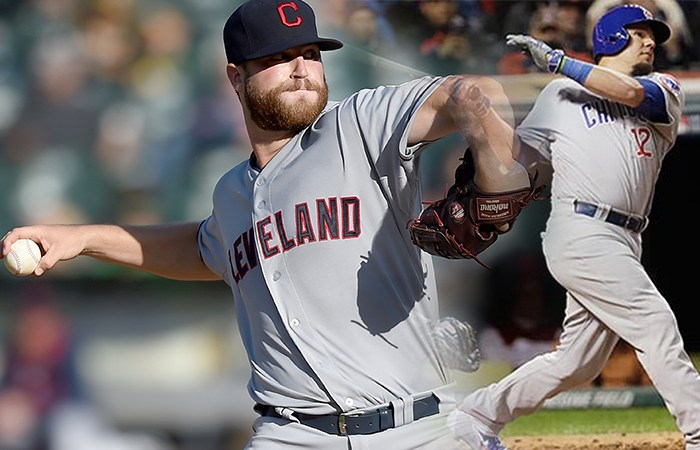 The World Series finally touches down on Wrigley Field on Friday night, as Chicago Cubs fans embrace a moment they haven't experienced since 1945.
Chicago fought back in game two on Wednesday, knotting up a 1-1 tie with the Cleveland Indians at Progressive Field and setting up an emotional and potentially dramatic turning point in the 2016 World Series.
It all starts here for the Cubs, who haven't actually won an MLB title since 1908, but seem to be in a good spot to erase the curse if they can win their second game in a row, while also holding serve at home.
Chicago certainly has been able to do that throughout the year, having boasted an elite 57-24 mark at Wrigley Field in 2016. Cleveland's mediocrity on the road (41-39) could combine with the Cubs' clear advantage at home to give Chicago a considerable edge, even aside from the actual matchup.
There is no doubt Chicago will be rocking on Friday night, and there's also no denying the fun attached to betting on game three of the World Series. Going against the Cubs might look like a poor choice at first glance, but the payout upside lies with the underdog Indians. That being said, Cleveland hasn't fared well (1-4) in their last five trips to Wrigley Field.
Let's take a look at your betting options and the matchup tonight, as we get closer to a World Series game three prediction:
Cubs vs. Indians Betting
The main bet you're looking at is the MoneyLine, which understandably favors the hometown Cubs quite a bit at betting sites like Bovada:
Cubs to Win -210
Indians to Win +185
You're not breaking the bank either way, as it'd be nice to see the Indians get more playable odds here. Due to this weak MoneyLine, a small bet on the Indians could be okay, but the play might be to double or triple down on the Cubs narrative here.
Chicago hasn't even been here since 1945 and they haven't won a title in over 100 years. This is a pretty big deal and with a win tonight, the city and team will be able to taste it. The odds are fairly strong that Chicago gets one step closer to fulfilling their destiny, so betting big on them tonight could be a good call.
Spread & Margin of Victory
One other bet that could be very interesting is a spread (-4.5) available at Bovada for Friday night. Should the Cubs win big here (by 5 or more runs) their interesting +350 odds to do so could be a ton of fun with the right bet.
Given the narrative and the odds favoring Chicago, betting on a big win could be the best overall play on the night. Betting on the Cubs straight up will take a hefty bet to return serious cash, but betting on a win by five runs or more offers serious profit upside.
That's probably the safer way to go and it makes good sense, but what about the other side? If you're an Indians fan or just can see Cleveland winning in a rout, you could play that angle. The Indians winning by 5+ runs carries ridiculous +1000 odds, so depending on the cash you throw down, there is even more upside with that bet.
Homers & Extra Innings
It's baseball betting, so there are obviously a litany of roads you can go down. Two more we like are chasing home runs or predicting whether or not we're getting extra innings here. Going against extras isn't really playable (although it's obviously more likely), but if you nail it and this game goes longer than the first 9, those +700 odds could provide a nice payout.
As for the homers, you can either play the Yes/No game on a bunch of guys, or just pick the player who mashes the first homer. We're not going to dive into the odds and logic here, as this is pretty unpredictable.
That being said, Javier Baez (+1200 odds for first home run of the night) has been awesome throughout the 2016 MLB playoffs. Even a mild bet on him getting the first jack could be worth a try.
World Series Game 3 Matchup
Now that we've touched on the World Series game 3 odds and main bets, let's actually consider the matchup at hand. Cleveland will be shoving experienced pitcher Josh Tomlin (15-9, 4.29 ERA) on the mound, and he will face off with Cubs hurler, Kyle Hendricks (17-9, 2.05 ERA).
The clear advantage lies with the Cubs, both because they're strong at home in general and they've done very well under Hendricks' guidance. Like, 27-11 in his last 38 home starts, kind of well.
Tomlin has been knocked around a bit in 2016, but he still has some good stuff and has actually fared well in general for The Tribe, going 15-5 in his last 20 road starts.
For just the pitching duel, we'll give the clear edge to Hendricks and the Cubs. Neither of these guys are unbeatable and both have brutal matchups, but Hendricks is pretty good at home and is the better pitcher between the two.
If you need further evidence, just consider the last time Hendricks toed the rubber for Chicago:
Cubs vs. Indians Game 3 Pick
Offensively, there's little denying these teams are stacked and could mash either other to bits. However, this entire series is more about the Cubs than the Indians. Maybe Cleveland notes that as a sign of disrespect and fights back with a surprising win tonight. Heck, maybe both of these teams want this so bad that we get a tireless extra inning game that leaks into the morning.
Anything can actually happen, but logic supports a Chicago win in game three. Hendricks has been pretty unflappable for the most part at home, he pitched a gem his last time out and of the two, the opposing Tomlin is a far more volatile pitcher.
In addition, Chicago has the better overall defense and a more stacked offense.
The Indians can win this, but it looks and feels like they're in an impossible spot tonight.
Pick: Cubs 5, Indians 2