2016 NFL Predictions: Who Will Win Super Bowl 51?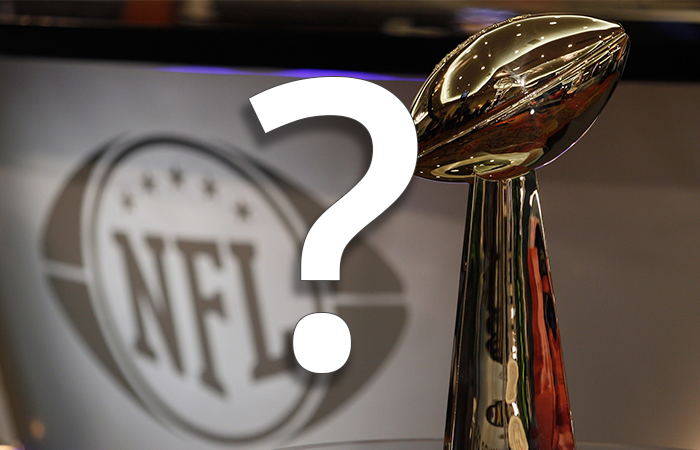 Every new NFL season starts the same. All 32 teams have the same goal, they're optimistic and until they reveal their true colors, they really do have a chance.
Confidence, chemistry and unity are key for NFL teams, so hot starts thanks to a weak schedule can turn a pretender into a contender in the blink of an eye. A Super Bowl favorite can suffer a freel fall due to a tough schedule, a suspension or a slew of injuries.
The possibilities, at least initially, are endless. This is why the team favored to win the Super Bowl, or the two teams Vegas thinks has the best chance at getting there, doesn't really mean anything. It's also why the team at the bottom, the teams no one respects or is giving anything more than a cursory glance (if even that) also aren't out of it before the season even starts.
Favorites, Shmavorites
At least that wasn't the case last year, when the top Super Bowl favorites were the Indianapolis Colts, Seattle Seahawks, Green Bay Packers, New England Patriots and Dallas Cowboys. Things didn't go as planned for any of those teams. Seattle suffered from a Super Bowl hangover and played much of the year without star running back Marshawn Lynch, Green Bay lost star wide receiver Jordy Nelson, the Colts lost Andrew Luck, the Patriots fell one step short in the AFC title game and the Cowboys didn't even make the playoffs.
Vegas was wrong, and instead we got the Carolina Panthers and Denver Broncos. Denver entered last season with reasonable odds to make a run in what many figured was Peyton Manning's final ride, but they were by no means expected (or favored) to pull it off. Carolina's odds were even worse, especially since top receiver Kelvin Benjamin went down with a torn ACL. Carolina still made it to Super Bowl 50, despite middling 40/1 odds.
The point? The usual suspects are the top contenders for good reason, but injuries and just about everything else can deviate the path Vegas lays out for the league. Good teams can get better as the season goes on and some teams find a way to make up for massive losses than others.
In the end, Denver pieced together one of the best defenses we've ever seen and Carolina sported the league's top offense without their best offensive weapon.
That could mean the Broncos and/or Panthers are threats to go the distance again this year, or it could mean they crumble like the other top five favorites did a year ago. That's part of the fun of the NFL, after all.
Another fun part is dissecting it all and predicting it. Let's first take a quick look at the latest Super Bowl 51 odds, per Bovada, and then give every team a reason for hoping this year can be theirs:
2016 Super Bowl Odds
New England Patriots +600
Green Bay Packers +850
Seattle Seahawks +900
Pittsburgh Steelers +1200
Carolina Panthers +1200
Arizona Cardinals +1200
Minnesota Vikings +1600
Denver Broncos +1800
Cincinnati Bengals +1800
Dallas Cowboys +1800
New York Giants +2500
Oakland Raiders +2500
Indianapolis Colts +2800
Kansas City Chiefs +2800
Houston Texans +3300
Baltimore Ravens +3300
Jacksonville Jaguars +4000
Washington Redskins +5000
New York Jets +5000
Atlanta Falcons +5000
Chicago Bears +5000
Philadelphia Eagles +6600
Buffalo Bills +6600
Los Angeles Rams +6600
Miami Dolphins +6600
San Diego Chargers +6600
Detroit Lions +6600
New Orleans Saints +6600
Tennessee Titans +6600
Tampa Bay Buccaneers +10000
San Francisco 49ers +10000
Cleveland Browns +10000
Case For/Against Every Team
New England Patriots
Why they will win: New England is no stranger to playoff success. They make the playoffs and even win their division almost every year and once Tom Brady returns from his four-game ban, may God have mercy on the league's collective soul.
Brady will unleash a fury that only Thor could duplicate and New England's litany of weapons will rally behind him en route to yet another Super Bowl run. The Pats almost made it back-to-back title runs last year, but fell to the Broncos in the AFC title game. Burning with determination and revenge, New England ultimately enjoys the last laugh as Roger Goodell cowers in defeat.
Why they won't: Tom Brady's four-game absence to start the year has an ugly domino effect and the mighty Patriots as we knew them just aren't up to the challenge of digging themselves out of an early season hole.
The bad news is Brady missing four games isn't the only problem. The Pats traded away a beast of a pass rusher in Chandler Jones, don't have a clear cut lead running back and are one Rob Gronkowski injury away from having an extremely pedestrian offense. Oh, and the Bills, Jets and Dolphins all give reason to believe this division may not be a cakewalk anymore.
New York Jets
Why they will win: The Jets were a decent 10-6 team a year ago, had a shot at the playoffs going into the week 17 finale and even pushed New England to the edge. With Ryan Fitzpatrick officially back and running back Matt Forte in the fold, New York's offense could be as good as ever.
Backed by a top-5 defense, the Jets are knocking on the door of the playoffs, as well as the division title. They key is taking the division and showing the Pats who is boss. Gang Green was close last year, and if they can push themselves over the top, a Super Bowl run could be on the horizon.
Why they won't: Fitzpatrick probably maxed out in 2015, while experts have pointed out that he simply makes too many mistakes. It's worth noting Fitzmagic has never been to the playoffs, while his holdout couldn't have helped his chemistry with his passing weapons.
New York still has a strong offense on paper, but they exceeded expectations last year and were still a 10-6 club watching the playoffs from home. Jets fans can probably brace for something similar, as they're still a top level passer away from making any serious noise.
Buffalo Bills
Why they will win: If there is one thing Rex Ryan knows, it's defense. He couldn't push a talented Bills defense over the top in his first season in 2015, but odds are he'll get the Bills turned around and playing a mean style of football.
With the defense roaring back and suffocating defense, Ryan's ground and pound offense can thrive with LeSean McCoy leading the way. Dual threat passer Tyrod Taylor will play with a chip on his shoulder due to quiet contract talks, too, and Buffalo will do just enough offensively to allow their now elite defense to push them all the way to the league's title game.
Why they won't: Rex Ryan's days as an elite coach have come and gone, his defense isn't nearly as good as it used to be and the nepotism that comes with the hiring of his brother, the washed of Rob Ryan, suggests this won't end well.
As great as LeSean McCoy can be, his injury history could catch up with him, while Tyrod Taylor's flaws inside the pocket ultimately get exposed at the worst possible times. Buffalo is a viable playoff contender if everything breaks right, but with an overrated defense and a quarterback that can't effectively dominate games consistently, Rex Ryan is in a pistol duel and he's shooting blanks.
Miami Dolphins
Why they will win: Ryan Tannehill and the rest of the Dolphins finally wake up from the nightmare that was Joe Philbin's tenure and Miami gets a real shot at the playoffs again. Arian Foster comes in and is still a top flight rusher, Tannehill thrives under offensive guru Adam Gase's guidance and the Dolphins' top-billed defense finally puts their money where their mouth it.
Why they won't: While Gase brings a new offensive punch to the table, he's still working with an inconsistent signal caller and a slew of defensive players that haven't yet met expectations.
Rookie head coaches don't tend to come in and turn things upside down, only to end the season with a league title. The Dolphins could be better – even markedly so – but 2016 is about positive steps, not chasing a Super Bowl.
Cincinnati Bengals
Why they will win: Andy Dalton returns with his 2015 MVP form and unfinished business on the brain, as the Bengals pick up right where they left off and get Marvin Lewis that elusive first post-season win.
Cincinnati really ran into some bad luck in 2015, as Dalton went down with a thumb injury and Jeremy Hill fumbled away a sure first round playoff win. More composed, the Bengals field a top flight offense and one of the most balanced defenses around as they get the epic story they should have got in 2015.
Why they won't: Dalton's hot 2015 was more fluke than trend, the loss of Marvin Jones, Mohamed Sanu and Hue Jackson will be felt in the worst way and Marvin Lewis continues to go winless in the playoffs.
There's no denying the Bengals are a good, balanced team, but it's tough to get behind Andy Dalton and Marvin Lewis. The history of success at a high level just isn't there.
Pittsburgh Steelers
Why they will win: Pittsburgh got one step closer to being a legit Super Bowl contender last year, as they ousted the Bengals in round one and gave the Broncos a fight in round two. Ben Roethlisberger leads one of the more potent offenses in the league, one that is so stacked that a 4-game ban for Le'Veon Bell and a 16-game ban for Martavis Bryant can be overcome.
The best news for the Steelers is their rising defense, which finished 11th in points allowed and also racked up the third most sacks in the league (48). With an elite offense and a rising defense, the Steelers have the leadership, talent and balance to rise to the top of the league.
Why they won't: Perhaps those suspensions to Bryant and Bell aren't as easy to swipe under the rug as some would hope. Ben Roethlisberger could in turn struggle, while his inability to keep himself healthy could have a good team on the brink of caving in on itself.
Pittsburgh's supposedly rising defense could also be a problem when it comes to their Super Bowl hopes, as their pass defense was among the worst in 2015. With their defense not as good as advertised and a big deep threat absent, the Steelers could hit enough roadblocks to keep them from adding to their title collection in 2016.
Baltimore Ravens
Why they will win: It's quite arguable no team was dealt a worse hand in 2015, as the Ravens were regarded as Super Bowl sleepers, only to fall victim to the injury bug. It happened at an extremely high level, too, starting with stud pass rusher Terrell Suggs tearing his Achilles in week one. The Ravens were picked off one by one from there, with the likes of Joe Flacco, Justin Forsett and Steven Smith all suffering season-ending injuries.
Baltimore never stood a chance, but now healthy and more focused than ever, there is every reason to believe John Harbaugh's crew is ready to make another title run. Mike Wallace could bring the deep threat Baltimore's passing game needs, while Flacco and Forsett at full strength help balanced out a very competitive offense. Eric Weddle should come in and reinvigorate Baltimore's once proud defense, as well. With everything coming together, the Ravens could make a run at the AFC North division, as well as a third Super Bowl.
Why they won't: The writing was on the wall a year ago: the Ravens are old and broken. Joe Flacco and Justin Forsett could return and play at a high level, but banking on anything substantial from aging veterans Suggs and Smith Sr. would be a mistake.
Baltimore isn't the same team that won a title three years ago, either. They've lost massive leaders and their defense has slipped by the numbers (24th in points allowed in 2015). Unless that defense rises from the ashes, they'll be stuck trying to make up for it with an often mediocre offense.
Cleveland Browns
Why they will win: Robert Griffin III experiences a career revival, Hue Jackson's ingenious offensive system wakes up a sleeping giant in Cleveland and the defense is just good enough as the Browns rise up the ranks to everyone's surprise.
It's not all that crazy on paper, as RG3 was once a #2 overall pick and looked legit during a sensational rookie season. The Browns aren't without some talent, either, as a focused Josh Gordon can be elite and Duke Johnson has the talent to give Cleveland a dynamic threat in the running game.
If Cleveland's offense suddenly shows up and gives opponents fits, their defense can build confidence and eventually push them over the top.
Why they won't: Well, they're the Browns, for starters. Going off history, we truly could end there. But let's re-hash, anyways. Hue Jackson gives them yet another new head coach, management has again changed hands and Robert Griffin III (probably starter) gives them another new quarterback to hate.
The Browns don't do much of anything right, and if they're betting on RG3 suddenly being a solid pocket passer who makes good decisions, they're flat out insane. They don't have proven weapons around him, reinstated wide receiver Josh Gordon is bound to mess up again and their once rising defense fell back to earth in 2016. Barring a miracle, the Browns will remain at the bottom of the AFC North.
Indianapolis Colts
Why they will win: Super Bowl favorites a season ago, the Colts rally behind a healthy and dialed in Andrew Luck and make the title run many felt they should have in 2015.
Luck bouncing back is the catalyst here, as the Colts should be able to field one of the best offenses in the league, as their passing game strikes deep via T.Y. Hilton, Phillip Dorsett and Donte Moncrief and Frank Gore grinds defenses down on the ground. Indy will have an even better chance to make a Super Bowl run if head coach Chuck Pagano's defense finally shows up.
Why they won't: The problem here is that the expectations were just too high in 2015 and Luck turned back to his days of being a turnover machine. He's an elite talent, but he's not there yet and it's tough to say if he can further withstand both the punishment his shaky o-line gives up, as well as a severely under-performing defense.
Pagano has failed in terms of fielding a worthy defense and a four-game ban to defensive lineman Arthur Jones doesn't help matters. Indy still has serious potential on both sides of the ball, but their defense isn't there yet and Luck simply can't do it all by himself.
Houston Texans
Why they will win: Houston certainly proved they were on the upward swing in 2015, why they parlayed surprisingly solid play out of Brian Hoyer into a playoff appearance. The descent of the Indianapolis Colts didn't hurt, while J.J. Watt and the Texans defense also ended up being one of the nastiest groups in the league.
With Brock Osweiler in for the departed Hoyer, the ceiling can't be seen in Houston. The shackles could be even further off of the offense, as former Dolphins star running back Lamar Miller switches places with Arian Foster and first round draft pick Will Fuller potentially adds some more explosiveness to the passing game.
With Watt and the defense leading the way and the offense improved across the board, Bill O'Brien's crew could be on the verge of making a Super Bowl run.
Why they won't: Houston does feel somewhat like a team of destiny, but their fate is tied to some shaky groundwork. For one, Osweiler is an unproven operator under center, no one knows for sure if Lamar Miller can handle a full load and J.J. Watt's back surgery could render a once proud defense completely soulless.
With so many questions marks and the Colts likely turning things back around, Houston could be in for a huge disappointment in 2016.
Jacksonville Jaguars
Why they will win: Blake Bortles showed last year that he's well on his way to being the real deal, while the Jaguars came out of nowhere to be one of the league's more explosive offenses. With another season under his belt and Chris Ivory hopefully adding balance in the backfield, Jacksonville could very well be ready to take their game to the next level.
The kicker will be Gus Bradley's defense, which was stout even in 2015 and should only get better with Dante Fowler Jr. aiding the pass rush and stud rookie Jalen Ramsey helping the secondary. On paper, the Jags are on the rise and may finally have the tools needed to claim the AFC South division title and make a Super Bowl run.
Why they won't: They're still the Jaguars and the progress we've seen out of Bortles simply isn't enough. The fact is Bortles is good, but he still takes bad sacks and forces the issue too often. A whopping 23 turnovers in 2015 tell us Bortles still can't take care of the ball, while much of Jacksonville's success came late in games when they were coming from behind.
While Bortle and the passing game still have questions to answer, so does Jacksonville's running game and porous offensive line. The defense is close to being an elite unit, but as good as they are, it's unlikely they can overcome Jacksonville's erratic offensive behavior. They might eye a return to post-season play, but a title is still a few years in the distance.
Tennessee Titans
Why they will win: Marcus Mariota seemed wise beyond his years as a rookie in 2015 and he should naturally be the guiding light for a young, but talented Titans team. Tennessee has made some solid moves over the past couple of years, putting themselves in prime position as the rest of the AFC South is potentially regressing.
Mariota could thrive in his second season, as the Titans bolstered a lethargic ground game by trading for DeMarco Murray and drafting Derrick Henry, while a slew of talented receivers could spice up an improving passing game. A smashmouth offense that can pick you apart down the field, on paper, could make the Titans a very tough opponent to figure out. With the defense improving enough to keep them in games, Mariota could rise up and turn Tennessee into a feared unit.
Why they won't: Much like Andrew Luck in Indy, Mariota is tasked with doing a lot of the heavy lifting by himself. That's not something he's going to be able to manage, especially if Murray is the guy we saw in Philadelphia last year. The real issue is Tennessee's offensive line, however, as they let Mariota get sacked more than anyone in 2015 and despite improvements, that may not change.
Defensively, the Titans still have serious issues, as they finished 27th last year in points allowed and arguably didn't do enough to get a whole lot better. Tennessee's offense should be a little less predictable, but Mariota will be trying to do too much with too little and the Titans will likely struggle to even get to 8-8.
Denver Broncos
Why they will win: The Super Bowl 50 champion Broncos aim for a repeat in 2016, a feat they could actually accomplish if their elite defense maintains its previous form. Von Miller just got done signing a massive deal, which keeps him in town for good and also gives Denver the elite pass rushing presence they need to continue to mess with opposing offenses.
With Miller leading the charge, Denver's defense could be even better in 2016, and after masking a weak offense a year ago, the Broncos have a shot at repeating. Running back C.J. Anderson could take on the monster role he was supposed to handle last season, while Mark Sanchez plays game manager and finally pushes his team over the hump after getting to his third AFC title game.
Why they won't: Mark Sanchez may have had some success earlier in his career, but he simply hasn't been able to get it done over the last several years. Sanchez, Trevor Siemian or rookie passer Paxton Lynch are sure to run the Broncos offense, and the only place it can go is into the ground.
Denver's defense was amazing last year, but with Peyton Manning and Brock Osweiler gone, it may have to be one of the best units of all-time for Denver to repeat as champs. Repeating is never easy, but Denver's quarterback situation makes it virtually impossible.
Kansas City Chiefs
Why they will win: Kansas City stormed back from a slow start last year to end 2015 as one of the hottest teams in the league. They parlayed that awesome run into a playoff win and almost got past the New England Patriots in round two. With the Broncos regressing and the Pats possibly hurting with Tom Brady's ban, there is a very real argument for KC as the best team in the AFC.
If Justin Houston, Eric Berry and Jamaal Charles are all healthy/active and looking like themselves, the Chiefs are a couple of strong Alex Smith plays away from going the distance. Andy Reid has always been known for strong playoff teams that couldn't finish the job, but in Kansas City he has the talent on both sides of the ball to finally make it happen.
Why they won't: Alex Smith can manage games and get wins, but when it comes to crunch time, he hasn't been able to lift his team up. Throw in a second torn ACL to Jamaal Charles, and Eric Berry holdout and another injury to Justin Houston, and the Chiefs are very close to unraveling.
Before their insane run to close out the 2015 season, the Chiefs were a 1-5 team that was just about dead. Even if they don't start that slowly in 2016, it's possible all of the in-house distractions could again derail them.
Oakland Raiders
Why they will win: Oakland looks to be one of the young teams on the rise last year, as second-year quarterback Derek Carr looks primed to raise his game to another level. The good news is Carr is far from alone, as Amari Cooper and Michael Crabtree give him a stellar receiving duo and running back Latavius Murray heads a potentially solid rushing attack.
Khalil Mack and Oakland's ferocious defense is the real reason many believe the Raiders can take their game to new heights this year, however. With rookie safety Karl Joseph swooping in to make plays and help shore up the run defense, Oakland could be one of the fastest, nastiest units in the entire league. If all of their potential shows up on the field, we could be looking at a super run out of Oakland.
Why they won't: The harsh reality in Oakland is that, while talented, this team just isn't ready to produce at a high level on a consistent basis. The defense is getting better by the day, but a rookie safety picks up where the retired Charles Woodson leaves off and this is a unit that was still just 22nd in points allowed a season ago.
One reason why it may be difficult for the defense to take it to the next level is Oakland's lack of consistency on offense. Carr and co. offer flash and upside, but they also have come up remarkably short against top notch defenses. Latavius Murray has also struggled to produce out of the backfield at a high level, making a good team on paper appear a lot less reliable than some wish to admit.
San Diego Chargers
Why they will win: Mike McCoy gets one last shot to get the Bolts over the hump, and there's some logic supporting he makes it happen with the Broncos possibly taking a step back in the AFC West. A little breathing room is all it could take for Philip Rivers to get the job done, as San Diego looks to start hot and finish strong in 2016.
Their big ticket could be second-year running back Melvin Gordon, who flopped as a rookie but still has the makings of a top shelf feature back. With Rivers connecting with the likes of Keenan Allen and Antonio Gates through the air, San Diego brings a versatile offense to the table.
The Chargers will need to figure things out on defense, but the addition of stud rookie Joey Bosa could potentially give them what they need up front to make vast improvements on that side of the ball.
Why they won't: The Rivers and Gates connection can't be elite forever, Mike McCoy can't handle the rigors of running an NFL team, the defense isn't up to snuff and Gordon is every bit the bust we fear him to be.
It's a harsh reality to take in, but the Bolts have been mediocre at best under McCoy, largely due to a weak running game and a defense that has been erratic. Rivers can keep them in games, but San Diego is too good at blowing leads to trust, even in the weakened AFC West.
Washington Redskins
Why they will win: Kirk Cousins is out for blood after not getting his long-term deal, Matt Jones paces one of the best running games in the entire league and the Redskins defense leans on newcomer Josh Norman and becomes one of the nastiest units around.
Cousins is the key here, but with a sick supporting cast and a ton of money on the line, he should play well and get the 'Skins back to the playoffs for the second year in a row. If Washington's improving defense can take their game to an elite level, they can build off of last year's playoff appearance and give the Super Bowl a go.
Why they won't: Cousins of 2015 was a fluke, Matt Jones never figures out his ball control issues, Jordan Reed's shaky injury history shows up again and Josh Norman doesn't provide the huge difference Washington had hoped.
On paper, the Redskins look like a balanced, complete team. However, it's entirely possible they benefited from a weak division in 2015 and have already peaked.
New York Giants
Why they will win: Eli Manning is even better in year two of Ben McAdoo's system, Victor Cruz returns to form and New York's once proud defense finally is feared again.
Manning and co. flashed brilliance on the offensive end at times in 2015, and still sport arguably the league's top receiver in Odell Beckham Jr. If the running game can balance out the offense and New York's pass rush can find new life, the G-Men could be a fun Super Bowl sleeper.
Why they won't: Tom Coughlin's exit does more bad than good, Rashad Jennings still isn't the answer at running back and New York's defense isn't remotely close to being elite.
The offense can put up numbers, but Eli Manning and co. have been a soft, inflated unit for years now. It's tough to expect it all to suddenly change in 2016.
Dallas Cowboys
Why they will win: Tony Romo and Dez Bryant are healthy again, rookie rusher Ezekiel Elliott is the stud he was drafted to be and the Cowboys' defense turns into a menace once they get their stars back from suspensions.
A lot of things certainly need to break their way, but Dallas still has one of the best offensive lines in football and a ton of offensive talent. If their defense can offer some help, the 'Boys could make the title run many felt they would in 2015.
Why they won't: Romo's health bites the Cowboys yet again, Ezekiel Elliott can't escape his off field distractions and their defense never offers enough help.
There are a lot of problems for Dallas on the surface, as Elliott has to deal with domestic abuse allegations and the Cowboys could be without three key defensive players for much of the year due to suspensions. Even if Romo is healthy and on top of his game, the NFC East is getting better and there simply may be too much negativity surrounding this franchise.
Philadelphia Eagles
Why they will win: Doug Pederson is the right man for the job, Sam Bradford finally proves he's worth that #1 overall pick and Philly's active defense is even better than they were a season ago.
Pederson brings in balance and stability following a failed Chip Kelly tenure, which could have the Eagles quickly graduating from a gimmick to one of the scariest offenses in the league. With Pederson's guidance, the new-look Eagles rise up the NFC East and go do what Andy Reid never could – win a title.
Why they won't: Rookie head coaches don't win titles, Sam Bradford and Ryan Mathews can't be trusted and we probably end up seeing too much Carson Wentz.
The future is coming in Philly and there's reason to believe Pederson will produce a winner, but expecting it to arrive right away in year one is just unrealistic.
Green Bay Packers
Why they will win: Aaron Rodgers gets his mojo back with the return of Jordy Nelson, Eddie Lacy's weight loss bleeds into a career year and Green Bay's defense is just good enough en route to the team's fifth Super Bowl.
Nelson is the big key for Green Bay, as they badly missed his deep ball ability in 2015. Even without their best offensive weapon, they still nearly won the NFC North and almost got to the NFC title game. With Nelson back, the Pack should be, as well.
Why they won't: Nelson is never the same, Lacy's healthy transition doesn't stick and the PED allegations surrounding Clay Matthews and Julius Peppers swallow up a disappointing defense.
Everything going the wrong way probably doesn't stop Green Bay from their yearly trip to the playoffs, but a lot rides on Nelson and Lacy. If they're not elite, the Packers will experience yet another early playoff exit.
Minnesota Vikings
Why they will win: Mike Zimmer's defense joins the league's elite, Adrian Peterson enjoys one last career year and Teddy Bridgewater finally gets it.
The latter is the key piece, but a focused and consistent Bridgewater could make a viable playoff threat a true Super Bowl contender. Peterson and an able defense have the Vikes close, but if Bridgewater is the real deal, Minnesota will be as scary as anyone.
Why they won't: Peterson finally hits a wall, the Packers take back the division and Bridgewater's erratic play dooms another playoff run.
The reality in Minnesota is the Vikes probably need another monster season out of the 31-year old Peterson, but what if they don't get it? Injury or natural regression could derail "All Day", while Bridgewater taking his game to the next level is far from a lock. If either of those things become an issue, the Vikes won't be realistic title threat.
Detroit Lions
Why they will win: Calvin Johnson's retirement actually helps the offense, Detroit's defense is even nastier this year and Ameer Abdullah turns into a rushing sensation.
Losing Megatron doesn't seem like it'd be good news, but it actually could completely open up Detroit's offense. With CJ gone, Golden Tate, Marvin Jones and Eric Ebron have a chance to shine. No longer held back by tunnel vision, Matthew Stafford can take his game to another level.
With an improved running game and a fiery defense backing him, Stafford could shine during a deep playoff run.
Why they won't: Stafford doesn't adjust well to life without Megatron, Detroit still doesn't have a running game and the defense can't make up for a struggling offense.
Stafford looked great down the stretch in 2015, but he doesn't know how to win yet without Calvin Johnson. He also has always been awful on the road and still doesn't have the help he needs at running back. That equates to Stafford trying to do too much too often. That doesn't look like the recipe of a Super Bowl contender.
Chicago Bears
Why they will win: John Fox knows how to build winners, Jay Cutler continues to play within himself and a disrespected and overlooked Bears defense returns to dominance.
The latter may be a tough sell, but Cutler looked as good as ever last year and it was impressive how competitive Fox had the Bears playing despite some offensive injuries. If the defense can be just competent, Cutler could piece together a huge season with Alshon Jeffery and Kevin White at his disposal.
Why they won't: Cutler simply isn't a winner, Chicago's defense just isn't there yet and the NFC North has grown to be too competitive.
The Bears flashed promise at times in 2015, but they've been eroding on offense the past two years. Gone are the likes of Matt Forte, Brandon Marshall and Martellus Bennett, while it's arguable too much is being ask of young talents like Kevin White and Jeremy Langford. Chicago can keep the positive momentum going, but they don't have the makings of a true title contender yet.
Carolina Panthers
Why they will win: Carolina is still the class of the NFC, Kelvin Benjamin boosts the league's most potent offense and Josh Norman was a product of the Panthers' system.
Carolina suddenly dropping off out of nowhere may be tough to accept, especially with Benjamin returning and second-year receiver Devin Funchess possibly carving out a big role. With the defense still an elite group, the Panthers stick with their balanced approach and march through their schedule with their sights set on finishing what they started in 2015.
Why they won't: The Super Bowl hangover is in full effect, Kelvin Benjamin's return oddly disrupts the team's chemistry and losing Josh Norman cripples the defense.
It really is tough to bet against Cam Newton and co., but teams who lose Super Bowls tend to perform below expectations the following season. Not having a shutdown corner in Norman around hurts the defense, too, while everyone will be out to take down the defending NFC champs. The Panthers might be good again, but the target on their backs might be too big to overcome.
New Orleans Saints
Why they will win: Sean Payton and Drew Brees can't be kept down forever, Mark Ingram gives the Saints the balance they need and the defense finally isn't complete trash.
The latter is a stretch, but New Orleans can definitely score/move the ball at will. The real question will be if the Saints can solve their road woes. If they can find a way to get a game or more at home in the playoffs, they can suddenly be a tough out and seriously think about a title run.
Why they won't: Brees is still putting up numbers but regressing overall, the NFC South is as tough as ever and the New Orleans defense is still one of the worst in the league.
Defense is absolutely the main problem for the Saints, while their inability to win outside of the Superdome has forever been an issue. Drew Brees is also aging and despite having the system and weapons to go toe to toe with anyone, his struggles could continue. Overall, the Saints provide upside but lack substance or stability. A true Super Bowl threat, they are not.
Atlanta Falcons
Why they will win: Dan Quinn finally has his defense playing at an elite level, Devonta Freeman paces a dangerous ground game and Matt Ryan rises up to lead a consistent and deadly air attack.
Atlanta's defense is certainly not without talent, which promotes serious optimism that the defensive-minded Quinn could finally unleash his fury on the rest of the league. If that ends up being the case, a healthy running game and dialed in Ryan could push a formerly soft Falcons team over the top.
Why they won't: Quinn's defense isn't quite there yet, the offensive line isn't up to snuff and the Falcons remain one of the softer teams in the NFL.
Quinn has worked hard to beef up a weak ATL defense and change a soft team into a ferocious contender, but it's tough to say their evolution is done. It's also still tough to trust in Matt Ryan, who has been inconsistent at best ever since Tony Gonzalez retired.
Tampa Bay Buccaneers
Why they will win: A coaching change was just what the doctor ordered, Doug Martin's awesome 2015 wasn't a fluke and Jameis Winston is ready for the next level.
There is serious optimism in Tampa Bay, where Winston could be ready to take off with an established ground game and some elite passing game weapons around him. The lingering issue could be Tampa Bay's defense, but if the Bucs can control the tempo of games, they could be one of the most balanced teams in the league.
Why they won't: Winston is better but not yet elite, The Muscle Hamster shrinks down after getting paid and Tampa Bay's defense continues to be a problem.
Running backs often regress after career years and/or getting paid a ton of cash, so there is a very real fear that Martin won't be able to carry the load like he did a year ago. If that's the case, Winston could be tasked with doing too much and inevitably drown in a sea of turnovers. Even if that doesn't happen, the Bucs defense could fail to take a positive step forward, leaving Winston and co. to do all of the heavy lifting themselves.
Seattle Seahawks
Why they will win: Pete Carroll has built a yearly title contender, Russell Wilson is an unstoppable menace and Seattle's defense is still among the league's elite.
None of that is tough to buy, as the Seahawks were still a tough weekly out in 2015 and have played in two of the last three Super Bowls. There is no doubt Seattle will be a playoff contender again, but if they can effectively replace the retired Marshawn Lynch and their defense returns to form, they could once again chase the Lombardi Trophy.
Why they won't: Seattle's time has passed, the rest of the NFC has come to play and the loss of Beast Mode will hit the team worse than management thinks.
The Seahawks are still one of the deepest teams in the league, but the NFC is no longer a conference they can walk all over. They have a real problem inside their own division in the Arizona Cardinals, while the Green Bay Packers and Carolina Panthers are two more headaches they won't want to deal with.
Arizona Cardinals
Why they will win: Carson Palmer comes back to avenge his NFC title game collapse, David Johnson is ready to be a star and Chandler Jones fuels a Card's defense that is better than ever.
Palmer can't love the idea of imploding in the NFC title game being his lasting memory in Arizona, while he has the offense and defense of a title contender. With that collapse in the back of his mind, Palmer sets forth on another Super Bowl run with David Johnson and an elite defense backing him every step of the way.
Why they won't: The best of Palmer has come and gone, David Johnson isn't ready for a starting role and Tyrann Mathieu doesn't regain his previous form.
Carson Palmer is no spring chicken, which could allow age, injury, natural regression or even last year's harrowing NFC title game performance to bring him down. The Cardinals won't be able to survive a Palmer face plant, but he can't just avoid a total meltdown, either. The guy has to be elite.
Even if Palmer remains the guy he was a year ago, David Johnson has yet to prove he can be a weekly starter and consistently produce at a high level. Throw in defensive back Tyrann Mathieu's second ACL tear, and the defense could even be in trouble in 2016. The evidence of a total free fall isn't damning, but Arizona might not be the Super Bowl lock some seem to think.
Los Angeles Rams
Why they will win: Jeff Fisher has pieced together an elite defense that can carry rookie passer Jared Goff and Todd Gurley does the rest by becoming the league's best running back.
Obviously this one is a reach, but Fisher has been to the big game, the Rams do have a borderline elite defense and Gurley is already the real deal. Rookie quarterbacks don't often find serious playoff success, but if Gurley and the defense are good enough, perhaps Goff can join the select few that have.
Why they won't: Fisher hasn't been to the playoffs in years, rookie quarterbacks don't go to the playoffs usually and Gurley may see more 8-man fronts than anyone in the entire league.
The odds are stacked against the Rams for sure, as Goff will at best be a game manager in his first NFL season. There is that little annoying fact of Fisher producing mediocre teams far more than elite ones, too, while Gurley can't dominate the league without his passing game keeping opponents honest. The Rams might be good and maybe even sniff a playoff spot, but a title run isn't in the cards.
San Francisco 49ers
Why they will win: Chip Kelly really is an evil genius, Colin Kaepernick fits into his system beautifully, Carlos Hyde has a career year and the Niners defense is back.
None of this feels overly realistic, but Kap is athletic enough to shine in Kelly's system and San Francisco doesn't have some defensive talent to work with. Then again, if Kelly's system works like it should, how the defense fares probably wouldn't matter.
Why they won't: Blaine Gabbert wins the starting quarterback job, the defense is much and Kelly proves again he's not long for the NFL.
This is unfortunately where the Niners are probably headed, at least in Kelly's first go around. They have very little beyond Torrey Smith at receiver, their defense isn't consistent enough to be trusted and their quarterback situation is shaky at best. The 49ers could be better under Kelly's direction in 2016, but a jump to the Super Bowl is too much to ask.
Who Wins Super Bowl 51?
With Peyton Manning retired and so many big name suspensions being handed out, 2016 has the NFL looking as wide open as ever.
There are a lot of viable Super Bowl 51 contenders this year, but at some point the teams with the best defenses will separate themselves from the pack. In the AFC, we're looking at the Patriots, Chiefs, Texans and Broncos as serious title candidates.
Of that AFC grouping, Denver and Houston don't seem overly viable. The Broncos just don't have the quy at quarterback to instill much faith, while J.J. Watt's back issue and questions surrounding Houston's offense make them tough to trust.
That leaves the Pats and Chiefs. If New England falls into a hole, Kansas City might have a real shot. However, their offense isn't always reliable and their defense wasn't able to keep the Pats under wraps in the playoffs. We could also throw in the Steelers here, but their defense still isn't there yet and they have some big issues with Bryant gone for the year and Bell missing the first four games of the year.
That leaves the Patriots and Tom Brady's wrath when he returns in week five. Even if New England gets off to a slow start, Brady should come back with a vengeance. The rest of the league should be scared.
The Pats are just one side of the 2016 Super Bowl story, of course.
For the NFC, the serious contenders appear to be the Packers, Panthers, Seahawks, Cardinals and perhaps the Vikings and Cowboys. Minnesota doesn't have the offensive stability to be taken seriously, though, while Dallas doesn't defend and also has a ton of suspensions to work through.
That leaves us with four truly viable threats in the NFC. Arizona, Seattle and Carolina probably trump Green Bay, just because the Packers don't touch them defensively and all three of those teams can also put up points.
Carolina could be at serious risk of suffering through a Super Bowl hangover, too, so this feels like it's down to the Cards and Seahawks. Going with Seattle is easy enough, but Arizona has edged them out lately and Carson Palmer and co. have unfinished business.

Our Pick
It really feels like we're headed for a Patriots vs. Cardinals Super Bowl. If we get there, one very interesting story-line will be Chandler Jones facing off against his former team. Blessed with the better defense and just as much offensive upside, we like Arizona to pick up where they left off in 2015 and get their first ever Lombardi Trophy. At +1200 odds on Bovada, they're clear contenders and also offer a solid payout.
><