Hide Bonus Offers
| | | | | |
| --- | --- | --- | --- | --- |
| #1 | Bovada Sports | 50% Up To $250 | Visit Site | Bovada Sports |
| #2 | BetUS | 125% Up To $2,500 | Visit Site | BetUS |
| #3 | MyBookie | 100% Up To $1,000 | Visit Site | MyBookie |
| #4 | Everygame | 100% Up To $500 | Visit Site | Everygame |
| #5 | BetOnline Sports | 60% Up To $1,000 | Visit Site | BetOnline Sports |
2016 NFL Draft: Mocking Day Two With Analysis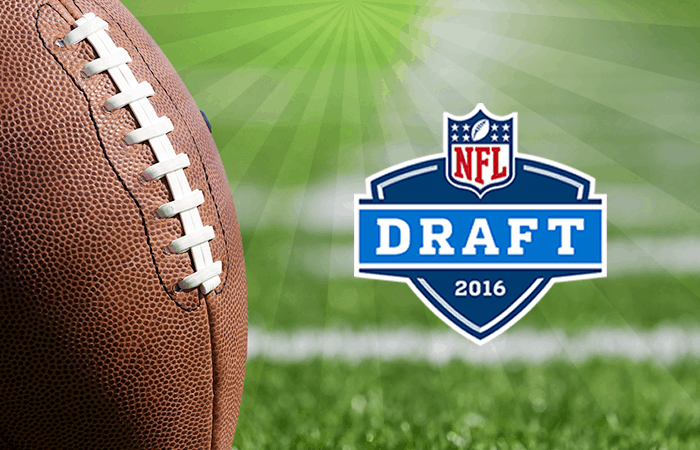 The 2016 NFL Draft started out predictably, with Jared Goff and Carson Wentz going first and second overall, respectively. Immediately after that, things got crazy.
Right away with the third pick, the San Diego Chargers tossed a curveball by selecting Joey Bosa to be a 3-4 outside linebacker (seriously?), the Dallas Cowboys took the running back plunge with Ezekiel Elliott and Jalen Ramsey slid to the Jacksonville Jaguars.
Trades, free falls and few reaches dominated the rest of round one, while the slide of stud linebacker Myles Jack may have owned the night. Heading into day two, Jack headlines the drama going into rounds two and three, as he's without a doubt the most talented player on the board.
Will questions surrounding his surgically repaired knee have him sliding even further, and how will the rest of day two shake out? Join us as we run through the next two rounds and mock how it may unfold:
Round 2
Tennessee Titans – Kendall Fuller, CB, Virginia Tech
Tennessee addressed their o-line in round one and now it's time to beef up their defense. Their secondary undoubtedly requires the most re-working and Fuller was arguably a first round prospect. His main knock is his average size and he also tends to take unnecessary gambles. He's otherwise an instinctful corner who knows how to work around the ball. Tennessee shoots for a ball hawk here and just might get it.
Cleveland Browns – Jason Spriggs, OT, Indiana
Cleveland appears to be meshing need with upside after what we saw in round one, so why not go grab an athletic tackle, too? Spriggs is probably the best blocker on the board, plus he oozes upside. With Joe Thomas halfway out the door and the rest of the o-line needing help, chasing a quality offensive lineman makes sense here. That being said, it's impossible to rule out Myles Jack or a quarterback kicking off round two.
Dallas Cowboys – Kevin Dodd, DE, Clemson
Dallas passed on a stud pass rusher to land their franchise running back, but they still desperately need help in getting after the quarterback. Dodd isn't exceptional, but he displays great power and could have tremendous upside if he can keep his motor going. With Greg Hardy gone and both Randy Gregory and Demarcus Lawrence scheduled to begin 2016 on suspension, defensive end isn't a position the Cowboys can forget about.
San Diego Chargers – Vonn Bell, S, Ohio State
Offensive line is a key need as well, but the Chargers should continue their defensive trend. I still don't know that I love Joey Bosa as a stand up outside rusher in their 3-4, but they might as well commit and get him and the rest of the defense some help out back. With Eric Weddle gone, landing an impact safety is extremely important. Bell lacks elite size or physicality and may not help the Bolts' run defense, but he's without a doubt an asset in pass coverage.
Baltimore Ravens – Reggie Ragland, ILB, Alabama
Myles Jack's fall could end here, but why take a huge risk when Ragland is still on the table? Ozzie Newsome is wiser than most and he knows that the risk isn't worth it when such a stable presence like Ragland can be had. Baltimore has one inside 'backer figured out, but they still need one more and Ragland fits the bill as a guy who can come in and do everything right.
Kansas City Chiefs – Noah Spence, OLB, Eastern Kentucky
Outside linebacker isn't a huge need when you look at the big picture, but Justin Houston is hurt and may miss a good chunk of time in 2016. The Chiefs need to protect their elite defense from sulking in the pass rush, and the uber talented Spence looks like a good way to do that. He's got some off field concerns, but he's a top-10 talent and a perfect fit as a 3-4 edge rusher.
Jacksonville Jaguars – Myles Jack, LB, UCLA
Jacksonville probably heavily considered Jack in round one, but it's amazing that they could wait this long and still get the linebacker they covet. Their guys are getting a bit long in the tooth at linebacker, so nabbing the draft's top talent at the position is quite the move. The nice thing is they're fine enough here to bring Jack along slowly, too.
Tampa Bay Buccaneers – Emmanuel Ogbah, DE, Oklahoma State
The Bucs were atrocious against the pass and middling at getting after the quarterback in 2015, so they got a stud corner in round one and turn around and get a defensive end here. Ogbah is powerful around the edge and has the size and demeanor to excel with his hand in the dirt. The Bucs fill a big need here and just like that, could have a dramatically improved defense in 2016.
New York Giants – Cody Whitehair, OG, Kansas State
New York was suspect across the entire offensive line in 2015, so getting some extra help is pretty key. Whitehair is without a doubt the top guard on the board and should help right away both in clearing running lanes and protecting Eli Manning.
Chicago Bears – Xavien Howard, CB, Baylor
Chicago has one stud corner in Kyle Fuller at the moment but still needs to make things happen to solidify their secondary. Howard fits the bill as a solid complement and could go a long way in shoring up the Bears' pass defense.
Miami Dolphins – Derrick Henry, RB, Alabama
It's anyone's guess exactly what kind of a running back Miami covets, but their desire to bring in C.J. Anderson earlier this offseason suggests something closer to a masher. Henry has question marks as a receiver and every down back, but there's no doubt he can bruise defenders and move the pile.
Tennessee Titans – T.J. Green, S, Clemson
The Titans need to keep adding pieces to a defense that struggled badly against the pass at times in 2015. Corner and safety help is crucial and they get started with a very balanced safety in Green here.
Oakland Raiders – Mackenzie Alexander, CB, Clemson
Oakland grabbed Charles Woodson's successor at safety in round one and this time around they keep rebuilding their secondary by grabbing a corner that can come in and compete for a starting job from day one. Their secondary could be suspect in 2015, but with two moves, they could be much improved come next season.
Tennessee Titans – Jarran Reed, DE, Alabama
Tennessee keeps filling holes here by grabbing a defensive end for their 3-4 base defense. Reed lacks elite pass rushing chops, but he has untapped upside and is already a major force against the run. He can rotate in initially and once he improves in pursuit he can nab a starting job outside.
Detroit Lions – A'Shawn Robinson, DT, Alabama
Haloti Ngata isn't a long-term answer and the Lions continued to miss Ndamukong Suh and Nick Fairley inside last year. They need to make sure their run defense doesn't waver and bringing in the physical Robinson goes a long way in making sure that doesn't happen.
New Orleans Saints – Connor Cook, QB, Michigan State
Some are going to want to see Cook fall further and it's possible Cleveland snags him to start round two, but something tells me he's destined for New Orleans. Drew Brees is 37 and dealing with contract issues, so it's possible the Saints wisely begin to look to the future.
Indianapolis Colts – Kamalei Correa, OLB, Boise State
The Colts parted ways with Bjoern Werner and Robert Mathis isn't getting any younger. It's high time they bring new blood into their 3-4 defense and Correa has the speed and explosiveness to be a terror on the outside.
Buffalo Bills – Andrew Billings, DT, Baylor
The Bills have one of the best defensive tackles in the game, but next to him is an aging and regressing Kyle Williams. Depth is nice to have, but Billings is the future next to Marcell Dareus, as well.
Atlanta Falcons – Hunter Henry, TE, Arkansas
Atlanta still hasn't found a long-term replacement for Tony Gonzalez at tight end and Henry is right within their reach here in round two. He needs work as a blocker, but the size and athleticism is there for him to develop into a major offensive weapon.
New York Jets – Christian Hackenberg, QB, Penn State
I'll listen to arguments against Hackenberg being a franchise passer, but few can forget his killer freshman season or the fact that he has all the tools to win. Still stuck without a franchise passer, Gang Green could decide he's worth the risk.
Houston Texans – Nick Martin, OG, Notre Dame
The Texans need to keep adding positive pieces to the offense to help new franchise passer Brock Osweiler, and making sure their o-line is in tip top shape certainly can't hurt. Martin has the ability to play all three positions inside, giving Houston killer value in round two.
Washington Redskins – Su'a Cravens, LB, USC
Washington is really beefing up their defense this year, as they signed Josh Norman recently and are now getting one of the more versatile linebackers in the draft. Cravens can cover, tackle and blitz at a level that makes him a dangerous find in the second round.
Minnesota Vikings – Sean Davis, CB, Maryland
Minnesota is fairly set in the secondary, but they could still use another quality corner with Terrance Newman about to turn 38. Davis provides awesome depth for now, but could eventually develop into a key starter.
Cincinnati Bengals – Sterling Shepard, WR, Oklahoma
Wide receiver is a huge need for Cincy, who watched as both Mohamed Sanu and Marvin Jones exited in free agency. Shepard gives A.J. Green a nice running mate and should give Andy Dalton one of the more explosive passing targets he's ever had.
Seattle Seahawks – Zack Sanchez, CB, Oklahoma
Seattle never dislikes adding quality defensive talent, while Richard Sherman is only getting older and Byron Maxwell left last offseason. Sanchez is a stable corner who could add depth immediately and eventually start opposite of Sherman.
Green Bay Packers – Jordan Jenkins, OLB, Georgia
Green Bay badly needs linebacker help, whether it be sliding someone into the middle to move Clay Matthews back outside, or vice versa. Here they take a chance on Jenkins, who can provide a killer rush from the outside and if Green Bay so chooses, allows them to prolong Matthews' impact on the inside.
Pittsburgh Steelers – Le'Raven Clark, OT, Texas Tech
Ben Roethlisberger always gets knocked around too much, so the Steelers should jump all over Clark if he falls this far. Blessed with amazing foot quickness and athleticism to go with strong size, Clark could work on the left but should be an absolute menace on the right.
Kansas City Chiefs – Jihad Ward, DE, Illinois
The Chiefs add to a position of strength, as they build up their base 3-4 with a healthy defensive end. Ward gives KC a solid run defense presence that has the ceiling to develop into a quality pass rusher. He won't turn heads from day one, but should provide depth and could develop into a starter.
New England Patriots – Chris Jones, DT, Mississippi State
New England has lost a lot of bodies on their defensive line in the past couple of years, so they dip back into the draft to find a stable presence that could potentially man the middle. Jones is a total brute who has the size, length and power to eat up the run and open space up for blitzes.
New England Patriots – Devontae Booker, RB, Utah
The Pats have no clue what they're doing at running back going into 2016, as they have a lack of talent and/or too many injuries to deal with. Fresh blood at the position would be a good move, while Booker's shiftiness and versatility won't go wasted in their offense.
Carolina Panthers – Shon Coleman, OT, Auburn
Carolina badly needs to beef up their pass protection after Cam Newton got brutalized at times in 2015 – especially in the Super Bowl. Coleman is talented enough to go quite a bit higher, so they're getting a major steal if he's here at 31.
Denver Broncos – Austin Johnson, DT, Penn State
Denver adds to a strength, as they still have a good, deep defensive line, but did lose Malik Jackson and Terrance Knighton in back to back offseasons. Adding another hulking body like Johnson can't hurt their run defense.
Round 3
Tennessee Titans – Michael Thomas, WR, Ohio State
The Titans should get Marcus Mariota a new weapon to play with. He does have a few quality options, but most are inconsistent or injury risks. Thomas gives them a quality possession guy who can spring big plays.
Cleveland Browns – Cardale Jones, QB, Ohio State
This might be a reach, but Jones is a Buckeye and was once touted as a potential #1 overall pick. With RG3 and Josh McCown in town, Jones wouldn't be asked to do anything right away, yet the Browns can sleep easy knowing they got a high upside passer in round three.
San Diego Chargers – Willie Beavers, OT, Western Michigan
The Bolts seem to always need offensive line help, so they get some by adding Beavers, who is quick and athletic enough to be tried out anywhere on their shaky o-line.
Dallas Cowboys – Miles Killebrew, S, Southern Utah
Dallas continues to have issues with their pass defense, so spicing things up at safety with the talented Killebrew makes some sense.
San Francisco 49ers – Dak Prescott, QB, Mississippi State
Colin Kaepernick figures to stay in town and Blaine Gabbert is an option, but what about the future? Chip Kelly gets another athletic, high upside passer that could run his system if he develops correctly.
Jacksonville Jaguars – Shilique Calhoun, DE, Michigan State
Jacksonville improved in the pass rush in 2015 but the trick is to keep getting better. Getting a healthy Dante Fowler back will do wonders, but why not add another talented body that can get after the quarterback?
Baltimore Ravens – Jonathan Bullard, DT, Florida
The Ravens make their living in the trenches, so they continue to get hungry space-eaters up front. Bullard is a bit of a steal, too, as he can fit perfectly on the outside as both a run stopper and pass rusher.
New York Giants – Tyler Boyd, WR, Pittsburgh
The G-Men have Odell Beckham Jr., and then one? A hopefully healthy Victor Cruz? They need to get Eli Manning another reliable weapon and the speedy Boyd should do the trick.
Chicago Bears – Kenneth Dixon, RB, Louisiana Tech
Matt Forte is gone and it seems like the Bears do love them some Jeremy Langford, but what if he isn't who they thought he was? Dixon feels like a complete back and could be an NFL starter, but at the very worst he gives them a change of pace and some depth.
Miami Dolphins – Will Redmond, CB, Mississippi State
Miami seems largely set defensively at this point, but their secondary could use at least one more playmaker on the back end. Redmond should be able to step in and push the competition right away.
Tampa Bay Buccaneers – Braxton Miller, WR, Ohio State
Miller is a very interesting prospect, as he's raw and inexperienced, but has solid size and speed for days. It will take time for him to pay off, but in round three this is a nice spot to grab Vincent Jackson's future replacement.
Oakland Raiders – Jerald Hawkins, OT, LSU
Oakland has remarkably few holes to fill, but they can still add depth and competition to a touch and go o-line. Hawkins is probably one of the best pass protecting tackles left, as he possesses outstanding size, length and footwork.
Cleveland Browns – Rashard Robinson, CB, LSU
Justin Gilbert was a total bust, as we remember, so the Browns need to add more help at cornerback. Robinson isn't a lock to be any better, but he has terrific size and cover skills and is worth the gamble in round three.
Cleveland Browns – Scooby Wright III, LB, Arizona
Wright is pure energy. He doesn't have amazing size and seems to be more of an over achiever than anything else, but he ignites a defense with big plays and seems to always be around the ball. Cleveland could use a maximum effort guy like that, although finding the ideal spot to slot him in could be difficult.
New Orleans Saints – KeiVarae Russell, CB, Notre Dame
New Orleans had one of the worst pass defenses in the league last year, so adding cornerback depth that can develop into starting talent is key. Russell provides that talent and upside.
Philadelphia Eagles – D.J. White, CB, Georgia Tech
Philly has seen a lot of changes in their secondary, and while they're on the right track, they could still use another fresh body or two to throw into the mix. White is an elite cover man who can make up for average speed.
Buffalo Bills – Charone Peake, WR, Clemson
Percy Harvin's retirement has opened the door to a need at wide receiver for the Bills, who need to make sure Tyrod Taylor has enough weapons to succeed. A totally different weapon than Harvin, Peaker could give Buffalo a nice outside receiver with a scary blend of size and speed.
Atlanta Falcons – Joshua Perry, LB, Ohio State
Atlanta needs to keep adding pieces to help improve their defense and Perry is as good as any this late in the draft. Finding his exact spot right away could prove difficult, but he has the size and hard-hitting physicality to be used in a number of spots.
Indianapolis Colts – Cyrus Jones, CB, Alabama
Indy needs to keep re-tooling their shaky defense, and one spot that needs help is corner. Jones might not be able to be counted on as a stud starting corner, but he can offer serious help in nickel and dime packages.
New York Jets – Pharoh Cooper, WR, Southern Carolina
Cooper is a bit of a one-trick pony, as he has great speed and is reliable, but doesn't offer amazing size or an enhanced route tree. That being said, both of New York's top receivers are aging and they need to invest in a quality talent for the future.
Washington Redskins – Alex Collins, RB, Arkansas
Alfred Morris is gone and all that's left is Matt Jones at running back. Jones can probably handle the full rushing load, but he still needs someone to give him a breather. The talented Collins can be that guy.
Houston Texans – Deion Jones, LB, LSU
Houston seems largely set on offense at this point, so it's on to defense, where linebacker remains a big need. Brian Cushing is aging and struggles in coverage, so bringing in a more light-footed guy like Jones could at least help the rotation.
Minnesota Vikings – Justin Simmons, S, Boston College
Minnesota has one safety spot spoken for, but the other one seemingly always remains up in the air. That defensive backfield is so close to perfection, and could really take things to the next level if Simmons pays off.
Cincinnati Bengals – Carl Nassib, DE, Penn State
Nassib is not a great athlete and is fairly raw, but he has awesome size and strength and certainly knows how to get after the quarterback (led the nation with 15.5 sacks last year). The Bengals can use a rotational end at the very worst, so there could be a spot for him.
Green Bay Packers – Jaylon Smith, LB, Notre Dame
Smith is an awesome talent and could go a lot earlier, but injury questions could cause him to free fall. Round three has to be as far as he goes, while Green Bay's need for linebacker help makes him a guy to target.
Pittsburgh Steelers – Jalen Mills,S, LSU
The Steelers added some corner help but continue to re-think safety. Mills faced elite competition at LSU and has the size and speed to develop into a very deadly safety.
Seattle Seahawks – Jordan Howard, RB, Indiana
Marshawn Lynch is likely to stay retired, leaving Seattle with precious little reliable talent at running back. In comes Howard, who has the size and toughness the Seahawks look for in their lead rushers.
Kansas City Chiefs – LeShaun Sims, CB, Southern Utah
Corner remains a pretty big need for the Chiefs after losing some talent in free agency. Sims didn't always face elite competition and leaves something to be desired in run support, but otherwise should be of great use thanks to good size and quality cover skills.
New England Patriots – Vadal Alexander, OG, LSU
New England continues to add talent in the trenches, as they badly need to shore up an offensive line that has gotten increasingly shakier by the year.
Arizona Cardinals – Harlan Miller, CB, Southeastern Louisiana
Patrick Peterson is all alone at corner in Arizona, so the Cardinals would be wise to get him some extra help. It's fair to say there is no lock at this point in round three, but Miller at least can mirror receivers and hold his own in coverage. Strength and consistency will be his key drawbacks initially.
Carolina Panthers – Tavon Young, CB, Temple
Carolina said goodbye to stud corner Josh Norman just a week ago, so it stands to reason that they will need more help in the secondary. Young is very small and lacks the size you want, but his ball skills and effort are elite.
Seattle Seahawks – Joe Dahl, OG, Washington State
Seattle gave up too many sacks and struggled to run the ball at times in 2015. Nothing sexy here, just grabbing a balanced guard prospect that can improve depth and competition.
Detroit Lions – Malcolm Mitchell, WR, Georgia
Calvin Johnson is gone and all that is left is Golden Tate, so the Lions need to think long and hard about adding a solid wide receiver prospect. Truth be told, they should add one a lot earlier than round three, but Mitchell's propensity for explosive plays makes him a nice find.
New England Patriots – Kyler Fackrell, OLB, Utah State
The Pats are back with their last pick of round three and Fackrell needs to be in their sights. They traded away Chandler Jones and could really use a rush linebacker. Fackrell fits the bill and also brings some versatility to the table.
Seattle Seahawks – Yannick Ngakoue, DE, Maryland
Seattle parted ways with Bruce Irvin so they're in need of another pass rusher as 2016 approaches. It's debatable precisely what role Ngakoue would be handed, but he knows how to get after the quarterback, that much we know.
Denver Broncos – Juston Burris, CB, N.C. State
The final pick of day two goes to Denver, who could use some corner depth with some of their best cover men aging. Burris could help out right away thanks to great size and the ability to effectively play both press and man coverages.