Hide Bonus Offers
| | | | | |
| --- | --- | --- | --- | --- |
| #1 | Bovada Sports | 50% Up To $250 | Visit Site | Bovada Sports |
| #2 | BetUS | 125% Up To $2,500 | Visit Site | BetUS |
| #3 | MyBookie | 100% Up To $1,000 | Visit Site | MyBookie |
| #4 | Everygame | 100% Up To $500 | Visit Site | Everygame |
| #5 | BetOnline Sports | 60% Up To $1,000 | Visit Site | BetOnline Sports |
2016 NFL Draft: Full First Round Mock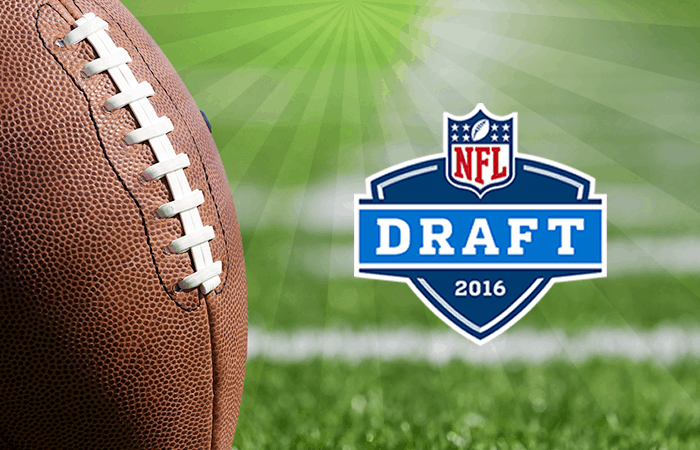 The anticipation for the 2016 NFL Draft has rivaled past drafts, largely because a lot of those crazy pre-draft trade rumors have actually come to fruition. The Tennessee Titans and Cleveland Browns, former holders of the #1 and #2 picks in this year's draft, already traded down to the Los Angeles Rams and Philadelphia Eagles, respectively.
For all intents and purposes, the first two picks are set in stone and the beginning of this year's draft is pretty decided. Barring any other crazy draft trades, we can start to map out how the remaining first round picks work out. Join us as we take a tour of the first round and mock how we think things could turn out when NFL teams go live on April 28th:
Los Angeles Rams – Jared Goff, QB, California
The Rams were somehow competitive in 2015, despite once again not having a real answer under center. After trading up to the top spot, now they can get one. It's truly been years since the Rams had a competent quarterback to lead their offense and it hasn't been an exciting offense through the air since Kurt Warner and Marc Bulger were producing at a high level. Goff played at an extremely high level at Cal, where he faced stiff competition and put up solid numbers. More proven and polished in comparison to Carson Wentz, he's the easy call at #1 overall.
Other options: Carson Wentz – QB
Philadelphia Eagles – Carson Wentz, QB, North Dakota State
The Eagles do have Sam Bradford and Chase Daniel in place, but getting Wentz isn't overkill. They have publicly stated they need a franchise passer and they've made sure everyone knows that is precisely the position they're targeting here. Why? Doug Pederson wants his guy, but more importantly, Bradford's history of health concerns leave him untrustworthy and Daniel is backup fodder, at best.
Wentz faced weak competition at North Dakota State and isn't quite as polished as Goff, but he may have the edge in athleticism and overall upside. This is the guy the Eagles want and they'll get him at the two spot after trading up with the Cleveland Browns.
Other options: Jared Goff – QB
San Diego Chargers – Jalen Ramsey, CB/S, Florida State
It's still possible the Bolts trade down, but there are several interesting options at the top here that are still available even after the top two quarterbacks are off the board. San Diego can use pass rush help, offensive line upgrades and a replacement at safety with Eric Weddle gone. If we're talking need and talent, Ramsey fits the bill at third overall.
Other options: Laremy Tunsil – OT, Joey Bosa – DL, Trade Down
Dallas Cowboys – Joey Bosa, DE, Ohio State
It seems like the public always thinks they know what Jerry Jones is going to do, and then he does the opposite. Dallas absolutely is in play to take the plunge on Ezekiel Elliott here (and they might), but with Greg Hardy gone and both Demarcus Lawrence and Randy Gregory starting 2015 on suspensions, the Cowboys need to chase a bigger problem: their pass rush.
The reality is Dallas doesn't know for sure what the future holds for either of their top two defensive ends, and in 2015 specifically, they'll be starting with spare parts. Bosa gives them a high motor, athletic end that can get after the quarterback and in time hopefully improve against the run. Elliott would be a fine pick and is the bigger splash, but the Cowboys badly need a quality defensive end if their defense is going to improve.
Other options: Ezekiel Elliott – RB, Paxton Lynch – QB, Trade Down
Jacksonville Jaguars – Myles Jack, LB, UCLA
Sometimes there are players who are too talented to slide. Last year it happened to Todd Gurley and he ended up paying off in a big way. I think that is what happens with Jack, who certainly has a big red flag with a surgically repaired knee, but has the talent to be an elite sideline-to-sideline presence.
One of Jacksonville's biggest needs is a linebacker, where they're only getting older and slower. Jack is a risk, but he's one worth taking that could improve their defensive IQ and run defense right away.
Other options: Laremy Tunsil – OT, Trade Down
Baltimore Ravens – Laremy Tunsil, OT, Ole Miss
Tunsil is a tough guy to let slide out of the top five picks, but as talented as he is, need takes precedence usually early on in drafts. The Ravens absolutely need help protecting Joe Flacco, though, so if he can last to the six spot, I think that's where he's going. He's undoubtedly the top offensive tackle prospect in this draft and has the athleticism and power to work on either the left or right side of Baltimore's o-line.
Other options: – Ronnie Stanley – OT, Joey Bosa – DL, DeForest Buckner – DL
San Francisco 49ers – DeForest Buckner, DL, Oregon
Chip Kelly's first draft could leave the door wide open to any number of trades or odd picks, but if he stays put even he has to know the Niners need to bolster their once proud defensive front. With Bosa off the board, Buckner is the next guy up as a stud d-line prospect that could be a potential game-changer. In terms of sheer talent and upside, it's highly arguable Buckner is the top pure talent in the entire draft. It doesn't hurt that he hails from Oregon – Kelly's old college stomping grounds.
Other options: Paxton Lynch – QB, Ronnie Stanley – OT, Trade Up
Cleveland Browns – Ronnie Stanley, OT, Notre Dame
Cleveland has some decisions to make, as they certainly could use a quarterback of the future, but they also have tons of issues on both sides of the ball. A splash for a franchise rusher or receiver is in the cards, too, but as always, building through the trenches is usually a good spot to start. With Joe Thomas likely on the way out eventually, the Browns need to grab a stud tackle and make sure they're good to go on their offensive line.
Other options: Paxton Lynch – QB, Trade Down
Tampa Bay Buccaneers – Leonard Floyd, DE, Georgia
Tampa Bay had two huge problems a year ago – they couldn't stop the pass and they were only a middling unit (14th in the league) when it came to sacking the quarterback. The two issues work hand in hand, and if the Bucs want to improve their pass defense, they must start inside the trenches.
That needs to demand a defensive end upgrade, and Georgia's Floyd makes a ton of sense as a guy who could come in and give them a boost in pursuit on the outside of their defensive line. The Bucs have already been linked to Floyd and due to his versatility, he can potentially be used on the line or standing up as a rush linebacker. Either way, he'd help fill a huge need.
Other options: Ronnie Stanley – OT, Shaq Lawson – DL, Vernon Hargreaves – DB
New York Giants – Shaq Lawson, DE, Clemson
Pass rush help is always needed, and that's certainly the case in NYC. Much like the Bucs, New York was abysmal against the pass (try dead last), while they were just 30th in the league in sacks. Needless to say, the righting of the defensive ship has to start up front, where the G-Men really have overpaid talent that has some question marks. JPP and Olivier Vernon could easily work out, but adding some studly talent in Lawson would give them some insurance, as well as a nice long-term option to groom. Depth is what ruled in New York's elite defenses when they were winning titles, too, so it makes sense to try to get back to that.
Other options: Leonard Floyd – DL, Laquon Treadwell – WR, Ronnie Stanley – OT
Chicago Bears – Vernon Hargreaves, CB, Florida
The Bears are another team that badly needs to keep filling holes defensively, and their case is somewhat special with John Fox and co. still putting the finishing touches on a 3-4 base transition. They really don't have the necessary pieces in their pass rush, but at this point they're probably better served grabbing an elite cover man, rather than reaching for pass rush help. That leaves Hargreaves, who needs to bulk up and avoid getting pushed around easily, but has the natural athleticism and speed to be an elite cover man eventually. Pairing him with Kyle Fuller would give the Bears a cornerback duo to get excited about.
Other options: Ronnie Staley – OT, Eli Apple – DB, Darron Lee – LB
New Orleans Saints – Sheldon Rankins, DT, Louisville
The Saints can go in a number of directions, as they need help on the outside of their pass rush, still need help on the o-line and could even draft the heir apparent to Drew Brees. They do need help up front on defense though, too, and the beefy Rankins is going to be tough to pass on. The reality is the Saints have very little in the form of a pass rush beyond Cameron Jordan and Rankins combination of power and burst would be a welcome addition.
Other options: Jack Conklin – OT, Emmanuel Ogbah – OLB
Miami Dolphins – Ezekiel Elliott, RB, Ohio State
Perhaps I'm forcing this because it makes too much sense, and maybe Dallas makes this completely impossible as early as the fourth spot. Perhaps, but there is logic here to see Elliott fall a bit and Miami definitely wants to bolster their offensive backfield. The team does seem to like second-year runner Jay Ajayi, but they swung and missed trying to bring in C.J. Anderson and remain interested in bringing in some help. Elliott would be more than help, as he has the resume, build and skill-set to be a full-fledged feature back. The question isn't if the Fins take him, though. It's if he can fall to this spot.
Other options: Eli Apple – CB, Jack Conklin – OT
Oakland Raiders – Laquon Treadwell, WR, Ole Miss
Oakland is oddly in a good spot for a change, as they're pretty well set on both sides of the ball going into this draft. Instead of taking a silly risk, a splash is more of a luxury these days. They can go after the best player available, while giving Derek Carr one more elite weapon in the process. They could also go for o-line depth, a linebacker or defensive back, but Treadwell would be tough to bypass here.
Other options: Jack Conklin – OT, Taylor Decker – OG, Eli Apple – CB
Tennessee Titans – Jack Conklin, OT, Michigan State
The Titans probably would have drafted their top need had they stayed at the top spot, and that continues to be offensive tackle. Not only would they love to protect last year's #1 pick (Marcus Mariota) in general, but their shaky o-line also gave up a league-leading 54 sacks in 2015. That can't happen, so they should keep adding talented youth in an effort to get the best five bodies out on front of their franchise passer. Conklin certainly fits the bill as a stud tackle prospect.
Other options: Ronnie Stanley – OT, Eli Apple – CB
Detroit Lions – Jarran Reed, DE/DT, Alabama
The Lions obviously need to figure something out at wide receiver with Calvin Johnson retiring, but they also may not want to force the issue there. It's also highly arguable they have bigger fish to fry with help needed at offensive tackle and on the inside of their d-line. Their defense remained pretty stout in 2015, but they obviously still missed the tenacity of Nick Fairley and of course Ndamukong Suh. Look for them to try to get some of that back by adding the hulky Reed.
Other options: William Fuller – WR, Jack Conklin – OT, Taylor Decker – OG
Atlanta Falcons – Darron Lee, LB, Ohio State
The Falcons continue to go to work on their defense, with linebacker arguably being the biggest hole at the moment. They could really use a stud tight end, but there isn't a first round prospect at the position in this class. That has them going for Lee, who has the smarts and athleticism to be a real difference-maker at the next level. He's still raw, but that may not matter, as he can probably do some freelancing in Dan Quinn's aggressive scheme.
Other options: Josh Doctson – WR, Keanu Neal – S
Indianapolis Colts – Ryan Kelly, C, Alabama
Indy finally parted ways with poor fit Bjoern Werner and Robert Mathis can't be counted on for much anymore. Needless to say, they should think long and hard about adding an edge rusher for their 3-4 base defense at the 18th spot. There are no guarantees at this point and they do need help up front at center, though. That could put center Ryan Kelly front and center, as he's the best at his position and can probably also help out at guard in the future, if need be.
Other options: Emmanuel Ogbah – OLB, Taylor Decker – OG, Jarran Reed – DT
Buffalo Bills – Robert Nkemdiche, DT, Ole Miss
Buffalo absolutely could be in play to add a franchise passer like Paxton Lynch, but Rex Ryan seems to like Tyrod Taylor and it was actually his coined defense that failed the Bills in 2015. Needless to say, he and the Bills may be better suited looking to upgrade that defense – especially after losing Mario Williams. Nkemdiche is not a foolproof addition, but he's a heck of a talent with loads of upside. If Ryan wants a fresh body to abuse the opposition up front, he could make worse picks.
Other options: Noah Spence – DE, Paxton Lynch – QB
New York Jets – Noah Spence, DE/OLB, Eastern Kentucky
New York is another team that probably needs to either take Lynch or beef up their defense. Ryan Fitzpatrick probably has to cave and sign before the draft to rule out Lynch here, but if they pass on quarterback, I like Spence a good deal here. Spence is a flat out elite edge rusher that can be used in a variety of ways. He's had some serious off field issues, but he's a stud athlete with tons of upside. The defensive-minded Jets won't ignore that unless they're enamored with a quarterback here.
Other options: Paxton Lynch – QB, Eli Apple – CB
Washington Redskins – Reggie Ragland, ILB, Alabama
Washington just signed Josh Norman and officially has a defense on the rise. With their offense largely in place, they really just need to keep plugging holes. One issue is at linebacker, where they could use a more concrete decision-maker on the inside. The Redskins struggled quite a bit against the run in 2015, but with the rugged and physical Ragland, they could show improvement.
Other options: Vernon Butler – DT, Keanu Neal – S
Houston Texans – William Fuller, WR, Notre Dame
Is Jaelen Strong a concrete enough #2 to DeAndre Hopkins' #1? Maybe, maybe not. Houston doesn't have a lot of glaring holes, so I think avoiding playing with fire is a good move. It's hard not to get new franchise passer Brock Osweiler a new toy, too, especially one that is so darned fast.
Other options: Josh Doctson – WR, Eli Apple – CB
Minnesota Vikings – Josh Doctson, WR, TCU
Mike Wallace is gone and Cordarrelle Patterson thus far has been an impossible bust. Minnesota may never be a pass-happy team that stretches the field through the air, but they need to provide the illusion that they can hurt defenses in more than one way. They're also starving for legit wide receiver talent and Doctson gives them some nice reliability with a decent ceiling.
Other options: Corey Coleman – WR, Keanu Neal – S
Cincinnati Bengals – Corey Coleman, WR, Baylor
The Bengals could really use a wide receiver after watching both Marvin Jones and Mohamed Sanu skip town, while the erratic Brandon LaFell doesn't necessarily qualify as getting the job done. He's a fine enough start, but the Bengals still need more help and the speedy Coleman could be a fine situational threat as a rookie.
Other options: Eli Apple – CB, Taylor Decker – OL
Pittsburgh Steelers – Eli Apple, CB, Ohio State
Pittsburgh had one of the more porous secondaries in 2015 and they haven't done a whole lot to change that. They need help both at safety and on the outside at cornerback, so no one would be mad if they went in either direction. There isn't much stud safety talent behind Jalen Ramsey, though, so sticking with a quality corner prospect like Apple makes good sense.
Other options: Kendall Fuller – CB, Keanu Neal – S
Seattle Seahawks – Vernon Butler, DT, Louisiana Tech
Seattle's strength is its defense and they continue to have contract issues with a bunch of their big names. They've lost some guys over the years, too, so mission A needs to be either keepin that unit together as much as possible, or making the necessary moves to replace guys who are gone or will be leaving soon. They haven't really brought much in to help man the middle, so perhaps they finally do that with Butler at the 26th spot.
Other options: Taylor Decker – OL, Kendall Fuller – CB
Green Bay Packers – Andrew Billings, DT, Baylor
B.J. Raji retired and while Green Bay does have a lot of different bodies to move around on the defensive line, they don't have many game-changers. That's not to say Billings for sure is, but Green Bay needs to take a chance here, with their goal to find a long-term option or at the very worst beef up their defensive line to make sure their run defense doesn't take a step back.
Other options: Emmanuel Ogbah – OLB, Taylor Decker – OL, A'Shawn Robinson – DL
Kansas City Chiefs – Emmanuel Ogbah, OLB/DE, Oklahoma State
This could be a good spot for Paxton Lynch, but the Chiefs probably should focus on bolstering an elite defense that could spend some time without Justin Houston in 2016. Dee Ford is good depth and could step up, but Ogbah could be needed to keep things constant with their pass rush.
Other options: Paxton Lynch – QB, Kendall Fuller – CB
Arizona Cardinals – William Jackson, CB, Houston
Patrick Peterson is a total boss, but he doesn't have an elite running mate across from him and safety Tyrann Mathieu could begin 2016 at less than 100%. Arizona has a great defense and could be even better this year, but adding help for their pass defense is a must. Jackson is at the very worst solid depth and he could potentially be the answer at the two spot in AZ's secondary.
Other options: Paxton Lynch – QB, A'Shawn Robinson – DL
Carolina Panthers – Kendall Fuller, CB, Virginia Tech
Carolina also has issues on their offensive line, but short of reaching here, they may want to replace the recently departed Josh Norman, instead. There just aren't any o-line prospects that meet Fuller's talent level, upside and need. He probably shouldn't have fallen this far, but perhaps it's meant to be.
Other options: Corey Coleman – WR, Taylor Decker – OL
Denver Broncos – Paxton Lynch, QB, Memphis
This is probably too perfect to happen, as Paxton Lynch was formerly a potential top-5 pick, many teams want/need a quarterback and Denver's need is insanely obvious. They don't really have many glaring holes outside of replacing the retired Peyton Manning, so it'd be very funny if this worked out for them. A few teams could ruin their plans, but it's entirely possible Lynch falls all the way to the final pick of round one.
Other options: Connor Cook – QB, A'Shawn Robinson – DL