2016 NBA Finals Prediction: Warriors Can Survive Draymond Green Suspension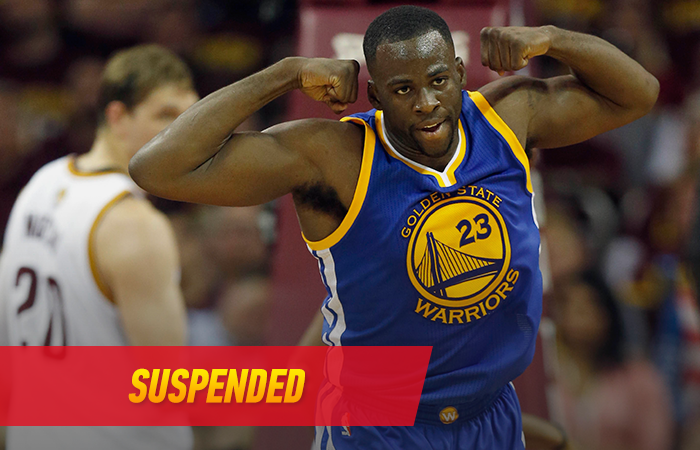 The Golden State Warriors looked to be in a fantastic spot following their game four win in Cleveland on Friday night. They suddenly held a commanding 3-1 series lead, and with the 2016 NBA Finals shifting back home to Oracle Arena, a second consecutive title seemed to be a lock heading into Monday night's game five.
Things have changed.
Star forward Draymond Green won't be around to help the Warriors finish the job, if they are to win the title on Monday, as the league has issued a one-game ban for Green's hit to LeBron James' groin at the end of game four.
In fact, there is still talk that Green might not even be able to be at the game. Green's camp is still pressing hard for him to be allowed on the sidelines, but at the moment he will only be allowed into the stadium upon the end of the game. That could have him celebrating a title with his teammates should the Dubs pull off the game five win, but no matter what, they'll be trying to do so without one of their best players.
How Did We Get Here?
The suspension in general is a sore spot for Warriors fans and sparks jubilation for the moment for Cavaliers fans. It's undeniable that Green has been seen as a bit of a dirty player, both in regards to his demeanor and trash talk, as well as some cheap shots on the court.
Green was twice called out on social media and from players for swatting and kicking Thunder center Steven Adams in the groin and his hit on James' groin (on purpose, or not) seemed to be the last straw for the NBA.
Was it deserving of a game five suspension? Maybe, and maybe not. There is certainly an argument against Green's antics and the fact that he may have been overdue for a suspension, while it's also very tough to prove intent.
There is also the case of Green merely "striking back" after LeBron James committed the first foul act, which was intentionally walking right over a sprawled out Green on the court. Charles Barkley didn't take too kindly to James' first move, suggesting Green had every reason to lash out the way he (supposedly intentionally) did.
Stephen A. Smith, never one to be quiet with his opinion, also pined that this ban was "bogus", while many others have chimed in that it seems all too perfectly timed.
NBA bettors have to decide if the NBA is giving Cleveland too much help with the Warriors one win from ending the 2016 NBA Finals, or if Golden State is good enough to thwart off any conspiracy and/or accidental help from the league.
Winless Without Green
Suggesting Green is a big loss is a grand understatement. He is in a lot of ways the heart and soul of Golden State, providing fiery defense and also bringing elite versatility to the table on offense. Green can handle the rock, penetrate aggressively, locate teammates, finish at the rim, work down low in the post and even hit the outside shot.
That's just his presence offensively. Green has been an absolute terror on defense, giving LeBron James and any driving Cavaliers players something to think about when they go in the lane. Even when Green isn't rejecting shots or grabbing rebounds, he provides a big, athletic body that helps resist easy buckets and forces the opposition to rethink their initial plans.
Green's impact isn't lost on the Warriors, as he's suited up for 81 regular season games this year and hasn't missed a playoff game. Golden State got to an NBA-record 73 regular season wins with his help and also went 39-2 on their home floor. Without him, the Dubs are 0-1.
That impact has been felt hard in the Finals with Green simply taking a breather on the bench, as well. It's been even worse when he's not running as the center in Golden State's "death lineup". In that role, Green has been crucial to a +54 for the team, while the Dubs have gotten outscored when he's playing the four or on the bench.
The Warriors will have to hope those plus/minus numbers aren't as unforgiving as they seem at first glance.
Game 5 Prediction
Draymond Green being out could end up being a serious disaster. It gives Cleveland momentum they otherwise would have possibly never even sniffed and a game five road upset would shift the series back to Quicken Loans Arena for a game six. Considering the Cavs only just lost at home for the first time in these playoffs last Friday, it's entirely reasonable to believe they would then take care of business and send this series to a seventh and final game.
We might be getting a little ahead of ourselves, but the loss of Green could be that catastrophic. Green's absence takes away one more outside shooter and limits Golden State's facilitating and penetration. It adds even more pressure on both Klay Thompson and Stephen Curry, two guys who seemed to figure out Cleveland's defense in game four but otherwise had struggled for much of this series.
It also forces someone else to step up at the four and five spots. Green spent a lot of time at both power forward and center, potentially making Andre Iguodala or Harrison Barnes log more minutes at the four. Steve Kerr could also have to use centers Festus Ezeli and Andrew Bogut more than he'd like, or maybe we see more of Anderson Varejao, James McAdoo or even Marreese Speights.
Going to true small ball isn't an option now for the Dubs, who probably need to keep Varejao, Ezeli and/or Bogut on the court most of the game.
All we know for sure, though, is we won't be seeing Green and someone or a collection of somebody's will need to find a way to make up for his intensity.
Green's absence may impact the Cavs more than anything else. LeBron James is already a total warrior (no pun intended) when it comes to elimination games. Take away a total defensive menace, and the freak inside could be unleashed.
James going off doesn't mean the Cavaliers win, but he's going to bring it in game five and no Green certainly doesn't help Golden State's chances of shutting him down.
The good news for Golden State, of course, is that this entire series, this entire playoff run and really this entire season has never been about one guy. Stephen Curry missed several games due to injury in these playoffs, The Splash Brothers as a whole didn't even show up in the first three games of this series and the Dubs survived a 3-1 deficit against the Oklahoma City Thunder in the Western Conference Finals just to get here.
There certainly is a narrative that exists that propels the Cavs to an insane run to allow them to get their first ever NBA title. But this year isn't about James being vindicated or Cleveland finally getting to the mountain top. It's about possibly the best team we've ever seen and that one guy doesn't make that team.
Not having Green is huge and in game five it could be awful. However, the Dubs know how to get through adversity and they're at home with one win between them and another NBA title. Green won't be there to help them finish the job, but he helped set up the knockout punch and he'll be ready to help celebrate when the Cavs go down for good on Monday night.
As for as the betting realm goes, the smart money is on Cleveland beating the spread (+7). Green's absence should allow for a tight game and the Cavs will stick around with their season on the line, but ultimately the Warriors don't want to go back to Cleveland and it's tough to imagine them not grabbing the title now in front of their home crowd – even without Green.