Hide Bonus Offers
| | | | | |
| --- | --- | --- | --- | --- |
| #1 | Bovada Sports | 50% Up To $250 | Visit Site | Bovada Sports |
| #2 | BetUS | 125% Up To $2,500 | Visit Site | BetUS |
| #3 | MyBookie | 100% Up To $1,000 | Visit Site | MyBookie |
| #4 | Everygame | 100% Up To $500 | Visit Site | Everygame |
| #5 | BetOnline Sports | 60% Up To $1,000 | Visit Site | BetOnline Sports |
2016 NBA Finals: How the Cavs Come Back From 2-0 Hole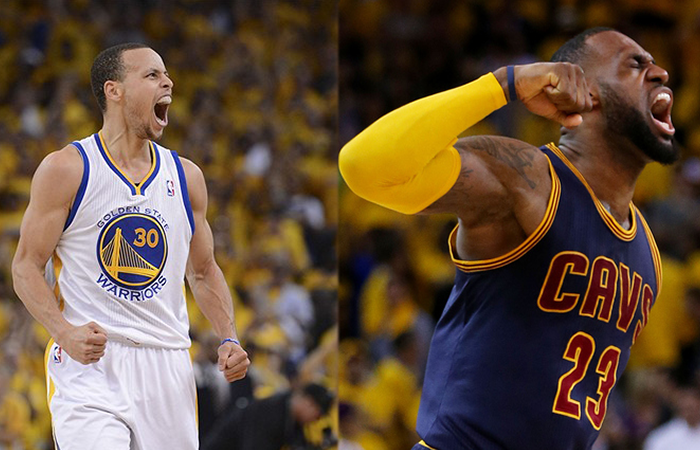 The 2016 NBA Finals have not gone according to plan for the Cleveland Cavaliers. Unless the Cavs wanted to get out-played in embarrassing fashion, go down two games to none in the biggest series of their lives and then defy all logic by somehow still winning the title.
Because in that case, pretty good plan so far, Cavs.
That can't be true, however, and instead of a 1-1 tie after two games like we saw between these two teams in the Finals a year ago, it's starting to feel like the brooms could be coming out.
Cleveland showed brief life early on in both games, but two times in a row now the Cavaliers have fallen apart in the third quarter and gotten completely housed. In game one Cleveland stifled Golden State's top two stars – Stephen Curry and Klay Thompson – but then didn't pay any mind to the Warriors bench, who destroyed them in a rout.
Game two was even worse, as Curry and Thompson combined for as many points as they did in game one (20) by the end of the first quarter and Draymond Green did as he pleased en route to a 33-point win.
Golden State's defense and passing have been too much for Cleveland and outside of LeBron James, no one has shown up in this series yet for the Cavs.
Vegas doesn't like what it sees, either, as Cleveland is now a dreadful underdog at +450 and the Dubs are the obvious favorite at -700. Cleveland isn't even favored to win game three, which has the series headed to their home base at Quicken Loans Arena. Instead, it's more of a pick'em game, with the Dubs mildly favored by -1.5.
So, odds are in favor of this disaster continuing for LeBron James and co. The big question of course, is if there is any logical hope for it to go the other way and if betting on the Cavs to come back and win this thing makes any sense. Considering just three teams have ever come back from a 2-0 hole in the Finals, that doesn't feel like the greatest bet.
There could be a few ways for the Cavs to start evening out those odds, though. Here's some we thought of:
Don't Rest LeBron
Running King James ragged may not necessarily be the answer, but he's the only Cleveland player to show up in this series thus far. It could make some good sense to get all the Cavs can get out of him and find a way to get him breathers during timeouts or dead balls. He's the most physically gifted athlete in the world and playing him 48 minutes per game would only be necessary for at most four more games – should Cleveland last that long.
Heck, this is an idea James should be bringing to the Cavs. He knows he's all Cleveland's got at the moment, and when he's not on the floor, things are bound to fall apart. It could wreck him in the end, but if the Cavs want a title this year, it's not that crazy of a notion.
Get J.R. Going
It certainly appears by design that J.R. Smith has been tasked with playing suffocating defense and nothing else through two games, as he's helped limit the Dubs' top two scorers, but has scored just 8 total points on 9 shots in this series.
That simply will not due for a Cleveland team that is getting zero offensive support from their bench and little else out of anyone not named LeBron James. Smith certainly needs to keep up his defensive intensity, but Cleveland needs to find a way to ease off of him enough to get him more interested and involved in the offense. Playing too hard on defense could drain his effectiveness when it comes to his outside jumper, but his involvement has been way too sparse.
One way or another, Smith needs to be a factor on the offensive end. Perhaps sliding him to the bench would free him up to launch from deep, while in turn helping out a sorry Cleveland bench. Iman Shumpert has the size and athleticism to be just as much of a problem on the defensive end, and he's also capable of hitting outside jumpers. The move could shake things up, keep defensive continuity and still get both guys going from outside.
Bench Love
This difficult decision could actually be made up for the Cavs, as Love suffered a concussion in game two and may not be healthy enough to be cleared to play in game three. If he sits the next game out, that could give Cleveland a look at their roster without Love as a key focal point and they could then decide if that's something that works better for them than sticking with the guy who has been their starting power forward for the entire year.
It's easy to see the advantage of benching Love, who was a solid offensive force in game one, but fell apart offensively in game two and has been a defensive liability in both games. Draymond Green has so far been Golden State's MVP on both ends of the floor, and Love's presence could be a big reason why.
Benching Love could still utilize him strictly as an outside shooter off the bench, and that may be a great role for him and the Cavs, especially considering how lifeless their bench offense has been through the first two games. Love could still play a 20-25 minute role at worst and get up 10-12 good shots, while also helping a bit on the glass. In turn, the Cavs would have more freedom with their lineup and could improve on the defensive end, overall.
Go Big
A huge issue in this series has been Golden State's desire to go small and race past the Cavs with their quickness and deep bench. Instead of combatting that with size and punishing the Warriors, Cleveland has foolishly gone along with that strategy and tried to beat the Warriors at their own game.
That doesn't usually go so well.
Cleveland flat out does not have the pieces to beat the Dubs when they have the lineup they want. Instead of trying to do that, they could think about going completely big and attempting to beat Golden State inside and on the boards. The best way to do that may be starting Tristan Thompson at the four and bringing center Timofey Mozgov into the mix.
That bleeds into the "bench Love" idea, and if the Cavs also think about bringing J.R. Smith off the bench, suddenly a starving bench has Love, Smith and Channing Frye to turn to if the starting unit isn't getting the points they need. Heck, let's even unearth the corpse of Mo Williams, who has inexplicably had no role since joining the Cavs before the season.
As some may recall, Mozgov was actually quite a problem for the Warriors in this Finals series last year, as he was blocking shots, getting easy buckets down low and cleaning the glass. Cleveland was up 2-1 before the Dubs decided to go completely small and that was so effective that it forced the Cavs to follow suit.
That worked for the Dubs last year, so in theory, the exact opposite could would for Cleveland Mozgov and Thompson working together down low could clog the paint and keep LeBron James and Kyrie Irving from doing what they do best, but it'd give them more size and length, improve their already solid rebounding, give them another rim protector and also make Golden State think twice about going small for as much as they usually do.
It could be a waste of time and backfire, but Tyronn Lue will look silly for not at least trying it once.
Head in Bucket
Per former Miami Heat center Shaquille O'Neal, former head coach Pat Riley once held his head in an ice bucket for "three minutes" to teach his Miami squad to "believe". That Miami team trailed the Dallas Mavericks 2-0 in the 2006 NBA Finals and whether or not the ice bucket display gave them new life, they did find a way to rattle off four straight wins and claim a championship.
The point here is the odds aren't good that a team comes back from this kind of deficit and the Cavs should be open to any and all possibilities. Running James into the ground, switching up their lineup, jacking up three's, benching Love and even trying a crazy inspirational tactic are all things that should be considered.

Our Pick
Cleveland is probably still going to lose this series, but if they change things up a bit, they might have a shot to at least make it interesting. As for us, we're still sticking with the Warriors.
><