2016 March Madness: Sweet 16 Preview and Picks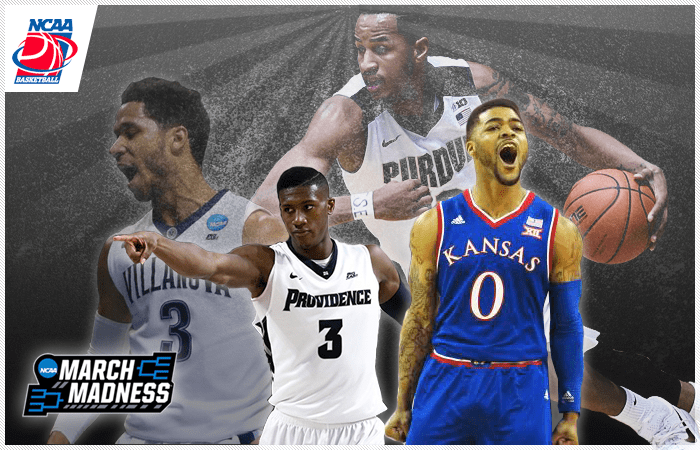 The 2016 NCAA Men's College Basketball Tournament rages on with the Sweet 16 picking things back up on Thursday and Friday. All four #1 seeds are still alive, with three #2 seeds also ready to push back against some lower seeds.
The excitement of the first round upsets has faded a bit, as just two teams have worse than a 7-seed, and Gonzaga (11) and Syracuse (10) actually face each other on Friday for the right to advance to the Elite 8.
While the true Cinderellas are arguably gone, March Madness is still in full force with some potential deep-running teams like Wisconsin, Notre Dame, Indiana and Maryland defying the odds. There's even the case of last year's champ, as Duke continues their run out of the 4-spot.
Let's see what we can expect in round three from our brackets, as well as which teams look like the safest bets as the road to the Final Four gets going again on Thursday:
Sweet 16 Day One – Thursday, 3/24
Duke (4) vs. Oregon (1)
The Oregon Ducks have done well to make it this far as a #1, as they undeniably were one of the weakest top-seeded teams in this year's Big Dance. Still, Dillon Brooks leads a very potent and athletic offense that can run and gun with just about anyone. Unfortunately, Oregon's status may have been bloated by their residency in the Pac-12 and Thursday could bring the fast-paced matchup they're simply not ready for.
That would be the Duke Blue Devils, who have not wavered in the face of two solid challengers, and are equipped with the offensive star power (Grayson Allen and Brandon Ingram) to push Oregon off the rails. This is the type of matchup both of these teams feed off of, so it will likely come down to coaching and the last shot. The advantage goes to the defending national champs, as they've proven to be tougher than many originally pegged them and Oregon still has to prove their worth in this tourney run.
Pick: Duke 81, Oregon 77
Miami (3) vs. Villanova (2)
The tournament went according to plan for this showdown, which caters to serious guard play between two very explosive offenses. Miami has been much more erratic when it comes to their deep ball on the year, but they've still proven both in the tough ACC and this tourney that they can hang with anyone. Rallying behind veteran coach Jim Larranaga, the Canes are a serious threat to pull off the upset.
While Miami is no slouch, it seems like Jay Wright finally has a Wildcats team that can go the distance this year – or at least threaten for the Final Four. The key for Villanova will be executing outside and not giving up any size via their small ball rotation. Elite guard play can dominate March Madness, and the Wildcats have it in spades. If this is the run and shoot showdown we anticipate, Villanova carries the slight edge.
Pick: Villanova 84, Miami 80
Texas A&M (3) vs. Oklahoma (2)
Buddy Hield leads the Sooners up against the Texas A&M Aggies on Thursday night, as Oklahoma tries to live up to their 2-seed. It's another classic battle between the two seeds that "should" be here at this point, yet it took a ridiculous 12-point comeback in the last 40 seconds of the Aggies' last game just to get here. That could have this one going either way, as the Aggies could be playing on borrowed time or they now have nothing to lose.
Any team that can erase a big hole that quickly is one to fear, but the Sooners will enter as the obvious favorites. Hield is a huge reason why, as he has scored 36 and 27 points in his two tourney games. If Texas A&M can find a way to slow Hield down, they'll have a chance in a tight game. Otherwise, prepare for Oklahoma to move on to the Elite 8.
Pick: Oklahoma 77, Texas A&M 73
Maryland (5) vs. Kansas (1)
The Terps head into uncharted territory on Thursday, as they try to take down the tourney's top seed in the Kansas Jayhawks. Some expected Kansas to slip up and drop out before this round, but Bill Self's crew looks as sharp as ever and will enter Thursday as the overwhelming favorite over Maryland.
It's going to be very tough to bet against Kansas, who won their first two tournament games by a combined 39 points and have also won 16 straight contests. They lack the star power past Kansas teams have, but they play great defense and also exhibit terrific depth and balance. It's going to take more than one haymaker for Maryland to land this upset knockout, and it just doesn't appear likely. Maryland certainly boasts some problematic talent (namely Melo Trimble), but their elite play has only come in flashes. If they can't be focused and consistent in this one, they'll lose it late.
Pick: Kansas 81, Maryland 69
Sweet 16 Day Two – Friday, 3/25
Wisconsin (7) vs. Notre Dame (6)
The Badgers are a far cry from the team that almost won the national title a year ago – at first glance. However, aside from the emotional rally behind rookie head coach Greg Gard or Bronson Koenig's heroics, this is a Badgers team that mirrors last season's mantra of playing gritty defense, relying on a methodical, systematic offense and never giving in, even in the bleakest of moments.
That is what got Wisconsin into the Sweet 16 for the fifth time in six years and their balance and grit might be enough to get them back into the Final Four before it's all said and done. For now, they have a meeting with a pesky Fighting Irish club that lost two key players from last year's team as well, yet is still here, chasing down that elusive trip to the Elite 8. The key, ultimately, will be whether or not star Wisconsin forward Nigel Hayes finally shows up in the big moment. After failing to thus far in the tournament, Hayes is bound to come to the Badger's rescue, and there wouldn't be a better time than Friday's clash with Notre Dame.
Pick: Wisconsin 66, Notre Dame 61
Iowa State (4) vs. Virginia (1)
This game is flying under the radar a bit, as Virginia is arguably one of the weaker #1 seeds, yet boasts one of the best defenses in the country. The funny part, however, is that when their defense breaks down, it chokes up on the perimeter. That could be a huge advantage for a fast-paced, sharp-shooting Cyclones bunch.
This is a serious clash of pace and philosophy, and it's difficult to gauge which will win out. On paper, Virginia is much more battle tested as a #1 seed coming out of the rough ACC, but Iowa State has looked good so far and with two wins to start their tournament run, they've got the monkey off their back (traditionally exit March Madness early). Looking good and winning two games may not prepare them for Virginia's defense (giving up just 59 points per game) and if they aren't hitting from outside, it could be over early.
Virginia has the experience and in these offense vs defense matchups, tight defense tends to win out. Iowa State is certainly a problem if they catch fire, as the Cavaliers obviously had some difficulty dispatching Butler the round before. Dealing with that type of opponent already could work to their advantage, however.
Pick: Virginia 70, Iowa State 66
Gonzaga (11) vs. Syracuse (10)
Gonzaga and Syracuse probably shouldn't be here, but yet here Jim Boeheim and Mark Few stand, leading the Orange and Zags into the Sweet 16. The Zags really shouldn't be this crazy underdog story, but they are, even though they have potential NBA talent pushing them forward in Kyle Wiltjer and Domantas Sabonis. On top of that, the Zags actually pack some defense in with their solid offense, and are fresh off of an impressive dismantling of what many thought was a good Utah team.
Syracuse, though previously dubbed one, is no slouch, either. The Orange endured a rough, up and down season that had them without Boeheim for a stretch due to a suspension, and really sort of backed into the tournament. They looked like a likely one and done team, but displayed their gritty 2-3 zone defense in the first two rounds.
The kicker here is Syracuse probably doesn't have the offense to last much longer in this tourney, and with Gonzaga trying defensively these days, their run may end on Friday night.
Pick: Gonzaga 74, Syracuse 68
Indiana (5) vs. North Carolina (1)
If the other games didn't do it for you, maybe a clash between Indiana and North Carolina will. The Hoosiers have certainly earned their spot in the Sweet 16 with an offensive display through the first two rounds – not to mention an impressive win over Kentucky. The Tar Heels are nothing to scoff at, but it's highly debatable that Friday's clash with Indiana is their first true test of the tourney.
With that in mind, the big question is, can North Carolina respond from that first heavyweight punch, or will they be one of the first #1 seeds to crumble? The former makes the most sense, as Roy Williams does a tremendous job and the Tar Heels have tons of size and depth. Future NBA player Brice Johnson leads the way as a menace down low on both ends, and he's really going to give Indy fits. Even if they find a way to stifle him offensively, North Carolina is deep enough to have someone else hurt the Hoosiers while he gets rebounds and blocks shots.
Indiana hasn't dealt with this kind of size yet, and Johnson could rule this game. If not, the Hoosiers do have a chance as they do have some size of their own and they certainly have an impressive offense – led by Yogi Ferrell. Another thing helping the Tar Heels is Indiana guard Robert Johnson being nicked up, as he's "iffy" for the game with an ankle injury.
Indiana cannot be counted out of this game for two big reasons: upsets are only natural at this stage in the tournament, and the Hoosiers certainly proved they can take down bigger giants by beating Kentucky. The ultimate key may be North Carolina's shooting, as they struggle immensely from outside. They'll definitely have to hit some jumpers to win this one, but it may not be as crucial if Johnson dominates this game like everyone thinks he can. Ultimately, North Carolina is the better team and if they play their game, should advance to the Elite 8.
Pick: North Carolina 83, Indiana 80