Hide Bonus Offers
| | | | | |
| --- | --- | --- | --- | --- |
| #1 | Bovada Sports | 50% Up To $250 | Visit Site | Bovada Sports |
| #2 | BetUS | 125% Up To $2,500 | Visit Site | BetUS |
| #3 | MyBookie | 100% Up To $1,000 | Visit Site | MyBookie |
| #4 | Everygame | 100% Up To $500 | Visit Site | Everygame |
| #5 | BetOnline Sports | 60% Up To $1,000 | Visit Site | BetOnline Sports |
2016 March Madness: Final Four Preview and Picks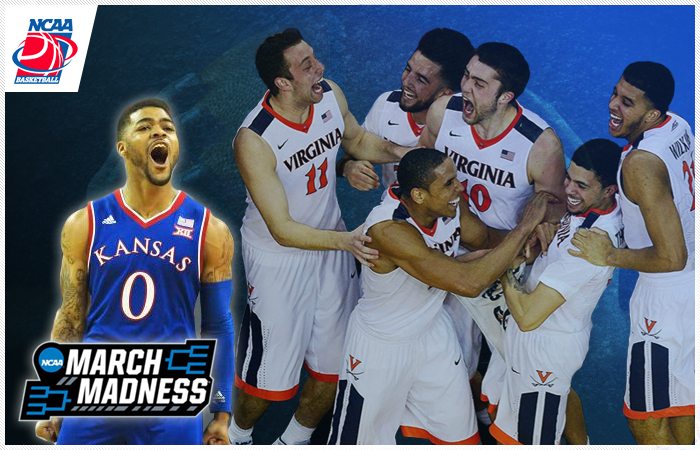 The road to the 2016 Final Four has been a bumpy one, as the first two rounds had a litany of upsets that spawned dreams of a Cinderella team making a deep run. Fast forward to this weekend's four-pack, and Syracuse is our one Cinderella, and North Carolina is our only #1 seed.
Gone are Kansas, Virginia and Oregon, two of which looked like faux top-seeds all along, while the Jayhawks were expected to go the distance as the top overall seed in this year's NCAA tournament.
It wasn't to be for Bill Self's crew, however, and instead it could be Roy Williams' Tar Heels that realize their destiny. Of course, North Carolina first has to get past the stingy Orange, and even if they do, could have their work cut out for them with the winner of an Oklahoma/Villanova battle awaiting in the championship game.
Whether you're planning to bet on the Final Four games or just want to have an inside clue as to who might win, dive in with us as we break down and pick both of Saturday's games:
Oklahoma Sooners (2) vs. Villanova Wildcats (2)
Matchup Breakdown
No #1 seed to see here, folks. Only one lives on, and it won't reside in this potentially epic clash between the Sooners and Wildcats. Both Oklahoma and Villanova are deadly in their own ways and after impressive tourney runs that included taking down a #1 seed, both are more than deserving of their Final Four spot.
The question, of course, is which team moves on? At first glance, Villanova might be the more impressive, versatile crew. For one, they don't rely on a star like the Sooners do, and they also stretch defenses out with a very potent four-pack of quality guards. Oh, and they just held the Jayhawks to 59 points.
On top of that, Villanova has been cruising in this tourney, and they added clutch ability in a huge game against probably (at least formerly) the best team in the nation. These teams both tend to live and die by the jumper, which can potentially make for an explosive, fast-paced game. The one big thing that could shift the balance, of course, is Villanova's lack of size.
Will size matter that much against a Villanova team that can run and battle on the boards, regardless? Probably not. That should have this matchup coming down to whether or not Oklahoma's star – Buddy Hield – shows up, or if the Sooners force the Wildcats into leaning on one guy (something Villanova isn't known for) late.
Stars to Watch
Buddy Hield is carrying the Sooners on his back, just as he's done all year. He's made quite the leap from a solid junior season to a senior year that packs the elite numbers in tightly. He's been why Oklahoma has been such a tough out all year long, and a big reason why they probably should have been a #1 seed in the first place. Hield's scoring prowess hasn't disappeared as the games have gotten tougher, either, as he dropped 36 points on VU to get to the Sweet 16 and then scored another 37 against Oregon on Saturday.
Villanova isn't full of a bunch of spares, but they're more of a complete team that relies on pace, ball movement and efficiency. A shout out for guard Ryan Arcidiacono is necessary (58% from three in the tourney), though, as he's a catalyst for a very potent Wildcats offense. Arcidiacono is not a one-man show and really doesn't create his own offense, though, so as mentioned before, it's more about the system and depth for Jay Wright's group, rather than one star.
Why Oklahoma Wins
Because the last time these two teams faced, Oklahoma dominated and didn't even need Hield to handle the scoring load. The Sooners hit 14 treys in a blowout win earlier this year and have quite the resume under their belts. They have one of the most explosive offenses in the nation, arguably the top go-to scorer and more size inside.
Why Villanova Wins
Jay Wright is a total wizard, the Cats learned from a blowout loss to the Sooners earlier this year and a team game beats a one-man wrecking crew 9 times out of 10. Truth be told, Oklahoma could still win with their supporting cast or Hield going nuts, but if Villanova – who can play suffocating defense – takes Hield out of the equation, you can't hate their chances.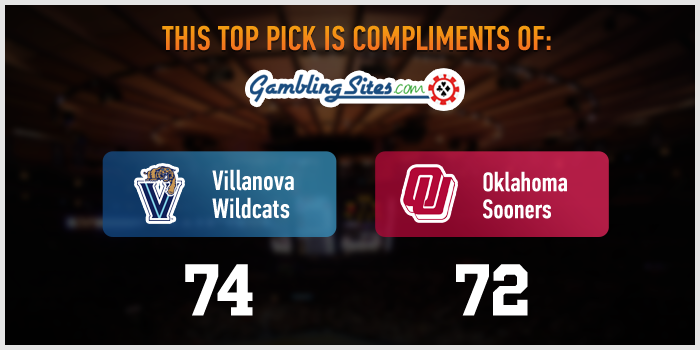 We're anticipating a barn burner here, as the Wildcats aren't going to want to get crushed twice by Oklahoma and both their defense and outside shooting should be better the second time around. The biggest reason, though, is that if Hield is even remotely slowed down here, I think Villanova's gritty team play could win out. Taking down Kansas could have a lasting impact and propel Villanova into the title game, as well.
Syracuse Orange (10) vs. North Carolina Tar Heels (1)
Line: North Carolina -9.5
Matchup Breakdown
North Carolina comes in as the huge favorite, as they're the only remaining #1 seed and also have the best odds (+130) to win the national title. It makes a decent amount of sense, as their opponent is an over-achieving Syracuse team that enters as a 10-seed with a string of upsets to their name. As impressive as this run has been for the Orange, it's been an unprecedented one, as the Orange mostly backed into the NCAA tourney and weren't picked by many to survive the first weekend.
That being said, this is still an interesting matchup, largely because Syracuse has been a completely different team in March Madness, and in lieu of sugarcoating it, they've been kind of awesome – defensively, at least. They still don't have a sexy offense and they need to work for their points, but they have flat-out smother the opposition, having given up no more than 62 points in any game during the NCAA tournament.
Simply put, Syracuse doesn't stand a chance in a foot race. However, if they can slow things down with their 2-3 zone and neutralize Brice Johnson, Cuse may have a chance. The reason why Syracuse can actually pull this off is because their 2-3 scheme makes good-shooting teams work for their offense and the only way to beat the zone is to get hot from outside. That's a huge advantage potentially against a North Carolina team that has amazing size and depth, but does not have amazing outside shooting.
Stars to Watch
While the Orange may have a distinct strategy to lean on here, they do not have a clear star that should make them feel great going into this battle. They do have some great athletes, and Michael Gbinije (17.8 points per game) is easily their best player. He doesn't exactly transcend the game like Hield can for Oklahoma or how Brice Johnson does for the Tar Heels. He's not incapable of dominating for stretch or taking over a game, but it's not nearly as likely as Johnson doing it for North Carolina.
All season long Johnson has looked like an NBA lottery pick, a man amongst boys that can reach up for the rebound, swat away shots at the rim and dunk over any ill-prepared defenders. He's not exactly the most polished post player, nor does he scare you with his jumper, but there's no denying his versatility and mammoth-sized impact on both ends. Needless to say, he is what makes the Tar Heels go and Syracuse undeniably does not have anyone to stop him.
Why Syracuse Wins
Simply put, Syracuse may very well be a team of destiny. The third time could be the charm, here, too, as the Orange have fought their ACC brethren well two times before this season, losing by 8 and 5 points. That's not half bad for a bubble team that wasn't even supposed to be in the tournament.
A closer look at Syracuse reveals a gritty, athletic, well-coached team, however. This is a team that endured a suspension of head coach Jim Boeheim, lost three straight games going into March Madness by a combined 9 points and put everyone on notice in their first two NCAA tourney games by allowing just 101 total points.
Syracuse gives up size and talent in this Final Four showdown, but they have serious heart, an elite 2-3 defense and know their opponent. It's obvious that the odds are against them, but if they play their game, the third meeting with North Carolina just might go their way.
Why North Carolina Wins
In two previous meetings earlier this year against their ACC rival, the Tar Heels scored 75 and 84 points. They were able to break the 2-3 zone by attacking inside, as Isaiah Hicks did as he pleased and Brice Johnson was not thwarted in the least. All of this tells us that North Carolina is the better team and even when Syracuse has given them their best, they've still managed to pull out two wins.
The difficult pill to swallow for the Orange, though, is that even in these two losses, a bad outside shooting Tar Heels squad still wasn't hitting their jumpers. If that somehow happens on Saturday, this game could turn into a living nightmare. That's not likely based on the numbers we've seen all year (North Carolina shoots roughly 32% from outside as a team), but instead North Carolina can get by with what has made them the favorite moving forward – Brice Johnson and a very deep and balanced roster.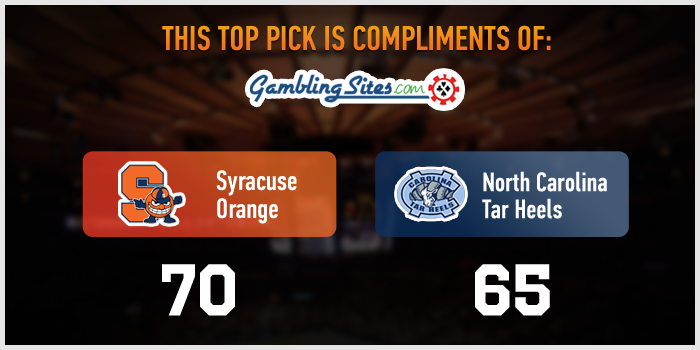 Say, what? Yeah, we're calling the huge upset. If you don't feel confident in a blatant upset straight up pick, at least consider taking Cuse to beat the spread. They kept it within nine points in the previous two games, and it's hard to believe a team that doesn't know the meaning of quit suddenly caves on such a huge stage.
The Orange are playing with house money here. They know they can play with the Tar Heels, they've had them on the ropes in the past and they are visibly playing the best defense anyone has seen in the tourney so far. If they can simply keep that up, they'll have a real shot at making history. It's March Madness, after all. It only makes sense that the title game gets a little bit of crazy in it.