2016 Belmont Stakes Preview: Early Odds and Predictions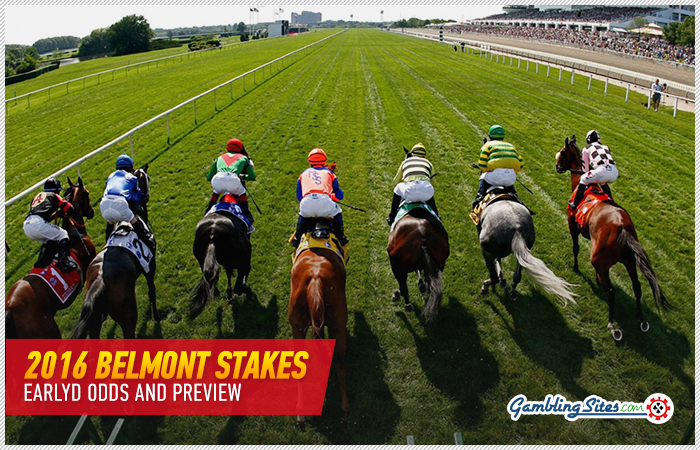 There is no denying the disappointment of not even having the chance to see if Nyquist could have won the 2016 Triple Crown. The mere possibility to get a repeat Triple Crown champ would have brought unfathomable hype to the Belmont Stakes, which will now proceed without Nyquist or any horse vying for a clean sweep of horse racing's most prestigious event.
That doesn't have to take away for what is still one of the most important races of the year, nor does it necessarily say anything negative about the pool of horses slated to compete for the top spot. Exaggerator finally made good on his many bids to upend Nyquist, using his fifth race against the formerly undefeated champion to buck history and add some hardware to his own impressive career.
Come June 11th at Belmont Park in New York, Exaggerator can add even more to his resume, as he'll take on a slew of quality horses in the 148th Belmont Stakes.
A lot can happen over the next week or so, as the horse pool will still need to be finalized, odds can shift, post positions will be written in and injuries can still impact things. All of this could shake up the horse betting realm, but it also all plays into the understandable hype of a race that should be plenty exciting, even without a Triple Crown on the line.
Let's prepare for the 2016 Belmont Stakes by taking a look at the early odds, the top favorites, some sneaky sleepers and of course, our pick to win the third leg of the TC:
2016 Belmont Stakes Odds to Win
Having just won the last race and seeing as Nyquist has dropped out due to illness, Exaggerator opens the early odds as the favorite, per Bovada. That being said, this is a fluid pool at the moment, so be sure to stay on top of the latest news and final odds:

Horse Name

Odds to Win
Exaggerator5/6
Suddenbreakingnews7/1
Cherry Wine10/1
Stradivari10/1
Destin16/1
Brody's Cause18/1
Governor Malibu20/1
Lani20/1
Creator25/1
Unified33/1
Trojan Nation33/1
Wild About Deb40/1
Forever D'Oro40/1
Gettysburg40/1
Seeking the Soul40/1
*Odds updated 6/8/16 at 5:47PM.
Best Bets
Exaggerator is the top horse to watch here, as he has run well in numerous races and really ran into bad luck a few times having been in the same race as Nyquist. He's coming in with strong momentum after taking the Preakness Stakes, and was runner-up at the Kentucky Derby, so it's easy to see why Vegas has him in first at the moment.
Cherry Wine has the third best odds but may be one of the other top colts to monitor going into the next big race, having marched past Nyquist late in the Preakness Stakes. That late run was good for a second place finish and puts Cherry Wine on the map.
Stradivari might be the third horse – in that order – to give a look heading into the Belmont Stakes, as he has a nice pedigree and a terrific training background. In addition, he's been highly successful in only a handful of races and despite a weak starting position in the Preakness Stakes, was still able to finish fourth.
Sleeper Pick
Lani continues to be on our radar as a horse that has found some nice success, is well trainer and may have the goods to pull off an upset. Few saw him coming at the Kentucky Derby, when he cracked the top-10 and then as one of our favorite sleepers going into the Preakness Stakes, ran even better en route to a solid 5th place finish.
Lani was shrugged off as the first Japan-based horse to run the Kentucky Derby and Preakness Stakes, but his win at the UAE Derby to grant him entry into the Triple Crown races turned out to be anything but a fluke. Lani brings some versatility to the table with the ability to be effective on fast tracks or in the mud, which could add to it's sleeper appeal.
The fact that Lani will be one of just two horses (joining Exaggerator) to run in all three Triple Crown races could be an interesting side note, as well. Some will feel Lani will be worn down from running hard in the first two races, but the longer track at Belmont could call for Lani to carefully pick his spots and close strong.

Our Pick
The early safe money rides with Exaggerator, as he was impressive at the Preakness Stakes and he's really run well for much of his career. Nyquist would have remained a stiff challenger, but he is no longer around to keep Exaggerator at bay, so it could be a very light pool to compete with. The longer Belmont track is actually a deterrent to rolling with other horses, as Exaggerator closed strong late in his last win and has shown a propensity to do precisely that in numerous races. If he does face a push early on, he's already proven he has the ability to overcome a small hole late in the clutch.
><